Mix a croissant with a waffle and you've got a delicious croffle waiting to be devoured! Make this magical pastry with only two ingredients! It's that easy!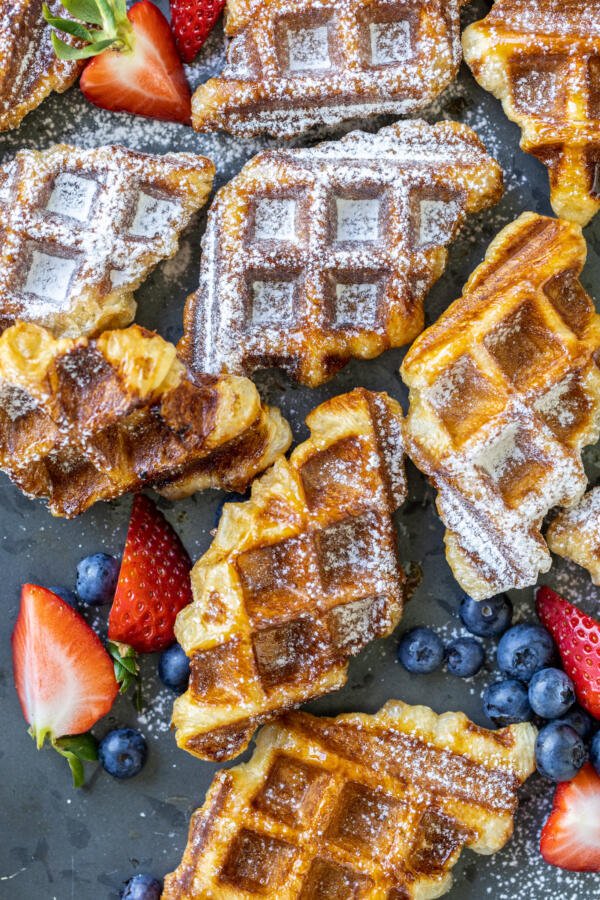 What is a Croffle?
A croffle is a mix between a croissant and a waffle. Defrosted, unbaked croissants are coated in sugar, then placed in a waffle iron to cook into the shape of mini waffles. The croffles have slightly chewy, flaky layers with a crispy exterior.
The croffle is thought to have been created by an Irish pastry chef, but it was its popularity in South Korea that made it famous. Home cooks worldwide took the idea and began to post their own homemade versions on tiktok. The popularity of the croffle soared so high that even sales of waffle makers increased worldwide. Share this fun fact next time you're serving croffles!
How to Make Croffles
"Croffle" may sound like a fancy and difficult-to-make French dessert, but it's actually crazy easy. Get out your waffle maker and you'll have croffles in no time at all.
Preheat the waffle maker: Lightly grease a preheated waffle iron.
Roll the croissants: Place sugar in a bowl and coat each croissant by rolling in the sugar.
Cook: Place the croissant into the waffle maker and cook for five minutes or until golden brown.
Serve: Serve right away with your favorite toppings!
Hot tip: For a fall spice flavor, add cinnamon, chai spice, or pumpkin spice to the sugar mix.
All the Options
Why stick with only one method to make croffles when you can change it up? Each time will be as delicious as the first time you make these!
Dough Variations
Frozen croissants: Croissants are the best dough choice to make croffles. Whole Foods and Trader Joes have great frozen unbaked croissants perfect for this recipe.
Puff pastry: To use a puff pastry dough, cut the sheets of puff pastry dough into triangles and roll them up like a croissant. Make your own puff pastry with this quick puff pastry recipe.
Crescent rolls: Make the croffles with this versatile dough. Crescent dough croffles aren't as flakey, but are still very delicious.
Filling Ideas
Savory: If you're planning to use the croffle for a savory croffle breakfast sandwich, skip the sugar.
Filled: For a sweet croffle, fill the croissant with your choice of filling. Unroll or cut the croissant in half and fill the inside with your favorite filling, then cook. Nutella and fruit jam (like strawberry or raspberry) are our favorites. Avoid overfilling or you'll have a big mess!
Chocolate: If using puff pastry dough, sprinkle chocolate chips into the dough for melted chocolatey goodness.
Tips from the Kitchen
Even the simplest recipes benefit from a few tips! Make your croffles absolutely flawless with a few small tips and tricks.
Defrost the dough: Defrost the croissant dough in the refrigerator until thawed. Keeping it cold will keep the dough flakey.
Lightly flatten the dough: To make it a bit easier on the waffle maker, gently flatten the croissant dough. Avoid flattening too much as this will flatten the croffle and make it less flakey.
Oil the waffle maker: It's important to brush or spray the waffle maker with oil or butter to prevent the croffles from sticking together.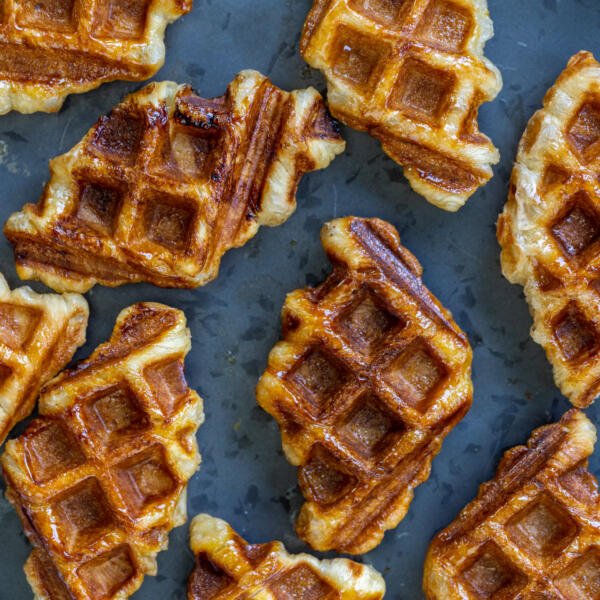 Ways to Serve
Croffles are meant to be enjoyed as a savory and/or sweet meal at breakfast, a snack any time of the day, or as a dessert after a big dinner.
Savory: To serve the croffles as part of a savory meal, skip the sugar and use the croffle to make a breakfast sandwich with fried eggs, avocado, cheese, and ham. Or offer it as part of a breakfast charcuterie board with air fryer bacon and slices of ham and cheese quiche.
Sweet: To serve the croffles as a sweet snack or dessert, add toppings like powdered sugar, yogurt, maple syrup, peanut butter, Nutella, cream cheese, or fresh fruit. For homemade toppings, make our chocolate ganache, powdered sugar glaze, and instant pot dulce de leche. Or, serve it with a cone or bowl of ice cream with hot fudge and caramel sauce.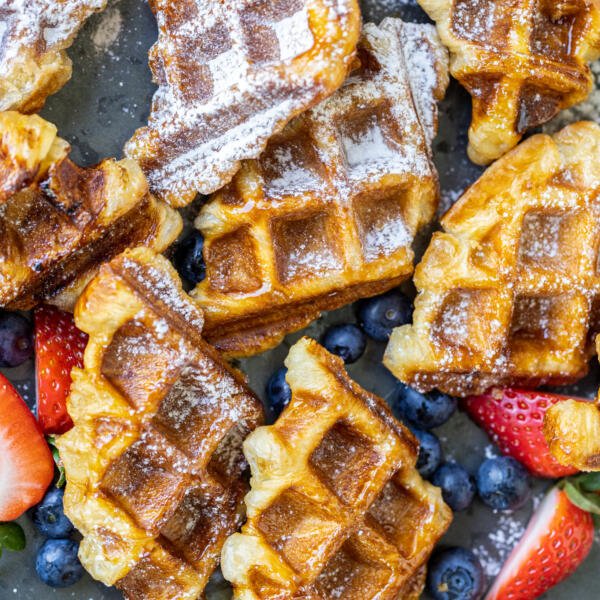 Storage Tips + Reheating
Croffles make great make-ahead breakfasts and snacks! Double or triple the recipe and you'll have breakfast covered for the week!
Refrigerator: To store for up to five days, place leftover croffles in an airtight container or ziploc bag and refrigerate.
Freezer: To store for up to three months, place cooled croffles on a baking sheet and freeze. This prevents the croffles from freezing together. Once frozen, transfer to an airtight container or bag.
Reheating: To reheat from the fridge or freezer, place croffles in a toaster oven for maximum crispiness. To reheat larger portions, use the oven or microwave. Keep in mind the croffles will not be as crispy when reheated these ways.
FAQ
What made croffles so popular?
Croffles became so popular due to how simple it is to make them and how few ingredients are needed.
Can I use a freshly baked croissant to make croffles?
To make a croffle, you will need an unbaked croissant. When you need to use up baked croissants, crumble them and top the croffle with small croissant pieces.
Are croffles chewy?
Croffles are slightly chewy due to their flaky layers. The texture is very similar to a regular waffle.
More Easy Pastries
Recipe
Mix a croissant with a waffle and you've got a delicious croffle waiting to be devoured! Make this magical pastry with only two ingredients! It's that easy!
Instructions
Nutrition Facts
Easy Croffle (Croissant Waffles)
Amount Per Serving
Calories 527
Calories from Fat 216
% Daily Value*
Fat 24g37%
Cholesterol 76mg25%
Sodium 438mg18%
Potassium 135mg4%
Carbohydrates 69g23%
Protein 9g18%
Vitamin A 848IU17%
Vitamin C 0.2mg0%
Calcium 42mg4%
Iron 2mg11%
* Percent Daily Values are based on a 2000 calorie diet.