Chaffles are essentially cheese waffles that only need TWO ingredients! They are low carb, keto and totally guilt-free. Make your breakfast easy, cheesy and totally delicious!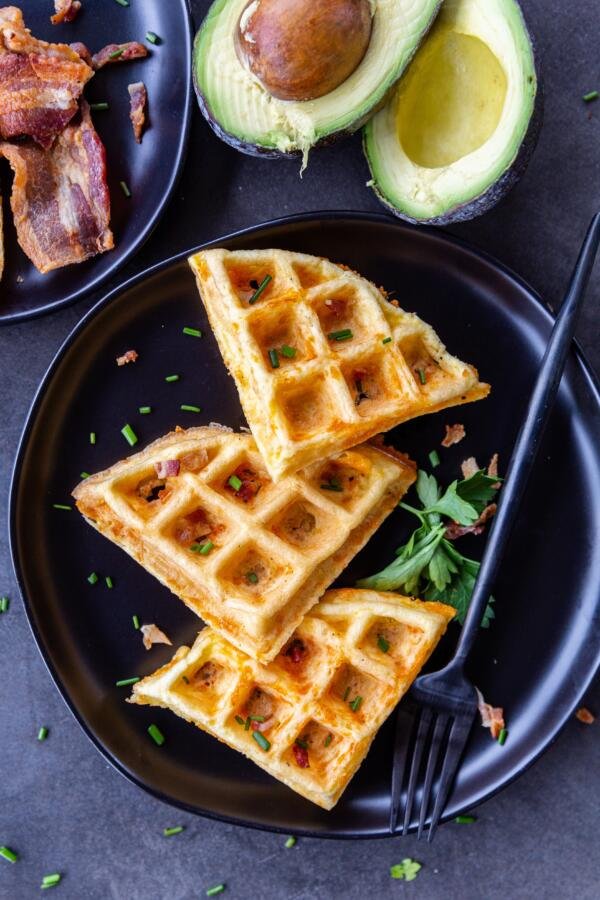 What Are Chaffles
Chaffles are waffles made out of cheese! They are low-carb and keto-friendly! You may be skeptical about the flavor, but when you use mozzarella cheese, they really are a great low-carb swap for waffles! They even taste great with traditional sweet waffle toppings like syrup. If you love a savory waffle, you also need to try our oatmeal cottage cheese waffles.
Chaffles have been around in our house for a while. We are a healthy-ish family and love a healthier twist on a classic whenever we get the chance. Well, this one can be eaten daily because it is totally guilt-free!
What are Chaffles Made Of
Chaffles are made out of eggs and cheese. All you need to do is whisk up the eggs and stir in the cheese to make the chaffle batter. Cook them in your waffle iron and the results are fluffy with a crunchy, cheesy exterior.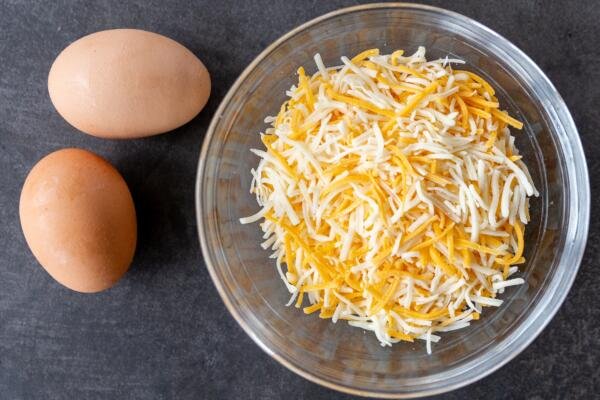 How to Make Chaffles
It is so easy to make chaffles. Just a quick mix of the batter then cook them in your waffle iron. You'll have a yummy, low carb meal ready in minutes!
Mix the Chaffle Batter: Whisk up the eggs in a bowl, then mix in the shredded cheese of your choice.
Cook the Chaffles: Heat up your waffle iron. Add the batter and cook for about 3 minutes. The chaffles will be crispy on the outside. Serve immediately.
Hot Tip: Make sure to preheat your waffle iron, so the crust gets nice and crispy.
FAQ
Why are they called Chaffles?
They are called chaffles because cheese is the main ingredient. Cheese + waffles = Chaffles!
Are Chaffles healthy?
Chaffles are a healthier option if you are trying to limit your carb intake. They are a keto waffle that is low carb and high protein. And the cheese is high in calcium also!
Do Chaffles taste like eggs?
Because eggs are a main ingredient, Chaffles do have a slight egg taste along with the cheesy flavor.
Can u freeze Chaffles?
Yes, you can freeze chaffles! Wrap the chaffles in parchment paper and store in a ziploc bag. They can be frozen for up to 2 months.
Can you put Chaffles in the toaster?
Yes, you can reheat leftover Chaffles in the toaster. This is a great method to reheat as it helps crisp them up again.
How to Reheat Chaffles?
You can reheat chaffles using an air fryer, under the broiler, in a frying pan (with a little oil), in the toaster, or even the microwave (beware, they won't be as crispy). Leftover chaffles can be stored in the fridge for 3-5 days, then reheated until warmed.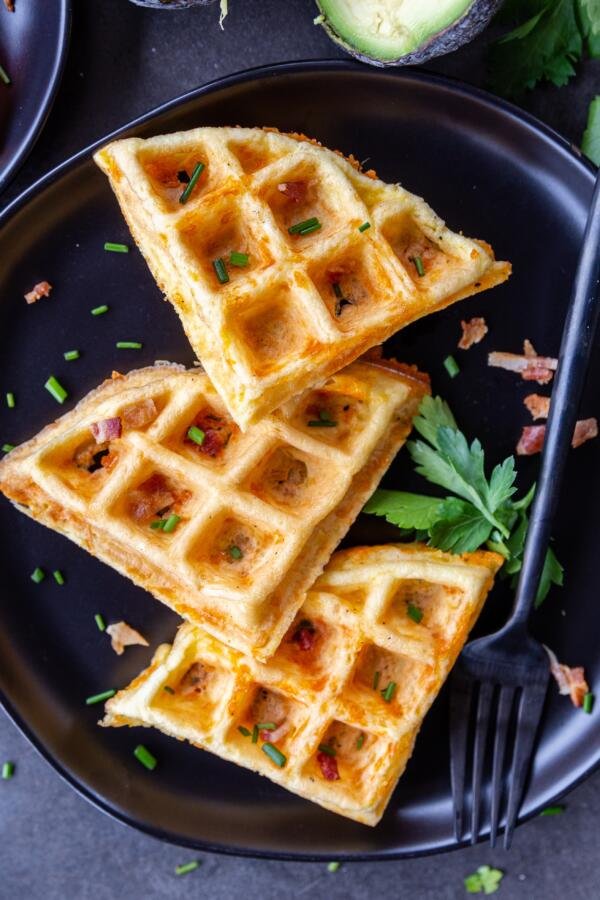 Serving Chaffles
There are so many ways to make Chaffles. You can add different herbs or spices to the batter to change it up. The toppings are what makes them fun! Here are some of my favorite sweet and savory toppings:
Sweet Option – Serve Chaffles with Jam, honey or maple syrup.
Savory Option – Serve Chaffles with smoked salmon, ham, bacon, extra melted cheese, avocado, hot sauce, salsa or sliced jalapeños for some spice.
More Waffle Recipes
Must Have Waffle Maker
A good waffle maker makes all the difference. We love anything waffles, even shared our waffle hacks on Youtube. Our favorite waffle maker is the Cuisinart WAF-F20 Double Belgian. Just look at the incredible reviews.
Recipe
Chaffles are essentially cheese waffles that only need TWO ingredients! They are low carb, keto and totally guilt-free. Make your breakfast easy, cheesy and totally delicious!
Instructions
Notes:
Adding Different Cheese: Jack cheese, Mexican, mozzarella or cheddar would work great here. Even a pinch of parmesan for extra flavor.

More Seasoning: you are welcome to add any of your favorite dry herbs and seasoning. Be careful with adding more salt, because the cheese is already salty.
Nutrition Facts
Chaffles with Only 2 Ingredients
Amount Per Serving
Calories 145
Calories from Fat 99
% Daily Value*
Fat 11g17%
Cholesterol 112mg37%
Sodium 207mg9%
Potassium 58mg2%
Carbohydrates 1g0%
Protein 10g20%
Vitamin A 402IU8%
Calcium 216mg22%
Iron 1mg6%
* Percent Daily Values are based on a 2000 calorie diet.