This rolled omelette is a fun way to spice up your weekend brunch. Reminiscent of Korean Gyeran-mari, it's as fun to look at as it is to eat!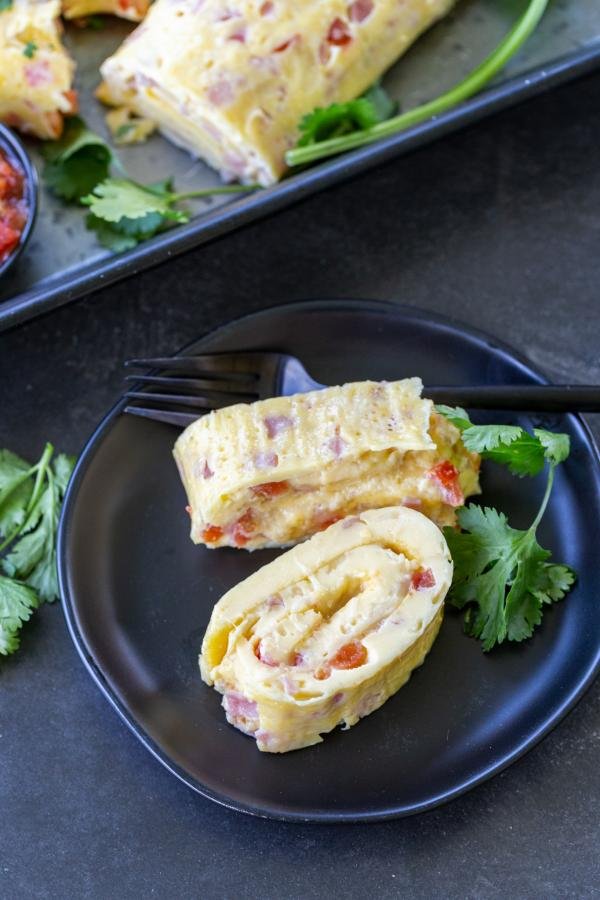 Brunch can get boring when you lean on the same scrambles, home fries, and pancakes every single time. Similar to a Korean-style gyeran-mari or traditional French omelette, this rolled omelette is the perfect way to up your egg game. It's also such an exciting dish to serve to guests (be prepared to see their eyes open up wide when they set their sights on it). What's even better? It looks a lot more impressive than it is to make.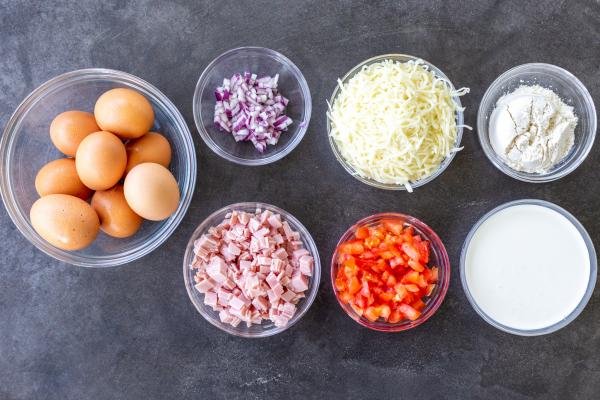 How to Make a Rolled Omelette
The first step is to whisk the eggs with flour and milk in a medium bowl.
Bake the Eggs: Next, pour a thin layer of egg mixture into a rectangular pan lined with parchment paper (this will make the rolling process easier, while also preventing the eggs from sticking to the bottom of the pan). Sprinkle the top with all the fixings and half the cheese and bake the eggs at 350°F for about 14 minutes.
Top with Cheese: Pull the omelette out of the oven and top it with the remaining mozzarella. Pop the eggs back into the oven for an additional couple of minutes until the cheese is melted.
Roll the Omelette: While the omelette is still hot, roll it up starting from one of the shorter ends. As you go, peel off the parchment paper.
Slice and Serve: Finally, place the omelette on a serving plate and cut it into individual slices. Serve immediately and enjoy alongside your favorite brunch sides!
3 Tips and Tricks for Nailing a Rolled Omelette
Rolled omelettes might look intimidating, but a couple of tips and tricks will help you nail the recipe.
Beat the flour into the eggs before the milk. Whisking the flour into the eggs before the milk gives the omelette a smoother texture.
Don't overcook the eggs. If you cook the eggs too long, they will be impossible to roll.
Roll the omelette straight away. Once the omelette comes out of the oven, start the rolling process as soon as you can. The longer it sits, the more it will harden and be difficult to handle.
Hot Tip: A Korean omelette pan, or tamagoyaki pan, is perfect for making mini rolled omelettes. Take it a step further and make a Korean-style omelette roll by adding a couple of tablespoons of soy sauce to the eggs and topping the roll with green onion.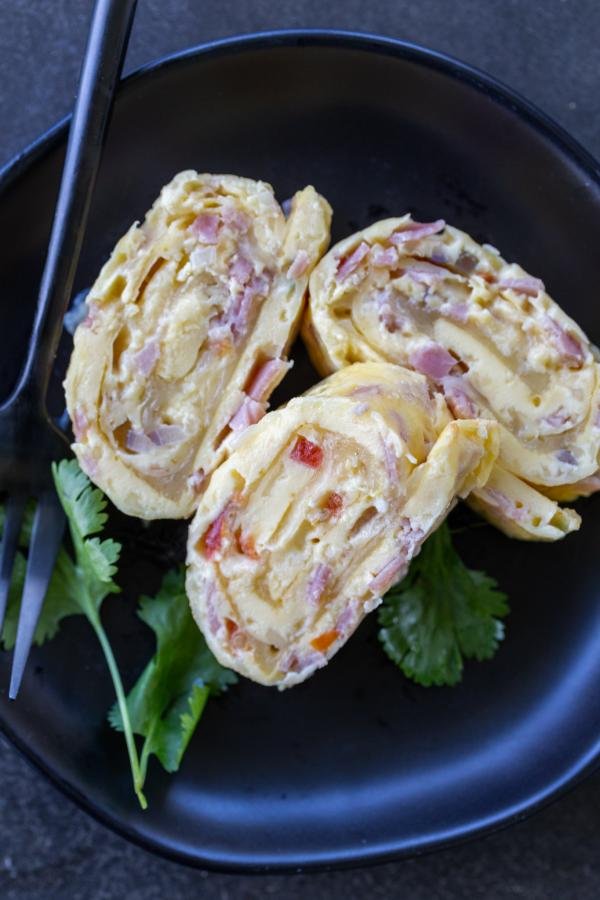 Different Ingredients to Play Around With
This omelette is incredibly versatile, so feel free to add in your favorite mix-ins. Below, find a couple of ingredients to inspire you.
Protein: Sausage, prosciutto, bacon, smoked salmon, and Canadian bacon (thick-cut ham)
Cheese: Cheddar, swiss, goat cheese, feta, and parmesan
Veggies: Bell peppers, jalapeno pepper, green onion, caramelized onions, mushrooms, carrots, broccoli, and asparagus
Ideas for Serving a Rolled Omelette
This rolled omelette makes for a perfect side dish for your next brunch spread. Pair it with oven roasted potatoes, cottage cheese pancakes, and air fryer bacon for a full spread. Alternatively, serve slices of the roll atop buttered sourdough for a quick breakfast on the run.
Best Practices for Storing & Reheating
Here you'll find all the top tips for storing and reheating your omelette roll.
Refrigerator: To keep your omelette roll fresh for up to a week, store it in an airtight container in the fridge. This will keep the eggs from turning stale quicker.
Freezer: To have quick breakfasts on hand, freeze individual slices of the omelette roll by wrapping them tightly in plastic wrap. To thaw, place them in the fridge overnight so they're ready to be reheated in the morning.
Reheating Tip: To reheat your omelette roll, pop a slice in the microwave for 30-45 seconds.
FAQ
Can you skip out on the flour?
Flour is key in helping the roll stay together. It also gives the egg a more dense texture.
What happens if you don't have a 12 in. x 16 in. pan?
If you don't have a rectangular 12 in. x 16 in. pan, use the one that's most similar in size and shape.
Can you use egg whites instead?
Using egg whites will probably work out just fine, but it's not recommended. The egg yolk brings so much flavor and texture to the dish.
What's the difference between an American omelette and a French omelette?
Traditional American omelettes are folded over once to make a half-circle shape, while French omelettes are rolled up into a spiral shape.
Why does my omelette break when I flip it?
Your omelette broke when you flipped and rolled it if you didn't let it cook long enough. Once the sides are set and the second layer of cheese is melted, you should be golden to attempt the roll.
Other Breakfast Recipes to Try:
Recipe
This rolled omelette is an exciting way to switch up your regular breakfast routine. It's cheesy, meaty, and perfect for hosting!
Ingredients
8

eggs

1

cup

milk

1/3

cup

flour

1

medium tomatoes

finely chopped

4

slices

ham

chopped

1/4

cup

purple onion

finely chopped

1 1/2

cup

mozzarella cheese
Nutrition Facts
Egg Omelette Roll (Gyeran Mari)
Amount Per Serving
Calories 267
Calories from Fat 144
% Daily Value*
Fat 16g25%
Cholesterol 257mg86%
Sodium 497mg21%
Potassium 258mg7%
Carbohydrates 9g3%
Protein 20g40%
Vitamin A 658IU13%
Vitamin C 2mg2%
Calcium 229mg23%
Iron 2mg11%
* Percent Daily Values are based on a 2000 calorie diet.