Hunan chicken is made of chicken thighs and colorful veggies covered in a mouthwatering hot and spicy sauce. It's homemade Chinese takeout!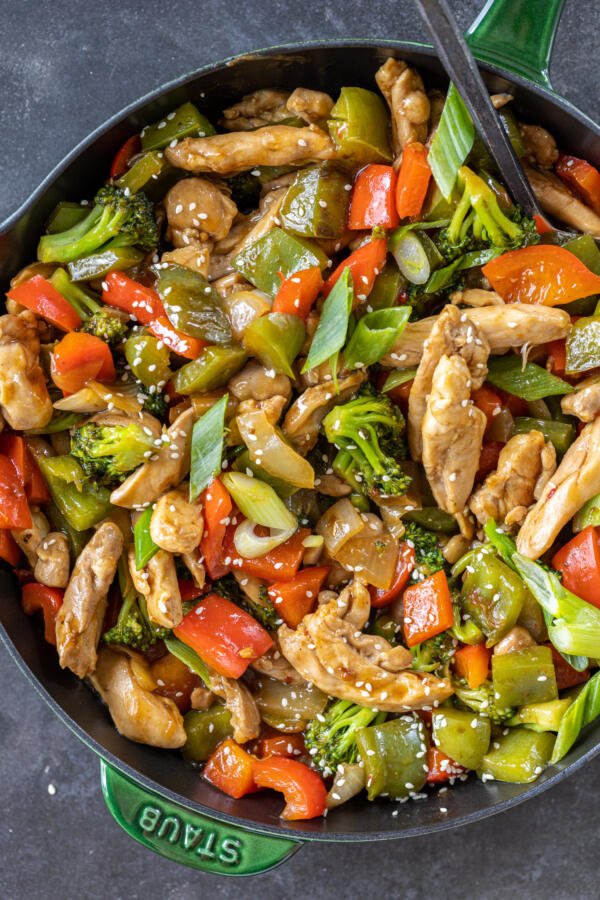 This Hunan chicken is one of our family's favorite meals. It's easy, mess-free, and uses only one pan. The chicken reheats really well in the microwave, so we often make extra so we can have the leftovers for school or work lunch.
What is Hunan Chicken & Sauce?
Hunan chicken is a hot and spicy dish originating from the Hunan province of China. It is made with chicken thighs and a variety of vegetables covered in delicious hunan sauce. It's essentially a type of chicken stir fry.
The sauce is the foundation of this dish. Hunan sauce ingredients include chicken broth, soy sauce, oyster sauce, sugar, and chili paste. Cornstarch is used to thicken the sauce to help coat the chicken and veggies. The result is a spicy, savory, and tangy sauce with a flavor that never gets old and keeps you coming back for more.
Hunan Chicken Recipe Video
Hunan vs Szechuan vs General Tso's Chicken vs Kung Pao
Hunan, Szechuan, General Tso's, and Kung Pao are all types of chicken entrees often confused with each other. Here's a guide on the differences between the four.
Hunan: Hunan style chicken comes from the Hunan province in China. Hunan cuisine, sometimes known as Xiang cuisine, frequently uses dry chili peppers, resulting in a more dry and plain heat. Hunan chicken is always covered in Hunan sauce.
Szechuan: Szechuan chicken originates from the Sichuan province in China. Szechuan chicken is a combination of sweet and spicy, and is a bit less spicy than Hunan. This chicken also does not have a sauce component. Instead, it often contains nuts such as peanuts or cashews.
General Tso's: This chicken tastes mildly spicy and is sweeter than Hunan and Szechuan chicken. The chicken is deep fried, and the dish does not contain any vegetables.
Kung Pao: Kung Pao is similar to Hunan chicken in most of the ingredients, except Kung Pao sauce is much sweeter and less spicy than Hunan sauce.
How to Make Hunan Chicken
Prepare all the ingredients before firing up the stove to make the cooking process as smooth as possible. Make the sauce hours ahead of time to make it even quicker!
Whisk the sauce ingredients: Place all the sauce ingredients in a small bowl, whisking to combine. Set aside.
Cut the vegetables: Cut all the veggies into bite size pieces. Mince the garlic, and cut the chicken into thin slices.
Cook the chicken: Preheat a large skillet or wok and cook the chicken pieces on medium high heat until golden brown. Remove and set aside.
Saute the veggies: Add bell peppers, yellow onion, green onion, broccoli, and minced garlic to the wok. Saute until the veggies are tender.
Combine the ingredients: Return chicken to the wok and combine with the veggies.
Stir in the sauce: Pour the Hunan sauce into the wok and stir to coat everything. Cook for an additional five minutes. Enjoy!
Tips from the Kitchen
Skip out on a restaurant by making your own Hunan chicken at home. Here are tips to make it takeout worthy!
Pre-slice the ingredients: To make the cooking process easy and quick, slice the meat and veggies ahead of time. Hunan chicken cooks fast, so having everything ready to go will prevent burning or overcooking.
Slice in similar sizes: Cut all ingredients to similar bite-sized pieces. This will ensure even cooking and better flavor distribution.
Change up the veggies: Take out the vegetables you don't like or add more of what you do like. Other great additions include mushrooms, zucchini, carrots, and baby corn.
Use fresh vegetables: Fresh vegetables retain a better taste and texture compared to frozen vegetables. Frozen veggies can turn mushy.
Cook in a large pan or wok: A large stainless steel pan or wok is best for cooking hunan beef. Nonstick pans are not meant to be used for high-heat stir frying.
Adjust spice as needed: Change the spice level by adjusting the amount of chili paste. Add salt and pepper to taste.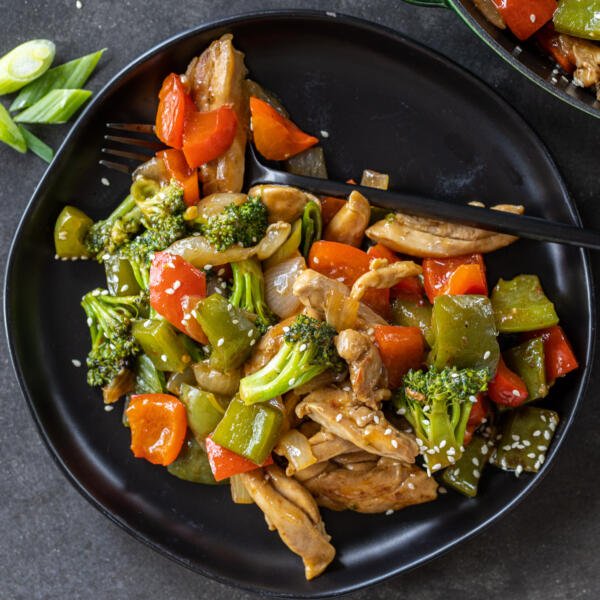 Substitutions & Additions
The best dishes are the ones that taste great, even when a few ingredients are substituted or added.
Substitute the protein: Instead of boneless skinless chicken thighs, use chicken breast. Chicken breasts are leaner, but also more tough.
Boost the flavor: For even more flavor, add a dash of ginger or a tablespoon of sesame oil to the sauce.
Add a crunch: Although not traditionally done with Hunan chicken, add nuts for a bit of a crunch.
Serving
Hunan chicken has the protein and the veggies necessary for a full meal packed all in one pan. If you want a refreshing appetizer to start with, try these tasty shrimp spring rolls. For more carbs, pair the chicken with a bowl of basmati rice or asian noodles. For less carbs, buckwheat, farro, and quinoa are great alternatives.
Garnish the top of the chicken with green onions and toasted sesame seeds for a restaurant-worthy look.
Storage Tips + Reheating
We love making a large batch of hunan chicken to store for an easy lunch the next day. It stores and reheats well, and because it's basically a meal in itself, extra side dishes aren't required for a filling lunch.
Refrigerator: To store for up to four days, place leftovers in an airtight container in the fridge.
Freezer: To store for up to three months, place cooked chicken in an airtight container and freeze. Thaw overnight in the fridge.
Reheating: Reheat leftovers in the microwave (for a small portion), or in a pan until warm and sizzling (for larger portions). If the sauce appears to be drying out in the skillet, add a splash of water to add moisture.
FAQ
Which is the spiciest: Hunan, Szechuan, Kung Pao, or General Tso's chicken?
Usually, the spiciest is Hunan chicken; however, this may vary depending on the amount of spices used in each dish.
Is Hunan or Szechuan chicken healthier?
Hunan chicken is generally considered healthier because it is stir-fried, whereas Szechuan chicken is deep fried, which results in more calories.
More Asian Recipes To Make
Recipe
Hunan chicken is made of chicken thighs and colorful veggies covered in a mouthwatering hot and spicy sauce. It's homemade Chinese takeout!
Ingredients
Hunan Chicken
1

lb

chicken thighs

boneless skinless

1

tbsp

oil

vegetable, avocado, or olive

1

medium red bell pepper

chopped

1

medium green bell pepper

chopped

1

medium onion

white or yellow, chopped

1

cup

broccoli florets

1/4

cup

green onion

chopped

1 1/2

tsp

fresh garlic

minced
Nutrition Facts
One Pan Hunan Chicken Recipe
Amount Per Serving
Calories 350
Calories from Fat 207
% Daily Value*
Fat 23g35%
Cholesterol 112mg37%
Sodium 1209mg50%
Potassium 525mg15%
Carbohydrates 15g5%
Protein 22g44%
Vitamin A 1340IU27%
Vitamin C 86mg104%
Calcium 43mg4%
Iron 2mg11%
* Percent Daily Values are based on a 2000 calorie diet.