Heat up the grill for this easy zucchini and squash recipe. The veggies are seasoned and grilled to perfection in just minutes. This side dish is bound to be a summer favorite!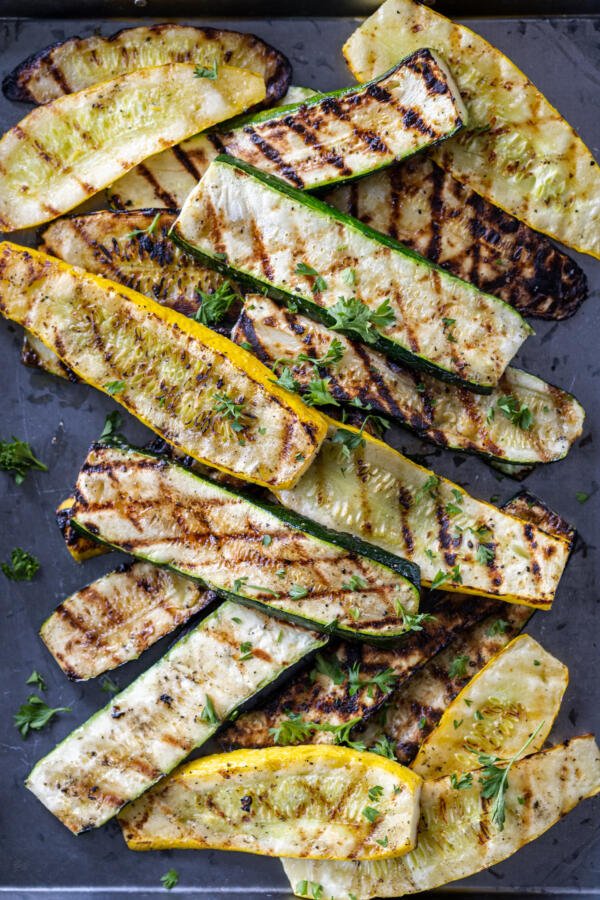 You may have noticed Momsdish loves zucchini! Any chance we get, we're adding zucchini. It's so versatile and is great in both savory and sweet dishes. This easy side dish of grilled zucchini and squash is loved by the whole family and repeated throughout the summer.
How To Make Grilled Zucchini and Squash
Whip up a side of grilled zucchini and squash in no time with just a few simple steps.
Slice: Preheat the grill to medium-high heat, about 350°F. Slice the zucchini and squash lengthwise into 1/3-inch slices.
Season: Place the zucchini and squash in a large tray. Season with garlic parsley salt, avocado or olive oil, and a squeeze of fresh lemon juice.
Grill: Grill each side for about two minutes or until lightly golden.
Serve: Remove from the grill and serve hot or cold.
Hot tip: If you don't have a grill, roast the zucchini and squash in the oven at 425°F until tender.
Tips For Perfectly Grilled Zucchini & Squash
Grilling is sometimes intimidating, but with these tips, it will be a breeze. Follow along for perfectly tender grilled zucchini and squash.
Slice the veggies lengthwise: Trim off the stems and cut the vegetables into vertical strips. It's easier to flip strips on the grill and they're less likely to fall through the grill grates.
Cut the pieces into 1/3-inch thickness: Slice the zucchini and squash pieces into similar thickness to ensure evenly grilled vegetables.
Sear on an open grill: Sear the sliced vegetables on the open grill for a few minutes. Avoid closing the lid as it traps the heat and results in overheated, mushy zucchini and squash.
Grill on medium-high heat: Medium-high heat is ideal for the veggies to develop a crisp exterior but tender inside.
Avoid overcooking: Grill the vegetables for about two minutes on each side. Quickly sear to prevent overcooked soggy zucchini and squash. Use these tongs for easy flipping.
Hot tip: If you want to cut the veggies into small pieces, use a grill basket. Then you won't be worried about any pieces falling through the grill gates.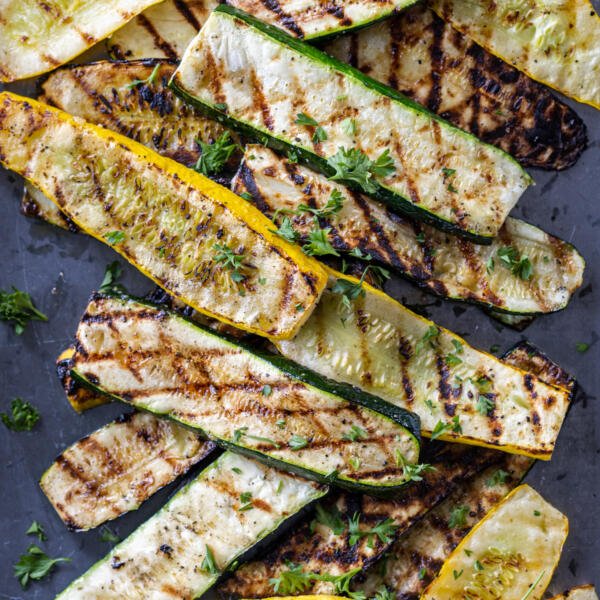 Flavor Variations
Change up the flavor profile of the zucchini and squash with these variations. There's something for everyone to love.
Garlicky: Press a few cloves of garlic and mix with oil. Then, brush on freshly grilled zucchini for extra garlic flavor.
Spicy: Bring on the heat and season the veggies with red pepper flakes, cayenne, or spicy chipotle seasoning.
Herby: Garnish the grilled veggies with fresh parsley or basil for a light herby flavor.
Citrusy: Squeeze fresh lemon or lime juice over the veggies right before serving to enjoy a zesty bite.
Cheesy: For cheesy zucchini and squash, top the hot grilled veggies with freshly grated Parmesan cheese.
Serving Suggestions
This colorful side dish looks and tastes delicious, especially when plated with grilled proteins. Serve the veggies with your favorite grilled meat or seafood. This grilled chicken thighs recipe is kid-approved and it's done in only 20 minutes. If you're craving seafood, make this impressive grilled cod. Looking for fancy? Make this crazy easy grilled lobster tail. Grilled ribeye steak is another one of our go-to proteins when we're looking to impress our guests — and taste buds.
Storing Leftovers
If you have grilled zucchini and squash leftovers, refrigerate them in an airtight container to enjoy within three days. The zucchini and squash taste great cold or reheated.
Reheating
For the best reheated zucchini and squash leftovers, opt for the oven or airfryer. Avoid the microwave, as the veggies tend to become too soft and mushy when microwaved.
Oven: In a preheated oven at 400° F, place the vegetables on an oiled baking sheet. Bake for about five minutes or until heated through.
Air fryer: Reheat the veggies in the air fryer for a crispy exterior. Place in the preheated air fryer at 400°F for three to four minutes or until warmed through.
FAQ
How do I cut the zucchini and squash for grilling?
It is best to slice the zucchini and squash into similar-sized pieces. This way the pieces all cook at the same rate.
Do I peel the zucchini and squash before grilling?
There is no need to peel the skin off the zucchini and squash. It softens as it grills and adds a delicious texture.
Can you freeze cooked zucchini and squash?
Freezing cooked zucchini and squash is not recommended because of their high water content. If frozen, the veggies may become mushy as they defrost.
More Tasty Zucchini Recipes
Recipe
Heat up the grill for this easy zucchini and squash recipe. The veggies are seasoned and grilled to perfection in just minutes. This side dish is bound to be a summer favorite!
Nutrition Facts
Grilled Zucchini and Squash
Amount Per Serving
Calories 94
Calories from Fat 63
% Daily Value*
Fat 7g11%
Sodium 2335mg97%
Potassium 513mg15%
Carbohydrates 6g2%
Protein 2g4%
Vitamin A 392IU8%
Vitamin C 34mg41%
Calcium 32mg3%
Iron 1mg6%
* Percent Daily Values are based on a 2000 calorie diet.