These eggplant appetizer roll-ups are stuffed with a garlicky mixture of carrots, onions, mayo, and tomato paste. A classic Slavic finger food!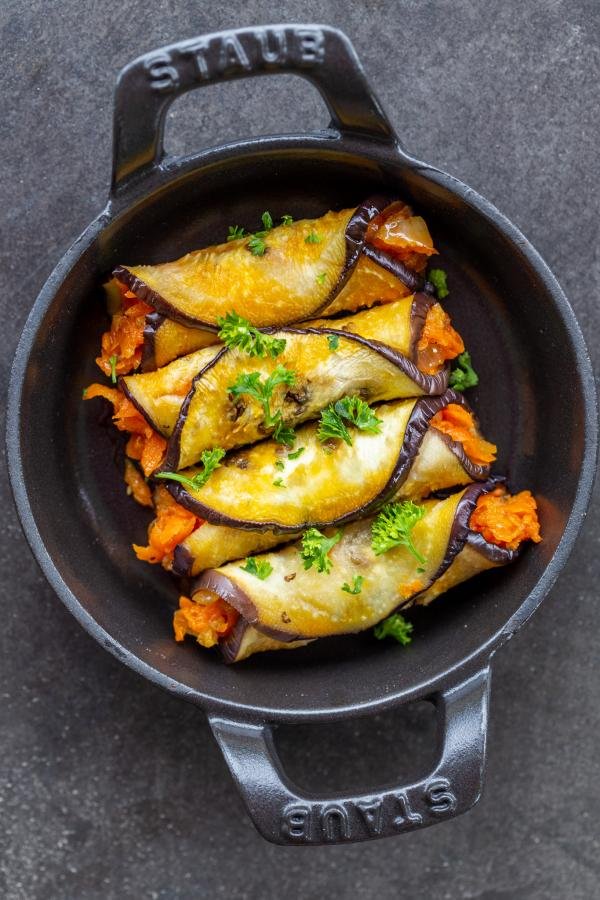 In Slavic culture, you can always expect these eggplant roll-ups to make an appearance at everything from weddings to important family get-togethers. Served cold, they are a refreshing mouthful of garlic and texture. You're going to love them!
Naturally gluten-free and low-carb, you can also enjoy them as a healthy snack whenever a craving hits. For those of you out there that are obsessed with eggplant, you'll soon find these a part of your regular appetizer rotation!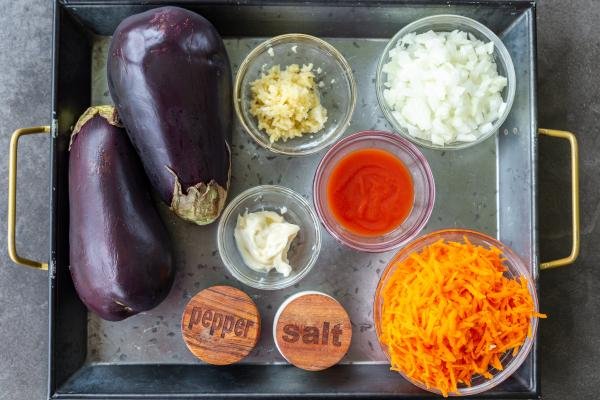 How to Make This Eggplant Appetizer
Making these eggplant roll-ups requires under 10 ingredients and is a super fun process. Who doesn't like stuffing and rolling? Below, find a quick rundown of the recipe before you get started.
Tips & Tricks
Below, find a handful of tips and tricks to help you make the best eggplant appetizer roll-ups.
Use a mandolin slicer to cut the eggplant. If you want beautiful, consistent slices, use a mandolin slicer on a 1/4-inch thick setting to cut the eggplant.
Don't overbake the eggplant. You want the eggplant to soften slightly, not roast. If you overcook it, it will be hard to work with and roll.
Don't overstuff the eggplant. Resist the temptation of overstuffing the eggplant, or they'll be super hard to roll. You also don't want to overstuff them so much that they don't stay sealed.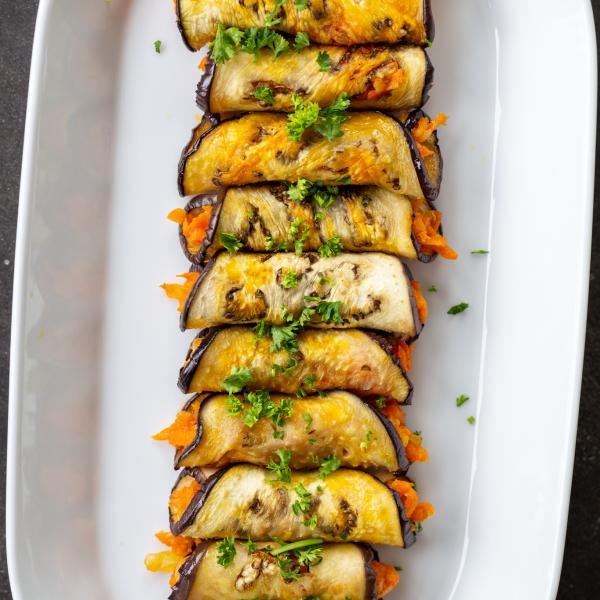 Serving Eggplant Appetizers
Eggplant roll-ups are an amazing starter for special occasions. In Slavic communities, they are almost always served as weddings, holidays, and birthday celebrations. Add them to your appetizer spread of crab mushroom canapés and mushroom and bell pepper canapés, or place them right next to your charcuterie board. If you want to keep things traditional, serve them as a starter before a meal of cabbage rolls and creamy herbed potatoes.
Storage Tips
If you're planning to eat the eggplant roll-ups within a week, store them in an airtight container in the fridge. This will keep them from turning stale, while also preventing them from soaking up any lingering smells in your refrigerator.
FAQ
Can I make this appetizer a day ahead?
Yes, you can make eggplant roll-ups a day ahead of time. However, don't prep them more than a day ahead, as they are prone to turning soggy.
Does this recipe call for a whole garlic head or just a single garlic clove?
Yes, this recipe does indeed call for an entire head of garlic. If that is too much for you to handle, feel free to use half or just a couple of cloves.
How long do these eggplant appetizers keep for?
Eggplant roll-ups should be eaten within 2 days. Any longer and the eggplant will turn soggy.
Are these considered low-carb and gluten-free?
Yes, these eggplant appetizer bites are naturally low-carb and gluten-free.
Could I use a different veggie than eggplant?
Potentially, you could use par-boiled zucchini. However, we've only tested this recipe with eggplant and can't vouch for how it would work.
Other Tasty Finger Foods
Recipe
These eggplant appetizer roll-ups are stuffed with a garlicky mixture of carrots, onions, mayo, and tomato paste. A classic Slavic finger food!
Nutrition Facts
Eggplant Roll Up Appetizer (Slavic Verison)
Amount Per Serving
Calories 66
Calories from Fat 18
% Daily Value*
Fat 2g3%
Cholesterol 1mg0%
Sodium 88mg4%
Potassium 463mg13%
Carbohydrates 12g4%
Protein 2g4%
Vitamin A 1875IU38%
Vitamin C 6mg7%
Calcium 20mg2%
Iron 1mg6%
* Percent Daily Values are based on a 2000 calorie diet.