Baklava, baklava, baklava! It's such an amazingly perfect dessert, but it's often time-consuming to make. I'm so nuts (pun intended!) about baklava that I made a simpler, rolled variation that you can make much quicker.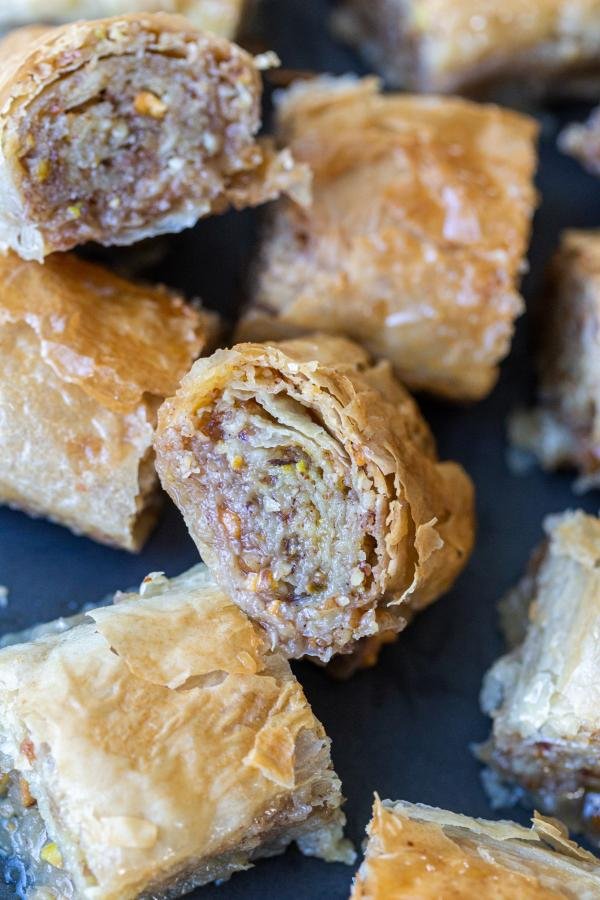 Hands down, this will be the easiest rolled baklava recipe you will come across. It's flaky, chewy, nutty, and so yummy. Just to give you a fair warning, you might have trouble observing a diet with this one. The first time I made this recipe, I was hoping to share it with friends, but it was gone too quickly and too soon. More so, it combines all my favorite things about cooking — a helpful shortcut, a small ingredient list, and no skimping on the sugar.
Where Did Baklava Originate?
This scrumptious dessert is not only seeped in honey but also history. The earliest records of baklava recipes date back to early as the 8th century B.C. Today, many ethnic groups make baklava and have variations of the dessert. From the Greeks to the Turks, every chef has their style of baklava and that makes the eating all the greater. Variety is the spice of life, right?
What Baklava is Made of
If you have had baklava before, you know it is as decadent as it gets. To make it, you alternate layers of phyllo dough with chopped walnuts, cinnamon, sugar, and butter or ghee. After you bake your baklava, you will drench it with melted honey and let it soak in all the sweetness for several hours.
Different Varieties of Baklava
There are so many different types of baklava out there. Some chefs use ground pistachio instead of walnuts, while others use almonds. Some people also like to bake their baklava like cakes. Others like a spicier nut mixture packed with ground cloves and cinnamon. For this recipe, you will use my rolling method to skip some of the manual labor. When I created this easier version, I didn't realize how dangerous it was going to be to have baklava on the table so fast!
How to Make this Rolled Baklava Recipe
Preparing this rolled baklava recipe takes just 20 minutes of prep time – almost a quarter less total time than traditional baklava!
Chop the Nuts: Use a food processor to chop the nuts into tiny pieces.
Make the Filling: In a medium bowl, toss the chopped nuts with confectioner's sugar and cinnamon. In a small bowl, melt the butter.
Prepare the Sheets of Phyllo Dough: On a large cutting board, lay out the phyllo one sheet at a time, brushing each with melted butter.
Assemble the Rolled Baklava: Sprinkle the nut mixture onto the buttered sheets and roll up the phyllo into a tight roll. Place the baklava log into a baking pan and repeat the rolling process until you run out of ingredients.
Brush the Rolled Baklava: Brush the rolled baklava with melted butter.
Bake the Rolled Baklava: Pop the baking dish in the oven at 375°F for 25 minutes.
Soak the Rolled Baklava: In a saucepan, combine the sugar and water and boil it on low for 10 minutes. Optionally, add a few cinnamon sticks in while the syrup comes together. Add in the honey and stir to combine. Pour the sweet mixture over the baking tray and let it soak at room temperature for 3 hours.
Slice the Baklava: Slice the baklava into bite-sized pieces and decorate each piece with a clove if you wish.
Hot Tip: To make the syrup more citrusy, add a couple of tablespoons of fresh lemon juice or orange blossom water to the mix.
Tips for Making this Rolled Baklava Recipe
If you're used to making traditional baklava, this rolled variation has some slight differences. These tips will help you nail the process.
Use a food processor to chop the nuts. Use a food processor to chop your walnuts and save yourself a battle with a knife. You will need to pulse them about 10 times to get them to the correct coarseness.
Be swift with the phyllo. Work with your phyllo dough as quickly as possible to prevent it from drying out. The longer it sits at room temperature, the more prone it is to be too difficult to work with and roll.
Roll the phyllo as tightly as possible. Roll your rolls are tight as possible to ensure that you have even and smooth layers on the inside.
Soak the baklava while it's still hot. Pour the honey and sugar mixture on your baklava rolls while they are still hot. This will help them to soak up the mixture much better.
Slice the baklava at an angle. Cut your baklava pieces at an angle with a sharp knife. I like to use a bread knife in a light, sawing motion to make sure all the pretty layers stay intact.
Let the baklava rest at room temperature. You must let your baklava rest at room temperature for at least 3 hours uncovered. If you can, overnight works best.
How to Keep Baklava from Getting Soggy
Keep your baklava from getting soggy by covering it lightly with a paper towel. You can store it in the fridge or at room temperature once you have given it enough time to soak up the honey and sugar mixture. Whatever you do, don't keep it sealed in a warm place – otherwise, the honey will melt and cause the delicate phyllo to become limp.
Freezing this Rolled Baklava Recipe
Freeze your baklava in an airtight container for up to 3 months. If you have to layer your pieces, make sure to place a piece of wax paper between them to prevent sticking. When you are ready to eat, allow the baklava to thaw in the refrigerator overnight.
FAQ
How do you make crunchy baklava?
The key to getting crunchy baklava is to allow it to rest at room temperature for at least 3 hours while it's soaking in the sweet, honey mixture. This will allow the baklava to absorb all the sugary goodness, while also exposing it to enough air to stay crunchy and slightly crispy.
What's the difference between the Mediterranean and Middle Eastern baklava?
Mediterranean baklava tends to have more layering, with many thin pieces of phyllo alternated with a sweet nut mixture. On the other hand, baklava in the Middle East tends to have a thicker pastry layer on the bottom that's stuffed with a sweet nut mixture and topped with another thick layer of pastry.
How do you know when baklava is done?
You'll know your baklava is done baking when the top of the phyllo is crispy and golden brown. When it comes to the soaking, it takes at least 3 hours for the syrup to penetrate through all the phyllo and nuts. That said, it's best to let baklava rest overnight.
Why is your baklava hard?
Your baklava likely came out hard if you didn't soak it while it was fresh out of the oven. The hot baklava makes the syrup melt, creating that perfectly tender texture you're looking for.
How do you keep phyllo dough crispy for baklava?
The key to keeping the phyllo sheets crispy is working with them quickly once you take them out of the fridge. The longer it sits at room temperature, the more it dries out, loses its texture, and is impossible to crisp up in the oven.
Other Nutty Sweet Treats to Try
Recipe
This easy rolled baklava recipe features a shortcut that cuts down the amount of time it takes to make this luscious treat. Crazy easy and so decadent!
Nutrition Facts
Easiest Rolled Baklava Recipe
Amount Per Serving
Calories 347
Calories from Fat 207
% Daily Value*
Fat 23g35%
Cholesterol 27mg9%
Sodium 98mg4%
Potassium 93mg3%
Carbohydrates 36g12%
Protein 3g6%
Vitamin A 312IU6%
Vitamin C 1mg1%
Calcium 25mg3%
Iron 1mg6%
* Percent Daily Values are based on a 2000 calorie diet.