These cheese danishes are so perfectly sweet and flakey that you won't need to go to the bakery to satisfy your danish craving. Easily make these at home yourself!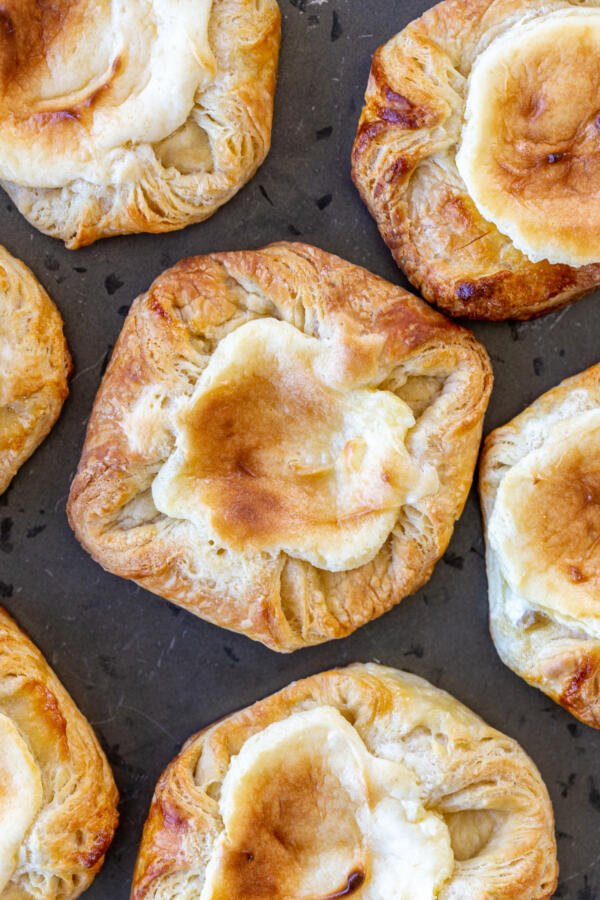 These cheese danishes are the best when made with our easy danish pastry dough or homemade puff pastry dough. However, if you're in a hurry, store-bought puff pastry sheets will work!
What is a Cheese Danish?
A cheese danish is a type of flaky pastry that has a sweet cream cheese center encased in a golden brown, buttery crust. Its crust is made of a multi-layered, yeast-leavened pastry dough that has multiple layers of butter that create the flakiness we all love. The cheese filling is a smooth mixture made with vanilla extract, cream cheese, sugar, and lemon juice. It is then scooped into the middle of the pastry and baked until gooey and warm. Optionally, cheese danishes can also be topped with a sugar glaze or a sprinkle of nuts.
Fun fact: Cheese danishes, or danishes in general, originated in Denmark, but were actually made by bakers from Austria.
How to Make Cheese Danishes
The first step to make cheese danishes is to prepare the danish dough, which is easy to make and can be prepared in advance. The remaining steps are even easier. Here's an overview of the recipe to get you started.
Glaze bonus: Make your danish extra fancy with a bit of glaze. Combine 1/2 cup of powdered sugar with 1 tbsp of milk. Drizzle the glaze over the tops of the slightly cooled danishes.
Pro Tips for a Top-Notch Danish
Here are our top five tips to make sure your danish tastes and looks its very best.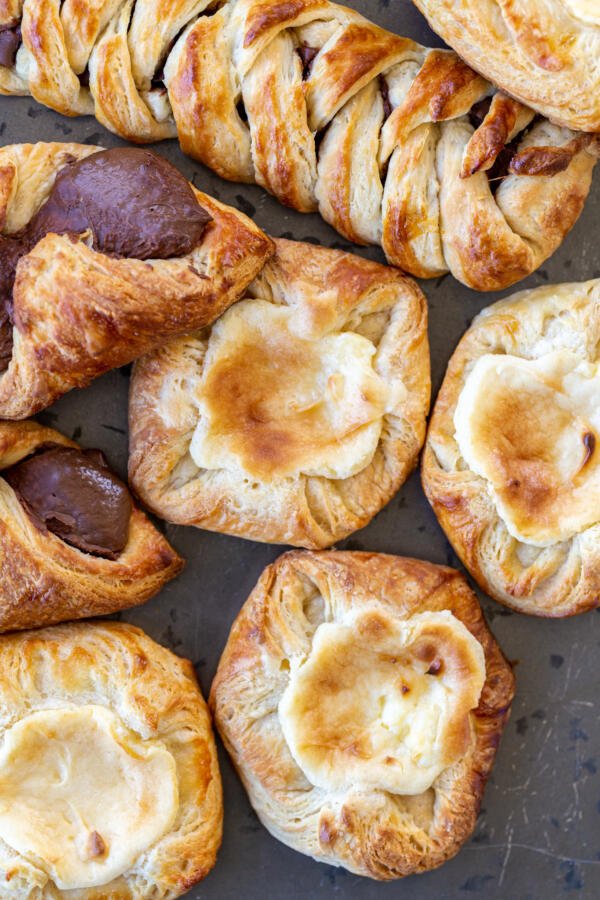 Making Danishes for Later
Cheese danishes can be made ahead of time just like the danish dough. Assemble the danish and refrigerate it for up to a day. Keep refrigerated until ready to bake. Alternatively, bake the danishes and simply reheat when ready to serve later.
Storing and Reheating Danishes
Baked cheese danishes store well in the refrigerator or the freezer. They can also be enjoyed cold or warm. However, we prefer them warmed — they taste just as good as out of the oven!
FAQ
What other toppings can I add to cheese danishes?
You can add a dollop of your favorite jam, a few pieces of chopped fruit or berries, or chocolate chips into the filling center. Alternatively, make a sugar glaze and drizzle over the tops. Garnish with chopped almonds or your favorite type of nuts.
Can I store cream cheese danishes on the counter?
It is best to avoid storing on the counter as the cream cheese custard can go bad. Cream cheese danishes can be stored in the fridge for up to three days or freezer for three months in airtight containers.
How can I adjust the size of my cream cheese danish?
To make danishes smaller (or larger), simply adjust the size of the squares when cutting the danish dough. Use less filling for smaller squares, or more filling for larger squares.
More Perfect Pastry Recipes
Recipe
These cheese danishes are so perfectly sweet and flakey that you won't need to go to the bakery to satisfy your danish craving. Easily make these at home yourself!
Nutrition Facts
Cheese Danish Recipe
Amount Per Serving
Calories 134
Calories from Fat 90
% Daily Value*
Fat 10g15%
Cholesterol 49mg16%
Sodium 97mg4%
Potassium 48mg1%
Carbohydrates 8g3%
Protein 2g4%
Vitamin A 411IU8%
Vitamin C 1mg1%
Calcium 31mg3%
Iron 0.1mg1%
* Percent Daily Values are based on a 2000 calorie diet.