Chocolate Crinkle Cookies are a holiday staple. This classic holiday cookie is rich, chocolatey and just melts in your mouth. Make this cookie and please all the chocolate lovers in your life.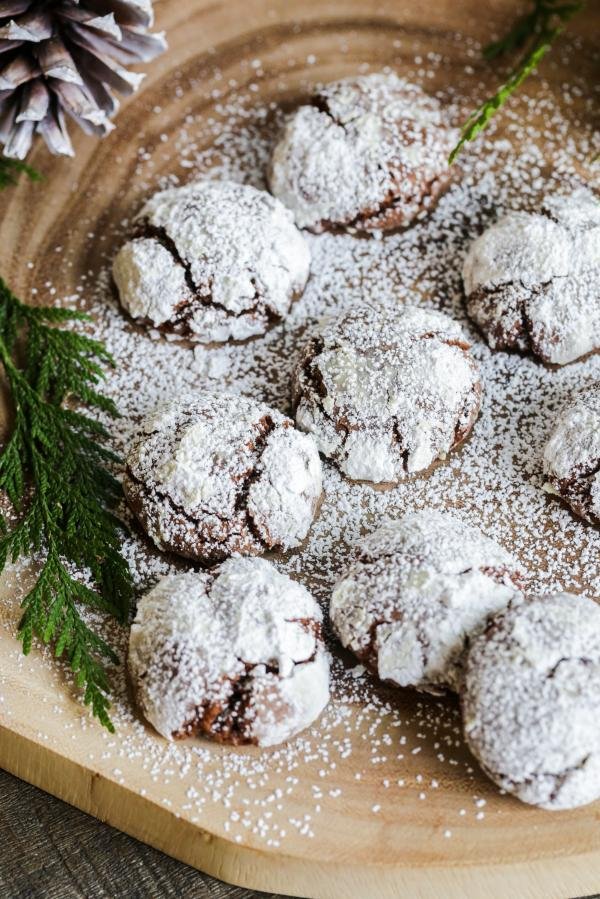 Chocolate Crinkle Cookies have been gracing holiday trays for a long time. If you have never tried one before, they are basically brownies in the form of cookies. They have an awesome gooey texture and a cute layer of powdered sugar on top. YUM!
My boys LOVE helping me make these cookies. They go into the oven covered in powdered sugar and when they come out, they have these little "crinkles" and cracks of sugar on top that make them look wintry and snow-capped. For this, my boys have dubbed them "magic" cookies. Their next trick? Disappearing off the plate within minutes!
Chocolate Crinkle Cookies
Like I said above, these cookies are quite similar in taste to brownies. They are soft and moist on the inside and the outside has this nice, crispy crunch. I love these cookies because they actually get better as they get a little stale. The outer layer just gets crunchier, while the center stays so gooey. Yes, indeed, they have the best of both cookie worlds…
Chocolate Crinkle Cookies were invented by Helen Fredell in St. Paul, Minnesota in the early half of the 20th Century. In Betty Crocker's book, "Cooky Carnival," Crocker talks about being served these cookies at Mrs. Fredell's home and begging for the recipe. Thank the heavens she did, because now we all get to enjoy them!
The reason the cookies crinkle is due to the use of cold dough. Once you make your dough mixture, you will refrigerate it for at least four hours or overnight. You will then coat your cold dough balls completely (I mean it, don't skimp here) in powdered sugar (also called confectioner's sugar) and bake them in the oven. During the baking process, the cold dough will expand and cause the sugar to create those signature crinkles.
Steps to Make Crinkle Cookies
Making Chocolate Crinkle Cookies is seamless and easy. Don't be intimidated by their appearance! As long as you follow the recipe steps, the turn-out will always be perfect. Here's how to do it:
Combine all the ingredients together for the dough.
Let it chill in the fridge for four hours or overnight. This step is super important. Using chilled dough is a must!
Shape the dough into balls using a melon baller or your hands.
Roll the dough in powdered sugar and cover it completely.
Pop them in the oven for 12 minutes, or until the hard outer shell forms.
Enjoy them fresh out of the oven or add them to your holiday trays!
Best Chocolate for Crinkle Cookies
For Crinkle Cookies, you are going to use dark chocolate. I would recommend using the very best chocolate chips or baking chocolate you can find! This is where the majority of the flavor will come from, so treat yourself. Snag some high-quality dark (or semi-sweet if you must) chocolate.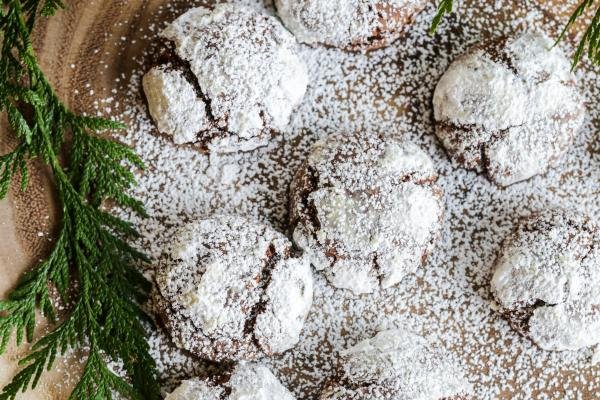 Can Chocolate Crinkle Cookies be Frozen?
Since you will be using cold dough, you are probably wondering if it would be okay to go ahead and freeze your dough balls for later use. You're on the right track! Freeze your dough balls for up to 2 months in an airtight container. When you are ready to bake, remove them from the freezer and allow them to thaw for 30 minutes in the fridge before rolling them in powdered sugar. Bake according to instructions.
Other Chocolate Cookie Recipes:
Recipe
Chocolate Crinkle Cookies are a holiday staple. They are rich, chocolatey and just melt in your mouth.
Nutrition Facts
Chocolate Crinkle Cookies
Amount Per Serving
Calories 106
Calories from Fat 45
% Daily Value*
Fat 5g8%
Cholesterol 15mg5%
Sodium 39mg2%
Potassium 85mg2%
Carbohydrates 14g5%
Protein 2g4%
Vitamin A 65IU1%
Calcium 17mg2%
Iron 1mg6%
* Percent Daily Values are based on a 2000 calorie diet.