This mushroom chicken salad is creamy, tangy, and full of texture. Consider it an unexpected spin on classic deli chicken salad!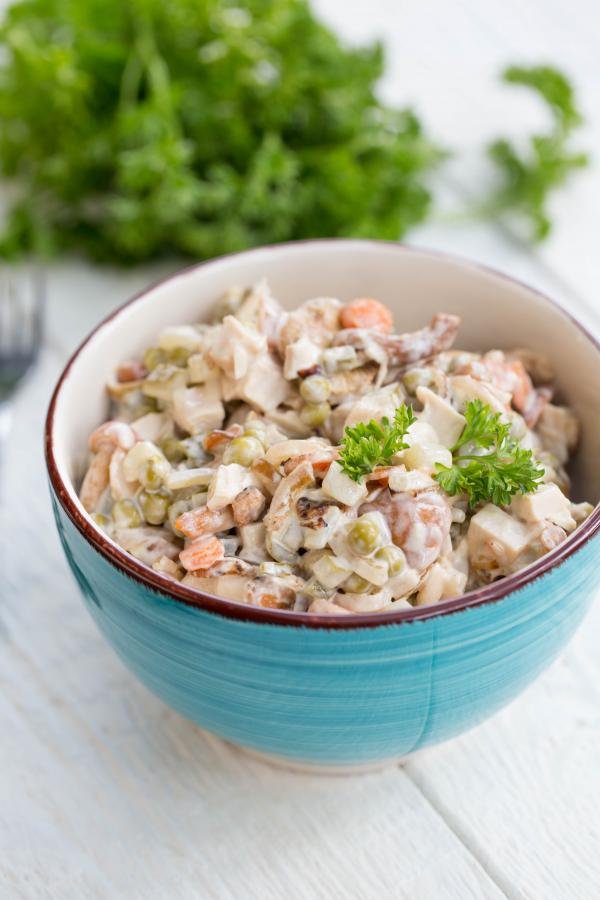 This tasty mushroom salad makes for the perfect side dish at your next party or takeaway lunch for work. The combination of tangy marinated mushrooms, savory chicken, sautéed veggies, and creamy dressing is simply to die for. A must-try that will soon be on repeat in your home!
Choosing the Right Mushrooms
The key to really getting the right balance of flavors in this salad is to use marinated mushrooms versus other varieties. The tanginess brings out the fats from the mayo and compliments the savory chicken and veggies. If you can, stop in at your local European specialty food store and grab any jarred, marinated mushroom you like best! Chanterelles and cremini mushrooms are our favorites.
Preparing a Mushroom Salad
If you're using precooked chicken breasts, putting this salad together is as easy as giving it a little stir and seasoning.
Prepare the Chicken: Dice the cooked chicken into small cubes.
Prepare the Veggies: Next, rinse the jarred mushrooms and canned peas under cold water. Dice the pickles, grate the carrots, and slice the onions into half rings.
Sauté the Veggies: Cook the carrots and onions in a hot pan until soft. Remove them from heat and allow them to cool completely. Mix all the ingredients together in a large bowl
Toss with Dressing: Finally, toss in the mayo and season to taste with salt and pepper. Serve chilled and enjoy!
Customize the Salad: Feel free to tweak the salad to your tastebuds. A couple great additions included minced garlic, parmesan cheese, lemon juice, or a little dijon mustard. You could also swap the onions out for shallots!
3 Simple Tips for the Best Mushroom Salad
These 3 simple tips will help you knock this creamy salad out of the park.
Slice the veggies evenly. Make sure that each vegetable group is sliced similarly to yield the best texture. If you have one, use a vegetable slicer to get that perfect consistency.
Rinse canned or jarred veggies first. Make sure the marinated mushrooms and canned peas are rinsed of their brine before adding them to the salad. These brines can carry a strong flavor and water down your salad dressing.
Allow the ingredients to cool before mixing them. To prevent the salad from overcooking or getting soggy, make sure all the ingredients are cooled to room temperature before mixing them together.
Hot Tip: For a pop of flavor and freshness, add in some minced herbs. Drill, parsley leaves, or chives will work great!
Ideas for Serving Your Mushroom Salad
Perhaps the most popular way to serve this salad is alongside pieces of toasted baguette or rye bread. This makes for such a killer appetizer! If you're prepping a picnic lunch, sandwich the salad between two pieces of bread with butter lettuce (hello, tasty Sunday hike sando!).
Best Practices for Storage
To keep the salad on hand for up to 3 days, store your leftovers in an airtight container in the refrigerator. This will lock in the moisture and keep it from drying out and losing it's vibrancy. When you're ready to snack, give the salad a good stir to redistribute the dressing.
FAQ
Can you use canned mushrooms instead of marinated ones?
Canned mushrooms don't have the same "zing" as marinated mushrooms. The tang from the vinegar makes all the difference!
Can you use leftover rotisserie chicken?
Absolutely! This recipe is a great candidate for using that rotisserie chicken you have hanging out in your refrigerator.
How far in advance can you whip this salad up?
You can make this salad up to 3 days before you plan to serve it. As it marinates in the fridge, it will continue to develop its flavors and the taste will be out of this world!
Can you use chicken thighs instead?
Breasts work best, as they aren't as fatty. However, you can use chicken thighs if you don't mind it have a fattier flavor profile.
Similar Salads to Whip Up
Recipe
This mushroom salad taps into some of the most wonderful parts of Slavic cooking. It's creamy, filling, & packed full of different flavors and textures!
Ingredients
2

cups

marinated mushrooms

2

cooked chicken breasts

1

large onion

cut into half rings

2

cups

pickles

2

cups

canned peas

2

medium carrots

cleaned & grated

1/4

cup

mayonnaise

dressing

1

tbsp

oil

1

tsp

salt

adjust to taste

1/2

tsp

black pepper

adjust to taste
Nutrition Facts
Mushroom Chicken Salad
Amount Per Serving
Calories 132
Calories from Fat 54
% Daily Value*
Fat 6g9%
Cholesterol 26mg9%
Sodium 579mg24%
Potassium 187mg5%
Carbohydrates 9g3%
Protein 11g22%
Vitamin A 2384IU48%
Vitamin C 5mg6%
Calcium 29mg3%
Iron 1mg6%
* Percent Daily Values are based on a 2000 calorie diet.