Giardiniera is the perfect relish of pickled vegetables. It's the ultimate homemade condiment — ready in only 24 hours, but staying fresh for weeks.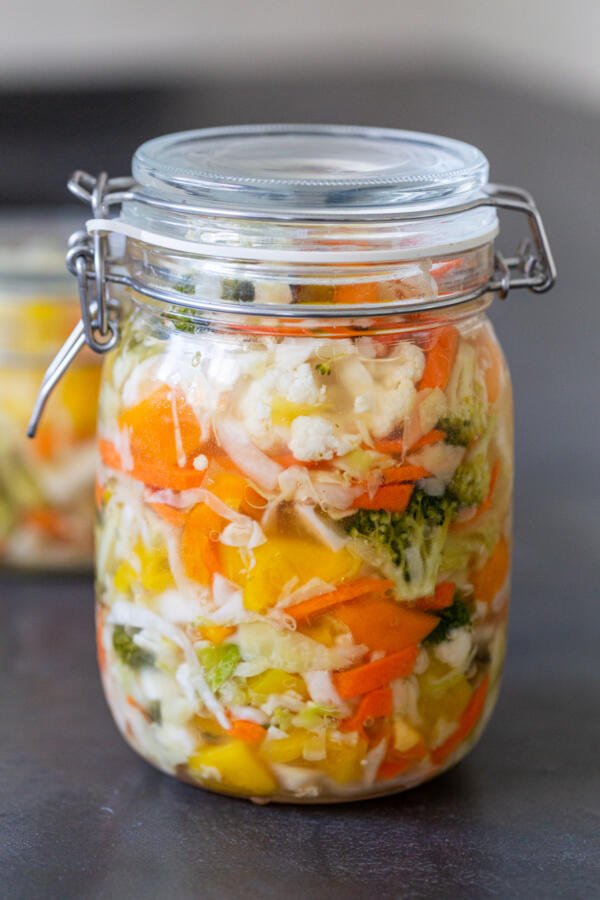 What is Giardiniera?
Giardiniera is an Italian pickle relish packed full of bright and colorful veggies. The usual suspects in this pickled vegetable recipe are carrots, cauliflower, and peppers — however, other veggies are often used as well. After the vegetables are pickled, they have a vinegary and herby flavor.
Giardiniera originates in Italy, although like many international recipes, there are cultural and geographical variations. One popular version is the Chicago style giardiniera. This relish differs from Italian-style as it rarely contains vinegar. Instead, it's made primarily with olive oil and herbs.
This pickled vegetables recipe leans closer to the Italian style, but also contains elements of our own family history, as it's been in my family for over 15 years. It's so good — we have it at almost every single family party.
How To Make Giardiniera
Pickling doesn't have to be hard. This quick pickling recipe makes it easy. Follow the instructions below to get crisp and crunchy veggies each and every time.
Prep the vegetables: Gather and clean all the veggies.
Dice and mix the veggies: Dice all the veggies into similar sized pieces, then mix them together in a large bowl.
Make the pickling brine: Combine all the liquids and spices in a pot. Bring to a boil, then pour the hot white vinegar brine over the vegetables.
Soak the veggies: Allow the veggies to soak in the brine for at least 24 hours at room temperature. After a day has passed, place veggies and brine into mason jars or airtight containers.
Store: Store in the refrigerator for up to two weeks.
What Vegetables Can Be Pickled?
This pickled veggies recipe is super versatile and allows you to get creative. Find a couple vegetable substitutes below and mix and match them as you please. For the most colorful giardiniera, choose a veggie from each color subgroup.
Green: Asparagus, zucchini, celery, green beans, okra, artichoke hearts, cucumbers
Brown: Crimini mushrooms
Red/Purple: Turnip, red onion, tomatoes, radishes, beets, eggplant
Yellow: Squash
White: Onion, garlic
Hot tip: This tip is literally hot. If you like things spicy, add in red pepper flakes and jalapeños. Adjust as you see fit.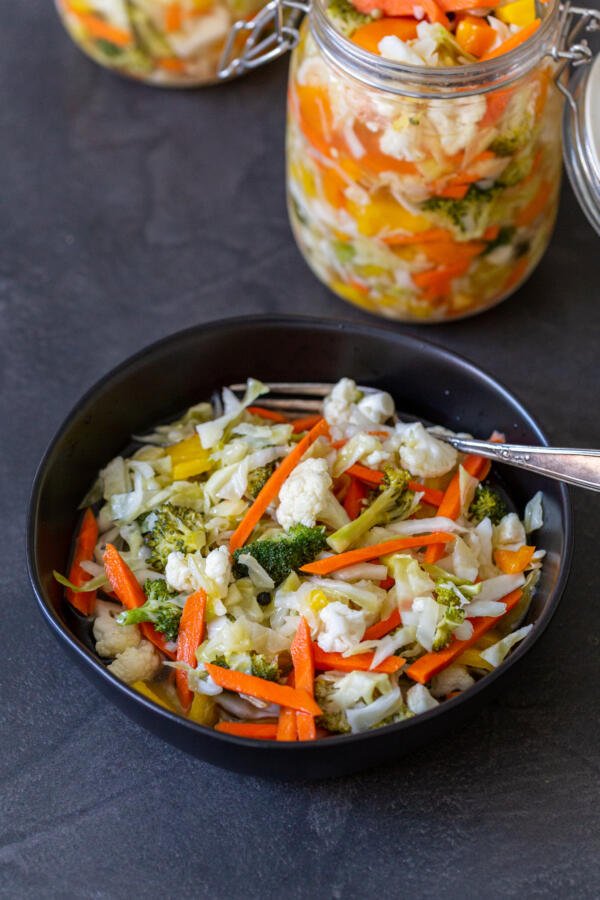 Tips from the Kitchen
For the best flavor and texture, as well as a way to keep track of how old your pickled vegetables are, follow these tips.
Use fresh vegetables: The best pickled vegetables come from high quality, fresh veggies. We love buying veggies from the local farmer's market, but a great alternative is to buy the best looking veggies at the grocery store.
Taste the brine: Taste the brine to see if it suits your flavor preferences. If it's too sweet, add more vinegar. Too strong? Add more water. For even more flavor, add mustard seeds, dill, or more bay leaves and black peppercorns.
Label the jars: Label your jars with the date you make the pickles to keep track of how long they're in the fridge.
Pour the brine while it's hot: Using a hot brine allows for the flavors to meld better together, as well as speed up the pickling process.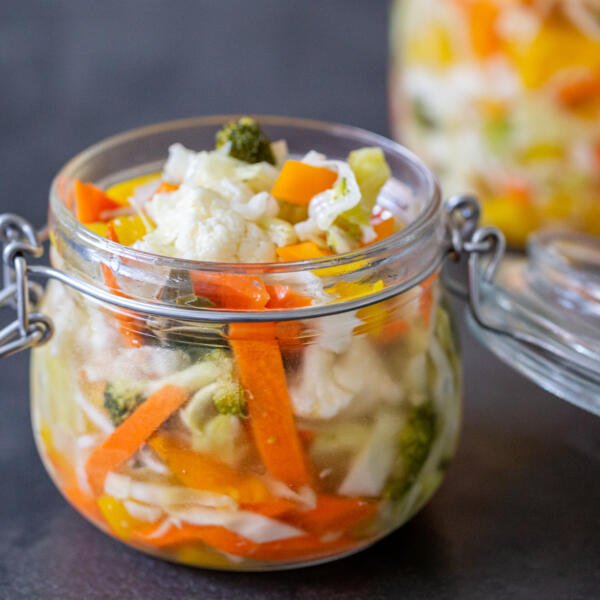 How Do I Serve Giardiniera?
This relish pairs perfectly with rich and savory dishes like steak sandwiches to burgers and roasted shredded beef. If you're a fan of charcuterie boards or antipasto platters, this relish is a great addition in a small bowl of its own. Or, giardiniera is also the perfect ingredient to level-up salads. Toss it straight into a classic garden salad for a taste of tang. The vinegar brine from the pickled vegetables is great to use as a dressing for the salad.
Storing Giardiniera
The best part about giardiniera is that it's quick to whip up and lasts so long when stored or preserved properly. To last for up to two weeks, refrigerate the giardiniera in a mason jar with the lid screwed tight. Ensure the veggies are always submerged in the pickling liquid to keep them fresh. It's always great to have a jar stowed away in the back of the fridge for last minute guests and get-togethers.
FAQ
Are pickled vegetables healthy?
Pickled vegetables are full of the same vitamins and nutrients that fresh vegetables have. However, due to the nature of the brine, the liquid can have high amounts of sugar and salt.
What's the difference between quick pickling and canning?
Quick pickling is a fast process of using a brine to pickle a veggie for usually a short period of time (up to a couple weeks). On the other hand, canning traditionally uses boiling water to create the brine and to vacuum seal a jar for longer storage.
Do pickled veggies lose nutrients?
Pickling does not cause vegetables to lose nutrients. In many cases, pickling is thought to introduce good probiotics that aid in digestion.
More Pickled Veggies
Recipe
Giardiniera is the perfect relish of pickled vegetables. The kicker? This quick pickling recipe is ready in just 24 hours, but can stay fresh for weeks when stored properly in the refrigerator.
Ingredients
1

Small Cabbage

1

Large Red Bell Pepper

1

Large Yellow Bell Pepper

1/2

Medium Cauliflower

1

Small Broccoli

1

Large Carrot

1

Medium Yellow Onion

5

cup

Water

1

cup

Light Olive Oil

1 1/4

cup

White Vinegar

1

cup

White Sugar

3

tbsp

Salt

20

Peppercorns
Nutrition Facts
Pickled Vegetable Salad
Amount Per Serving
Calories 139
Calories from Fat 18
% Daily Value*
Fat 2g3%
Sodium 1792mg75%
Potassium 432mg12%
Carbohydrates 28g9%
Protein 3g6%
Vitamin A 1569IU31%
Vitamin C 116mg141%
Calcium 70mg7%
Iron 1mg6%
* Percent Daily Values are based on a 2000 calorie diet.