This homemade marinara sauce tastes like it was slow cooked all day, despite it taking minutes to make. Perfect for pizza and pasta!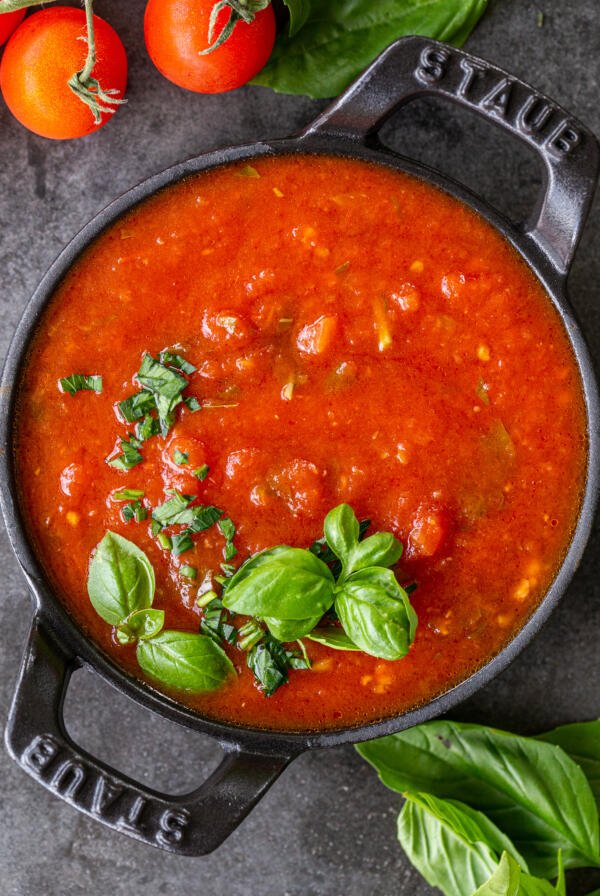 If you've been following me for a while, you probably can tell that I often opt for creamy sauces over red sauces. I'm a huge fan of decadent alfredo sauces and used to only purchase marinara for the boy's pizzas or spaghetti cravings. That was until I took my first trip to Italy and discovered what REAL marinara is supposed to taste like.
This marinara sauce is made with a nice splash of marsala wine, giving it such a nice depth of flavor. You'll want to slather it over just about everything from pasta to pizza to breadsticks. Seriously, it's that good. What's better? It's made in just 5 minutes!
What's the Difference Between Marinara and Spaghetti Sauce?
While many Americans use marinara and spaghetti sauce interchangeably, there are a couple of key differences between the two. Marinara is a thinner, simpler sauce that can be whipped up quite quickly – especially when you're using canned tomatoes. On the other hand, spaghetti sauce tends to be thicker and chunkier and is often made with a base of diced veggies and ground meat.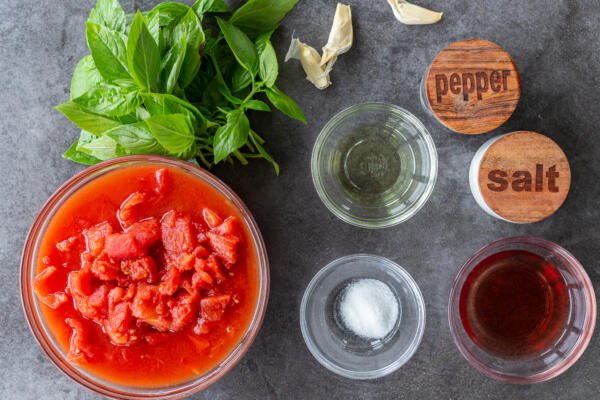 What is Marinara Sauce Made Of?
Typically, marinara sauce is made with a combination of canned or fresh tomatoes, garlic, herbs, and a little sugar to cut the acidity. Depending on your preference, it can be eaten chunky or pureed for a super smooth texture. In this 5-minute version, you'll puree canned diced tomatoes, fresh garlic, basil leaves, marsala wine, sugar, and a little salt and pepper. Simple, yet so delicious!
How to Make Marinara in 5 Minutes
Making marinara is so simple, you can hardly even call it a recipe. Below, find a quick hitter overview of the 5-minute process before you dive in.
Puree the Canned Tomatoes: Using a blender or food processor, puree the canned tomatoes until they turn super smooth.
Pop Ingredients Into a Pot: In a soup pot or Dutch oven, preheat some good quality olive oil and press the garlic into it. Once the garlic turns a shade of golden brown, add in the marsala wine, black pepper, sugar, salt, and chopped basil.
Tips for Making the Best Marinara Sauce
Here you'll find a collection of pro tips and tricks to help you make the best marinara sauce on the planet.
Use high-quality canned tomatoes. Some canned tomatoes are super high in sugar, or even worse, have loads of corn syrup. Opt for a can or organic San Marzano tomatoes for the freshest tasting marinara possible.
Use fresh basil versus dried basil. The fresh basil really elevates the marinara sauce, especially since you'll be using canned tomatoes over fresh tomatoes.
Add a little heat. If you're a fan of spicy sauces, add a few dashes of red pepper flakes or hot sauce to the marinara before you bring it to a boil.
Serving Marinara
There are endless ways to serve marinara, making it a wonderful recipe to batch cook and keep on hand for a rainy day. Use it for bolognese, perfect pizza, or as a dip for cheesy zucchini breadsticks. You can also use it as the base for lasagna, minestrone (sub it for canned tomatoes for an extra punch of flavor!), or shakshuka.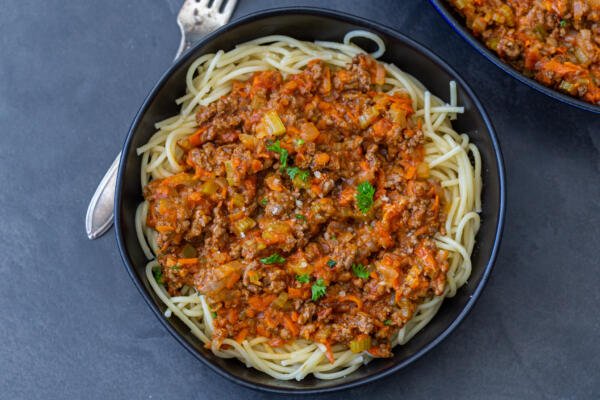 Storing Marinara
Whether you need to store a bit of leftover marinara in the fridge or want to batch cook a huge amount for freezing, find all the top storage tips here.
Refrigerator: If you plan to eat leftover marinara within 5 days, store it in an airtight container in the fridge. This will keep it from soaking up smells in your refrigerator and help it continue to develop its flavor as it marinates in itself.
Freezer: If you want to have marinara on hand for up to 3 months, double or triple the recipe, allow the sauce to cool completely, and freeze it in plastic quart-sized containers. To thaw, place a container in the fridge overnight.
Reheating Tip: The best way to reheat marinara sauce is in a saucepan over medium heat, stirring it occasionally until warmed through.
FAQ
Is marinara sauce the same as pizza sauce?
In America, marinara sauce and pizza sauce are often used interchangeably. For traditional Italians, the difference lies in marinara being a tad thinner than pizza sauce.
Why is a marinara sauce called "marinara"?
There's much debate as to how marinara got its name. One of the most popular stories is that the Neapolitan women would make the sauce for their sailor husbands when they returned home from sea. Hence the similarity of marinara to "mariner", the old-world term for a sailor.
Is marinara sauce good for spaghetti?
Yes, marinara sauce is great for spaghetti. You can easily add some cooked ground beef or meatballs to the sauce for a more filling meal.
Can I make this sauce with fresh tomatoes?
While many marinara sauces are made with fresh tomatoes, it's not recommended to substitute them in this specific recipe. Fresh tomatoes have so much more juice and the proportions just won't turn out well.
Why does this recipe call for dry marsala wine?
Dry marsala wine adds a wonderful nutty flavor to the marinara. The first time you add it, you'll wonder how you ate marinara without it!
Recipes that Call for Marinara Sauce
Recipe
This homemade marinara sauce tastes like it was slow cooked all day, despite it taking minutes to make. Perfect for pizza and pasta!
Nutrition Facts
5-Minute Marinara Sauce (Extra Easy)
Amount Per Serving
Calories 53
Calories from Fat 18
% Daily Value*
Fat 2g3%
Sodium 579mg24%
Potassium 203mg6%
Carbohydrates 7g2%
Protein 1g2%
Vitamin A 139IU3%
Vitamin C 10mg12%
Calcium 36mg4%
Iron 1mg6%
* Percent Daily Values are based on a 2000 calorie diet.