Craving cheesy bread, but you're on a low-carb or keto diet? My recipe for Cheesy Zucchini Bread hits the spot without compromising good nutrition.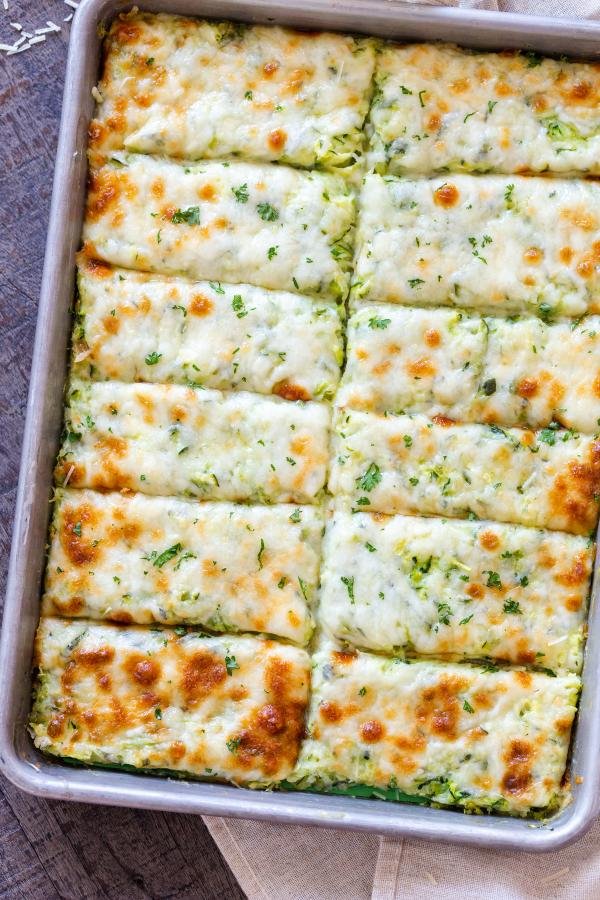 This crust is amazing! Instead of using flour, you are going to combine eggs, shredded zucchini and cheese to make a melt-in-your mouth, cheesy bread substitute. It will be nearly impossible to stop at your first slice. But, then again, why would you? These "breadsticks" are easy on the waistline and a great recipe to have in your low-carb toolbelt.
Zucchini grows like crazy in my mother's garden and my family gets to reap the benefits of her harvest each year. That being said, I have had a lot of opportunities to experiment with this vegetable and find ways to use it that are both irresistible and low-carb. This recipe for Cheesy Zucchini Breadsticks is one of my favorite creations!
If you love pizza, giving it up is perhaps one of the hardest parts about going keto. When I was dieting, I dreamed up this recipe out of desperation for an ooey, gooey slice of happiness and was surprised at how close I got to the real thing. I was even more surprised when my kids came back for seconds!
Tips for Zucchini Breadsticks
Add a 1/2 tsp of salt to grated zucchini, let it sit for about 10 minutes before squeezing out all the liquids.
Place the grated zucchini into a kitchen towel and squeeze out liquid. The more liquid you get out, the more crunchy and bread-like your crust will become.
Use a large enough baking sheet. It's best to lay out the mixture to about half of an inch in thickness so that the bottom can crisp up while baking. If you use a smaller pan, your zucchini crust will have a more mushy texture.
Bake your Cheesy Zucchini Breadsticks on high-heat. If you lower the heat, you will not get that caramelized look on the top. Plus, since zucchini "dough" has more moisture than traditional dough, it will need to bake at a higher heat to crisp up properly.
It's tempting to buy the cheapest, pre-shredded cheese you can find in the grocery store aisle. But, trust me, using higher-quality cheeses will significantly change the results of this dish. Try to buy blocks of mozzarella and parmesan and grate them on your own. This process unlocks oils and flavors that are lost in pre-shredded bags.
Serve the breadsticks right away! They are best consumed right out-of-the-oven, when all the cheese is freshly melted.
Make our Easy Marinara Sauce to dip your breadsticks in. Yum!
Using parchment paper is absolutely acceptable when making Cheesy Zucchini Bread. However, if you plan on starting a keto diet and think you will make this dish a lot, invest in a silicone baking mat. You won't have to spend money on parchment paper and you can rest assured that your crust will slide off the mat with ease every time!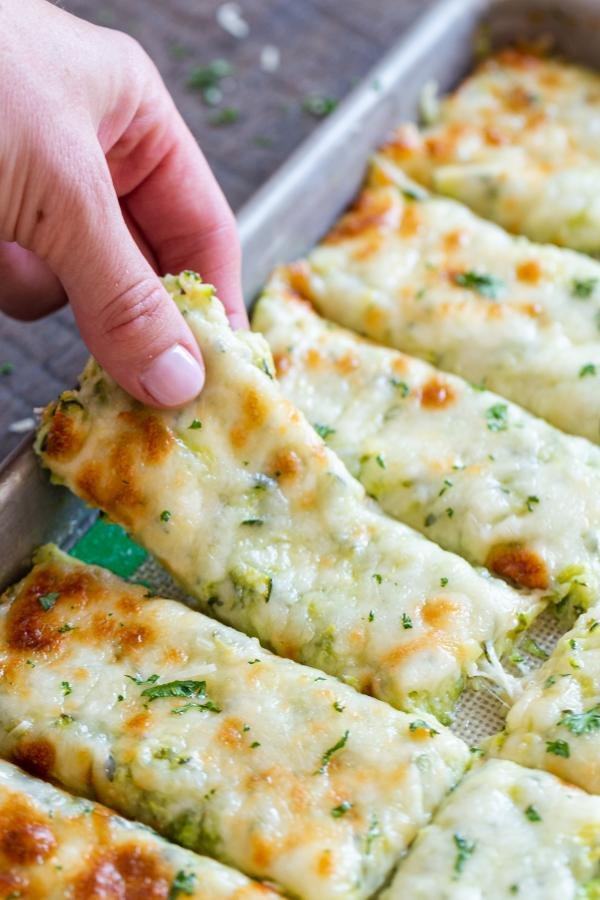 Zucchini Pizza Crust
You can easily use this recipe to make a more traditional pizza crust. Form the dough into a round, pizza-shaped crust and pile on your favorite toppings. Here are some of my favorite, low-carb topping combinations:
Chicken, spinach and my Easy Alfredo Sauce (5 Minutes)
Blue cheese, uncured bacon and mushrooms
Tomato slices, basil and Italian sausage
Prosciutto and arugula
Pepperoni, bell peppers and olives
Reheating Zucchini Breadsticks
Whatever you do, do not reheat your Cheesy Zucchini Breadsticks in the microwave. Like I said above, zucchini contains a ton of moisture. Microwaving your breadsticks will result in a soggy, non-pizza like crust. Instead, use your oven to reheat the breadsticks and make them crispy again. Heat your oven to 425°F and bake for 5-10 minutes.
Zucchini Recipes
It's no secret that I am absolutely obsessed with zucchini and how versatile it can be. Feel the same way? Check out some of my other zucchini recipes!
Recipe
Craving cheesy bread, but you're on a low-carb or keto diet? My recipe for Cheesy Zucchini Bread hits the spot without compromising good nutrition.
Ingredients
4

cup

Grated Zucchini

1/2

cup

Mozzarella Cheese

1/3

cup

Parmesan Cheese

1

Egg

1

tsp

Garlic Parsley Salt

1

cup

Grated Cheese of Choice

(topping)
Nutrition Facts
Cheesy Zucchini Breadsticks
Amount Per Serving
Calories 130
Calories from Fat 81
% Daily Value*
Fat 9g14%
Cholesterol 53mg18%
Sodium 669mg28%
Potassium 247mg7%
Carbohydrates 3g1%
Protein 10g20%
Vitamin A 440IU9%
Vitamin C 14.8mg18%
Calcium 225mg23%
Iron 0.6mg3%
* Percent Daily Values are based on a 2000 calorie diet.