Pizza Rolls make for a great appetizer or weeknight dinner. Inside fully, fresh-baked dough you will stuff your favorite pizza toppings for a handheld (and dippable!) treat!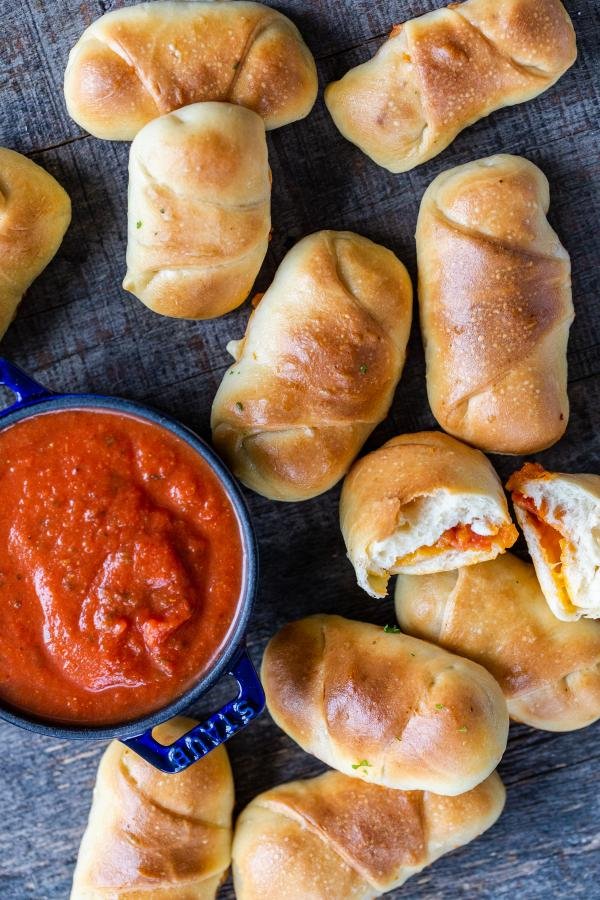 Pizza Rolls are basically pepperoni pizza nestled in fluffy dough. For your filling, you will combine pepperoni, marinara, Mexican shredded cheese (or mozzarella if you prefer) and Italian seasonings. The end results is an ooey-gooey treat that you won't be able to put down!
Homemade Pizza Rolls might sound a bit childish, but trust me, anytime I make them they are adored by kids and adults alike! They also reheat amazingly, making them perfect for meal prepping or popping into your work lunch.
Pizza rolls will be a new staple in your home. From school lunches to movie nights to game day parties, these savory bites make for a great snack. Let's get started!
How do you Make Pizza Rolls?
There are two ways to make pizza rolls. Both use my recipe for Overnight Pizza Dough and are equally tasty. The only difference between the two is the time and effort to put the rolls together and the appearance!
The first technique (and the one that is pictured in this recipe) requires you to prepare each roll separately. First, you will cut your dough into even, triangular-shaped pieces. Then, you will place the filling on the wider end and roll it into a crescent shape. Line a baking sheet with your rolls, making sure to leave a bit of space between each roll. Finally, you will bake them in the oven until they are golden brown!
The other technique will save you a bit of time and effort. You will roll out the entire piece of your dough into a rectangular shape. Then, just like with cinnamon rolls, your will spread out the filling evenly. Next, you will roll the dough into a log and slice it into 1-inch pieces. Line a baking sheet with your savory rolls. Bake until golden brown!
Hot tip: Make a quick garlic butter by mixing marinated garlic with melted butter. When your Pizza Rolls come out of the oven, brush each one with a bit of butter for an added flavor punch.
What Goes Good with Pizza Rolls?
Pizza Rolls are super versatile. I like to serve them alongside a caesar salad or garden salad for a complete meal. Take it to the next level and make alfredo sauce or marinara sauce to dip them into!
Homemade Pizza Dough
You can always take a shortcut and purchase prepared dough at the supermarket. That being said, you should definitely try your hand at making my homemade pizza dough! For this recipe, I usually use overnight pizza dough or classic pizza dough.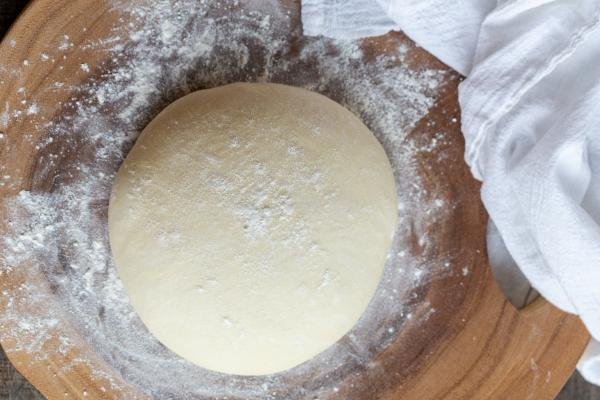 What Temperature do You Cook Pizza Rolls at?
Temperature is the key to making amazing pizza. The higher the better, so typically my pizza is baked at 425 °F – 450 °F. Make sure to leave space between each pizza roll because they will expand a bit. Cool for about 2 minutes on a wire rack before serving.
Storing Pizza Rolls
If you have any leftovers (good luck!), here is all you need to know about storing them for later munching:
Refrigerating
Pizza Rolls will stay good for up to five days when stored in an airtight container in the refrigerator. When you are ready to reheat them, heat them up in the oven for a few minutes to warm up the filling. You can also zap them in the microwave, but this makes them a bit soggy.
Freezing
I love freezing Pizza Rolls for later! They are much healthier than any store bought frozen pizza treats and I can rest assured that my family is still eating wholesome when we need a quick dinner. To freeze them, allow baked pizza rolls to completely cool down first. Then, store them in a freezer bag. Bake them in the oven for around 10 minutes at 425 °F to reheat them.
Other Pizza Recipes
Recipe
Pizza Rolls make for a great appetizer or weeknight dinner. Inside fully, fresh-baked dough you will stuff your favorite pizza toppings for a handheld (and dippable!) treat!
Ingredients
2

cup

Mexican Cheese

1

cup

Marinara Sauce

1

cup

Pepperoni
Nutrition Facts
Pizza Rolls Recipe
Amount Per Serving
Calories 169
Calories from Fat 81
% Daily Value*
Fat 9g14%
Cholesterol 22mg7%
Sodium 541mg23%
Potassium 88mg3%
Carbohydrates 16g5%
Protein 8g16%
Vitamin A 170IU3%
Vitamin C 1.2mg1%
Calcium 102mg10%
Iron 1.2mg7%
* Percent Daily Values are based on a 2000 calorie diet.