This tasty pizza rolls recipe features fluffy pizza dough stuffed with cheese, pepperoni, and marinara sauce. Super kid-friendly and great for appetizers!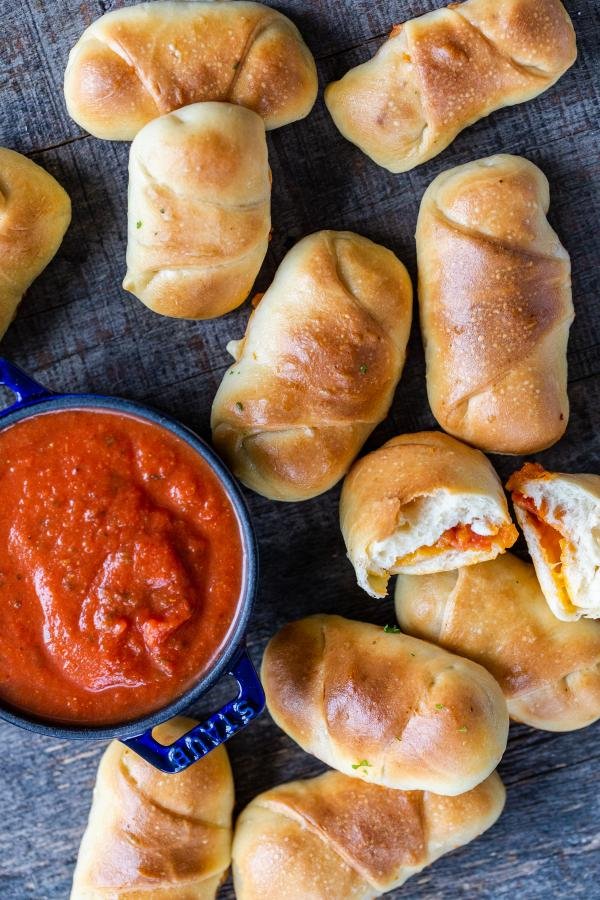 Homemade pizza rolls are pepperoni pizza nestled in the fluffy dough. The result is an ooey-gooey treat that you won't be able to put down! While they might sound a bit childish, anytime we make them they are adored by kids and adults alike! They also reheat amazingly, making them perfect for meal prepping or popping into your work lunch.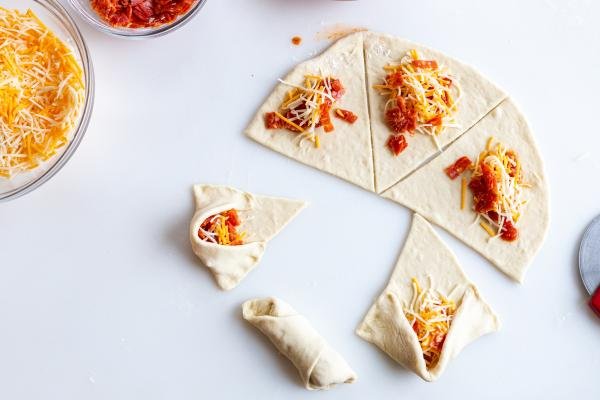 Two Different Methods for Assembling Pizza Rolls
There are two ways to make pizza rolls. The only difference between the two is the time and effort to put the rolls together and the appearance!
Method #1 (Classic Roll Style): The first technique (and the one that is pictured in this recipe) requires you to prepare each roll separately. First, you will cut your dough into even, triangular-shaped pieces. Then, you will place the filling on the wider end and roll it into a crescent shape before baking them to a golden brown.
Method #2 (Cinnamon Roll Style): The other technique will save you a bit of time and effort. You will roll out the entire piece of your dough into a rectangular shape. Then, just like with cinnamon rolls, your will spread out the filling evenly. Next, you will roll the dough into a log and slice it into 1-inch pieces before baking.
How to Make Our Classic Pizza Rolls Recipe
All you need to make this simple pepperoni rolls recipe is 4 ingredients and 20 minutes of prep time.
Prepare the Filling: First, dice the pepperoni into tiny pieces and grate the cheese.
Roll the Dough Out: Next, roll the pizza dough into a thin round shape and cut it into six triangular pieces. Pop on some marinara sauce, followed by pepperoni bites and shredded cheese.
Assemble the Pizza Rolls: Fold in the outside corners of the triangular dough piece, sealing the edges as you go. Repeat by folding over the center and sealing the filling inside. Finally, roll the piece into a burrito shape.
Allow the Pizza Rolls to Rise: Next, place the pizza rolls on a baking sheet lined with parchment paper. Cover the rolls with a kitchen towel and let them rise for at least 30 minutes.
Bake the Pizza Rolls: Bake the pizza rolls at 400°F for 20 minutes. Dig in and enjoy while the cheese is still melty!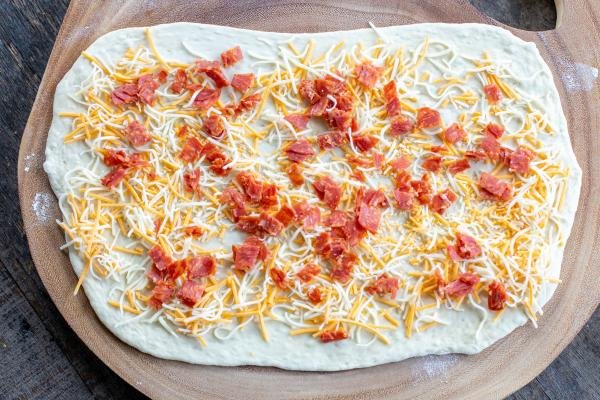 3 Tips & Variations for the Tastiest Pizza Rolls
From our kitchen to yours, find a couple of helpful tips to help you get the fluffiest, perfectly cooked pizza rolls.
Use Pillsbury Crescent Dough in a pinch. If you don't want to make homemade pizza dough or can't find any in the supermarket, grab a can of Pillsbury Crescent Dough – it will work amazing!
Swap in your favorite pizza toppings. Feel free to swap in any ingredients you love best. Mozzarella cheese, caramelized onions, sausage, bacon, ham, olives, pesto, spinach, pineapple, bell peppers, and so many other goodies work great!
Don't overstuff the pizza rolls. Whatever you do, don't put too much filling in each roll. You don't want them to come apart in the oven while baking or be extra difficult to roll.
Hot Tip: Melt 1/4 cup of butter with garlic powder, fresh basil, salt, and pepper. Brush the garlic butter on the pizza rolls right after they come out of the oven and sprinkle them with parmesan cheese.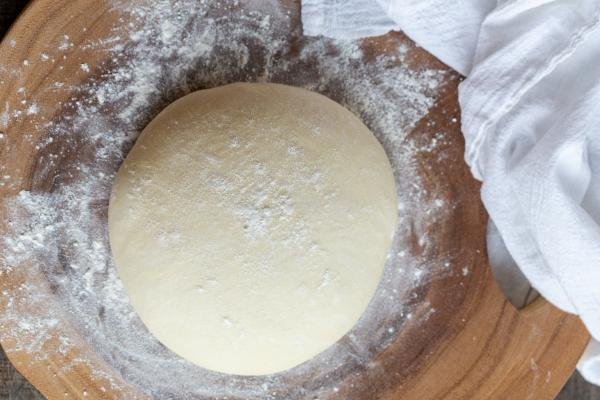 What to Serve Alongside Pizza Rolls
Pizza rolls are super versatile and can be served as a starter or a main dish. I like to serve them alongside a caesar salad or garden salad for a complete meal. Take it to the next level and make alfredo sauce or marinara sauce to dip them into for a great party appetizer or family movie night.
Storage Best Practices
If you have any leftovers (good luck!), here is all you need to know about storing them for later munching.
Refrigerating: These pizza rolls will stay good for up to five days when stored in an airtight container in the refrigerator. When you are ready to reheat them, heat them in the oven for a few minutes to warm up the filling. You can also zap them in the microwave, but this makes them a bit soggy.
Freezing: To freeze them, allow baked pizza rolls to completely cool down first. Assemble them on a baking sheet lined with parchment paper and pop the sheet in the freezer until they are completely frozen. Transfer them to a freezer bag. Bake them in the oven for around 10 minutes at 425°F to reheat them.
FAQ
What temperature do you cook pizza rolls at?
Temperature is the key to making amazing pizza rolls. The higher the heat the better, so typically aim for 425 °F–450 °F. Make sure to leave space between each pizza roll because they will expand a bit. Cool for about 2 minutes on a wire rack before serving.
Can you deep fry pizza rolls?
Yes, you can deep fry pizza rolls if you prefer an extra crispy bite. If you decide to do this, make sure you let them sit on a plate with a paper towel to soak up any excess grease.
How do you make pizza rolls crispy in the oven?
The key to making pizza rolls crispy in the oven is baking them at a high heat uncovered. Pizza dough can only crisp up at a high temperature because this is so crucial!
Is it better to air fry or bake pizza rolls?
You can either air fry or bake pizza rolls – both methods work great! If you decide to air fry them, make sure to grease the air fryer basket with a little cooking spray so they don't stick.
How do you know when pizza rolls are done?
You'll know pizza rolls are ready when the dough turns a light shade of golden brown. The pizza rolls should also come off the parchment paper easily when fully cooked.
Other Pizza Recipes
Recipe
Skip frozen pizza snacks and whip up this tasty pizza rolls recipe instead. Each morsel is packed with melty cheese, pepperoni, and tangy marinara sauce!
Ingredients
2

cup

Mexican cheese

1

cup

marinara sauce

1

cup

pepperoni
Nutrition Facts
Pizza Rolls Recipe
Amount Per Serving
Calories 159
Calories from Fat 81
% Daily Value*
Fat 9g14%
Cholesterol 21mg7%
Sodium 476mg20%
Potassium 82mg2%
Carbohydrates 14g5%
Protein 7g14%
Vitamin A 169IU3%
Vitamin C 1mg1%
Calcium 102mg10%
Iron 1mg6%
* Percent Daily Values are based on a 2000 calorie diet.