This recipe for homemade taco seasoning will have you wondering why you ever depended on taco seasoning packets. Bye, bye preservatives, hello zesty flavor!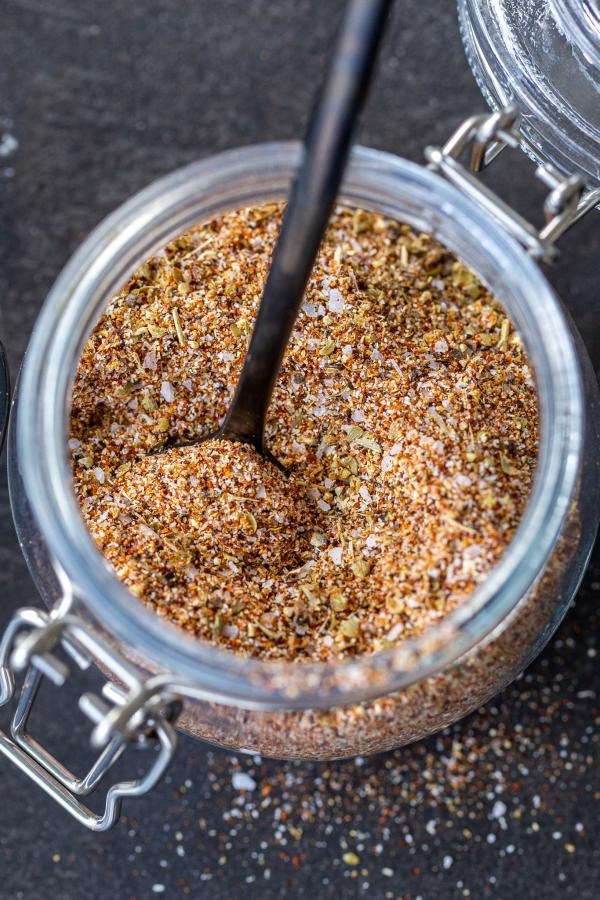 Whipping up this taco seasoning from scratch is so simple, we can hardly get away with calling it a recipe. if you've never tried making your own seasoning blends at home, be prepared to get addicted. Not only does it save you money, but it allows you to control the ingredients and tweak the spices to your specific tastebuds.
Note: This recipe makes about 1/2 cup of taco seasoning. Feel free to scale it down by half or double or triple the recipe so you have some on hand for a rainy day.
The Benefits of Homemade Seasoning Blends
If you've ever looked at the back of most standard seasoning packets, there's probably more ingredients you can't pronounce than ones you can. Because seasoning blends are supposed to have a long shelf life, they are often jam-packed with preservatives and additives. Instead of relying on store bought packets and shakers, fill your pantry with bulk spices and start making your own blends on-demand. Trust me, it's such a game changer!
How to Make Your Own Taco Seasoning
All you have to do to make this seasoning from scratch is mix each of the following components in equal parts (except for the black pepper). Seriously, it's that simple…
Sea Salt
Smoked Paprika
Chili Powder
Onion Powder
Ground Cumin
Garlic Powder
Oregano
Black Pepper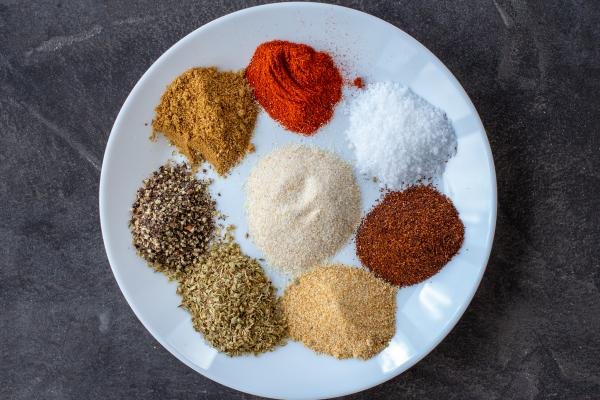 Helpful Tips, Tricks, & Hacks
If you're new to the homemade taco seasoning game, find a handful of pointers to guide you on your journey.
Make it spicy. If you prefer a spicier blend, add cayenne pepper or red pepper flakes to taste. Just be aware, a little goes along way with both of these spices!
Triple check that your spices aren't expired. It's super easy to let spices expire and collect dust in your pantry. Before you make your taco seasoning, check the expiration dates on all the bottles to ensure you aren't using old stuff. As time passes, spices do lose their intensity of flavor!
Use a whisk to break up any lumps. If your spices are a bit lumpy, use a whisk to break up any of the big chunks.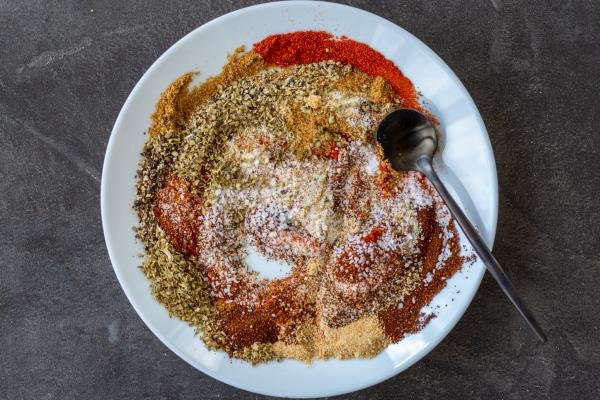 Different Ways to Use Taco Seasoning Mix
The obvious choice here is of course tacos (definitely give our ground beef tacos a try!), but there are so many other ways you can put your taco seasoning to the test.
Potatoes: Use the seasoning to spruce up air fryer french fries or oven-roasted potatoes.
Fish: Season some air fryer shrimp or oven-baked butter cod with a couple tablespoons.
Zesty Burgers: Mix a couple of tablespoons into ground beef for zesty burgers. Take it all the way home by topping the burgers with fresh avocado, melted cheese, and a dollop of sour cream.
Grilled Corn on the Cob: Spruce up your corn on the cob by rubbing on some of the seasoning before popping them on the grill.
Fajita Veggies: Make a quick side dish of fajita veggies by slicing red onions and bell pepper into thin strips. Sauté them over medium heat and season to taste with the taco seasoning.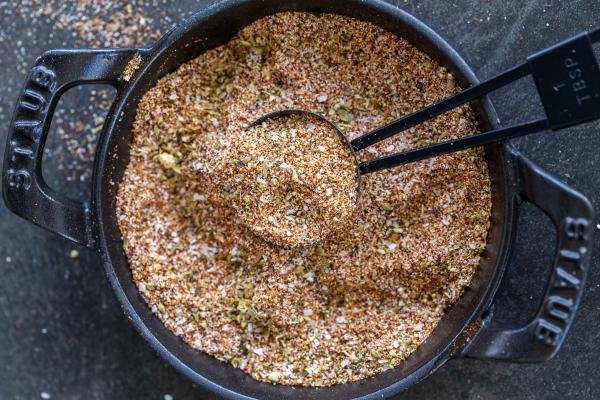 The Proper Way to Store Taco Seasoning
How you store your taco seasoning is almost as equally important as how you make it. Why? When stored properly, it can last for 1-2 years! The key is to store it in a sealable glass jar (think: a Mason Jar). Before you add the seasoning in, you'll want to make sure the jar is 100% dry, or else it will cause the spices to lump and clump together.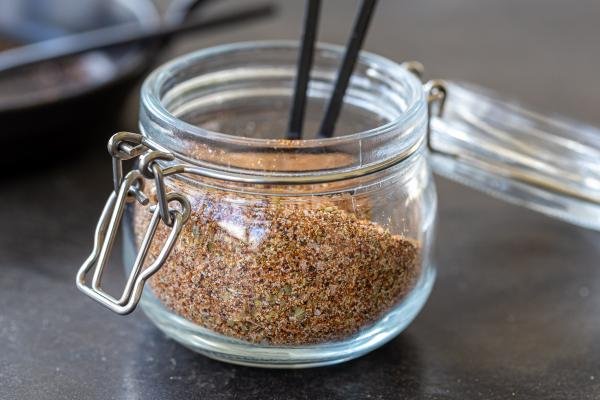 FAQ
Can taco seasoning go bad?
Yes, taco seasoning can go bad but it typically takes several years for it to turn. To increase the shelf-life as long as possible, make sure to always close the lid as tightly as possible between uses.
Are taco seasoning and fajita seasoning the same?
No, taco seasoning and fajita seasoning are not the same things. Fajita seasoning tends to have a kick of citrus in it – typically in the form of lime juice or lemon juice. Other than that, the seasoning blend is almost identical.
Can taco seasoning replace chili powder?
In a pinch, taco seasoning can replace chili powder. That said, taco seasoning has many more components to it than just chili powder and will bring much more flavor to the table.
How much taco seasoning should you use per pound of meat?
As a general rule of thumb, a good ratio is 1-2 tablespoons of taco seasoning per pound of ground beef, chicken, pork, or any other kind of meat. This all comes down to preference though, so feel free to alter the ratio as you wish.
When is the best time to add taco seasoning to a dish?
It's best to add the taco seasoning early in the cook process to maximize the flavor. As the food cooks, the spices will also open up over the heat and become more robust. If you add the seasoning in right before you take the dish off heat, you won't get as powerful a flavor.
More Fun Things to Make Homemade
Recipe
This super easy recipe for taco seasoning is such a game changer. Tweak the spices to your specific taste buds and keep it in your pantry for up to two years!
Instructions
Nutrition Facts
Crazy Easy Homemade Taco Seasoning
Amount Per Serving
Calories 22
Calories from Fat 9
% Daily Value*
Fat 1g2%
Sodium 1189mg50%
Potassium 113mg3%
Carbohydrates 4g1%
Protein 1g2%
Vitamin A 999IU20%
Vitamin C 1mg1%
Calcium 37mg4%
Iron 2mg11%
* Percent Daily Values are based on a 2000 calorie diet.