This recipe for spinach tomato tortellini features a tangy, creamy sauce packed with tender ground meat. Your new favorite quick and easy weeknight pasta dish!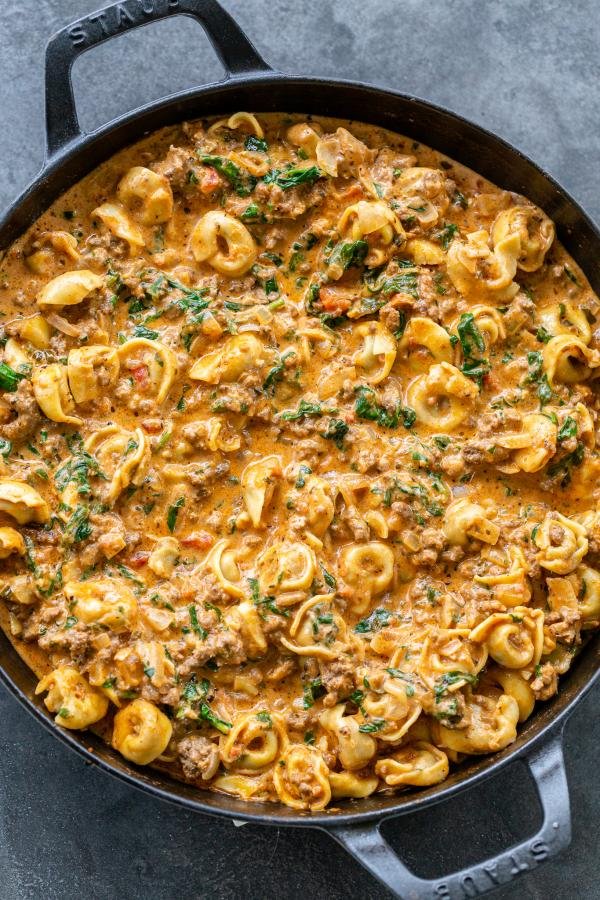 This creamy spinach tomato tortellini is right on the money with the perfect balance flavors. The little stuffed pasta shells explode in your mouth and serve as a wonderful complement to the rich, creamy tomato sauce. What's better? This dish comes together super quickly, making it a great weeknight dinner option or last-minute meal for unexpected guests.
Big thanks to my former coworker Charlie for this great recipe! The only thing I tweaked from his original version is swapping in ground beef for spicy Italian sausage. If that sounds more like your style, go for it! I can attest that it was super delicious.
Hot Tip: Trader Joe's has amazing tortellini in the refrigerated aisle. I use it all the time!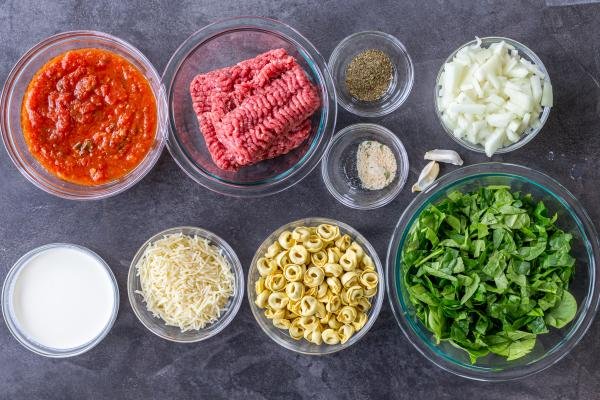 How to Make Creamy Spinach Tomato Tortellini
Making this tortellini dish only requires a handful of ingredients and one pot to make. Hello, fewer dishes! Below, find a quick hitter overview of the recipe before you dive in.
Tips & Tricks
Below, find a handful of helpful tips and tricks to help you make the best possible creamy spinach tomato tortellini.
Don't pre-boil the tortellini. The tortellini will cook as it simmers in the sauce and there's no need to pre-boil it before adding it in. If you do, it will likely turn mushy and stray away from that perfect al dente texture.
Use a high-quality marinara sauce or make your own. For the freshest tomato flavor, use a high-quality jarred marinara sauce or whip up your own.
Experiment with different stuffed tortellini. Tortellini come with so many different fillings and this recipe will work with nearly any store-bought variety. Some are stuffed with cheese and others contain a rich meaty filling. Pick the tortellini that speaks to you! You can't go wrong.
What Can You Eat with Tortellini?
You can serve creamy spinach tomato tortellini as a meal all on its own or serve it alongside a fresh salad or bread for a more well-rounded meal. A homemade caesar salad is a natural option but you can't go wrong with a classic garden salad either. If you're wanting to indulge in some carbs, make a fresh baguette to sop up the creamy sauce with.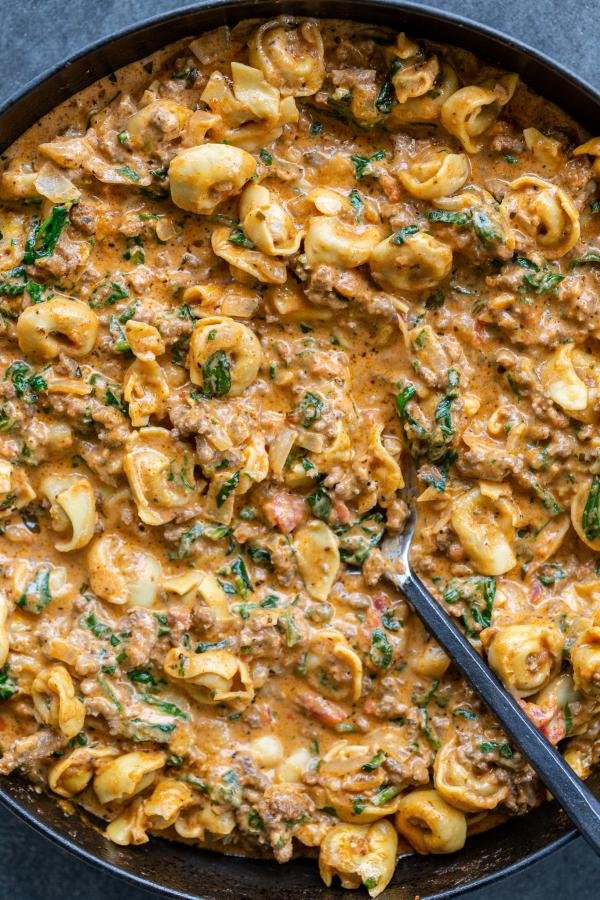 Storing Leftover Tortellini Pasta
Store leftover creamy pasta in an airtight container in the fridge. It should keep fresh for up to five days. Refrain from freezing cooked pasta, as it will turn to mush when you reheat it.
Reheating Tip: Reheat your creamy pasta in the microwave or in a skillet over low heat until warmed through.
FAQ
Is there anything inside tortellini?
Tortellini typically comes filled with a three-cheese mixture or a minced meat mixture of pork, veal, or beef.
What kind of cheese is typically inside three-cheese tortellini?
The typical three-cheese mixture inside tortellini is parmesan, romano, and ricotta.
How do you properly cook tortellini?
Refrigerated raw tortellini only takes 2-3 minutes to cook through when added to simmering pasta sauce. On the other hand, frozen tortellini takes about around 5 minutes and dried tortellini takes about 10 minutes.
Can I use a different pasta besides tortellini?
Yes, you can use a different pasta besides tortellini for this dish. Paccheri (tubular pasta) or fusilli work best, but you can also use fettuccine or spaghetti.
How long will my tortellini pasta last in the fridge?
Tortellini will last for up to five days in the fridge when tossed with the pasta ingredients. If you're using store-bought tortellini, you'll want to use it within 3 days of opening it.
Other Creamy Pasta Recipes
Recipe
This recipe for spinach tomato tortellini features a tangy, creamy sauce packed with tender ground meat. Your new favorite quick and easy weeknight pasta dish!
Ingredients
1

lb

ground beef

1

tbsp

garlic parsley salt

1

diced onion

2

diced garlic cloves

16

oz

pasta sauce

1

cup

whipping cream

2

lb

packaged tortellini

2

cups

chopped spinach

1

cup

parmesan

1

tbsp

dried parsley
Nutrition Facts
Creamy Spinach Tomato Tortellini Recipe
Amount Per Serving
Calories 212
Calories from Fat 153
% Daily Value*
Fat 17g26%
Cholesterol 60mg20%
Sodium 951mg40%
Potassium 298mg9%
Carbohydrates 4g1%
Protein 11g22%
Vitamin A 993IU20%
Vitamin C 5mg6%
Calcium 133mg13%
Iron 1mg6%
* Percent Daily Values are based on a 2000 calorie diet.