This shrimp fettuccine alfredo is as classic a pasta dish as it gets. Full of plump shrimp, freshly grated parmesan, and creamy sauce, it comes together in a short 30 minutes and rivals any Italian restaurant.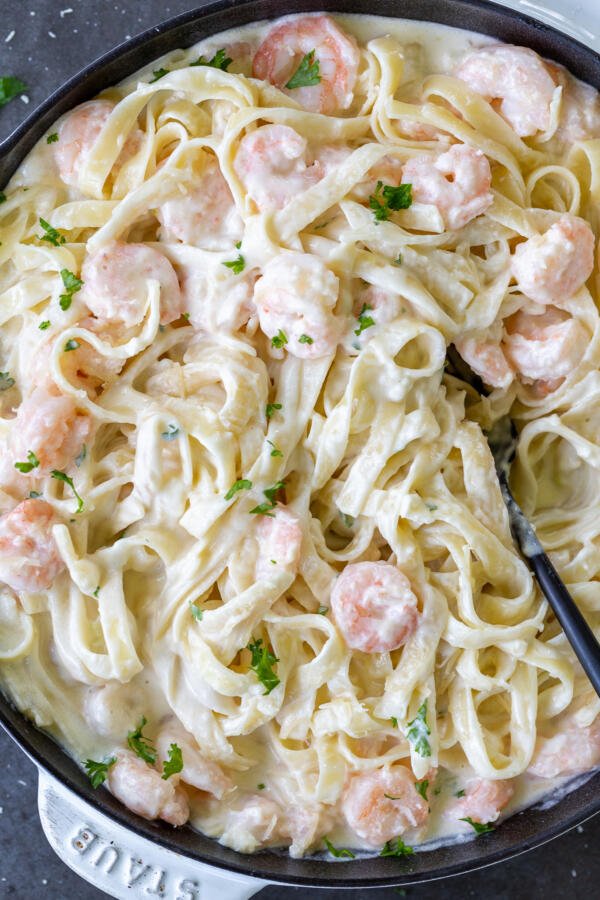 Shrimp fettuccine alfredo is rich and light all at the same time. It's the perfect summertime pasta. What's better is that it is loved by kids and adults alike, much like our easy shrimp linguine. Talk about a crowd-pleaser.
While shrimp fettuccine alfredo is delicious, it's typically expensive when you order it at a restaurant. But despite its decadent taste, it's quite simple to make. Save yourself money by learning how to make it at home whenever a craving hits.
With just a few wholesome ingredients, it comes together super quickly and is perfect for a busy weeknight pasta fix. For this recipe, you will use our five-minute alfredo sauce. It's so nutty and creamy, you'll think an Italian grandma spent hours in the kitchen making it.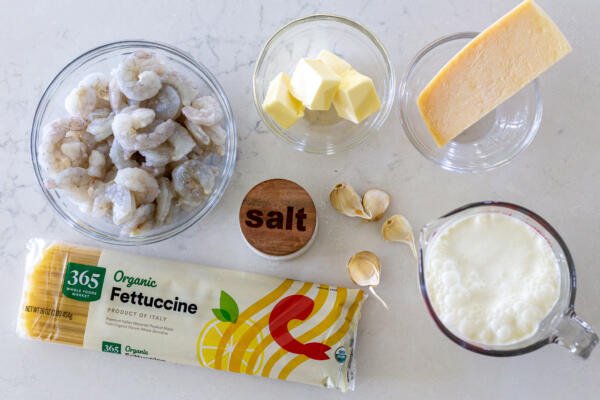 How to Make Shrimp Fettuccine Alfredo
Making shrimp fettuccine alfredo from scratch is easier than it sounds. With just a couple of quick steps, you'll have fresh pasta on the table in no time.
Cook the fettuccine al dente: In a large pot of boiling water, cook the fettuccine until it's al dente. Drain and set aside. Save a bit of your pasta water in case you need it to thin out your sauce.
Saute the shrimp: Preheat a skillet or deep cast iron pot with butter. Saute shrimp until they turn pink and opaque. Remove from heat and set aside.
Make the sauce: In the same pan, add butter, heavy cream, garlic, and parmesan cheese. Bring to a simmer.
What does "al dente" mean? If you've ever heard the phrase "al dente" thrown around and been confused about its meaning, you're not alone. In Italian, al dente translates to "to the tooth". It means cooking the pasta to the point where it still has a bite to it, versus over boiling it until it's soggy.
Tips for Delicious Shrimp Fettuccine Alfredo
Below, find a handful of tips for making the most delicious shrimp fettuccine alfredo.
Choose the right shrimp. Large, raw fresh shrimp with the tail on are preferred. They are the juiciest and most flavorful. Feel free to cook them with the shell on or off.
Thaw shrimp if using frozen. If you're using frozen shrimp, make sure to adequately thaw them by running cold water over them in a colander. Never saute frozen shrimp, as they hold a ton of moisture and will turn soggy.
Cook pasta until "al dente" and toss with olive oil. Cook pasta just until it turns al dente. To prevent it from sticking while you prepare your sauce, toss it in a bit of olive oil.
Drain shrimp. As you are cooking the shrimp, it will produce liquid. Drain it periodically to create a golden crust.
Cook sauce over low heat. Cook your alfredo sauce over low heat to prevent it from burning and separating.
Use freshly grated parmesan. Opt for high-quality parmesan that comes in a block and grate it yourself. Pre-shredded parmesan cheese is much drier and has less flavor.
Account for the fact that the sauce will thicken. If the alfredo sauce seems too runny, give it a few minutes to thicken as it cooks.
Use pasta water to fix extra-thick sauce. Save a bit of your pasta water in case your alfredo comes out too thick. Add a touch of the starchy water to thin it out to your desired consistency.
Serve immediately. Serve the pasta straight away. If it sits too long, the cheese will harden.
Serving Shrimp Fettuccine Alfredo
Although shrimp fettuccine alfredo is a meal in and of itself, there are a couple of side dishes that pair perfectly with it. Whip up a homemade caesar salad and a fresh baguette to sop up all the sauce. You could also serve a copycat Olive Garden soup as an appetizer. Some of our favorites include one-pot Zuppa Toscana or meatball kale soup.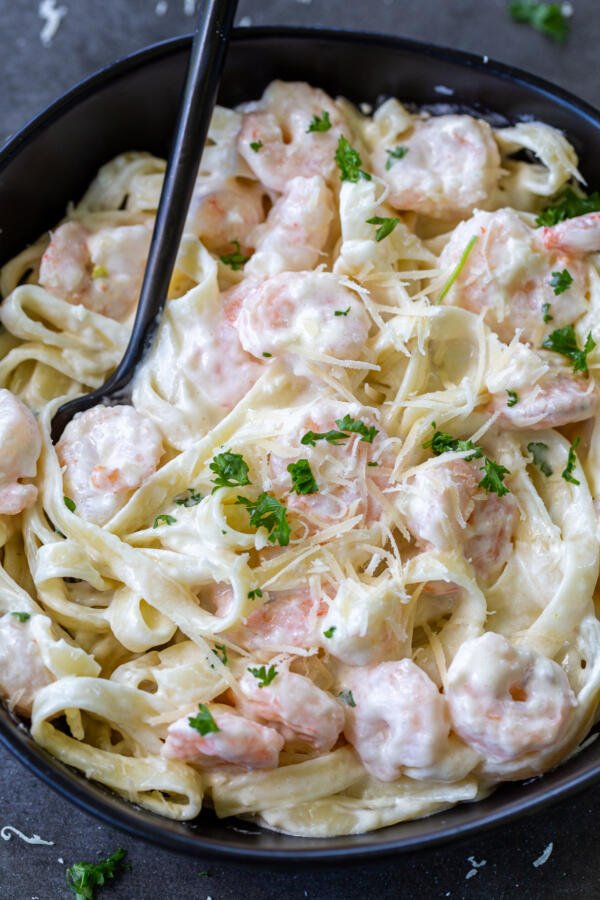 Storing Leftover Shrimp Fettuccine Alfredo
Refrigerating your leftovers is the best option. When stored in an airtight container, they will stay fresh for up to 3 days. Avoid freezing shrimp fettuccine alfredo (and any dish that contains a creamy sauce). Once reheated, the cream will likely curdle and become inedible.
Reheating Tip: Reheat shrimp fettuccine alfredo in the microwave with a bit of freshly grated parmesan cheese for best results.
FAQ
Can I use store-bought fettuccine alfredo sauce?
You can use store-bought fettuccine alfredo sauce instead of making your own from scratch. If it tastes a bit bland, spruce it up with salt, pepper, and some chili flakes.
How do I thicken alfredo sauce?
Alfredo sauce will thicken naturally as it sits at room temperature. Simply allow it to rest at room temperature for a couple of minutes before serving. If it's still too thin, add a bit of cornstarch to thicken it up.
How do I know when shrimp is cooked?
Shrimp is cooked when the flesh turns from gray to pink and opaque. Remove it from heat immediately once it turns to prevent overcooking.
Can I add vegetables to shrimp alfredo?
You can add a variety of vegetables to shrimp fettuccine alfredo. Broccoli, green peas, kale, shallots, and spinach are great options.
More Shrimp Recipes
Recipe
This classic shrimp fettuccine alfredo is full of plump shrimp, freshly grated parmesan, and creamy sauce. It only takes 30 minutes to make!
Nutrition Facts
Shrimp Fettuccine Alfredo Recipe (30 Minutes)
Amount Per Serving
Calories 491
Calories from Fat 333
% Daily Value*
Fat 37g57%
Cholesterol 276mg92%
Sodium 1278mg53%
Potassium 140mg4%
Carbohydrates 17g6%
Protein 22g44%
Vitamin A 1338IU27%
Vitamin C 4mg5%
Calcium 356mg36%
Iron 2mg11%
* Percent Daily Values are based on a 2000 calorie diet.