These sweet and salty chicken skewers recipe only takes 30 minutes and is such a crowdpleaser. Perfect for your next backyard BBQ and great for meal prep!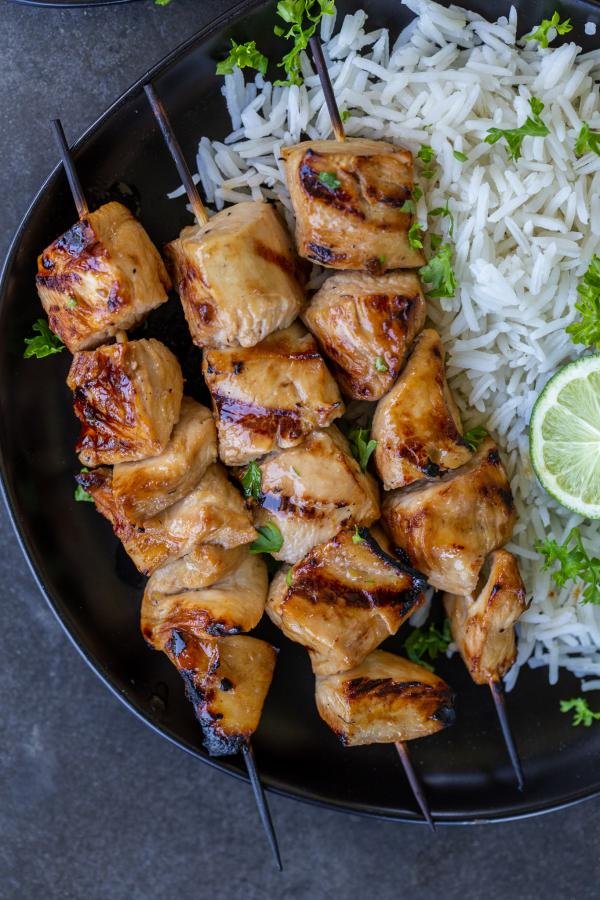 This chicken skewers recipe is made with chicken breast and a sweet and savory marinade. But, as you may know, chicken breast can be a bit on the dry side and is an easy protein to overcook. In this recipe, I'll share my secret weapon to getting the moistest chicken breast skewers on the planet (hint: it involves ranch!).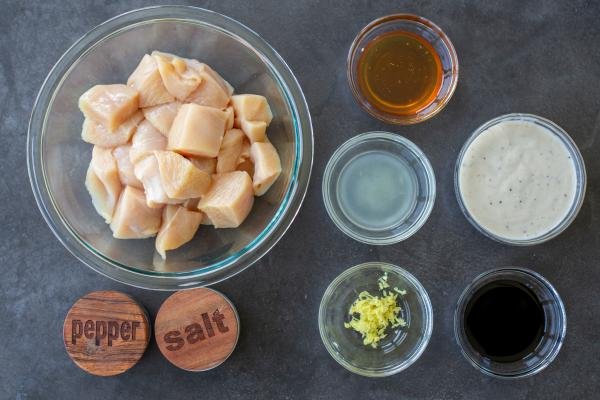 Wooden Skewers vs. Metal Skewers
To make this chicken skewers recipe, you're going to need a set of skewers. The two most common types are wooden and metal. Here's the down-low on each:
Wooden Skewers – Wooden skewers are single-use and can be tossed after you're finished eating. You'll need to soak them in water before threading the meat on and popping them on the grill grates. This helps prevent the wood from burning over an open flame.
Metal Skewers – On the other hand, metal skewers can be used over and over again and are much sturdier than wooden skewers. They also don't need to be soaked!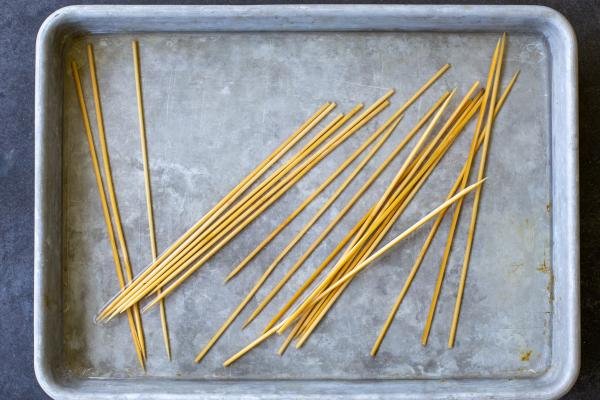 Making this Extra Juicy Chicken Skewers Recipe
Making this chicken skewers recipe is super simple, with 90% of the success dependent on you giving the chicken a proper marinade.
Prepare the Chicken. Firstly, slice the boneless skinless chicken breasts into 2-inch pieces. Then, transfer the chicken chunks to a large bowl.
Season the Marinade: Next, add ranch, honey, soy sauce, pressed garlic(optional), ginger and lime juice into the bowl, stir to combine, and allow the chicken to marinate for a few more hours.
Assemble the Skewers: Then, thread the chicken onto your skewers, leaving a bit of space at the bottom.
Grill the Skewers: Finally, grill the chicken kabobs on each side until golden brown and fully cooked through. Bon appetit!
Veggie Hack: If you want a built-in side dish, alternate the chicken with 1-inch slices of zucchini, red onions, mushrooms, garlic cloves, bell pepper, or whatever other vegetables you like best.
Serving this Chicken Skewers Recipe
For a complete meal suitable for a hectic weeknight, serve this chicken skewers recipe alongside steamed rice and air fryer broccoli. If you're in BBQ mode, whip up some grilled ribeyes, corn on the cob, and foil packet potatoes for a full-blown feast.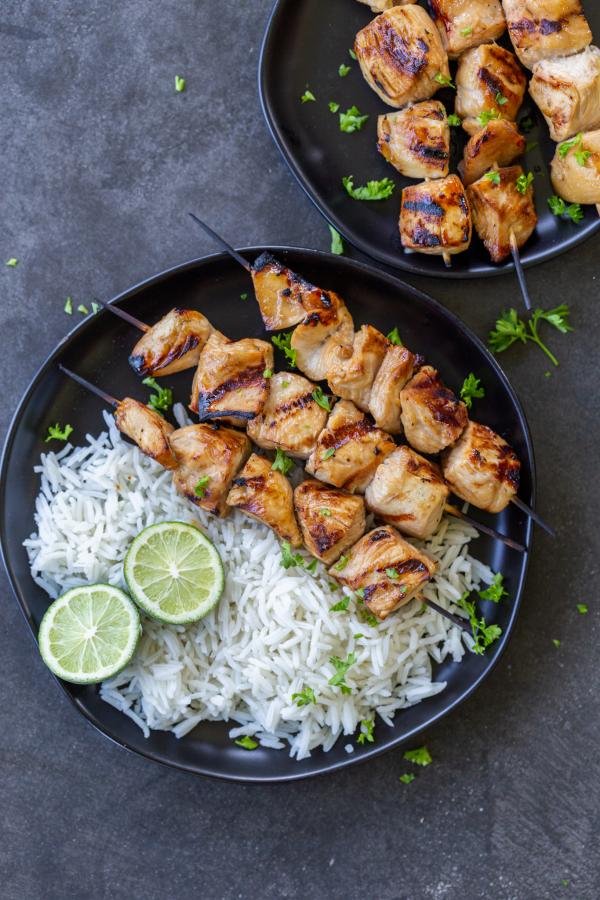 Storing & Reheating Tips
To keep the skewers on hand for up to 3 days, store them in an airtight container in the fridge. This will prevent them from drying out, while also helping to lock in the moisture to the meat.
Reheating Tip: To reheat the shrimp, pop them in the oven in a baking dish covered with aluminum foil or nuke them in the microwave for 30 seconds.
FAQ
Can you cook chicken skewers in the oven?
Yes, you can cook chicken skewers in the oven by placing them on top of a wire rack. This will elevate the skewers, allowing them to get 360-degree attention from the heat. All you have to do? Thread the chicken pieces on the skewers, then bake them for 15 minutes at 450°F. To get a crispy outer crust, broil them for 1-2 minutes on high.
How long do chicken skewers take to grill?
It takes about 20 minutes to grill chicken skewers over high heat. You'll typically have to grill them in two heats for about 5 minutes per side.
How do you know when chicken skewers are done?
You'll know the chicken skewers are done when the internal temperature has reached 165°F and the outside is golden brown. As a general rule of thumb, they take about 5 minutes per side.
What temperature do you cook chicken skewers at?
You'll want to grill the chicken skewers at around 400°F for 5 minutes per side. If you're not using an electric grill, cook them over medium-high heat.
More Skewer Recipes to Try
Recipe
These sweet and salty chicken skewers recipe only takes 30 minutes and is such a crowdpleaser. Perfect for your next backyard BBQ and great for meal prep!
Nutrition Facts
30 Minute Honey Chicken Skewers (Extra Juicy)
Amount Per Serving
Calories 350
Calories from Fat 162
% Daily Value*
Fat 18g28%
Cholesterol 117mg39%
Sodium 671mg28%
Potassium 666mg19%
Carbohydrates 9g3%
Protein 37g74%
Vitamin A 64IU1%
Vitamin C 3mg4%
Calcium 19mg2%
Iron 1mg6%
* Percent Daily Values are based on a 2000 calorie diet.