This recipe for chicken kabobs in the oven features juicy chicken marinated in tangy ranch sauce & baked to perfection. Great for a main dish or appetizer!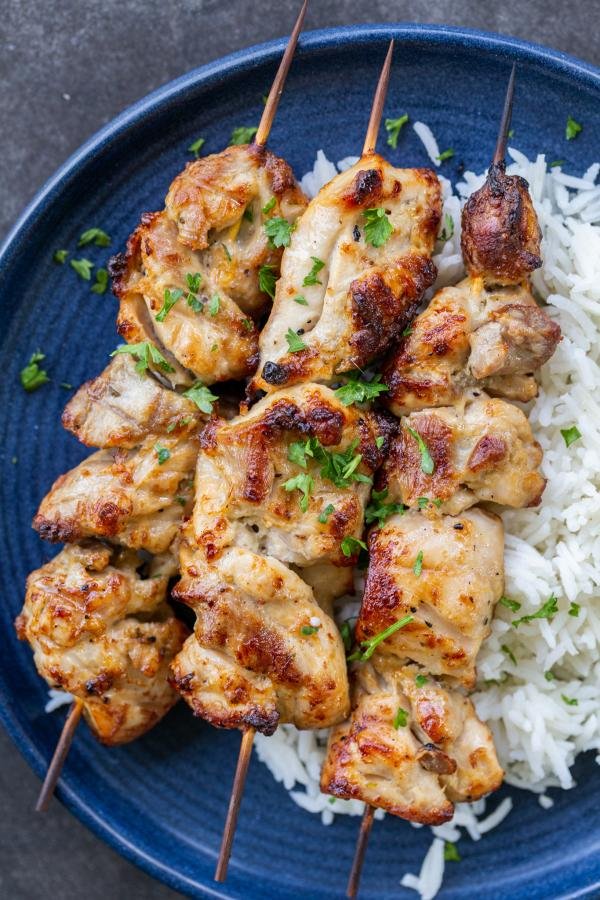 There are not many foods out there that are both tasty and fun to eat. A juicy meat kebab is one of them. Whether you're hanging out in the backyard or having friends over for dinner, this recipe can be dressed up with fancy sides or dressed down with a variety of dipping sauces. No matter how you serve them, you're going to be obsessed with the ridiculously flavorful marinade.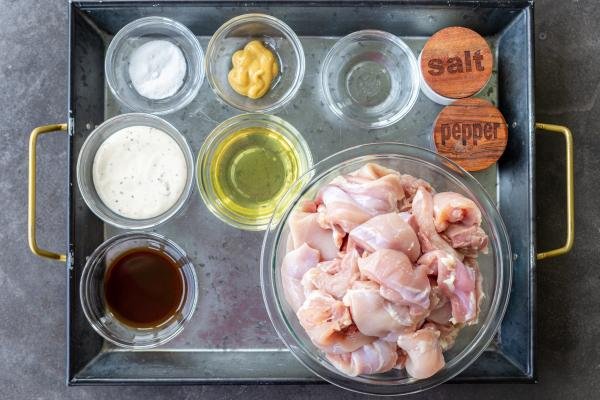 Shish Kebabs vs. Kabobs vs. Skewers
Before we dive in, let's set the record straight on shish kebabs, kabobs, and skewers. Shish kebabs refer to the traditional Arab dish of meat skewers. As this dish traveled throughout the world and rose in popularity, the terms "kabob" and "skewer" became commonplace around North America. At the end of the day, all these terms refer to the same general dish!
Preparing Baked Chicken Kabobs at Home
To set yourself up for the perfect chicken kebabs, first, make sure you cut the chicken breasts into evenly sized chunks. This will ensure they cook evenly in the oven!
Make the Marinade: Whisk the ranch, olive oil, Worcestershire sauce, vinegar, honey mustard, sugar, salt, and black pepper together in a large bowl to make the marinade.
Marinate the Chicken: Toss the chicken cubes in the sauce until evenly coated and pop the chicken in the fridge overnight to marinade.
Assemble the Skewers: Thread the chicken pieces onto the skewers (about 5 per skewer).
Bake the Skewers: Finally, place the skewers on the rim of a baking dish (or use a wire rack) and bake them at 450°F for 25 minutes. Enjoy!
Make the Marinade Your Own: Feel free to tweak the marinade ingredients by adding minced garlic cloves, red pepper flakes, lemon juice, paprika, or whatever other spices you enjoy. You can't go wrong!
3 Pro Tips for the Best Baked Chicken Kebabs
Get the most out of your new kebab obsession by taking to heart a couple of key tips.
Use an instant-read thermometer to check doneness. To take the guesswork out of ensuring the kebabs are cooked all the way through, use a meat thermometer to check the internal temperature has reached 165°F.
Elevate the kebabs with your favorite vegetables. Get an easy serving of veggies threading on a couple of your favorites in between the chicken pieces. Roasted garlic, red onions, bell peppers, cherry tomatoes, and zucchini are some great options.
Use a baking dish that you can stack the kebabs atop. Instead of tucking the kebabs into the baking dish, stack them on the outer rims of the dish so they're elevated (or use an oven safe wire rack placed on top of a sheet pan). This will help turn golden brown on both the top and underside.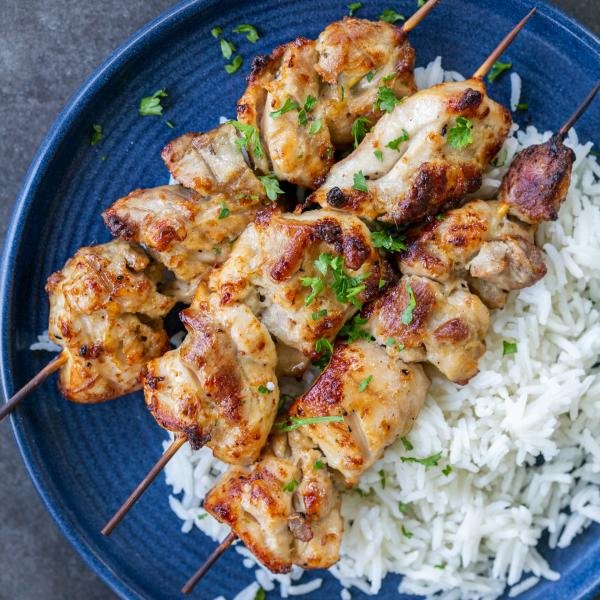 Bonus! How to Grill Your Chicken Kabobs
Prefer to grill chicken kebabs instead? No problem. Here's all you need to know:
Preheat the grill. Bring the grill to medium-high heat if using gas.
Assemble the skewers. Next, assemble the skewers in a single layer on the grill grates.
Grill the Kebabs: Allow the kebabs to cook for 3-4 minutes on one side. Flip them over and grill for an additional 2-3 minutes. Enjoy!
A Couple of Tasty Sides for Chicken Kabobs
There's nothing like a crisp caesar salad or roasted beet salad with goat cheese to pair with chicken kabobs in the oven. If you're in the mood for something more comforting, pair them with new potatoes with bacon & herbs or cilantro lime rice instead. Or, if you're planning to serve the kebabs as an appetizer or finger food, serve them on a platter alongside a bowl of tangy dill tzatziki (a tasty Greek cucumber yogurt dip you need in your life).
Storing Chicken Kabobs in the Oven
If you're lucky enough to have some kebabs leftover, here's all you need to know about storing, freezing, and reheating them.
Refrigerator: To keep skewers on hand for up to a week, store them in an airtight container in the fridge.
Freezer: If you'd like to freeze the skewers for up to a month, assemble them on a baking sheet lined with parchment paper and pop the entire baking sheet in the freezer. Once completely frozen, transfer the skewers to a freezer-safe bag. To thaw, place them in the fridge overnight.
Reheating Tip: To reheat your skewers, warm them through in a microwave, air fryer, or oven.
FAQ
What's the best cut of chicken for kabobs in the oven?
Boneless skinless chicken breasts are the best cut of chicken for chicken kabobs in the oven. If you want a heartier kabob, feel free to swap the chicken breasts out for dark meat boneless skinless chicken thighs.
Should you use metal or wooden skewers for chicken kabobs in the oven?
You can use either metal skewers, bamboo skewers, or wooden skewers for chicken kabobs in the oven – both work great. If you opt for wooden, soak them in water for 30 minutes before assembling the kebabs to prevent them from burning.
Do chicken thighs make for more flavorful chicken kabobs in the oven than chicken breasts?
Typically, chicken thighs do pack more flavor than chicken breasts. However, the overnight marinade makes the breast meat so juicy and tender you won't have to worry about the breast meat drying out in the oven.
Can you use different meat besides chicken for kabobs in the oven?
If you're not in the mood for oven-baked chicken kabobs, swap the chicken out for filet mignon, ribeye, pork tenderloin, or even shrimp if you'd prefer. Just be mindful that different proteins have different cook times, so take that into account.
More Tasty Meat Skewers to Try
Recipe
This simple recipe for chicken kabobs in the oven comes out so juicy each & every time. With a simple ranch dressing marinade, they always hit the spot.
Nutrition Facts
Oven-Baked Chicken Kabobs (Juicy & Tangy)
Amount Per Serving
Calories 519
Calories from Fat 297
% Daily Value*
Fat 33g51%
Cholesterol 150mg50%
Sodium 1297mg54%
Potassium 902mg26%
Carbohydrates 5g2%
Protein 48g96%
Vitamin A 82IU2%
Vitamin C 3mg4%
Calcium 25mg3%
Iron 1mg6%
* Percent Daily Values are based on a 2000 calorie diet.