This easy kafta kabob recipe features grilled meatball skewers made with savory ground beef & onions. Perfect for a Mediterranean feast or backyard BBQ!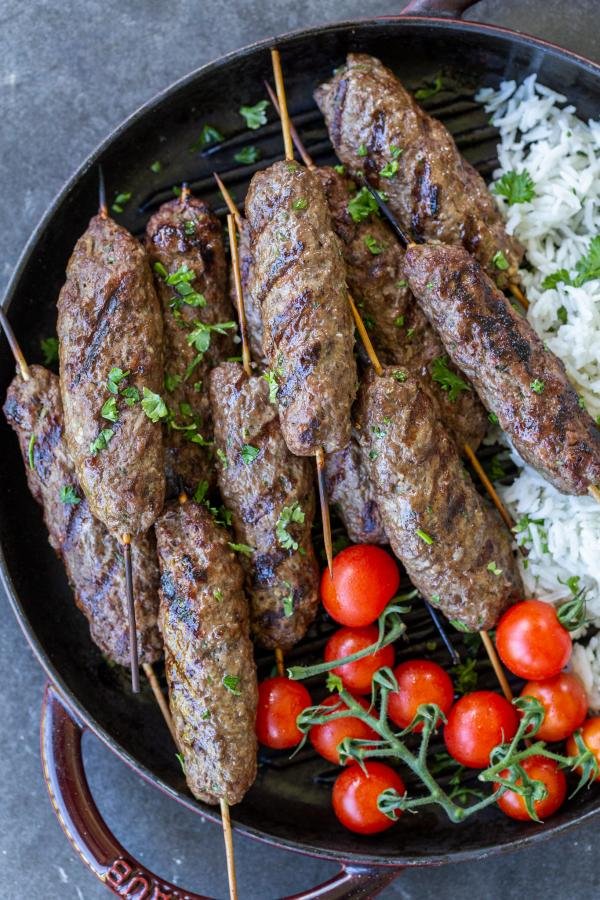 I picked this kafta kabob recipe up from a Mediterranean chef. He came to one of our blogger retreats a couple of years back and shared his kafta secrets. Now, there we're bringing them to you so you can enjoy juicy beef kafta whenever your heart desires!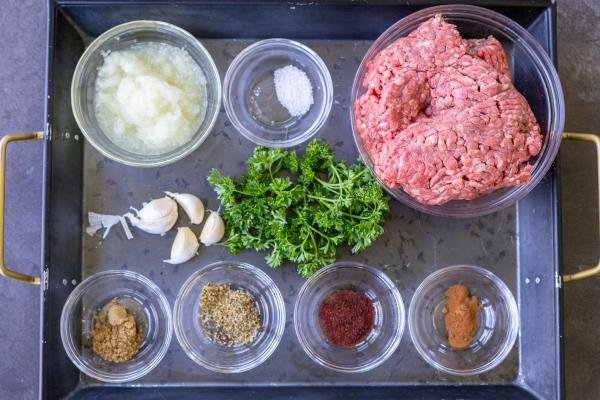 What is Kafta Kabob?
Kafta kabob, aka kofta, is a Lebanese meatball skewer made with ground beef, chicken, or lamb. It touts a savory, rich flavor due to the seasoning of herbs, onions, and Middle Eastern spices. You'll find it served alongside other traditional goodies like hummus, pita bread, baba ganoush, and spiced rice. It's tender, juicy, and perfect for your next backyard BBQ.
How to Prepare this Kafta Kabob Recipe
Preparing this kafta kabob recipe requires you to get your hands dirty – but isn't that the fun part of cooking?
Soak the Skewers: First, place the wooden skewers in a shallow dish of water and let them soak while you prepare the rest of the recipe.
Make the Kafta Mixture: Next, place the ground beef, grated onion, fresh parsley, minced garlic cloves, sea salt, cumin, oregano, sumac, and cinnamon in a large bowl. Mix the ingredients by hand until well-combined.
Assemble the Skewers: Wrap a bit of the meat mixture around each wooden skewer, leaving space at the bottom for holding.
Grill the Kafta Kabobs: On a grill preheated to medium-high heat, grill the kabobs for about 8-10 minutes, flipping every so often.
Remove the Kabobs: Next, remove the kabobs from the grill and allow them to rest for 5 minutes before digging in. Enjoy!
Hot Tip: You must soak the wooden skewers before grilling the kafta. This prevents them from burning! If you don't wanna deal with soaking, invest in a metal set to last you years.
3 Tips for the Perfect Kafta Kabob
If you've never made kafta before, these 3 pointers will help you get a perfect skewer that doesn't fall apart upon the first bite!
Opt for lean ground beef. Lean ground beef is crucial to creating that dense, meatball-like texture of every good kafta kabob. A 90/10 or 85/15 fat ratio split is ideal.
Firmly shape the beef around the skewer. To ensure that the kafta kabob doesn't fall apart on the grill – or worse, while eating it – make sure to press the beef mixture tightly around the wooden skewer.
Don't overcook the meat. Whatever you do, avoid overcooking and drying out the lean beef. Once the internal temperature has reached 145°F, they're good to go!
Other Ingredients to Add to Kafta: Lemon juice, coriander, fresh mint, black pepper, and ground allspice are other common ingredients added to the meat mixture. If any speak to you, feel free to add them!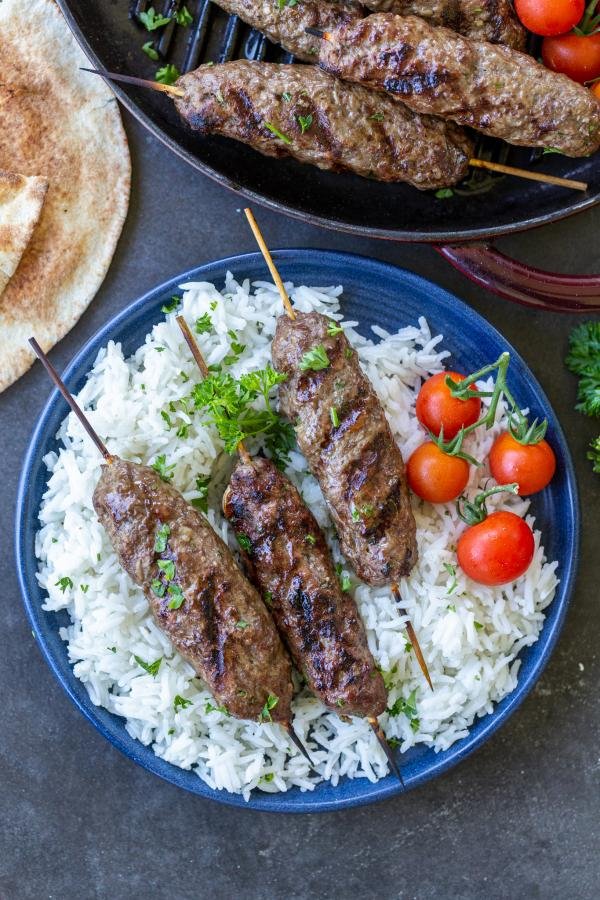 Ideas for Serving
We love serving out kafta as the main star of a Mediterranean-style feast. Pair the savory skewers with avocado hummus, Mediterranean chickpea salad or cucumber tomato salad, cilantro rice, tzatziki, pickled onions, and naan. If you want to keep it simple and low-carb, pair them with your favorite veggie side dish (grilled zucchini and mushrooms immediately come to mind).
Storage & Make-Ahead Best Practices
If you have leftovers to store away or want to prep ahead for a party, here's all you need to know to keep your kafta fresh.
Storing Leftovers: To keep your leftovers on hand for up to 5 days, store the kabobs in an airtight container in the fridge. This will keep the meat from drying out too quickly.
Make-Ahead: If you're preparing kafta for a party or just meal-prepping, you can assemble the skewers and store them raw in an airtight container for up to 2 days. We recommend storing them raw because they are so delicious when grilled right before serving!
Reheating: The best way to reheat kafta is in a baking dish covered with foil in the oven. You want to be extra careful not to overcook them!
FAQ
What is kafta kabob meat made of?
Kafta kabob meat is made with either ground chicken, ground beef, or ground lamb mixed with diced onion and a variety of Middle Eastern spices. Sometimes, you'll even find kafta with a combination of different ground meats.
What kind of beef do you use for kafta kabob?
The best kind of beef for kafta kabob is lean ground beef. Particularly, a 90/10 split is ideal. This yields the best texture and the least amount of excess grease (you don't want that dripping on your hands!).
What is the difference between a kabob and a kafta kabob?
The main difference between typical beef kabobs and a kafta kabob is the style in which the meat is prepared. Kabobs tend to be made with slow-roasted, gyro-like meat sliced into thin pieces. On the other hand, kafta is prepared by wrapping a meatball-like patty of meat around a skewer.
How do you know when a beef kafta kabob is cooked?
You'll know a beef kafta kabob is fully cooked when the internal temperature has reached 145°F. The skewer should also have a slightly crispy outer layer and golden brown char.
Is stew meat good for kafta kabobs?
The best meat for kafta kabobs is lean ground chicken, beef, or lamb, making stew meat a great cut to use so long as you have a meat grinder to break it down. If you don't, your butcher might be willing to grind it for you.
More Meat Skewer Recipes to Try
Recipe
This simple Mediterranean kafta kabob recipe features juicy spiced ground beef wrapped around a skewer and grilled to perfection. Crazy easy and so good!
Nutrition Facts
The Classic Beef Kafta Kabob Recipe
Amount Per Serving
Calories 221
Calories from Fat 72
% Daily Value*
Fat 8g12%
Cholesterol 94mg31%
Sodium 879mg37%
Potassium 587mg17%
Carbohydrates 3g1%
Protein 33g66%
Vitamin A 292IU6%
Vitamin C 6mg7%
Calcium 36mg4%
Iron 4mg22%
* Percent Daily Values are based on a 2000 calorie diet.