This chicken mushroom soup is 100% heartwarming. Since it's made with dried mushrooms, you can enjoy the soup year round!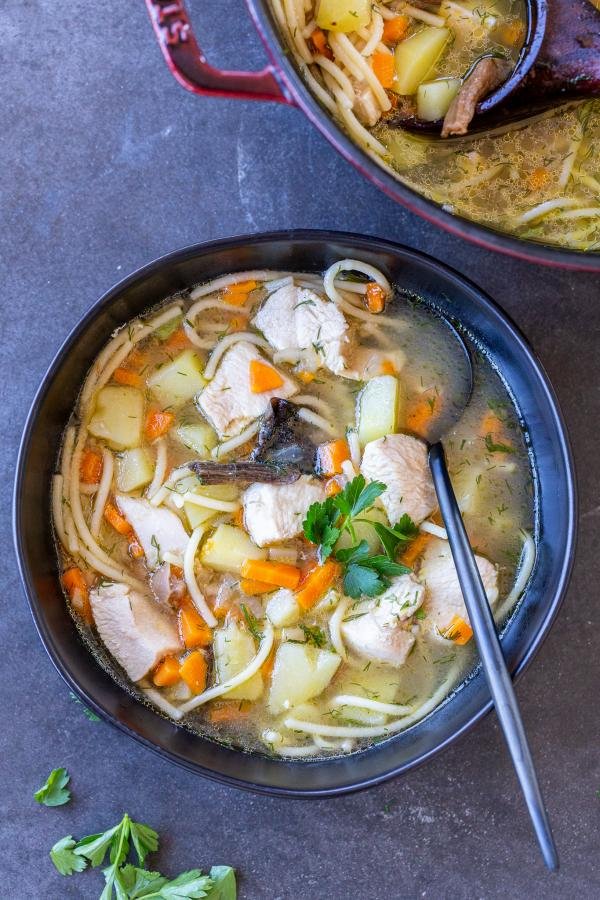 Nothing soothes the soul quite like chicken soup. If you want to expand outside the confines of your typical chicken noodle, look no further. It's no-frills, low in calories, and good to the last slurp. What makes it unique is the use of dried mushrooms. If you haven't quite ventured into the land of dried funghi, you're about to be hooked. I always have a container on hand so I can enjoy my favorites year round without having to wait for the right season.
Where can you find dried mushrooms? Most health food stores sell dried mushrooms. I've even seen them at Trader Joe's and Costco. If you can't find them at your local grocery store, try going to a European specialty food store.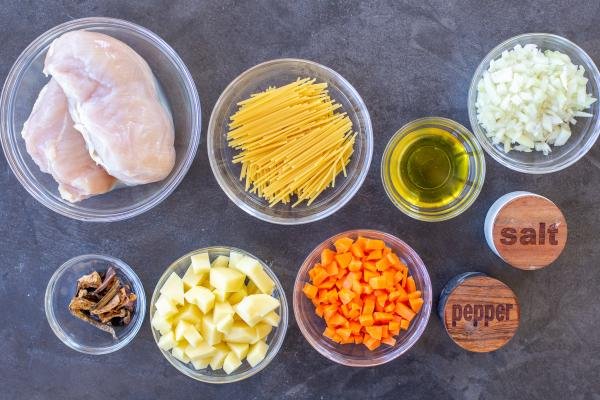 How to Make Chicken Mushroom Soup
Start the process by sauteing the carrots and onions in a pot with oil until softened.
Build the Soup Base: Add water to the pot. Next, slice the chicken into bite-sized pieces and pop them in the pot. Bring the water to a boil, then turn the heat down to medium-low and allow the chicken to simmer for 10 minutes.
Add the Mushrooms: Soak the dried mushrooms in water, then add them to the soup pot. Cook for 10 minutes.
Add the Potatoes & Pasta: Next, add in the potatoes and pasta and cook for another 10 minutes.
Season the Soup & Enjoy: Add the fresh dill and season the soup to taste with salt and pepper. Ladle yourself a big bowl, curl up, and enjoy!
Make soup in a Dutch oven! Dutch ovens are amazing for making soup. They retain a ton of heat and moisture, making them the perfect pot to simmer soup in. Need a recco? I'm obsessed with my Staub Dutch oven.
3 Tips for Nailing Chicken Mushroom Soup
Cut the chicken into similar-sized pieces. To promote even cooking, slice the chicken into as evenly-sized pieces as possible.
Soak the mushrooms first. Always soak dried mushrooms before adding them to any dish you're making. This not only plumps them, but also removes any grit that may be stuck in the crevices.
Cook the soup over medium-low heat. The cardinal sin of soup-making is working on high heat. The flavors of the soup have a better chance of developing when the heat is low and slow.
Different Variations to Experiment With
Consider this soup the perfect base for you to tweak to your specific tastebuds. Below, find some ingredients to inspire you.
Swap out the chicken breast for chicken thighs if you prefer dark meat
Instead of dill, use thyme, basil, oregano, or any other of your favorite herbs
Use rice instead pasta if you're gluten-free
Add in your favorite veggies like celery, spinach, garlic, or carrots (you can't go wrong here!)
Stir in a cup of heavy cream and half a stick of melted cream cheese (about 4 ounces) for creamy chicken mushroom soup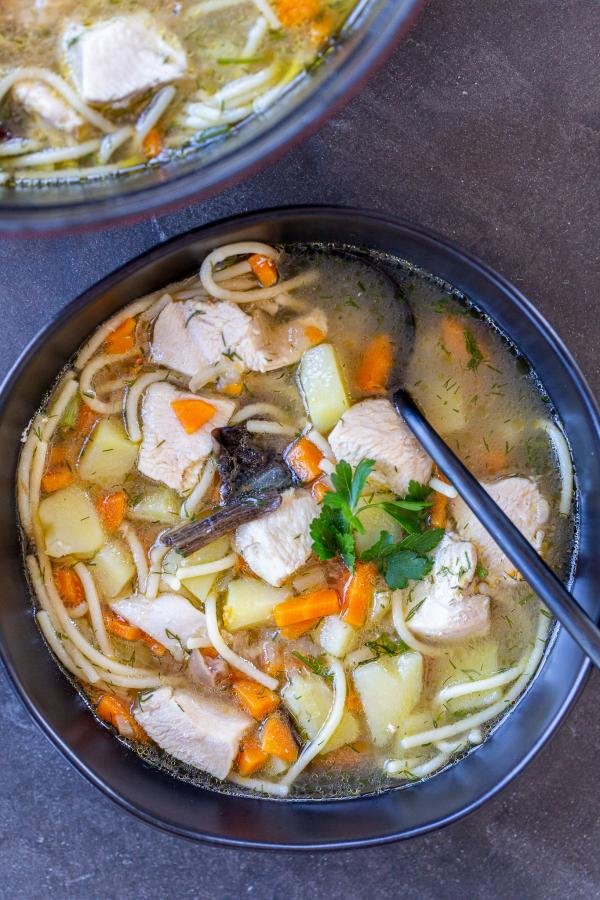 What Goes Well With Chicken Mushroom Soup
There's nothing quite like a soup, salad, and bread combo, right? For a cafe-style meal at home, pair this soup with olive oil and herb focaccia bread smeared with butter and caesar salad. Or, if you're serving the soup to a kid, whip up an air fryer grilled cheese to dunk into the broth.
Storing & Reheating Chicken Mushroom Soup
Soup always makes for great leftovers. Why? As it marinates in itself in the fridge, the flavors continue to develop. To keep it fresh for up to a week, store it in an airtight container in the fridge. If the noodles absorb a ton of the liquid, simply whip up a quick side of chicken broth (we love using Better Than Bouillon Reduced Sodium Chicken Base).
FAQ
What mushrooms work best for this soup?
Just about any mushroom will work great for this mushroom soup recipe. From cremini mushrooms to baby bellas, you can't go wrong.
Can you use a different kind of pasta than angel hair?
If you don't have angel hair on hand, use fettuccine, macaroni, or any other kind of pasta. Just make sure to refer to the package instructions so you cook it properly.
Can you use a different protein than chicken?
While chicken works best for this recipe, swap in lean beef if you prefer. Chuck roast or short ribs will work great.
How do you keep chicken tender in soup?
The key to keeping the chicken tender is using fresh or thawed chicken (not frozen!) and keeping the heat low. If you cook the soup on too high of a heat, the chicken will turn out tough and rubbery.
How can you thicken the soup broth?
Add a couple tablespoons of flour or cornstarch to the soup if you prefer a thicker broth.
More Tasty Soups to Try
Recipe
This chicken mushroom soup just hits different. Much like a classic chicken noodle, but with an earthy, mushroomy twist.
Nutrition Facts
Chicken Mushroom Soup
Amount Per Serving
Calories 155
Calories from Fat 63
% Daily Value*
Fat 7g11%
Cholesterol 36mg12%
Sodium 944mg39%
Potassium 321mg9%
Carbohydrates 10g3%
Protein 13g26%
Vitamin A 1300IU26%
Vitamin C 2mg2%
Calcium 11mg1%
Iron 1mg6%
* Percent Daily Values are based on a 2000 calorie diet.