These air-fried grilled cheese sandwiches are made with three ingredients — bread, cheese, and butter. They are deliciously crispy, melty, and totally mess-free!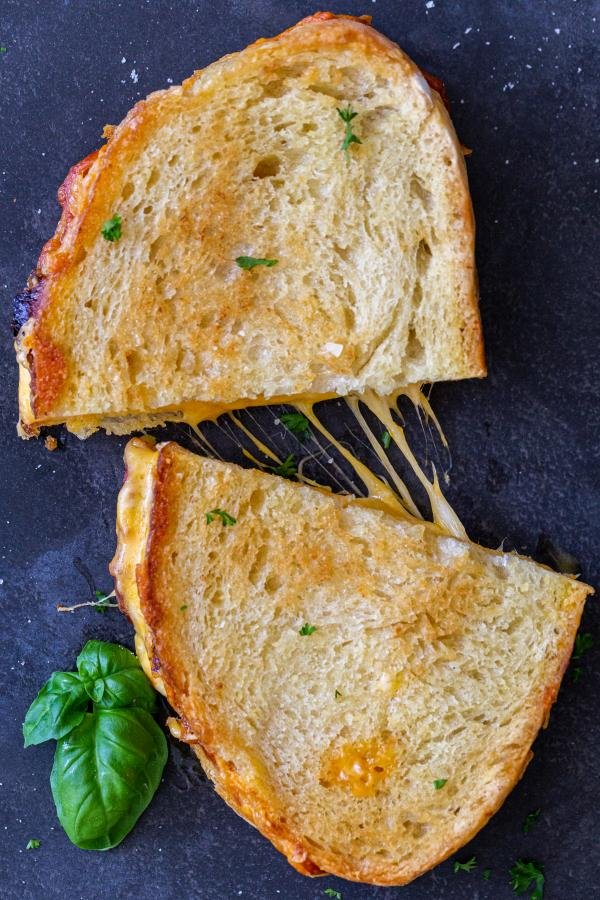 Looking for an air fryer? We absolutely adore this Cosori air fryer. We use it for a multitude of dishes, including this one.
Stovetop vs Air Fried Grilled Cheese
Grilled cheese is a highly-loved classic sandwich. It consists of layers of cheese between two slices of bread. Grilled cheese is commonly made using a frying pan on the stovetop or in a panini press, but air frying is a lesser-known but completely worthy method to make the sandwiches, too.
Compared to stovetop grilled cheese, air fried grilled cheese has a crunchier bread exterior due to the hot air circulating in the fryer. The crisp of the bread paired with the gooey melted cheese is a feat that even stovetop grilled cheese cannot reach. Next time, choose the air fryer to make these sandwiches. You and your family will love you for this one!
How To Make Grilled Cheese In Air Fryer
Grilled cheese is one of the first and easiest recipes most everyone learns how to make. Similar to the stove-top version, before turning on the air fryer, pre-slice the bread and soften the butter for easy spreading.
Hot tip: To save on time, prep the sandwiches a day ahead of time. Store in the fridge until ready to air fry.
Tips For The Best Air Fryer Grilled Cheese
The technique of air frying is known for making all foods crispy. To make your grilled cheese the crispiest, tastiest, and gooiest sandwich, heed these tips.
Hot tip: Keep in mind not all air fryers are created equal. Cooking times may vary depending on the air fryer you use.
Ways To Serve
Grilled cheese is great as an appetizer, snack, or a side dish. Nothing complements a grilled cheese sandwich quite like a bowl of soup. Our favorite is tomato soup, followed closely by creamy potato soup and chicken gnocchi soup. For a few non-soup pairings, offer the sandwich with beet, carrot, and cabbage salad and/or air fryer french fries
Storage & Reheating
Grilled cheese sandwiches are always best when eaten right away — they're freshly crisp with hot melty cheese inside. But — if you're making a few extra sandwiches to enjoy for lunch the next day, follow these storing and reheating tips for the best result.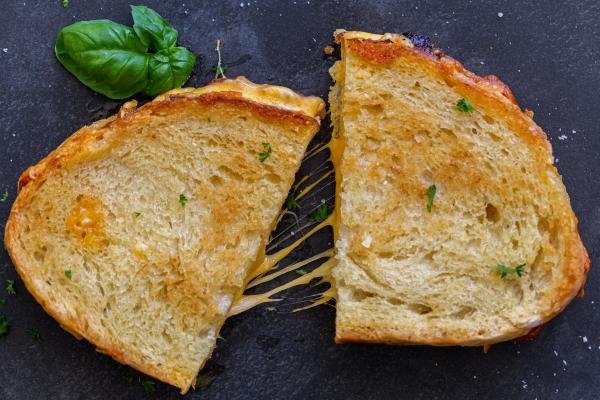 FAQ
Why doesn't my cheese melt in the air fryer?
If the cheese isn't melting in the air fryer, it may be because the slice of cheese is too thick, it is not a good melty-cheese, or you are using shredded cheese. All of these may cause the cheese not to melt enough in a grilled cheese sandwich.
Is it okay to put cheese in the air fryer?
It is best not to put cheese alone into the airfryer; however, cheese inside of a sandwich, like a grilled cheese sandwich is complete safe!
How long should I air fry grilled cheese?
It takes about 10 hands-off minutes to air fry grilled cheese sandwiches.
Other Air Fryer Recipes
Recipe
Air Fry Grilled Cheese will forever change the way you make grilled cheese. It is obsessively delicious and totally mess free!
Ingredients
8

slices of bread

16

oz

cheese slices

4

tbsp

softened butter
Nutrition Facts
Air Fryer Grilled Cheese (So Easy)
Amount Per Serving
Calories 650
Calories from Fat 387
% Daily Value*
Fat 43g66%
Cholesterol 108mg36%
Sodium 1384mg58%
Potassium 258mg7%
Carbohydrates 30g10%
Protein 35g70%
Vitamin A 1348IU27%
Calcium 938mg94%
Iron 3mg17%
* Percent Daily Values are based on a 2000 calorie diet.