Shurpa soup is a hearty Central Asian soup made of beef or lamb and veggies. Pair it with a piece of crusty, buttered bread!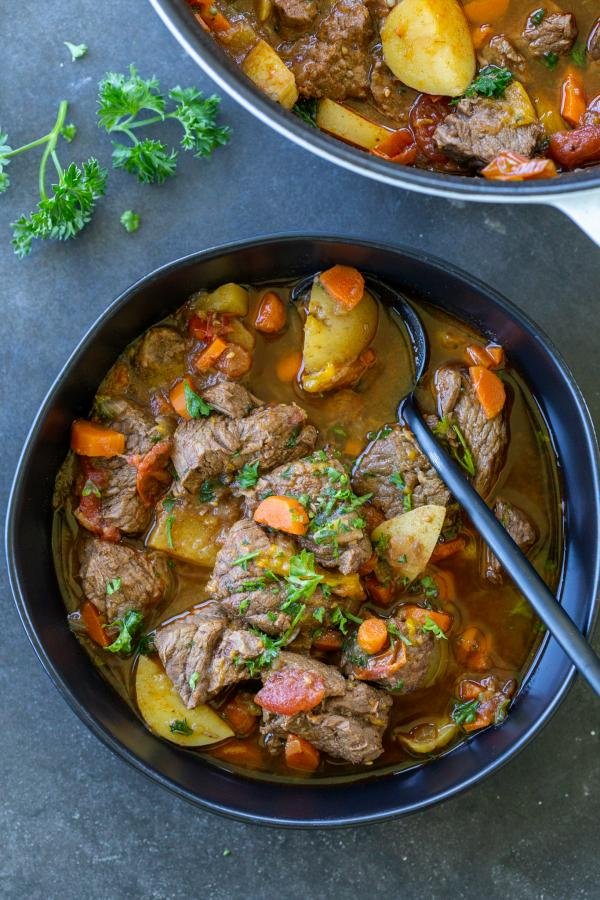 Shurpa soup is perfect for curling up to on a cold, winter's day. The broth is almost silky in texture, making it air on the side of a stew. If you're a fan of chili or are looking to break away from your same old, same old beef stew, it's well worth a try.
What is Shurpa Soup?
Shurpa soup is a Central Asian stew made with meat, veggies, potatoes, and paprika. A central dish to Uzbek cuisine, it's traditionally made with lamb meat. While you can also make it with beef, there's something really special about how the lamb fat infuses into the broth. Below, find an overview of the flavor, texture, and time it takes to make this rendition.
Flavor: The soup is the perfect combination of slightly sweet tomatoes and bell pepper and hearty meat.
Texture: The texture of the soup will just melt in your mouth. Slow-cooked perfection at its finest.
Time: From prep to table, this soup takes 2 hours to make. It's well worth the wait!
How To Prepare Shurpa Soup From Scratch
The first step is to saute the onions until golden brown in a large soup pot (use a Dutch oven if you have one):
Brown the Meat: Slice the lamb or beef into 1-inch cubes and brown them on all sides in the soup pot. Season with paprika, pepper, and salt.
Add the Water: Add the water and let simmer for an hour.
Pop in the Veggies: Next, add the veggies and allow the soup to simmer for 20 minutes.
Add the Potatoes, Garlic, & Herbs: Finally, add the potatoes, pressed garlic, and parsley. Cook the soup until the potatoes are fully-cooked. Season to taste with salt and enjoy!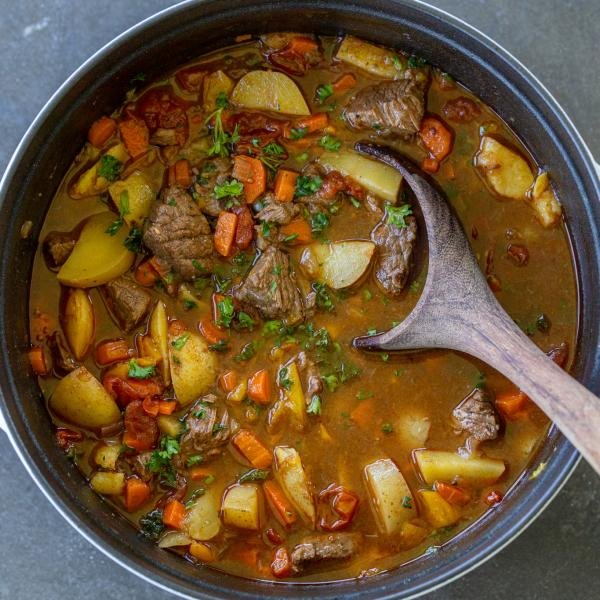 3 Tips for the Best Shurpa Soup
A couple of solid tips will help you make the best shurpa soup on the planet.
Don't skip browning the meat. Browning the meat will not only yield a better texture, but will also create a flavorful base for the broth. Don't skip this step!
Cook the soup over medium heat. It might be tempting to speed up the cooking time on high heat, but medium heat will give the meat time to tenderize and will help the soup develop its flavors.
Use fresh parsley versus dried. Fresh parsley is not only more flavorful than dried, but also adds a nice pop of color to the soup.
Ways to Serve Shurpa Soup
Shurpa soup is filling enough to be eaten as-is but is best served alongside crusty bread. Pair it with a baguette or honey wheat bread with butter and use the bread to sop up the broth. Alternatively, serve it with a Russian beet salad with garlic for a healthy dinner.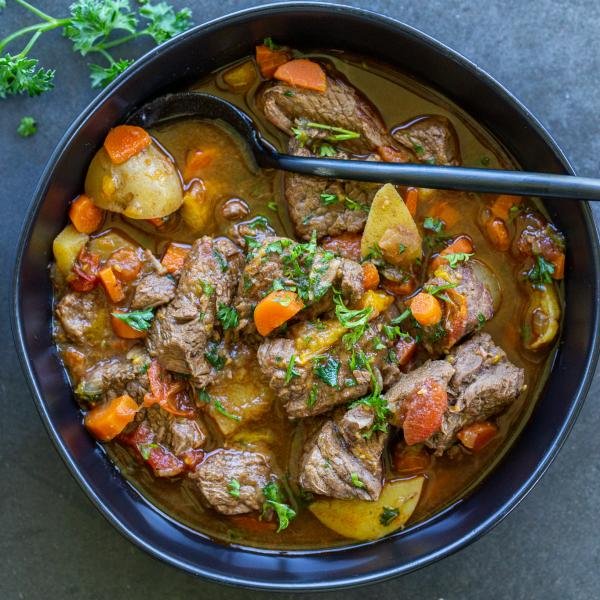 Storing Your Leftovers (Amazing, Amazing Leftovers!)
To keep shurpa soup on hand for up to a week, store it in an airtight container in the fridge. As it sits in the fridge, it will continue to develop its flavors and make for some killer leftovers. To reheat it, pop it in a saucepan until warmed through. Avoid freezing the soup, as the potatoes don't tend to thaw well.
FAQ
What kind of beef should you use?
Opt for stew meat or chuck roast. Keep it on the leaner side so your soup doesn't turn out too oily.
What cut of lamb should you use?
Lamb shoulder works best. If you can't find it, use rump or shank.
Can you use different meat besides beef or lamb?
You can use pork shoulder instead of beef or lamb. It will add a different flavor, but it will be super tasty.
Can you use any different veggies?
Shurpa soup is very versatile, so add whichever veggies you're in the mood for. Carrots, broccoli, zucchini, and green beans all work well.
Other Soups you will Love
Recipe
This shurpa soup recipe hails straight from Central Asia. It's made with tender lamb or beef, red peppers, potatoes, and spices. So good!
Nutrition Facts
Shurpa Soup Recipe
Amount Per Serving
Calories 235
Calories from Fat 90
% Daily Value*
Fat 10g15%
Cholesterol 90mg30%
Sodium 811mg34%
Potassium 588mg17%
Carbohydrates 6g2%
Protein 29g58%
Vitamin A 5004IU100%
Vitamin C 22mg27%
Calcium 37mg4%
Iron 3mg17%
* Percent Daily Values are based on a 2000 calorie diet.