Snowball Cookies are melt-in-your-mouth good. They are nutty, buttery and oh-so-delicious. They only require five ingredients to make! Better yet, they stay fresh much longer than your typical cookie.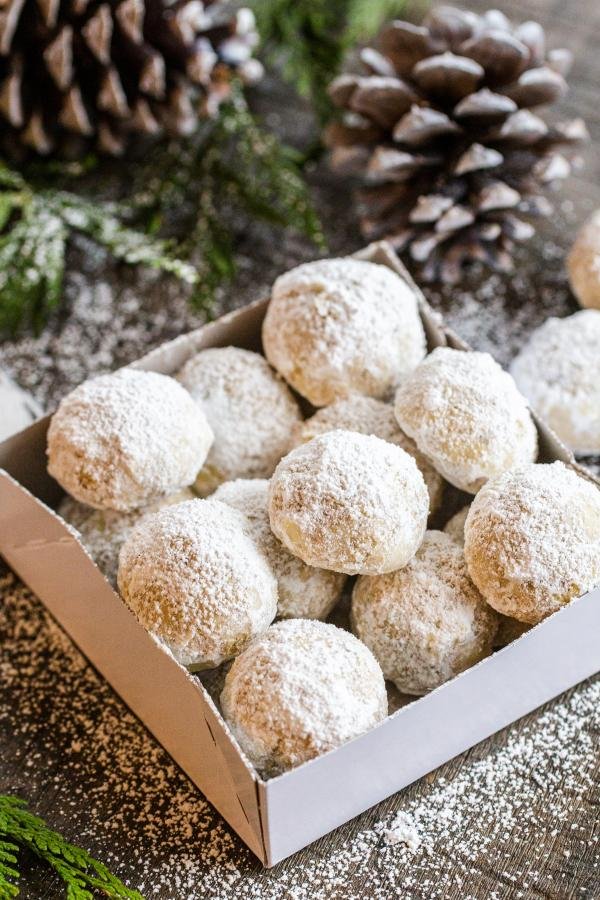 Chances are Snowball Cookies have graced a Christmas tray you have made or received at least once. These holiday staples are made with a sweet dough of pecans and flour. The dough is then rolled into the shape of snowballs and covered in powdered sugar. The end result is a perfectly festive wintertime treat!
My family loves Nutella so much! So, I created a Nutella Snowball Cookie that is stuffed with the choclately-hazelnut spread in the center. If that is more your style, give it a try instead. But, if you want to stick to tradition, read on to make these cookies in their original form!
Snowball Cookies
To make Snowball Cookies, you only need flour, sugar, pecans, butter and powdered sugar. You may have heard these cookies called Russian Tea Cakes or Mexican Wedding Cookies. All these names are accurate, but for the sake of the holiday season, let's call them Snowball Cookies!
If you are a foodie history nerd, you may be wondering where these cookies originated from. After scouring the internet for answers, I couldn't find anything too concrete. But, It seems as though this cookie hailed from Europe (I promise I am not being bias!). There is a very similar cookie that hails from Austria called an "almond crescent". It has a dough that is made with little sugar and a ton of nuts, giving it a nice melting texture close to that of the Snowball Cookie.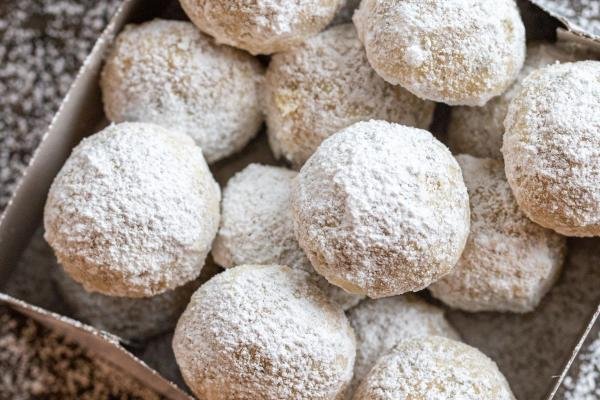 Can I make Snowball Cookies With Walnuts or Almonds?
The most authentic Snowball Cookie is made with pecans. But, if you prefer, substitute the pecans for almonds or walnuts. Just be sure to finely ground whatever nut you use so that the batter comes out smooth.
Storing Snowball Cookies
Store Snowball Cookies in an airtight container in the refrigerator for up to two weeks. You can also store them in an airtight container on the counter for up to a week. I love these cookies because they seem to keep a longer shelf life than others.
Refrigerating Cookies
If you like to prep ahead, you can make your dough a couple days in advance. Keep it refrigerated in an airtight container until you are ready to bake. Allow the dough to reach room temperature before you shape it into little circles.
Freezing Snowball Cookies
It is best to freeze your Snowball Cookies after they have been baked. After they have completely cooled, place them in a Ziploc bag. Freeze them for up to two months. When you are ready to eat them, allow them to thaw on the counter. Gently reheat them at 275 °F for 10-15 minutes to mimic that fresh-out-of-the-oven taste. Just to be sure to check on them so that they do not overcook or burn!
Other Cookie Recipes
Sugar Cookies – This classic recipe for sugar cookies is no-fail. I can always depend on it during the holiday season and birthdays.
Madeleine Cookies – These beautiful cookies go wonderfully with coffee or tea. Invest in a baking tin and impress your friends and family with these simple, yet stunning, treats.
Kolaczki Cookies – These Polish holiday cookies are stuffed with jam and sprinkled with powdered sugar. Using just five ingredients, you can add another impressive holiday cookie to your gift trays.
Chocolate Crinkle Cookies – Chocolate Crinkles have been gracing holiday trays for years. These festive cookies are topped with powdered sugar, making them look snow-capped and wintery.
Recipe
Snowball Cookies are melt-in-your-mouth good. They are nutty, buttery and oh-so-delicious. They only require five ingredients to make! Better yet, they stay fresh much longer than your typical cookie.
Nutrition Facts
Snowball Cookies Recipe
Amount Per Serving
Calories 162
Calories from Fat 99
% Daily Value*
Fat 11g17%
Cholesterol 16mg5%
Sodium 1mg0%
Potassium 39mg1%
Carbohydrates 15g5%
Protein 2g4%
Vitamin A 193IU4%
Vitamin C 1mg1%
Calcium 8mg1%
Iron 1mg6%
* Percent Daily Values are based on a 2000 calorie diet.