​​This Raffaello cake roll is made with moist sponge cake that is bursting at the seams with almond-flavored coconut cream. A Ferrero Raffaello fanatic's dream!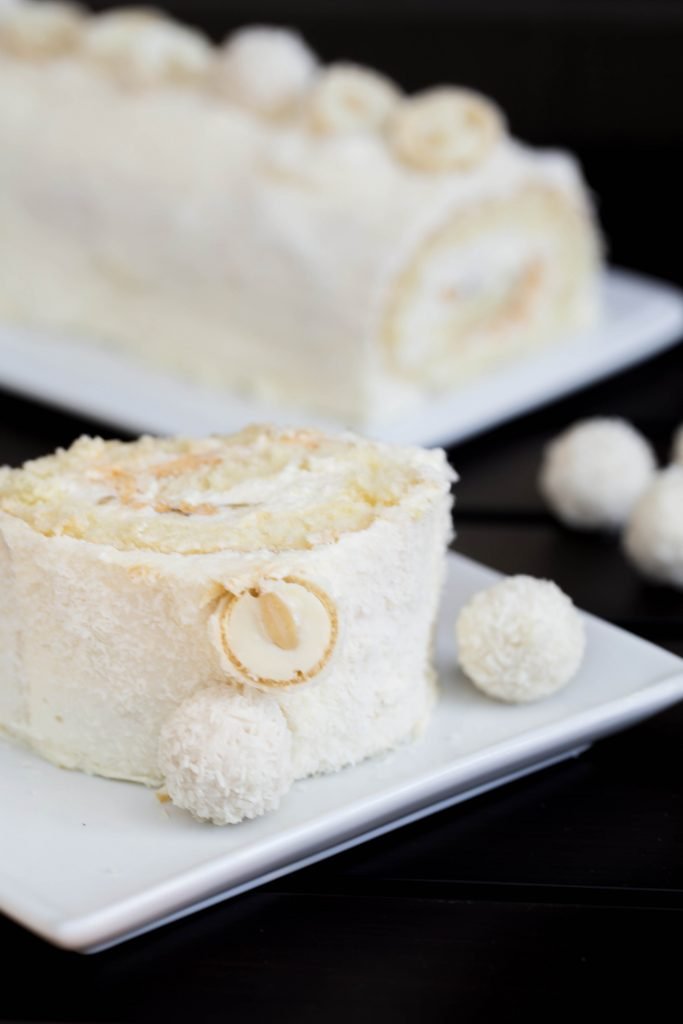 This Raffaello cake roll is the ultimate birthday cake for coconut lovers. I also find it to be fitting for any season. I've made it for everything from casual summer BBQs to Christmas dinners and it's always been a major crowd pleaser.
There's something so decadent about the way the wafers soak into the almond-speckled coconut cream. It truly tastes like heaven. If you're questioning whether or not you have the technical skill to make a cake roll, don't overthink it. It's actually much more simple than you think and this recipe will guide you every step of the way!
Where did Raffaello Cake Originate from?
The Raffaello cake doesn't have a specific origin per se. However, it was born out of a mutual obsession over the beloved Italian Ferrero Raffaello truffle. Typically, you see this candy pop up during the holidays. The combination of creamy white chocolate, coconut, and almond is absolutely to die for. So much so it's deserved of having a cake dedicated to it!
Are Ferrero Raffaello your favorite candy? Try your hand at making them homemade and using them to decorate your cake roll!
How to Make a Raffaello Cake Roll
Despite its fancy appearance, this cake roll is quite simple to make. Below, find an overview of the process before you strap on your apron.
Make the Wet Ingredients: First, preheat the oven. Next, use a stand mixer or hand mixer to beat the eggs and a cup of sugar until the mixture triples in volume- roughly 10 minutes, longer if using a hand mixer.
Fold the Flour into the Wet Ingredients: Using a spatula, slowly fold the flour into the egg mixture. Be extra careful not to over mix the dough!
Bake the Dough: Spread the dough onto a baking sheet lined with parchment paper and bake for 12 minutes.
Roll the Cake: Remove the cake from the oven and cover it with a kitchen towel. Flip the baking sheet over, releasing the cake. Carefully, roll the cake from the shorter side and set it aside to cool at room temperature. Remove the towel and parchment paper.
Make the Cake Cream: Using a stand mixer or hand mixer, beat the butter with 1 cup of sugar until smooth. Mix in the almond extract. Next, beat in the cream cheese until well-combined.
Make the Whipped Cream: In a separate bowl, whip the heavy whipping cream until it forms stiff peaks. In small portions, add the whipped cream to the butter and cream cheese mixture.
Frost the Cake: Spread the cake cream evenly across one side of the sponge cake. Next, sprinkle on the almonds, half of the shredded coconut, and the chopped wafer pieces. Roll the cake up and frost the outside with the remaining cream.
Decorate the Cake: Sprinkle the cake with the remaining shredded coconut and top with Ferrero Raffaello candies. Refrigerate until you're ready to serve. Enjoy!
Tips & Tricks
Below, find a collection of tips and tricks to help you make a bakery-worthy Raffaello cake roll.
Roll the cake while it's still warm. To get the best cake roll shape, roll the cake in a kitchen towel while it's still warm and malleable.
Use sweetened coconut flakes for more decadence. If you have a raging sweet tooth, opt for sweetened coconut flakes over unsweetened ones.
Use softened butter and cream cheese. Allowing the butter and cream cheese to soften at room temperature will make them so much easier to work with and incorporate. Leave them out for about 30 minutes on the counter before you get to baking.
Use extra cold heavy whipping cream. Extra cold cream will make for a super fluffy whipped cream. If you have to, pop it in the freezer for 5-10 minutes before whipping it.
Use ground almond. Instead of using roasted almond slivers, sprinkle on ground almond meal instead if you like a finer texture.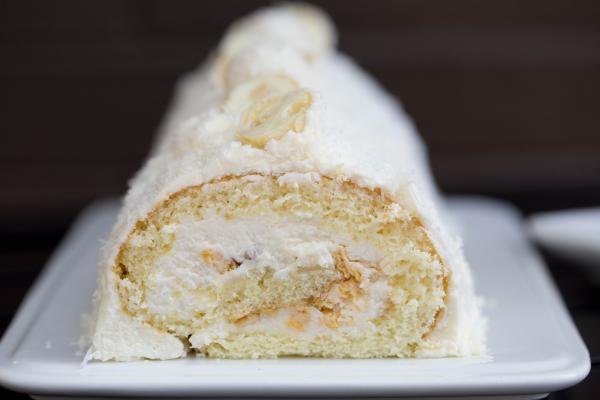 Storing a Raffaello Cake Roll
Refrigerator: Keep the leftover cake roll stored in an airtight container in the fridge for up to a week.
Freezer: You can freeze the entire cake roll by placing it on a baking sheet lined with parchment paper and popping it in the freezer uncovered. Once it's completely frozen, carefully wrap the cake in a of couple layers of plastic wrap. Store it in the freezer for up to a month. To defrost it, allow it to thaw in the fridge overnight.
FAQ
What does Ferrerro Raffaello candy taste like?
Ferrero Raffaello candy, which this cake is based on, has the perfect flavor combination of white chocolate, coconut, and almonds.
Can I use salted butter instead?
Yes! It will add a nice, subtle salty flavor to the cream if you're into that.
Should I use sweetened or unsweetened coconut flakes?
You can use either sweetened or unsweetened coconut flakes. It really just depends on your individual sweet tooth!
What kind of wafers should I use?
Any vanilla wafer will do the trick. If you can opt for a European-style brand.
Do I need to keep the cake roll refrigerated?
Yes, you need to keep this cake roll refrigerated. The delicate cream will melt if you store it at room temperature.
Other Cake Recipes to Try
Recipe
​​This Raffaello cake roll is made with moist sponge cake that is bursting at the seams with almond-flavored coconut cream. A Ferrero Raffaello fanatic's dream!
Notes:
This recipe doesn't need baking soda or baking powder for the sponge layers. The leavening agent is the air that is beat into the batter, thus it's vital to make sure you beat the egg & sugar mixture long enough- about 10 minutes.
Nutrition Facts
Raffaello Cake Roll (Almond Coconut Cake)
Amount Per Serving
Calories 608
Calories from Fat 387
% Daily Value*
Fat 43g66%
Cholesterol 183mg61%
Sodium 184mg8%
Potassium 185mg5%
Carbohydrates 49g16%
Protein 9g18%
Vitamin A 1391IU28%
Vitamin C 1mg1%
Calcium 88mg9%
Iron 1mg6%
* Percent Daily Values are based on a 2000 calorie diet.