Egg and Sprats Canapes are ridiculously delicious sandwiches! They're tasty, crunchy and so flavorful, you won't believe how something so easy can be this good.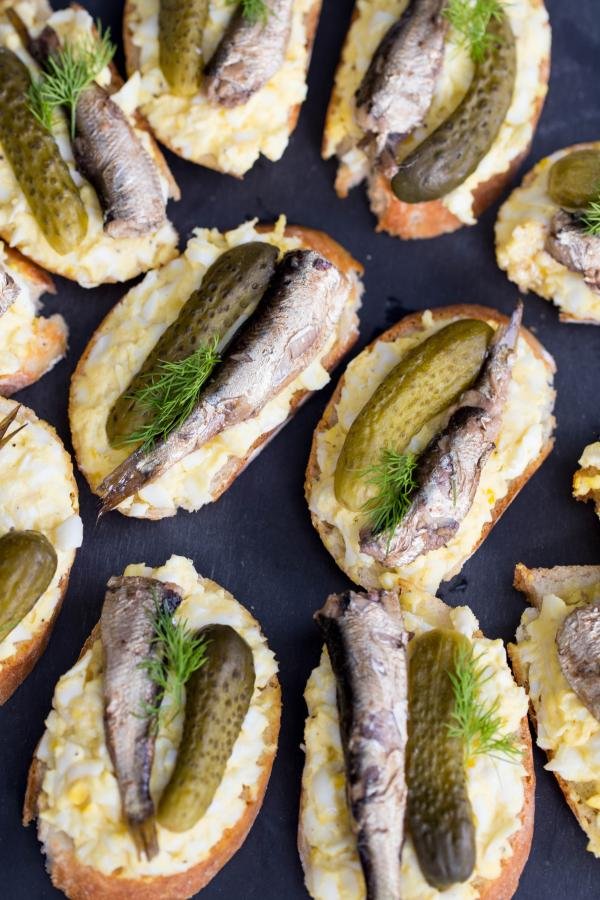 These little sandwiches are sure to be a hit at your next party. Not only are they adorable to look at, the trifecta of flavors keeps folks coming back for more. Bust out your fanciest appetizer tray and let's get to work…
What Are Sprats?
Sprats are small, oily fish that are in the same family as herrings or sardines. They are salty, tasty and packed full of omega-3 fatty acids. Sprat are primarily foraged in both the Baltic and North seas, making smoked canned sprats a very popular commodity throughout Eastern Europe.
You will easily be able to find them in any specialty European market. But, if you can't get your hands on them, substitute sprats for any canned, small fish.
Health Benefits of Sprats
Despite being relatively unknown by eaters, sprats are one of the most nutritious varieties of seafood. They are packed with omega-3 fatty acids, vitamin D, B-12 and selenium. What's even better? They tend to be very low in mercury, if possessing any at all.
A nutrient dense food, sprats are a great addition to any low-carb or keto diet. Since they are wild, versus farmed, they hold much more flavor and nutritional benefits. These little fish are truly wonderful!
How to Make Egg and Sprats Canapes
If you can make a toast, you can make canapes. Following the simple steps below, whip these up for your guests while you get to work on the entrée:
Gather your ingredients.
Grate boiled eggs and mix with mayonnaise. Season with salt and pepper to taste.
Spread egg salad on a slice of bred.
Top with a sprat and a slice of pickle.
What to Serve Egg and Sprats Canapes With
Whether you're hosting your friend's baby shower or inviting family over for Sunday dinner or just looking for a quick meal, canapes are good for any occasion. See a couple serving suggestions below:
Serve alongside a Garden Salad or a Caesar Salad for a light lunch.
Pair your canapes with a bowl of Tomato Basil Soup or a bowl of Classic Borscht (your Eastern European friends will love this combination).
Serve alongside a bunch of other finger foods when you want to host with ease.
FAQ
How do you eat canned sprats?
Aside from these tasty canapes, you can eat sprats on sandwiches, salads and more. You could even try pan frying them and eating them straight with a squeeze of lemon.
Is a sprat and sardine the same?
Although similar in size and taste, sprats and sardines are technically different fishes that belong to the herring family. Feel free to use them interchangeably in any recipe.
Where can I buy smoked sprats?
The majority of European markets will carry sprats. You can also get them on Amazon. Check out our favorite brand of canned sprats here.
Making Egg and Sprats Canapes In Advance
If you like to prep ahead, feel free to make the egg salad and slice your pickles into bite-sized pieces a day in advance. However, keep the assembling to the day of to prevent your canapes from getting soggy. They are best prepared right before you want to serve them.
Other Canapes Recipes to Try
Whether you're making a big appetizer spread or a light lunch, these canapes will do the trick:
Recipe
Egg and Sprats Canapes are ridiculously delicious sandwiches! They're tasty, crunchy and so flavorful, you won't believe how something so easy can be this good.
Nutrition Facts
Egg and Sprats Canapes
Amount Per Serving
Calories 93
Calories from Fat 36
% Daily Value*
Fat 4g6%
Cholesterol 76mg25%
Sodium 305mg13%
Potassium 61mg2%
Carbohydrates 9g3%
Protein 4g8%
Vitamin A 139IU3%
Vitamin C 1mg1%
Calcium 34mg3%
Iron 1mg6%
* Percent Daily Values are based on a 2000 calorie diet.