These chicken bacon canapés are creamy, savory, and so satisfying. Make them for your next dinner party and watch them fly off the platter!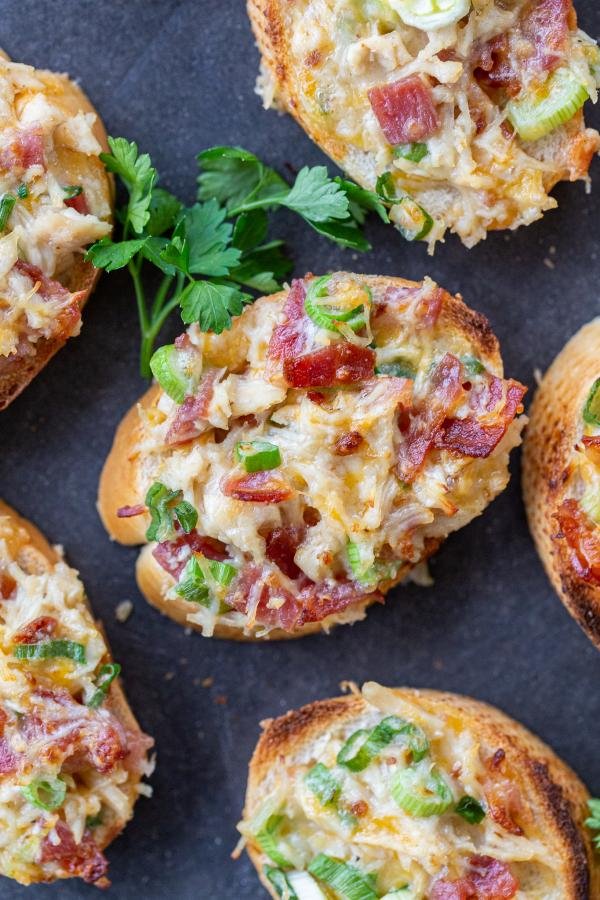 There are few things in this world that I love more than a slice of chicken bacon ranch pizza. It's my definition of perfection. When I don't want to fuss around with making pizza dough or shelling out money for delivery, this recipe for chicken bacon canapés is the answer to satisfying my craving. What's better? These little chicken bites are perfect for everything from family movie nights to fancy dinner party appetizers.
So, What Exactly is a Canapé?
A canapé is a type of hors d'oeuvre that consists of bread, crackers, or some other carb that's topped with a variety of protein, cheese, and veggies. They can be served hot or cold and make for great appetizer trays.
Assembling These Chicken Bacon Canapés
To begin, grab a serrated bread knife and slice the baguette into 1/2-inch thick pieces.
Prepare the Ingredients: Next, dice the green onions and cut the slices of bacon into thin strips. Drain the juices from the canned chicken breast and break apart the larger chicken pieces with a fork. In a large bowl, combine all the ingredients with the shredded Mexican cheese.
Assemble the Canapés: Assemble the baguette slices on a baking sheet. Next, spoon a generous amount of the mixture on each slice.
Broil the Canapés: Broil the canapés on low until golden brown and bubbly. Sprinkle the canapés with a garnish of green onions if you'd like and enjoy!
Different Ways to Cook Bacon
Instead of busting out the frying pan, whip up the bacon for this recipe with either of the two methods listed below. Bye, bye splattering oil!
Baked Bacon – All you need is a cookie sheet and some parchment paper or foil to bake bacon in the oven
Air Fryer Bacon – Place bacon in a single layer in the air fryer tray and cook until crispy
Hot Tip: Blot the bacon of excess oil using a paper towel before adding it to the topping to prevent the canapés from turning out too greasy.
3 Pro Tips for the Best Canapés
Despite how fancy they look, these mini sandwiches are so simple to put together. With a couple of pro tips, you'll be well on your way to finger food glory.
Don't overdo it with the topping. Avoid topping the baguette slices with too much topping, or it will ooze off the sides in the oven and create a mess.
Make sure the chicken is drained of all liquid. If you don't drain the canned chicken of all it's juices, the canapés will turn out soggy.
Cook them on a low broil. To prevent the canapés from burning, cook them on a low broil versus a high broil.
Feeling ambitious? Whip up a homemade baguette to elevate the flavor of your canapés that much more.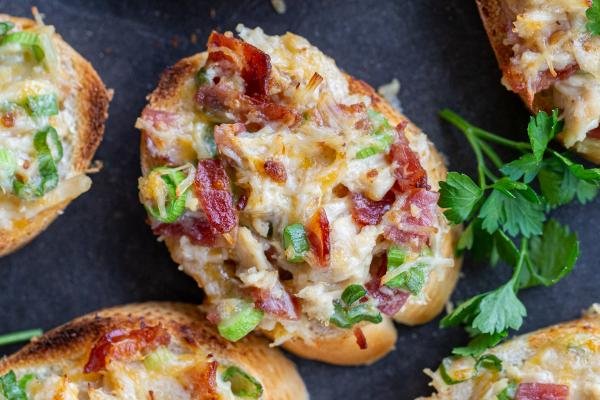 Tweaking these Canapés
Make these chicken bites your own by playing around with a couple of tasty variations.
Stir in 4 ounces of softened cream cheese or mayonnaise to the topping for extra creaminess
Add depth of flavor with a couple tablespoons of worcestershire sauce or soy sauce
Make them spicy by adding a bit of your favorite hot sauce to the topping or a couple of dashes of cayenne pepper
Swap the pieces of bacon out for prosciutto or Canadian bacon
Air Fryer Hack: Want to whip up the canapés with record speed? Pop them into an air fryer if you have one.
Ideas for Serving Canapés
The best way to serve canapés is alongside other canapés! Bust out your favorite serving platter and make 2-3 different kinds so your guests can grab a couple of different bites before digging into the main course.
Making Chicken Bacon Canapés Ahead of Time
If you want to make the canapés ahead of time, whip up the topping and store it in an airtight container in the fridge for up to 3 days. When you're ready, spoon the topping on the baguettes and broil them as directed.
Note: These canapés are best eaten fresh out of the oven. Only assemble them right before you plan to serve them!
More Tasty Finger Foods
Recipe
These chicken bacon canapés are made for hosting. Made with canned chicken, gooey cheese, and salty bacon, they're the perfect mouthful.
Ingredients
10

ooz

canned chicken breast

drain and break apart

8

oz

fully cooked bacon

diced into small pieces

1/2

baguette

sliced

2

cup

Mexican cheese

4

green onions

diced

1/4

cup

ranch
Nutrition Facts
Chicken Bacon Canapés
Amount Per Serving
Calories 140
Calories from Fat 90
% Daily Value*
Fat 10g15%
Cholesterol 26mg9%
Sodium 384mg16%
Potassium 91mg3%
Carbohydrates 4g1%
Protein 8g16%
Vitamin A 115IU2%
Vitamin C 1mg1%
Calcium 92mg9%
Iron 1mg6%
* Percent Daily Values are based on a 2000 calorie diet.