These whipped shortbread cookies are buttery, light, and so moist. The best part? They only require 4 simple ingredients you likely already have!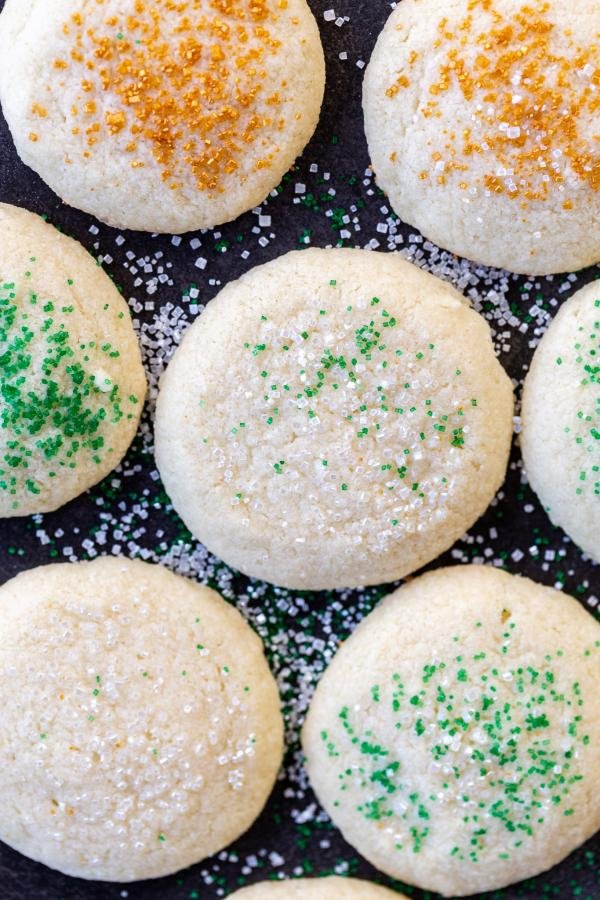 Whipped sugar cookies are one of the easiest cookies on the planet to make. As a major fan of simple cooking, I'm always impressed with how 4 ingredients can make such an irresistible treat. Whenever I have a sweet tooth that I can't kick, but no desire to slave away in the kitchen, whipped shortbreads are my go-to.
From birthday parties to holiday trays, these cookies can be decorated in any which way. From different color frosting and sprinkles, you'll find a reason to bust this recipe out all year long. What's better? The cookies can be prepped ahead and frozen for a rainy day.
How To Make Whipped Shortbread Cookies
These shortbread cookies only require 4 ingredients you likely already have hanging out in your fridge and pantry. Below, find a quick hitter overview of the recipe before you dive in.
Prep the Cookie Dough: Using an electric mixer (stand or hand), whip the flour, sugar, cornstarch, and softened butter together on the lowest speed until light and fluffy.
Portion the Dough: Using a cookie scoop, portion the cookies out on a lined baking sheet. Feel free to top them with sprinkles or leave them as-is.
Bake the Cookies: Next, bake the cookies at 300°F for about 20-25 minutes or until the bottoms turn golden brown. Let the cookies rest for about 5 minutes on a wire rack before serving. Enjoy!
Tips & Tricks
Here, find a handful of tips and tricks to help you make the best whipped shortbread cookies.
Soften the butter at room temperature. Pull the butter out of the fridge 30 minutes before you plan on baking. This will make it easier to mix and whip.
Use a stand mixer or hand mixer. To get that essential fluffy texture, you'll want to use an electric hand mixer or a stand mixer.
Use a cookie scoop to portion the dough. The more even the dough is portioned, the more even the cookies will bake. If you don't trust yourself to eyeball the dough, you can always use a cookie scoop.
Don't grease the baking sheet. Shortbread cookies contain a ton of butter, so there's no need for you to grease the baking sheet. If you do, they will likely spread. Instead, simply place the cookies on parchment paper or a silicone baking mat.
Play around with different decorations. Depending on the occasion, decorate the cookies with an assortment of sprinkles, chopped nuts, or frosting. This is just as versatile as a sugar cookie so feel free to get creative!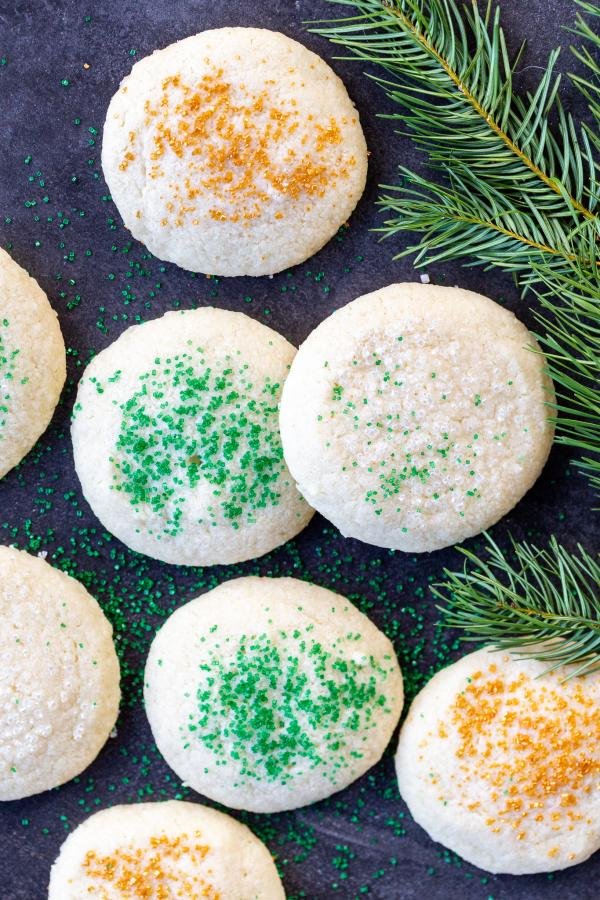 Storing Whipped Shortbread Cookies
Whether you plan to eat your whipped shortbread in a couple of days or want to freeze them for later, find all the storage tips you need to keep your cookies fresh.
Room Temperature: If you plan to eat your cookies within a couple of days, store them in an airtight container on the counter.
Refrigerator: To increase the shelf life of your cookies to two weeks, store them in the refrigerator in the airtight container.
Freezer: If you'd like to freeze your cookies for later, you can store them in the freezer for up to 3 months. To do so, line them up on a baking sheet covered in parchment paper and pop the sheet in the freezer. Once completely frozen, transfer the cookies to a freezer-safe bag. To thaw, place the cookies on the counter for a couple of hours.
FAQ
Why are my whipped shortbread cookies falling apart?
You're whipped shortbread cookies are likely falling apart if you over-whipped the batter and made it too warm before popping the cookies in the oven. About 10 minutes of whipping is more than enough.
What is the secret to great shortbread?
Butter is the secret to great shortbread. You have to use more than typical cookies or you won't get that signature texture.
Why are they called shortbread cookies?
The name "shortbread" refers to the unleavened, high-fat dough used to make the beloved biscuit. Unlike fluffy baked treats, shortbread cookies contain a higher fat content and dense, crumbly texture.
What does cornstarch do to shortbread cookies?
Cornstarch makes shortbread cookies super crumbly and tender. As a non-caking agent, it helps soften the protein of the flour.
Are shortbread cookies and butter cookies the same thing?
Shortbread and butter cookies are not the same thing. Shortbread cookies have a higher content of butter, making them more brittle. On the other hand, butter cookies have a lower content of butter, more flour, and a more solid shape.
Other Christmas Cookies to Try
Recipe
These whipped shortbread cookies are buttery, light, and so moist. The best part? They only require 4 simple ingredients you likely already have!
Instructions
Using a stand mixer or a hand mixer, combine softened butter, flour, cornstarch, and sugar. Beat the batter for at least 10 minutes, or until you get a very air, fluffy consistency.

Using a cookie scoop, portion out the cookie dough, placing the pieces on a lined baking sheet as you go. If you wish, add sprinkles to the top of each cookie.
Nutrition Facts
Whipped Shortbread Cookies (4 Ingredients)
Amount Per Serving
Calories 147
Calories from Fat 81
% Daily Value*
Fat 9g14%
Cholesterol 24mg8%
Sodium 2mg0%
Potassium 13mg0%
Carbohydrates 15g5%
Protein 1g2%
Vitamin A 284IU6%
Calcium 4mg0%
Iron 1mg6%
* Percent Daily Values are based on a 2000 calorie diet.