These white chocolate raspberry tarts have a creamy white chocolate and cream cheese filling and are topped with fresh raspberries. So elegant and festive!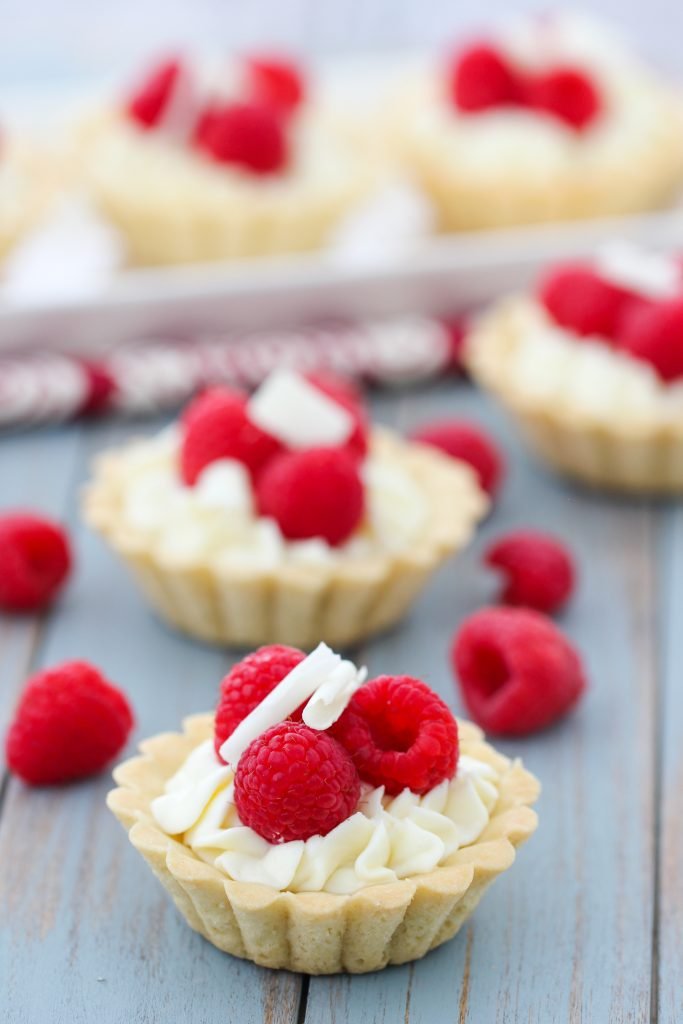 These white chocolate mini raspberry tarts are the definition of decadence. I love serving them for at everything from holiday parties to summer BBQs. The combination of the rich cream cheese filling and the fresh raspberries is indescribably good and so addicting. Seriously, good luck eating just one…
Despite their impressive appearance, they are actually quite simple to make and accessible for all skill levels! If you're feeling a little hesitant to try your hand at making them, follow the step by step instructions and you will be golden.
How to Make White Chocolate Mini Raspberry Tarts
Making mini raspberry tarts requires a handful of simple ingredients. Below, find a rundown of the recipe before you dive in.
Tips for Making the Perfect Tarts
Below find a couple of tips and tricks to help you make the best mini raspberry tarts.
Allow the tart shells to cool before removing them. To make sure your tart shells don't break, allow them to cool for at least 10 minutes before you attempt to remove them.
Whip the heavy cream until you get stiff peaks. For the most fluffy filling, make sure you whip the heavy cream until it reaches stiff peaks.
Eat the tarts right away. These tarts are best eaten immediately after you assemble them. If you don't plan to eat them right away, hold off on piping the filling until right before you serve them to make sure the cream doesn't melt or deflate.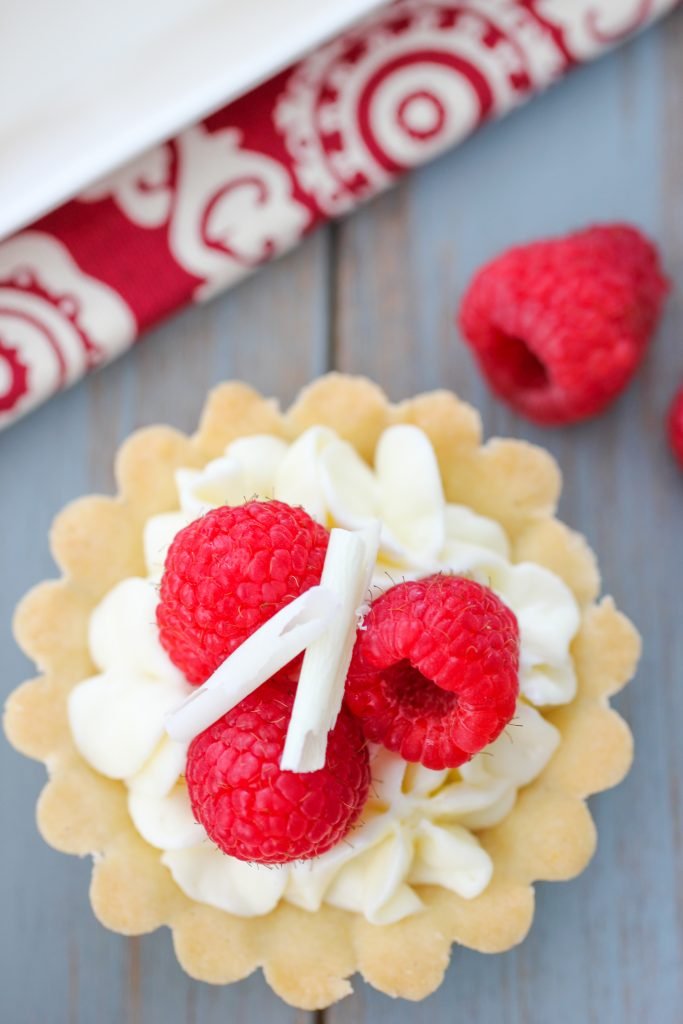 Storing Mini Raspberry Tarts
While mini raspberry tarts are best eaten right away, find a couple tips below to help you keep them as fresh as possible in storage.
Refrigerator: If you want to prep the tarts an hour or two ahead of serving, keep them in an airtight container in the refrigerator. They will likely turn a bit soft, but this will keep the filling from melting.
Freezer: If you want to prep the shells ahead of time and assemble the tarts later, place them on a baking sheet lined with parchment paper. Next, pop the baking sheet in the freezer uncovered for a couple of hours. Transfer the shells to a freezer-safe bag and store them for up to 3 months. To thaw them, place them in the refrigerator for a couple of hours.
FAQ
Should I grease the tart shell molds before baking?
Since there is so much butter in the batter, you don't need to grease the tart shells unless the tart pans that you are using require it.
How should I remove the tarts from the mold?
To remove the tarts from the mold, allow them to cool for about 10 minutes first. Next, hold the molds upside down over your over hand and gently press on the sides of the mold until the tarts slide out.
How do I prevent my tarts from turning soggy?
To prevent your tarts from turning soggy, fill them right before you plan to serve. This will not only prevent them from turning soft, but it will also ensure the filling doesn't deflate.
How should I store mini raspberry tarts?
Store leftover tarts in an airtight container in the fridge for up to a couple hours. Any longer and they will turn soggy and lose their shape.
Where can I find tart pans?
You can find tart pans at most retail stores. Bed, Bath, & Beyond tends to have them, but if you can't find them you can always go on Amazon.
Other Tarts Recipes to Try:
This recipe was contributed by my friend Olga, founder of the blog olgasflavorfactory.com. Make some time to visit her site if you haven't yet. She's an amazing baker!
Olga says:
"In our family, we love sharing all sorts of cookies, pastries, pies and yeast breads with family, friends, neighbors and co-workers. My mom started this thoughtful practice when I was still a little girl and to this day, bakes up more than a dozen varieties every holiday season. I have continued this wonderful tradition and now have my two little boys helping me, which makes it so much more meaningful."
Recipe
These white chocolate raspberry tarts have a creamy white chocolate and cream cheese filling and are topped with fresh raspberries. So elegant and festive!
Ingredients
To Garnish
2

pints

fresh raspberries

white chocolate shavings
Instructions
Tarts
Preheat the oven to 350°F. Using an electric stand or hand mixer, cream the softened butter and sugar for about 3 minutes or until it's light and fluffy.

One at a time, beat the eggs into the mixture, followed by the vanilla extract. In a separate bowl, whisk the flour and baking powder together and add it into the batter. Beat to combine.
White Chocolate Filling
Using a double boiler or microwave, melt the white chocolate. Using a mixer, whisk the cream cheese until smooth. Next, pour the melted white chocolate into the cream cheese and mix to combine.

In another bowl, whip the heavy whipping cream with the powdered sugar until stiff peaks form. You

can use a mixer or whisk it by hand.
Nutrition Facts
White Chocolate Raspberry Mini Tarts
Amount Per Serving
Calories 321
Calories from Fat 189
% Daily Value*
Fat 21g32%
Cholesterol 65mg22%
Sodium 143mg6%
Potassium 148mg4%
Carbohydrates 30g10%
Protein 4g8%
Vitamin A 627IU13%
Vitamin C 9mg11%
Calcium 65mg7%
Iron 1mg6%
* Percent Daily Values are based on a 2000 calorie diet.