This Roast Beef Tenderloin recipe is the perfect centerpiece for your Christmas dinner. It's perfect for the most flavorful time of the year!
We partnered with Beef. It's What's for Dinner. on behalf of the Beef Checkoff to help you make this holiday season a little more special. I received compensation, but all opinions are my own.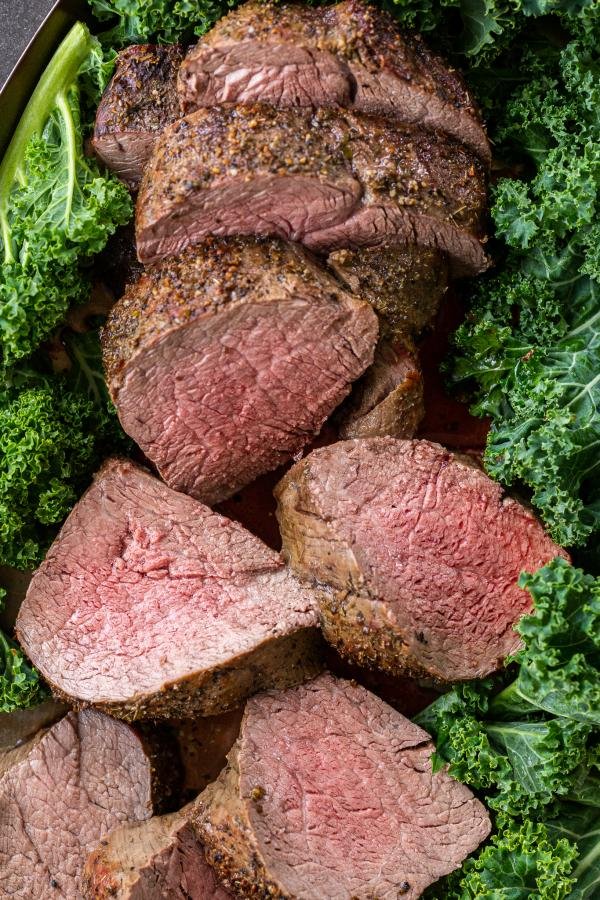 You guys already know that I have a deep love affair with Beef. So much so, my butcher knows me by name. When the holidays are in full swing, there's no better way to savor the season than with a melt-in-your-mouth, lean cut of meat like Roast Beef Tenderloin.
It's full of flavor, tastes like a million bucks, and is always a crowd pleaser! What's better? The smell that will emanate from your kitchen is the best way to greet your friends and family. Say hello to your new favorite holiday protein!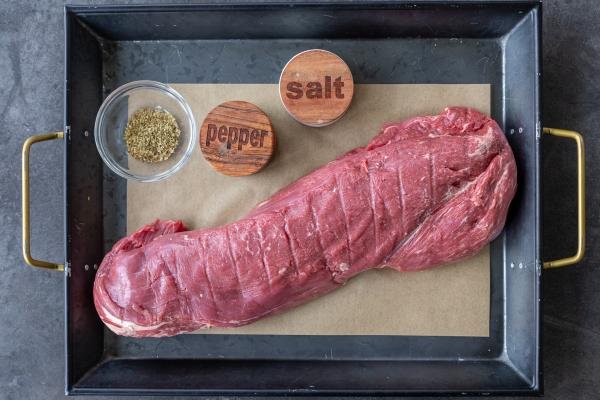 What's So Special About Roast Beef Tenderloin?
We love Beef in all its forms, but when it comes to Christmas dinner Beef Tenderloin is top of mind. Here's why we love it:
It's the most tender cut of Beef roast out there.
It cooks quickly – this recipe only takes about an hour from start to finish!
It's crazy easy to carve, making presentation and plating a no-brainer.
How to Make Roast Beef Tenderloin
The first step to making a knockout Roast Beef Tenderloin is to preheat your oven to 425°F.
Trim the Beef Tenderloin: Next, trim the Beef Tenderloin of any excess fat or gristle.
Season the Beef Tenderloin: Using your hands, rub the Beef with salt, black pepper, and dried oregano (feel free to swap in rosemary or thyme if you prefer).
Roast the Beef Tenderloin: Next, pop the roast in a roasting pan and bake it for 40-55 minutes (cooking time will vary depending on thickness and your preferred doneness).
Allow the Beef to Rest: Pull the roast out of the oven, cover it loosely with foil, and allow the Beef to rest for 15 minutes.
Carve the Beef Tenderloin: Using a sharp knife, cut the roast into 1-inch thick slices. Serve immediately and enjoy!
3 Tips for Perfect Roast Tenderloin
​A couple of tried-and-true tips will help you nail the roast Beef tenderloin.
Opt for medium rare to medium doneness. Beef's tender, juicy texture is optimum when cooked to medium-rare (145°F) to medium (160°F) doneness.
Use an instant-read meat thermometer. Take the guesswork out of gauging doneness by sticking a meat thermometer into the thickest part of your roast (make sure it's not resting in fat or touching bone) for 15 seconds to make sure the internal temperature is on point.
Allow the roast time to rest before carving. Always, always, always give your roast at least 15 minutes to rest at room temperature before carving into it. This helps lock in the juices and make your roast super tender!
Did you know? The temperature of your roast will continue to rise after you remove it from the oven. Account for around 5ºF to 15ºF depending on the thickness!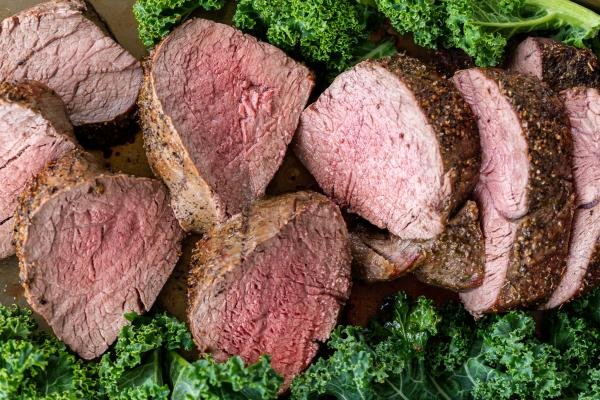 Ideas for Serving Your Roast Beef Tenderloin
While the Roast Beef tenderloin is delicious eaten as-is, you can also serve it alongside creamy horseradish sauce, red wine sauce, or garlic herb butter. If you're stumped on what you should serve for your full Christmas dinner spread, creamy mashed potatoes, traditional cabbage rolls, and Caesar salad are all the sides you need.
Storing, Freezing, & Reheating
If you're lucky enough to have leftovers on hand, here's all you need to know about storing, freezing, and reheating.
Storing: To keep the roast Beef tenderloin fresh for up to a week, keep it stored in an airtight container in the fridge.
Freezing: To freeze the Beef tenderloin, store it in freezer-safe bags for up to a month (remember to pencil on the date).
Reheating: To reheat the Beef Tenderloin, place it in the oven with a pat of butter (this will help it retain moisture as it warms through) and cover it with foil. Be extra careful not to overcook the Beef – pull it out once it's warmed through!
FAQ
What part of the cow does Beef tenderloin come from?
The tenderloin sits near the ribs and close to the backbone.
Should you sear Beef tenderloin before roasting?
There's no need to sear the Beef tenderloin before roasting it in the oven. If you cook Beef tenderloin uncovered, it will help it develop a nice crust.
Is Beef tenderloin the same as roast beef?
Yes, Beef tenderloin is the same as roast Beef.
Do you cook a Beef tenderloin covered or uncovered?
You cook the Beef tenderloin uncovered. When it rests, you'll cover it with foil to help it retain moisture.
More Tasty Beef Recipes
Recipe
This roast beef tenderloin is juicy, tender, and so savory. Perfect for everything from the holidays to Sunday dinners!
Nutrition Facts
Roast Beef Tenderloin Recipe (Crazy Easy)
Amount Per Serving
Calories 623
Calories from Fat 450
% Daily Value*
Fat 50g77%
Cholesterol 159mg53%
Sodium 983mg41%
Potassium 699mg20%
Carbohydrates 1g0%
Protein 41g82%
Vitamin A 7IU0%
Vitamin C 1mg1%
Calcium 23mg2%
Iron 5mg28%
* Percent Daily Values are based on a 2000 calorie diet.