Looking for a great tasting, easy to make strawberry scones recipe? What about a way to use all those fresh strawberries you picked up from the farmer's market? Nothing says "summertime" quite like this delicious berry scone.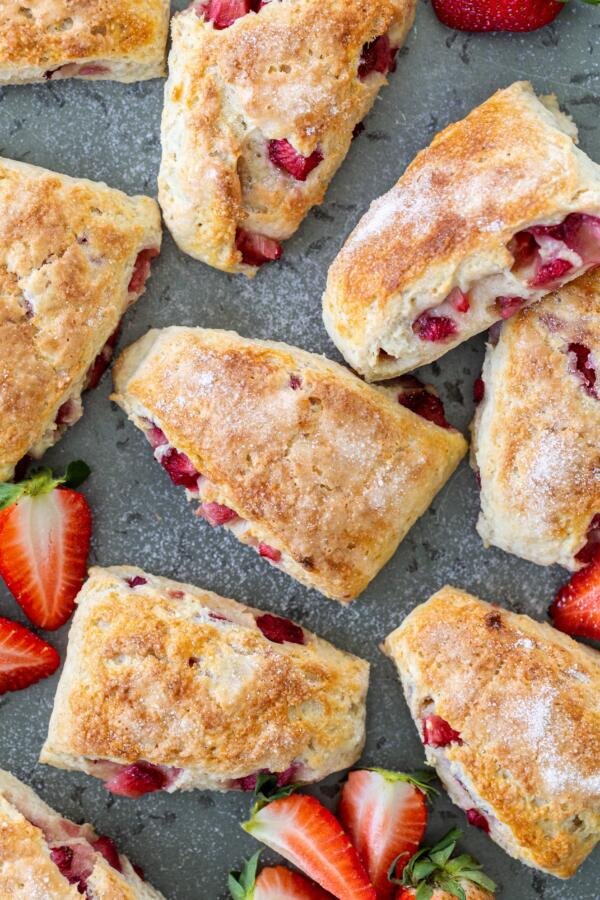 These scones remind me of my grandma. She often made them when grandkids came over to hang out at her house on weekends. Let's just say they were gobbled up before she could even sit them down on the table. Sure, Starbucks sells tasty blueberry scones you can quickly pick up through the drive-thru, but nothing compares to a homemade scone that brings you straight back to your childhood.
Scones go perfectly with the usual suspects: hot coffee and tea. Split your scone open and slather on some high-quality European butter (Kerrygold and Pulgra are great options). If you want to be extra fancy, grab some Devonshire cream (also called clotted cream) and pop a hefty dollop right on top. Trust me, you'll feel like you've been transported to the English countryside.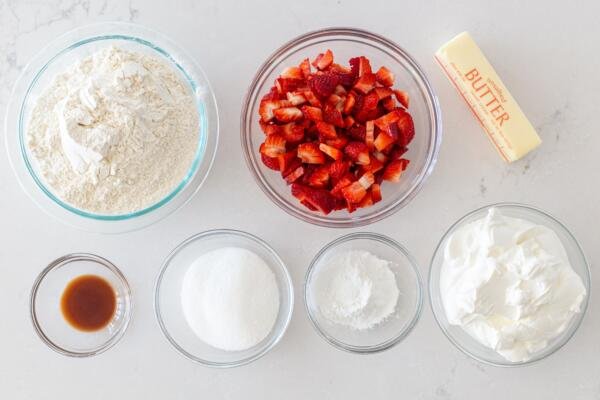 How to Make Grandma's Strawberry Scones
Making strawberry scones just like grandma is a piece of cake (or a piece of scone?!). You don't need to be an expert baker to make a great scone. In fact, these popular pastries are best served a little rustic and misshapen. Follow the easy steps below to be well on your way to fresh-baked, perfection:
Combine dry ingredients together in a large bowl.
Cut in softened butter. Fold in sour cream and vanilla.
Unroll dough into a rectangle. Spread diced strawberries all over the the dough. Roll dough into a log.
Cut triangular shaped pieces out of the dough log, slicing at a 45 degree angle. Place scones onto lined baking sheet. Brush tops with whisked egg and sprinkle with sugar.
Bake until the tops are golden brown.
Tips for Making the Perfect Scones
Never use bread flour. Bread flour is too dense and will not give your scones that signature light, airy texture.
The secret to perfectly soft scones is to not overwork the dough. Be sure to fold gently!
Make sure to cut all of the scones into the same size. This ensures even baking.
Beaten or whisked eggs work best to coat the top of the scones. Some recipes call for milk, but I find eggs give the best, bakery-worthy shine.
Be generous with the sugar you sprinkle on the top. Scones aren't super sweet, so a hefty coating of sugar is welcome. Use chunkier crystals to get a nice crunch!
Variations to Strawberry Scones
When it comes to scones, variety is the spice of life. Try a couple of the variations below:
Make them Healthier – If you wish to make a healthier version, you can replace 1 cup of white flour with whole wheat flour. Additionally, feel free to replace the sour cream with Greek yogurt.
Use Other Berries – Blueberries, blackberries or raspberries can be swapped for the strawberries in this recipe. Use whatever berry you can find that's in season and ultra-fresh. You can't go wrong.
Coat with Glaze – Instead of sprinkling your scones with sugar, make a sugar glaze (whisk together water and powdered sugar). Slather each scone generously and allow scones to set at room temperature until the glaze hardens.
How To Store Strawberry Scones
Making a batch of strawberry scones to snack on throughout the week? Read on for best practices for storing:
Room Temperature: If you plan to eat your scones within five days, feel free to store them in an airtight container on the counter. Reheat them by placing in the microwave for 30-45 seconds.
Freezing: If you have more scones than you can eat in five days, freeze them to enjoy at your leisure. Place fully cooled scones on a lined baking sheet in a single layer. Place the entire baking sheet in the freezer. Once completely frozen, transfer scones to a freezer-safe plastic bag or airtight container. To reheat, microwave for a minute or so, or place scones in the oven until heated through and warm.
FAQ
How do I get my scones to rise and be fluffy?
Baking powder is key to making it rise and be fluffy. Two (2) tablespoons does the trick, but feel free to add another if you like them extra fluffy.
How should I mix scone dough?
To mix the scone dough, combine your dry ingredients, it's all about the gentle fold. Using a slotted spoon or spatula, carefully fold in the sour cream until combined. If you overmix, you risk flat, dense scones. Resist the temptation to over stir!
How do I get that perfect scone shape?
You don't need to shape your scones, so long as you cut them into even, triangular shaped pieces, you will get that perfect scone shape. Using a sharp knife, alternate the direction you slice the dough log at a 45 degree angle.
Can I use frozen strawberries?
No, you cannot use frozen strawberries. Frozen strawberries contain too much water and will destroy your dough. Fresh berries are the only way to go!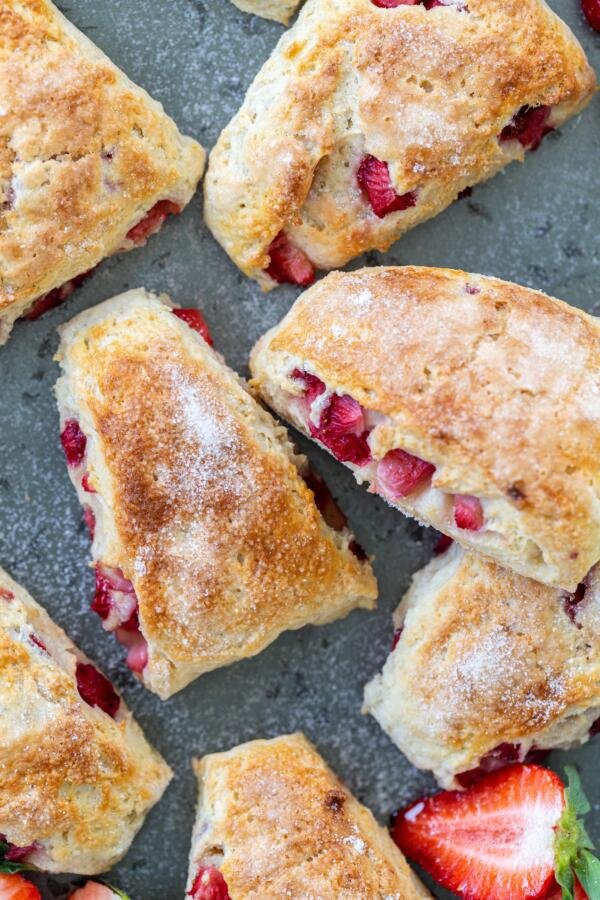 Other Pastries to Try
Want to bring the bakery straight into your home? Try some more of our favorite homemade goods.
Recipe
Looking for a great tasting, easy to make strawberry scones recipe? Nothing says "summertime" quite like this delicious berry scone.
Nutrition Facts
Grandma's Strawberry Scones
Amount Per Serving
Calories 306
Calories from Fat 135
% Daily Value*
Fat 15g23%
Cholesterol 53mg18%
Sodium 202mg8%
Potassium 312mg9%
Carbohydrates 37g12%
Protein 4g8%
Vitamin A 495IU10%
Vitamin C 7.4mg9%
Calcium 140mg14%
Iron 1.8mg10%
* Percent Daily Values are based on a 2000 calorie diet.