These classic buttermilk pancakes are absolutely bursting with juicy blueberries. Serve up a tall stack of our fluffy blueberry pancakes for the ultimate breakfast treat!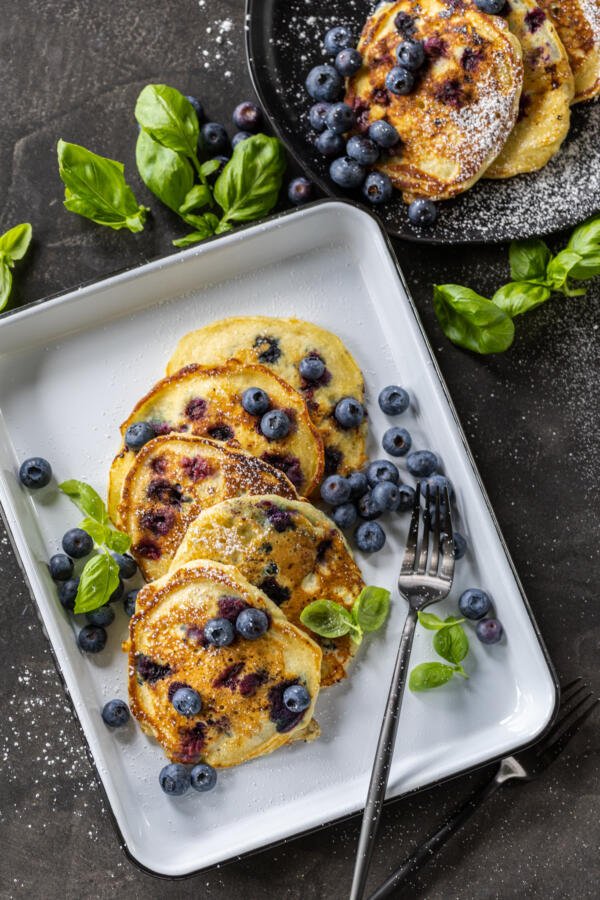 How To Make Blueberry Pancakes
These blueberry pancakes come together in a jiffy! Mix up the batter, fold in the blueberries, and then it's frying time!
Combine the dry ingredients: In a medium bowl, mix together the flour, sugar, baking powder, baking soda, and salt (if using).
Combine the wet ingredients: In a separate large bowl, whisk together the buttermilk, eggs, and melted butter.
Make the pancake batter: Fold the dry ingredients into the wet ingredients, then gently fold in the blueberries.
Cook the pancakes: Preheat a buttered nonstick skillet or griddle over medium heat. Once hot, pour 1/4-1/3 cup portions of the batter into the pan and cook until bubbles form in the center. Flip the pancakes and cook until lightly golden, then enjoy immediately with your favorite toppings!
Hot tip: For evenly-sized pancakes, use a measuring cup to scoop the batter onto the pan.
Ingredient Variations
Doesn't everyone crave a change sometimes? Channel your culinary creativity and make any of these ingredient variations to personalize your blueberry pancakes.
Frozen blueberries: Out of fresh blueberries? Thaw frozen blueberries, then arrange them directly on top of the batter in the pan. Avoid mixing frozen blueberries into the batter, as this may create blue pancakes.
Other berries: Amp up the berry goodness with blackberries, raspberries, or strawberries.
Vanilla: Add a teaspoon of vanilla extract for a sweet flavor.
Lemon: Mix in fresh lemon zest and juice for a citrusy pop.
Whole wheat flour: Swap the white flour for hearty, flavorful whole wheat.
Tips for the Fluffiest Blueberry Pancakes
Sure, pancakes are fairly straightforward — but do you like a foolproof guarantee? Tune into these tips to make irresistibly fluffy blueberry pancakes every time.
Preheat the pan properly. To ensure your pancakes rise beautifully, wait until the pan is fully preheated before frying them. Use medium heat to prevent burning the butter.
Mix the batter gently. Fold the dry and wet ingredients together with care, as overmixing creates tough and dense pancakes.
Flip when you see bubbles. One of the best signs that pancakes are ready to flip is the presence of bubbles on top. As soon as the bubbles start to pop, get flipping!
Serve the pancakes while hot. Enjoy the fluffiest texture and crispiest edges by eating these blueberry pancakes fresh off the pan.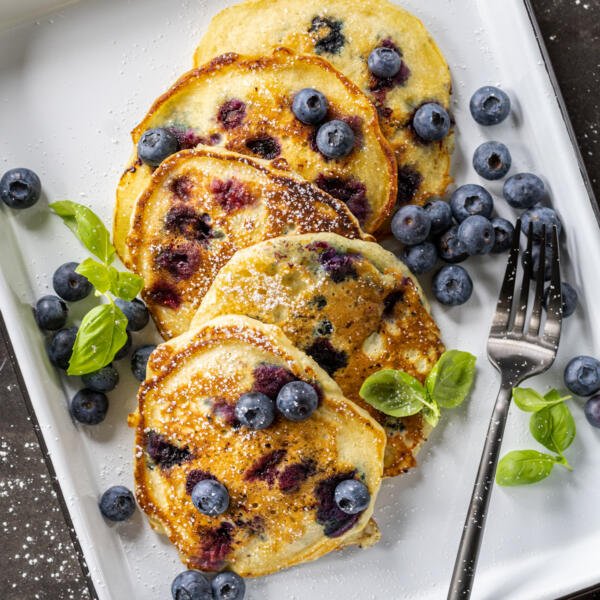 Ways To Serve
Blueberry pancakes are a top-tier breakfast or brunch dish. Serve your flapjacks warm with a classic slice of butter and a drizzle of maple syrup. For more flavor, top them generously with homemade blueberry sauce, strawberry jam, or blackberry jam. Still hungry? Bring out a hashbrown breakfast casserole and savory French toast to walk away satisfied. Don't forget your morning coffee or tea!
Storing & Reheating
Are you feeling blue? We promise that a plate of steaming blueberry pancakes will cheer you right up. Store your leftover pancakes properly, and enjoy them for days to come!
Refrigerator: To store for up to three days, transfer the leftover cooled pancakes into an airtight container or bag and refrigerate.
Freezer: To store for up to two months, arrange the leftover pancakes in a single layer on a sheet tray and freeze. This will keep the pancakes from sticking to each other. Once frozen, transfer the pancakes to a freezer-safe container or bag. Thaw the pancakes in the fridge before reheating.
Reheating: For the freshest-tasting pancakes, place the leftovers on a baking sheet, cover with foil, and bake at 350℉ for 5-10 minutes. If you're short on time, pop the pancakes in the microwave until warmed through.
FAQ
Are blueberry pancakes good for you?
Homemade blueberry pancakes can be considered a wholesome breakfast option. Blueberries are a rich source of antioxidants, potassium, and other nutrients important for a healthy diet.
Can you use milk in blueberry pancakes?
Milk can be substituted instead of buttermilk to make blueberry pancakes; however, the pancakes will not be as fluffy.
How do you make blueberry pancakes fluffier?
To achieve the fluffiest blueberry pancakes, use a combination of baking powder, baking soda, and buttermilk. The acidity of the buttermilk reacts with the leavening agents to lift the pancakes and create a soft, airy texture.
More Blueberry Recipes
Recipe
These classic buttermilk pancakes are absolutely bursting with juicy blueberries. Serve up a tall stack of our fluffy blueberry pancakes for the ultimate breakfast treat!
Note: This recipe makes about 10-12 pancakes.
Nutrition Facts
Blueberry Pancakes (Extra Fluffy)
Amount Per Serving
Calories 451
Calories from Fat 153
% Daily Value*
Fat 17g26%
Cholesterol 122mg41%
Sodium 404mg17%
Potassium 465mg13%
Carbohydrates 64g21%
Protein 11g22%
Vitamin A 657IU13%
Vitamin C 7mg8%
Calcium 217mg22%
Iron 3mg17%
* Percent Daily Values are based on a 2000 calorie diet.