These air fryer sweet potatoes are just as good as oven-baked (if not better). With just 3 ingredients & under 5 minutes of prep, they're the perfect side dish.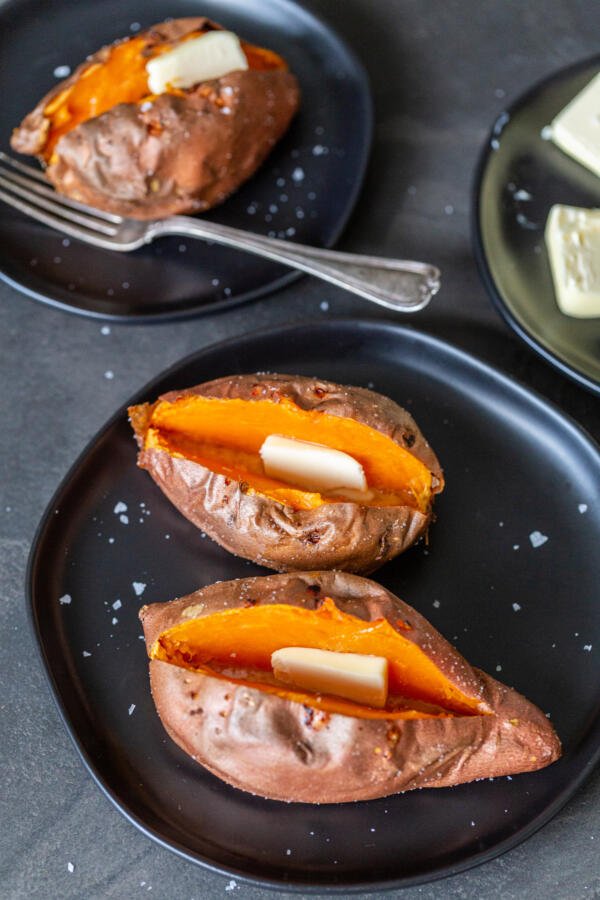 Air Fryer Sweet Potatoes are not only tasty, they are downright healthy. Whether you like them sweet with a slather of honey butter or savory and topped with black beans and salsa, they are packed with nutrients, filling and super cheap. What's not to love?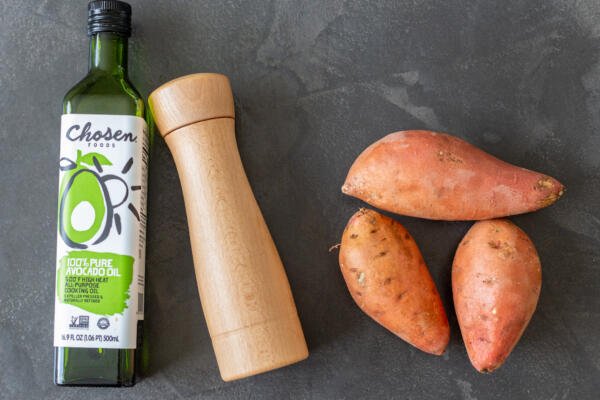 How to Make Air Fryer Sweet Potatoes
Air Fryer Sweet Potatoes only require a couple short and simple steps. Clean and season them well and let the air fryer work its magic.
Wash the sweet potatoes and pat them dry. Using a knife, pierce the potato several times to allow heat to reach the center.
Season potatoes with olive oil and salt. Place in one single layer in the air fryer basket.
Air fry at 390°F for about 45 minutes. Use the classic fork test to check doneness. Serve warm with your favorite toppings!
Hot Tip: Ultimately, the cooking time will depend on the size and thickness of your potatoes. To prevent uneven cooking or burning, try to pick similar sized spuds or remove the smaller potatoes earlier.
FAQ
Do you need to peel sweet potatoes before air frying?
You do not need to peel your sweet potatoes before air frying them. In fact, the skin helps steam the inside of the potato and tenderizes the flesh.
Do sweet potatoes and regular potatoes cook the same?
It's more about the size of the potatoes versus the variety. Typically, all whole potatoes take about the same time to cook in the air fryer.
What is the healthiest way to cook sweet potatoes?
Air frying or baking your sweet potatoes significantly cuts out the extra fat from processes like deep frying or even pan frying. Either option is extremely suitable for a healthy diet.
What should I season my sweet potatoes with?
A classic seasoning of olive oil and salt is just fine, but any combination of oil and spices will do. Just make sure whatever oil you use can withstand high heat. Avocado oil spray is my personal favorite. Vegetable, canola, corn, grapeseed, safflower and sunflower oil will also do the trick.
Storing Air Fryer Sweet Potatoes
Air fryer sweet potatoes are the perfect candidate for meal prepping. Throw a handful in at once and have them on deck for quick lunches or dinners throughout the week. To keep them fresh, store potatoes in an airtight container in one single layer so they don't get smashed.
Hot Tip: You can microwave your sweet potatoes to reheat them, but popping them in the air fryer for a couple minutes will return the skin to a crispy state.
Serving Sweet Potatoes
Serve your sweet potatoes alongside a Cast Iron Ribeye, Leg of Lamb or Spinach Stuffed Chicken Breasts for a nice home-cooked dinner. If serving at lunch, pair with a Roasted Beet Salad or smothered with our Instant Pot Chili. You can also eat one as a snack with some butter and salt and pepper — there's nothing wrong with keeping it simple!
More Air Fryer Recipes
Ready to go on an air fryer bender? Find some of our favorite air fryer recipes below:
Recipe
Air Fryer Sweet Potatoes are just as good as oven-baked. In fact, they get even crispier! With just 3 ingredients, you'll surely add this recipe to your go-to list of side dishes.
Instructions
Coat each potato with oil and sprinkle with salt. Place them in one single layer in your air fryer basket.
Nutrition Facts
Air Fryer Sweet Potatoes
Amount Per Serving
Calories 236
Calories from Fat 45
% Daily Value*
Fat 5g8%
Sodium 706mg29%
Potassium 762mg22%
Carbohydrates 45g15%
Protein 4g8%
Vitamin A 32063IU641%
Vitamin C 5mg6%
Calcium 68mg7%
Iron 1mg6%
* Percent Daily Values are based on a 2000 calorie diet.