Spinach stuffed chicken breasts are a family favorite. If you're looking for a quick, 30 minute weeknight meal, you came to the right place!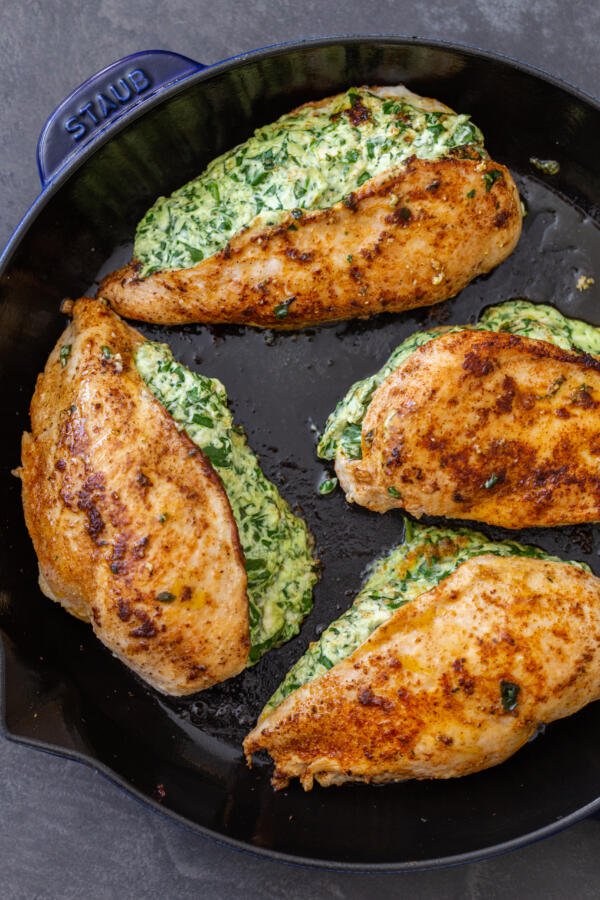 Spinach stuffed chicken breasts always turn out tender and juicy. Why? As they cook, all the moisture from the cream cheese, mayonnaise and fresh spinach gets released and tenderizes the meat. Yum!
Tips for Stuffing Chicken Breast
Hold the stuffing in place. After you stuff your chicken full of goodies, you need to make sure all the filling doesn't leak out. Seal the chicken breasts with a toothpick to prevent any spillage. Make sure to remove the toothpicks before serving.
Don't overcook your chicken. Cook chicken to an internal temperature of 165 °F. If you are nervous about under- or over-cooking your chicken, invest in a meat thermometer to take the guesswork out. It's a lifesaver, trust me!
Use up that leftover spinach dip. Did you just host a party and have a ton of spinach dip leftover? Don't let it go to waste. Skip making your stuffing homemade and use it instead.
Brown the chicken to up the flavor. Brown your stuffed chicken breasts in a skillet preheated with butter. This not only adds a ton of flavor, but a lovely texture as well.
Use fresh or frozen spinach. You can use fresh or frozen spinach for this recipe. However, if you use frozen, make sure to squeeze as much water out of it before adding it to your mixture. You don't want it to dilute the flavor of your filling!
Soften your cream cheese. To make the mixing process easier, allow your cream cheese to soften at room temperature. Also, now that we are on the subject of cheese, feel free to substitute the parmesan for your favorite shredded cheese.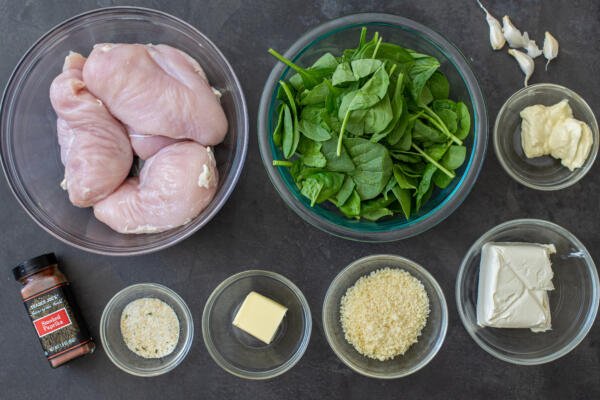 Butterfly Chicken Breast
Butterflying your chicken will make your breasts cook more evenly, while also setting the stage for stuffing. Here's how to do it:
Make sure you purchase breasts and not thighs. Breasts are thick and sturdy and perfect for butterflying.
Pat your chicken breasts with a paper towel to make them less slippery as you handle them.
Place your chicken breasts flat on a cutting board.
Using a sharp knife (a filet knife works best), cut your breast nearly completely in half, leaving about an inch of flesh connecting the two sides.
Open the chicken up like a book and lay it flat. The shape should resemble a heart.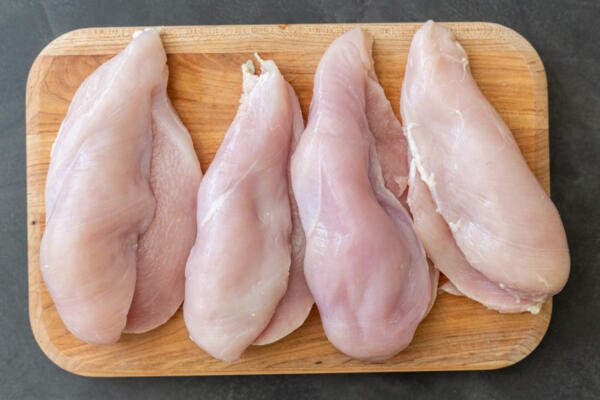 Can You Pre-stuff Chicken Breast?
Pre-stuffing chicken is a brilliant idea for all you meal preppers out there. Simply stuff your breasts, store them in an airtight container and make sure to cook them within 2-3 days. Hello, easy dinners!
Storing Stuffed Chicken Breast
Refrigerating: After you bake your stuffed chicken breasts, store them in an airtight container in the refrigerator. They will last for up to a week.
Freezing: Once you bake your stuffed chicken breasts, allow them to cool down completely. Wrap each one in plastic wrap and place directly into the freezer. When you're ready to chow down, allow stuffed chicken breasts to thaw in the refrigerator overnight. Bake in the oven to warm up. Frozen stuffed chicken breasts will last for 2-3 months in the freezer (keep a close eye out for freezer burn).
Hot Tip: The best way to reheat the chicken is to pop it in the oven on broil. This will create a nice crust on the outside, while keeping the meat nice and juicy on the inside.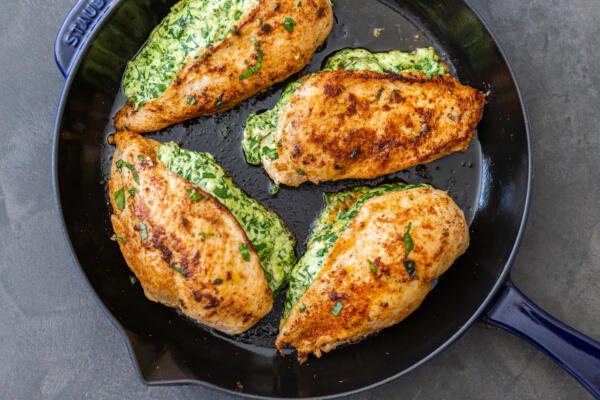 Other Chicken Recipes
Air Fryer Chicken Wings – Craving chicken wings and want them right now? This air fryer recipe gets chicken wings on the table fast — and for a fraction of the calories.
Instant Pot Chicken Thighs – Minimal mess and juicy chicken? You read right.
Rice Stuffed Chicken – If you love stuffed chicken as much as we do, you're going to adore this Ukrainian-style rice stuffed version.
Air Fryer Chicken Tenders – Skip the frozen aisle and make crispy chicken tenders at home. You'll feel much better feeding your kids these and they will love them just as much, if not more!
Recipe
Spinach stuffed chicken breasts are a family favorite. If you're looking for a quick, 30 minute weeknight meal, you came to the right place!
Ingredients
4

boneless and skinless chicken breasts

2

tbsp

garlic parsley salt

1

tbsp

paprika

4

tbsp

Unsalted Butter

6

oz

softened cream cheese

1/3

cup

parmesan cheese

2

tbsp

mayonnaise

1

cup

chopped spinach

2

galic cloves

pressed
Nutrition Facts
Spinach Stuffed Chicken Breast Recipe
Amount Per Serving
Calories 533
Calories from Fat 396
% Daily Value*
Fat 44g68%
Cholesterol 154mg51%
Sodium 1832mg76%
Potassium 406mg12%
Carbohydrates 4g1%
Protein 30g60%
Vitamin A 2650IU53%
Vitamin C 3mg4%
Calcium 173mg17%
Iron 2mg11%
* Percent Daily Values are based on a 2000 calorie diet.