Air Fryer Sweet Potato Fries are a healthier, yet just as delicious, alternative to the deep-fried version. All you need is 4 ingredients and less than 20 minutes to enjoy this guilt-free side dish!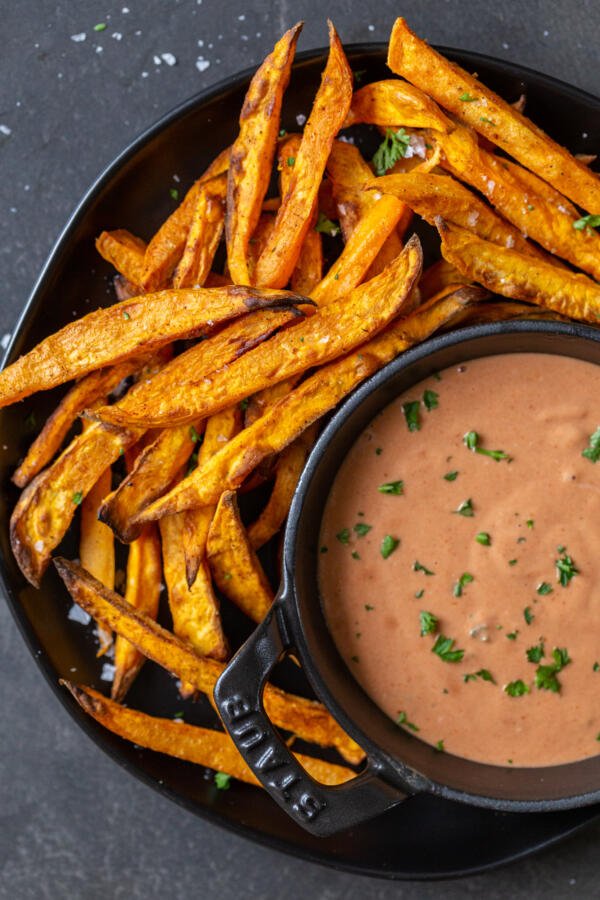 Air Fryer Sweet Potato Fries are an absolute game changer. With a fraction of the fat and minimal cleanup, these crispy sweet potato morsels are just as dippable and delicious as classic french fries.
Hot Tip: In a rush? Skip the prep and use precut sweet potatoes or frozen sweet potato fries. If using a frozen variety, simply toss them in seasoning once you pull them out of the air fryer.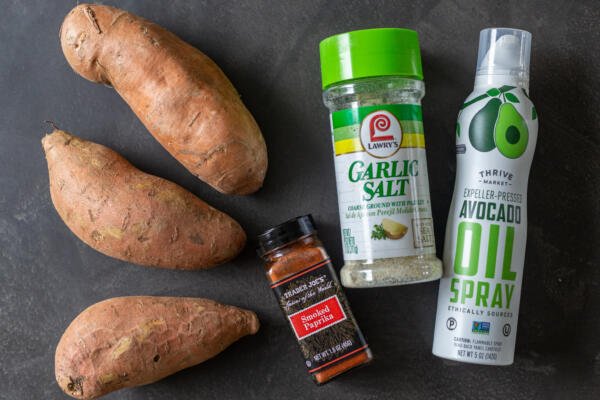 How to Make Air Fryer Sweet Potato Fries
Making sweet potato fries in an air fryer is as simple as 1-2-3. In just under 20 minutes, you'll have restaurant quality fries without all the fat.
Clean sweet potatoes. On a sturdy cutting board, use a sharp knife to slice them into strips. Soak in cold water, drain and blot off any excess liquid.
Season fries with oil and seasoning salt and toss to coat. Place in the air fryer basket.
Air fry at 380°F for 12-15 minutes, making sure to toss halfway through. Serve fresh and hot!
Hot Tip: Feel free to completely peel your potatoes, leave the skin on, or take half of it off. Sweet potato skin gets nice and crispy and is perfectly fine to eat. In fact, it's packed with fiber!
FAQ
Why are my sweet potato fries soggy?
Your sweet potato fries will turn soggy for two primary reasons. If you didn't soak them in water before air frying they will likely turn mushy. This process pulls out the starch, allowing your fries to get nice and crispy. The second common reason is that you didn't turn them halfway through cooking, leaving some fries more exposed to the hot air than others.
How to cook frozen sweet potato fries?
If you are using frozen sweet potato fries instead of fresh, tack on an extra 5 minutes or so to the cooking time. About 20 minutes in total time.
What is the best oil for sweet potato fries?
Any oil that can stand high heats is perfect for the air fryer. My personal favorite is avocado oil spray. You can also use vegetable, canola, corn, grapeseed, safflower and sunflower.
How long to air fry sweet potato fries?
Typically, sweet potato fries take about 12-15 minutes at 380°F. However, the ultimate determining factor for doneness is how thin or thick you slice them. If you prefer shoe string style fries, cut the cook time down by 3-5 minutes. If you like thick wedges, add a couple of minutes.
Making Air Fryer Sweet Potato Fries Ahead of Time
Want to prepare your sweet potato fries ahead of time? Do all the slicing and chopping the night before and pull the chopped fries out to soak when you are about 30 minutes away from serving. Air fry them in small batches and serve piping hot!
Hot Tip: If you have leftovers, store them in an air tight container to keep them as fresh as possible. Air fry them for a few minutes before serving to return them to their crispy state. Avoid microwaving your fries or they will turn to mush!
More Air Fryer Recipes
Obsessed with your air fryer? Here are more air fryer recipes to satiate all your crispy cravings:
Air Fryer Baked Potatoes – These baked potatoes come out so perfectly crispy. Coat them with fancy salt flakes and olive oil beforehand for that steakhouse feel.
Crispy Air Fryer Cod – Pair cod with air fryer french fries for a healthier version of fish and chips.
Crispy Air Fryer Coconut Shrimp – The perfect appetizer. Dip these in sweet chili sauce and watch them disappear quicker than you made them.
Air Fryer Chicken Legs – Skip KFC and make chicken legs in the air fryer.
Air Fryer Chicken Thighs – The dark meat of chicken thighs is packed with so much flavor. This recipe is perfect for hectic weeknights.
Recipe
Air Fryer Sweet Potato Fries are a healthier, yet just as delicious, alternative to the deep-fried version. All you need is 4 ingredients and less than 20 minutes to enjoy this guilt-free side dish!
Instructions
Clean sweet potatoes and cut them into long strips. Soak them in cold water for 10-15 minutes. Drain in a colander and wipe down with paper towel to remove any excess water.
Nutrition Facts
Air Fryer Sweet Potato Fries (4 Ingredients)
Amount Per Serving
Calories 215
Calories from Fat 18
% Daily Value*
Fat 2g3%
Sodium 2450mg102%
Potassium 762mg22%
Carbohydrates 46g15%
Protein 4g8%
Vitamin A 32145IU643%
Vitamin C 5mg6%
Calcium 68mg7%
Iron 1mg6%
* Percent Daily Values are based on a 2000 calorie diet.