These air fryer sweet potato fries are a guilt-free alternative to the deep-fried version. Get ready — crispy, garlicky fries are less than 20 minutes away!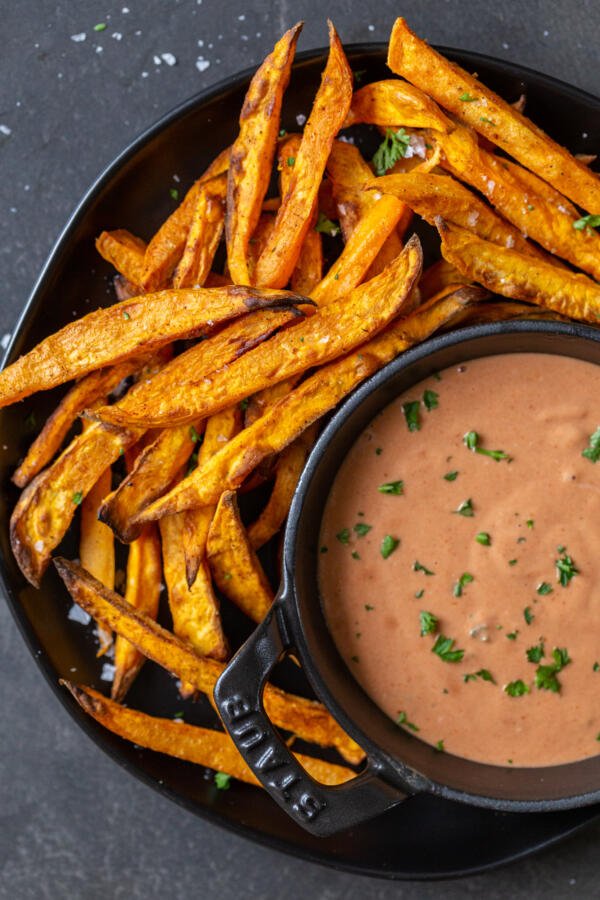 Air Fryer Sweet Potato Fries are an absolute game changer. With a fraction of the fat and minimal cleanup, these crispy sweet potato morsels are just as dippable and delicious as classic french fries.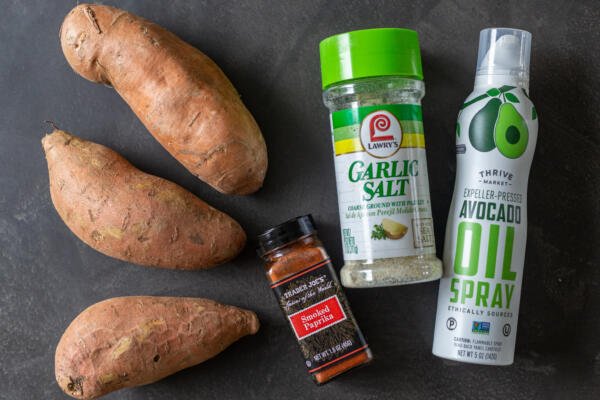 How to Make Air Fryer Sweet Potato Fries
Sweet potato fries in an air fryer are as simple to make as 1-2-3. In You'll have restaurant quality fries (without all the fat) in no time at all!
Clean the sweet potatoes: Wash and cut the sweet potatoes into long strips. Soak them in cold water, then drain and wipe down with a paper towel to remove excess liquid.
Season the fries: In a bowl, toss the sweet potatoes with oil and seasoning. Place in the air fryer basket in a single layer.
Air fry the slices: Air fry at 380°F for about 12-15 minutes. Toss the basket midway through to help the fries cook evenly. Serve fresh and hot!
In a rush? Skip the prep and use pre-cut or frozen sweet potato fries. If using frozen fries, toss them in seasoning once you pull them out of the air fryer. Keep in mind, frozen fries take a little longer to fry — about 15-20 minutes.
Tips From the Kitchen
Few things are more disappointing than soggy fries. To achieve the crispiest, golden-brown sweet potato fries right away, heed these tips.
Use a sharp knife: Sweet potatoes are notorious for being hard to cut. To make cutting easier and safer, use a sharp knife. We love these knives because they stay sharp for a long time — and when a little sharpening is needed, we use this electric knife sharpener.
Cut the fries evenly: For evenly cooked and crispy air fryer sweet potato fries, cut the slices as evenly as possible.
Leave the peel on: Feel free to peel your potatoes or leave the skin on. Sweet potato skin becomes nice and crispy and is delicious to eat. It's also packed with fiber!
Soak the fries, then dry well: Soak the fries for at least 30 minutes prior to frying to help remove the starch. Sweet potatoes does have less starch than regular potatoes, but removing it helps the fries become more crisp. Make sure to thoroughly dry them with a paper towel before seasoning. Wet fries come out soggy instead of crispy.
Change up the seasoning: We love the simple seasoning of olive or avocado oil, paprika, and garlic parsley salt — but why stop there? Season your fries with any combination of your favorite spices including cayenne pepper (for a kick of heat) or even cinnamon (for a sweeter fry). Sprinkle the fries with coarse kosher salt while they're still hot for a salty taste!
Preheat the air fryer: Preheat the air fryer to 380°F before adding the fries. This helps ensure the fries cook evenly.
Arrange in a single layer: Place the fries into the air fryer basket in a single layer, allowing the hot air to circulate around each fry. When the fries are overcrowded, they tend to "steam" rather than "fry."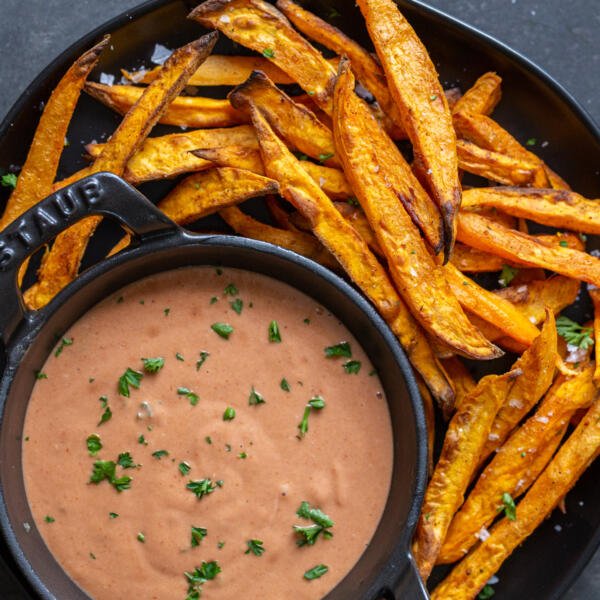 Ways To Serve
Serve these sweet potato fries the same way you would serve regular fries — as a snack or a side dish! For the best flavor and texture, serve them straight out of the air fryer.
Serve it as a snack: When the fries are served as a stand-alone snack, offer your favorite dipping sauces. Ketchup, mayonnaise, honey mustard, ranch, tzatziki, garlic aioli, creamy tomatillo dressing, and/or BBQ sauce are wonderful options.
Pair it with a side dish: Fries are the classic side dish to a multitude of meals. They're especially a hit with cheeseburger sliders, steak sandwiches, and grilled chicken kebabs.
Load it with amazing toppings: Load up the fries with slices of air fried bacon, cheese, green onions, sour cream, and diced tomatoes.
Making The Fries Ahead of Time
Want to prepare your sweet potato fries ahead of time? Do all the slicing and chopping the night before and store the slices in the fridge. Pull the chopped fries out to soak about 45 minutes away from serving. It is best to fry them right before serving.
Storage Tips & Reheating
In case of leftovers (it's rare), store the fries to keep them fresh and crispy. Then, when the craving hits for fries (we know it won't be long!), reheat in the airfryer.
Refrigerator: To store for up to 2-3 days, place cooled fries in an airtight container in the fridge.
Freezer: To store for up to 2-3 months, place cooled fries onto a baking sheet lined with parchment paper and freeze. Once frozen, transfer to a freezer safe container or bag.
Reheating: To reheat from the fridge and regain the maximum amount of crispiness, place the fries into the air fryer at 400°F for about five minutes. If reheating from frozen, increase the cooking time by a few minutes. Be mindful not to overcook the fries since they are already cooked!
FAQ
Are sweet potato fries healthier than regular fries?
Sweet potato fries are a great alternative to regular fries as they are full of fiber, vitamin C, and potassium. Sweet potato fries also have higher levels of vitamin A compared to regular potatoes.
Why are my sweet potato fries soggy?
The fries may be soggy due to excess moisture, overcrowding in the air fryer, and insufficient oil. For the crispiest fries, dry the raw fries well after soaking, toss them in ample oil, and place them in a single layer into the air fryer basket.
More Air Fryer Recipes
Recipe
These air fryer sweet potato fries are a guilt-free alternative to the deep-fried version. Get ready — crispy, garlicky fries are less than 20 minutes away!
Instructions
Clean sweet potatoes and cut them into long strips. Soak them in cold water for about 30 minutes. Drain in a colander and wipe down with paper towel to remove any excess water.
Nutrition Facts
Air Fryer Sweet Potato Fries (4 Ingredients)
Amount Per Serving
Calories 215
Calories from Fat 18
% Daily Value*
Fat 2g3%
Sodium 2450mg102%
Potassium 762mg22%
Carbohydrates 46g15%
Protein 4g8%
Vitamin A 32145IU643%
Vitamin C 5mg6%
Calcium 68mg7%
Iron 1mg6%
* Percent Daily Values are based on a 2000 calorie diet.