This baked prosciutto wrapped asparagus is perfect for your next dinner party. Serve it as an appetizer or as the side dish to just about any entree!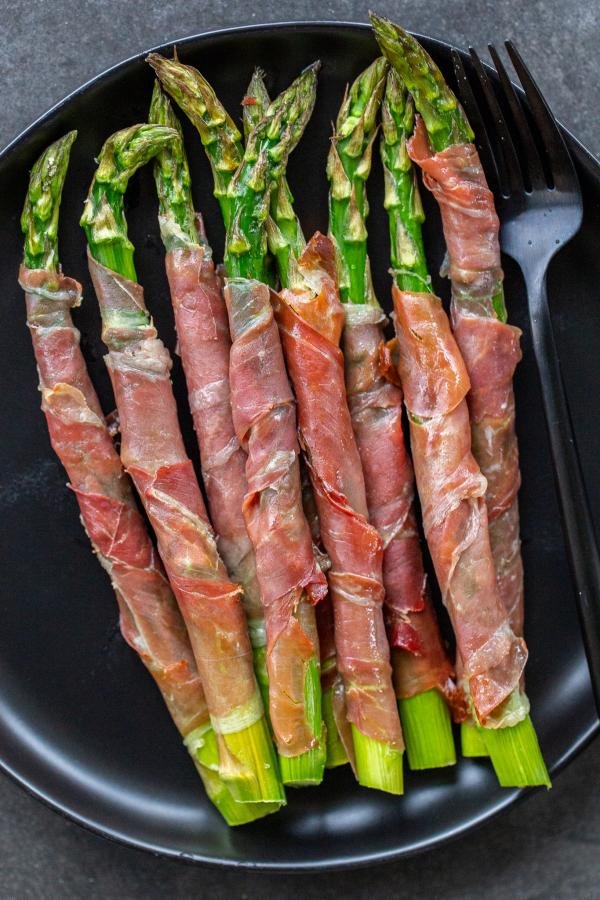 Asparagus wrapped prosciutto is not only a great starter to a fancy meal, it's also a killer low-carb snack. There's nothing quite like how the tenderness of the asparagus complements the saltiness of the dry-cured ham. As a bonus, we'll also show you two alternative methods where you can wrap it with an additional layer of Mediterranean phyllo dough or pop these treats on the grill. YUM!
The Best Way to Trim Asparagus
Ever wonder what's the right way to trim and clean asparagus? Check out this handy guide below.
Rinse the Asparagus – Hold the asparagus stalks under cool water and rinse off any dirt or grime.
Trim the Asparagus – With a sharp knife, slice off the woody ends of the stalk (they're typically lighter in color and much more fibrous). Alternatively, snap the stalk with your hand (it will naturally break off at the woody end).
Dry the Asparagus – Using a kitchen towel or paper towel, pat the asparagus dry (this will help the prosciutto stay on). Wrap and enjoy!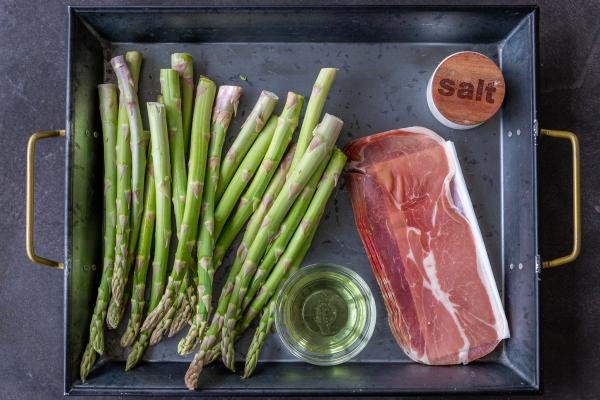 How to Prepare Prosciutto Wrapped Asparagus
A little light seasoning and a quick bake is all you need. The prosciutto adds so much flavor all on its own!
Hot Tip: Add on a sprinkle of parmesan cheese and lemon zest on the spears right before serving!
Top Tips & Tricks for the Best Prosciutto Wrapped Asparagus
Below, find a couple of helpful tips and tricks to help you nail this appetizer.
Ideas for Serving Prosciutto Wrapped Asparagus
Serve the wrapped asparagus alongside some grilled chicken or a couple of lamb shoulder chops for a complete meal. If you're preparing them as an appetizer or finger food, add them to a serving platter with marinated mushrooms, giardiniera, and assorted cheeses. You can also serve them with poached eggs for brunch.
Make-Ahead, Storing, & Reheating Tips
FAQ
What exactly is prosciutto?
Prosciutto is a super thinly sliced Italian dry-cured ham. Unlike American ham, it's dry and much saltier. You'll need to be careful when you handle it, as it tears quite easily.
Can you use anything else besides prosciutto?
If you can't get your hands on prosciutto, use bacon instead. This recipe for bacon-wrapped asparagus will show you all you need to know.
What kind of asparagus should you use?
Thick asparagus work best, but if you can only find thinner ones wrap them in bundles of 3-5 spears.
Should prosciutto wrapped asparagus be eaten hot or cold?
It can be eaten fresh out of the oven, at room temperature, or even chilled. It's up to you!
Other Tasty Asparagus Recipes to Try
Recipe
Prosciutto wrapped asparagus makes for a wonderful side dish or addition to an antipasto platter. It looks fancy but couldn't be simpler to pull together!
Ingredients
1

lb

asparagus

1/4

tsp

salt

adjust to taste

1

tsp

avocado or olive oil

1/2

lb

prosciutto

thinly sliced
Instructions
Nutrition Facts
Asparagus Wrapped in Prosciutto Recipe
Amount Per Serving
Calories 179
Calories from Fat 144
% Daily Value*
Fat 16g25%
Cholesterol 25mg8%
Sodium 349mg15%
Potassium 228mg7%
Carbohydrates 3g1%
Protein 6g12%
Vitamin A 586IU12%
Vitamin C 4mg5%
Calcium 20mg2%
Iron 2mg11%
* Percent Daily Values are based on a 2000 calorie diet.