Crispy Roasted Cabbage is going to be your new favorite side dish. A spin on the wedge salad, this great recipe will make your tastebuds sing.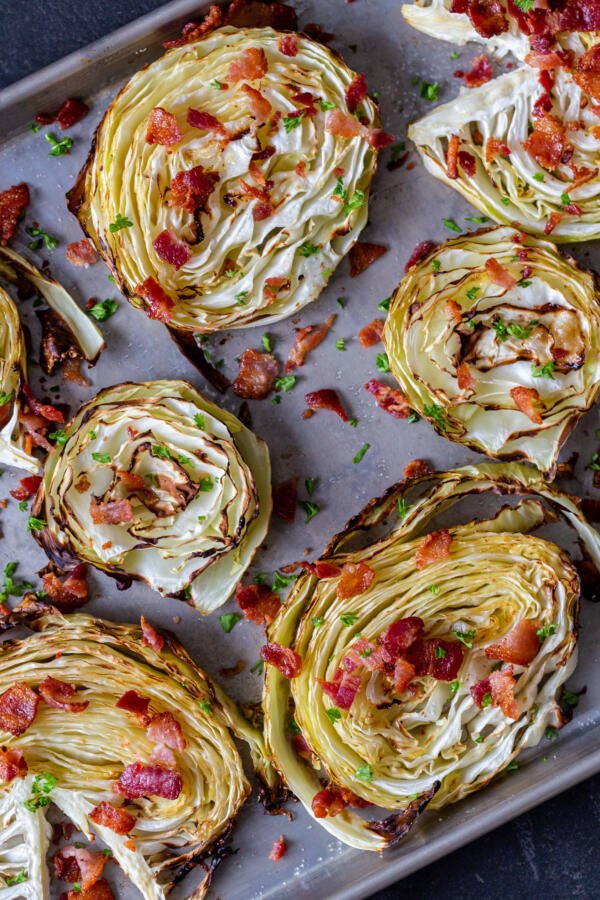 Crispy Roasted Cabbage Steaks is definitely a staple at all of our family parties. My mom often switches up the recipe and debuts a combination of toppings that makes us all fall in love with these steaks all over again.
Crispy Roasted Cabbage is not only delicious, it is one of the easiest side dishes you will make. With just 5 minutes and a bit of prep work these come out crispy and perfect each and every time.
With this recipe, you'll never again be forced to eat cabbage. This veggie is wonderful when it has the right texture and seasoning.
How to Make Crispy Roasted Cabbage Steaks
Follow these simple and easy steps to get perfect cabbage steaks:
Preheat your oven and cut your cabbage into steaks. Coat each steak evenly with oil.
Season them with salt and pepper, place them on a baking sheet in a single layer, and bake. Be sure to flip halfway through so the other side gets nice and crispy.
Pan fry your bacon bits, drain of excess oil and set aside.
Pull cabbage from the oven, sprinkle with bacon bits and herbs, and serve warm!
Serving Roasted Cabbage
Roasted cabbage goes wonderful with most meats but we love to pair these steaks with some of our favorite beef dishes. From the Cast Iron Ribeye to Smoked Beef Brisket to Carne Asada, pairing these steaks with protein makes for a wonderfully well rounded, low-carb meal.
If you're looking to pair your cabbage steaks with something for a lighter lunch or brunch menu, pair them with Minestrone Soup or some Crispy Air Fryer Cod.
Storing Leftovers
Store leftover roasted cabbage in an airtight container in the refrigerator. Since cabbage can get soggy, it's best if you eat it within a day or two.
To reheat it, I suggest using an oven or air fryer. This will help it return to that irresistibly crispy state. If you must, you can use a microwave — just know that your cabbage steaks are going to get a little rubbery.
FAQ
Is roasted cabbage healthy?
Roasted green cabbage is absolutely healthy for you. It's packed with fiber and very filling. When you're cutting down on carbs or just trying to lighten your diet up, it's the perfect veggie to keep your full longer with very little calories.
What protein goes with cabbage?
We love pairing our cabbage with beef, but feel free to substitute grilled or roasted chicken or a pork roast. Truly any gamey meat will suffice.
How should I reheat roasted cabbage?
Reheat roasted cabbage in an air fryer, toaster oven or conventional oven. It should only take couple minutes on either side to crisp it up again.
How do I cut a cabbage head?
If you haven't cut cabbage steaks before, it's not as tricky as it might look. There is a very thick core in the center of a cabbage head. It's about two inches thick. The best way to cut the cabbage into steaks is to start at the core and cut your way out. Using the core as a point of stability will help you prevent slippage.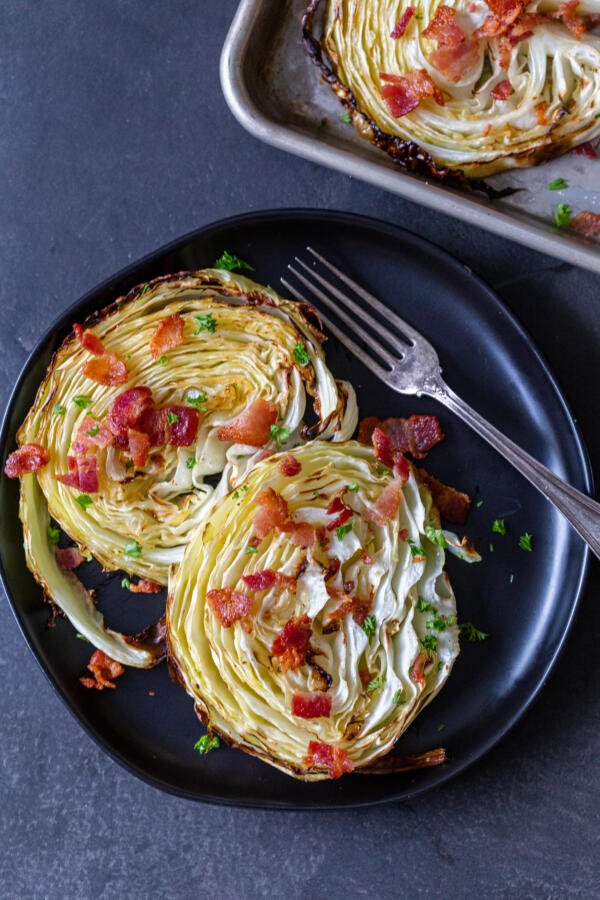 Other Cabbage Recipes
Love green cabbage and can't get enough? Us either. Try these other phenomenal recipes:
Recipe
Crispy Roasted Cabbage is going to be your new favorite side dish. A spin on the wedge salad, this great recipe will make your tastebuds sing.
Nutrition Facts
Crispy Roasted Cabbage Steaks
Amount Per Serving
Calories 155
Calories from Fat 108
% Daily Value*
Fat 12g18%
Cholesterol 9mg3%
Sodium 502mg21%
Potassium 283mg8%
Carbohydrates 9g3%
Protein 4g8%
Vitamin A 148IU3%
Vitamin C 55mg67%
Calcium 61mg6%
Iron 1mg6%
* Percent Daily Values are based on a 2000 calorie diet.