Zapekanka is slightly sweet, packed full of plump and golden raisins. It's a traditional Russian cake that can be served as a light breakfast or dessert.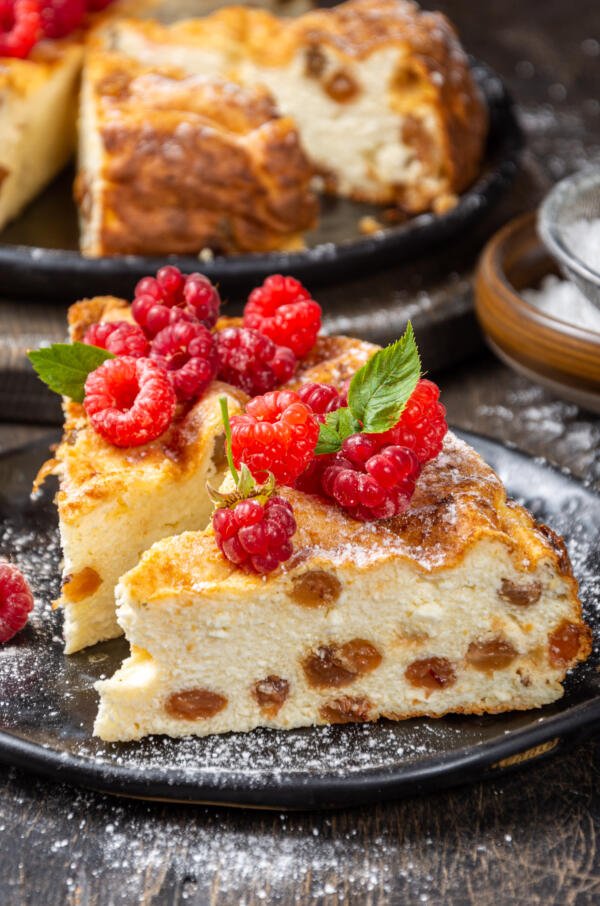 What is Zapekanka?
Zapekanka is deeply rooted within Russian culture. It emerged from the countryside, as most great recipes do. The simplicity of the ingredients not only made the cake accessible and affordable, but easily tweaked and altered. Today, there are tons of different versions of zapekanka, ranging from sweet to savory.
This rendition of zapekanka is best described as somewhere in between a baked pudding and a traditional American cheesecake. Typically served at breakfast, it's made with a rich batter of farmer's cheese, sour cream, and cream of wheat. This results in a luscious cake texture and a flavor profile that isn't too sweet for the early morning hours. That being said, there's nothing stopping you from enjoying a slice of dessert.
Strap on your apron and let's get started.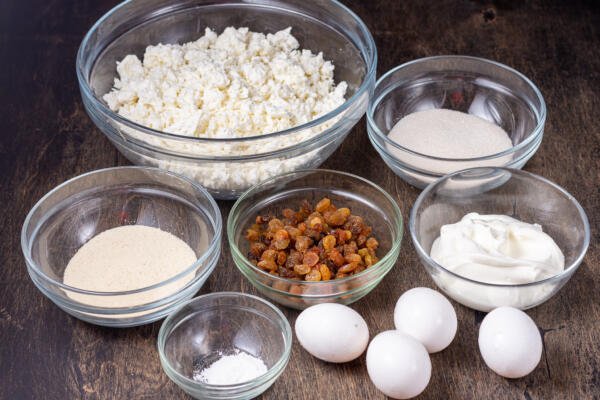 How to Make Zapekanka
Making this farmer's cheese cake only requires a few ingredients and a couple simple steps to make. Below, find a quick overview of the recipe before diving in:
Make the Batter: Using a blender or a mixer, combine farmer's cheese, eggs, sugar, sour cream, cream of wheat, and baking powder until smooth. With a spatula, fold in the golden raisins.
Bake the Zapekanka: Pour the mixture into a baking pan and spread it with a spatula to distribute it evenly. Bake until golden brown.
What is farmer's cheese? Farmer's cheese is very similar to cottage cheese. It's commonly used in Eastern Europe as an agent to make baked goods ultra-creamy and decadent. You can find it in most European specialty stores. But, if you're feeling up to it, you can also make your own farmer's cheese with just 10 quick minutes of prep time.
Tips for Making the Best Zapekanka
Below, find some tips and tricks to make the best zapekanka (aka farmer's cheese cake).
Blend the batter for the creamy texture. Use a blender to get the smooth mouth texture.
Make or find authentic farmer's cheese. Farmer's cheese is the backbone of this recipe. While it may be tempting to use ricotta or cottage cheese, they simply don't yield an authentic zapekanka.
Let the cake cool before cutting it. Zapekanka should never be sliced straight out of the oven. Letting the cake cool to room temperature allows the cheese to harden and set for more uniform slices. If you prefer to eat it warm, simply reheat it in the microwave or oven.
Always grease or line your baking pan. The cheesy batter is prone to sticking, so make sure you grease your baking pan or line it with parchment paper.
Looking for a pop of citrus? Zest half an orange into your batter. This is perfect for summertime zapekanka!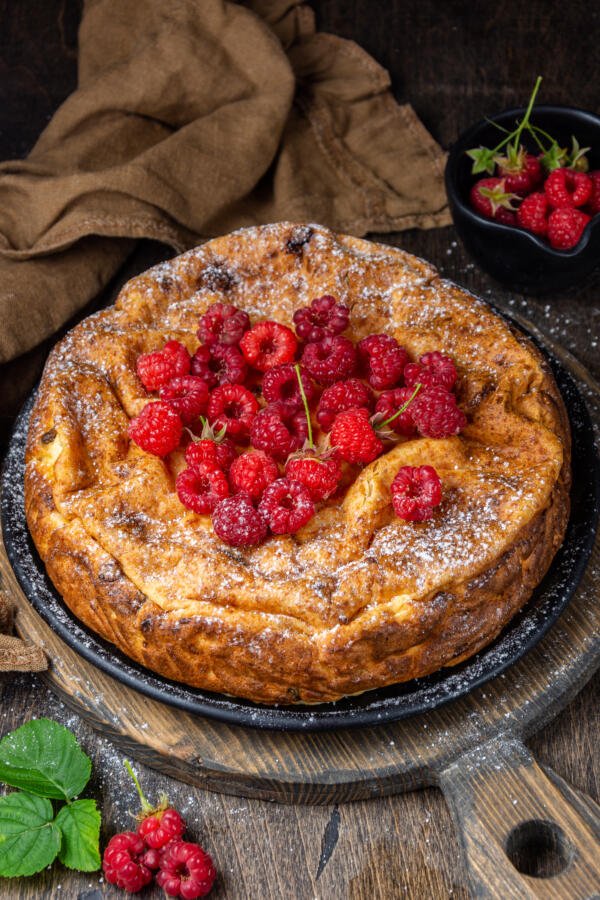 Serving Zapekanka Cake
Serve this farmer's cheese cake for breakfast or dessert. You can have it plain or topped with raspberry jam, a dollop of sour cream, or whipped cream. Don't forget to pair it with a hot cup of coffee or tea. Earthy Earl Grey with a bit of honey and half-and-half is the perfect compliment to the cheesy richness of the cake.
Storing Zapekanka
Zapekanka can be stored in the refrigerator or frozen. This farmer's cheese cake is a perfect make-ahead cake, as the flavors continue to develop the longer it sets. Below, find some quick storage tips to keep your cake fresher for longer:
Refrigerating: Store zapekanka in an airtight container in the refrigerator. It should stay fresh for up to a week. Since the cake is quite delicate, avoid stacking the slices to prevent sticking.
Freezing: Freeze zapekanka by placing the individual slices on a baking sheet lined with parchment paper. Pop the baking sheet into the freezer uncovered. Once frozen, transfer the slices to a freezer-safe plastic bag.
Reheating Tip: While you can enjoy zapekanka cold, you can also warm it up in the oven or microwave. Keep a close eye on it to make sure the cheese doesn't melt or burn.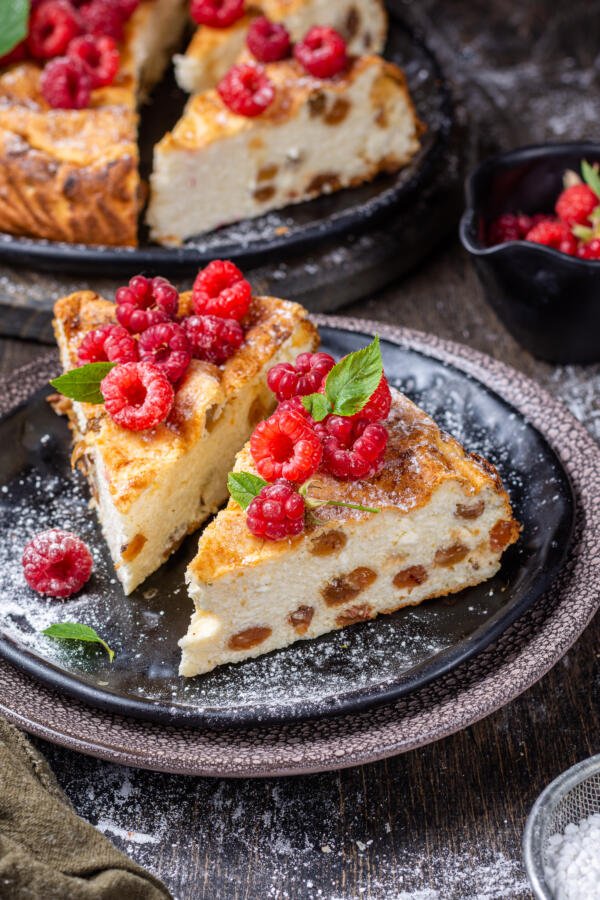 FAQ
Is farmer's cheese the same as ricotta?
Farmer's cheese is not the same as ricotta. Although the two are close in texture, ricotta has a milder flavor.
Can I use cottage cheese for zapekanka?
You can not use cottage cheese for traditional zapekanka. The texture simply wouldn't be the same. If you must use cottage cheese, drain the excess liquid from it before mixing it into the batter.
Can I use ricotta cheese for zapekanka?
You can use ricotta cheese for zapekanka, but it will have a much milder flavor.
Can I substitute other dried fruits for the golden raisins?
You can substitute the golden raisins for dried cranberries, apricots, or cherries.
More Farmers Cheese Recipes
Recipe
Zapekanka is a traditional Russian cake. It's slightly sweet, packed full of plump, golden raisins, and can be served as breakfast or dessert.
Nutrition Facts
Farmers Cheese Cake with Raisins (Zapekanka)
Amount Per Serving
Calories 324
Calories from Fat 126
% Daily Value*
Fat 14g22%
Cholesterol 120mg40%
Sodium 358mg15%
Potassium 388mg11%
Carbohydrates 36g12%
Protein 14g28%
Vitamin A 300IU6%
Vitamin C 1.2mg1%
Calcium 191mg19%
Iron 4.6mg26%
* Percent Daily Values are based on a 2000 calorie diet.