Farmer's cheese coffee cake is a Ukrainian spin on American cheesecake. It's creamy, tangy, and slightly sweet, and can be eaten for either breakfast or dessert.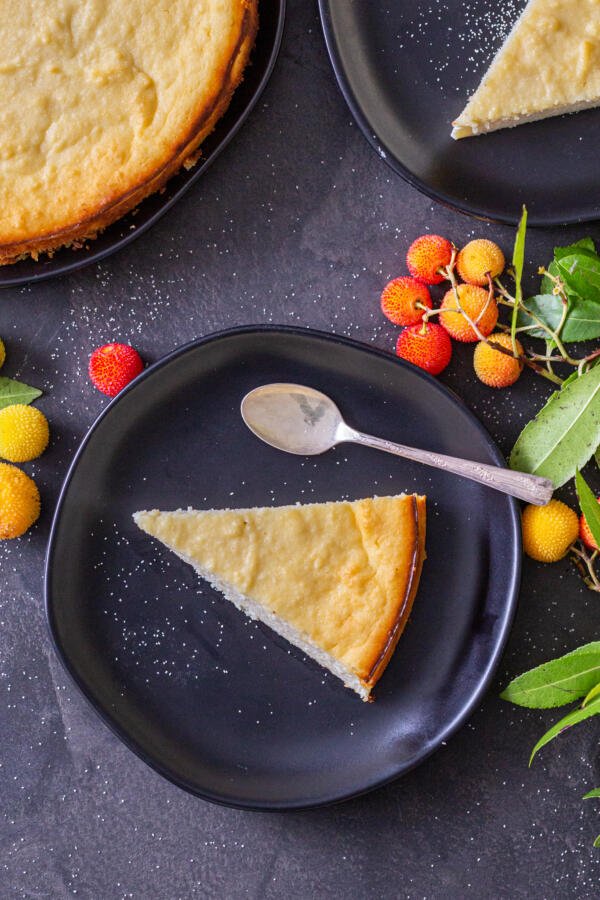 Farmer's cheese coffee cake, or "zapekanka" in Ukrainian, is a cake made of farmer's cheese that's typically eaten for breakfast. It's often served warm with various types of berry sauce, but it's also delicious eaten cold (much like American cheesecake). Whatever you do, don't forget to pair a slice with a hot cup of coffee!
You'll find different variations of this simple cake throughout Eastern Europe. For instance, a similar cake hails from Poland called "sernik". Slightly different than our Ukrainian rendition, it is made with heavy whipping cream instead of sour cream and a touch of potato flour.
You probably already guessed it, but you will need farmer's cheese for this recipe. Feel free to make it homemade using the recipe linked above, or skip the extra work and pick some up from your local European specialty store.
Unlike other coffee cake recipes, this farmer's cheese coffee cake isn't covered with streusel topping or made with flour. If you're looking for an American-style coffee cake, check out our recipe for the best coffee cake ever. It has all the cinnamon and brown sugar goodness that you've been dreaming about.
What is farmer's cheese? If you're unfamiliar with farmer's cheese, it is very similar to cottage cheese. It is commonly used in Eastern European baking to make baked goods ultra-creamy.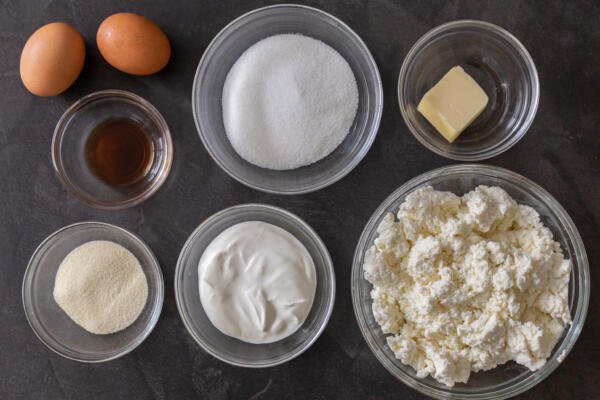 How to Make Farmer's Cheese Coffee Cake
Making farmer's cheese coffee cake only requires 20 minutes of prep time. Below, find a brief overview of this rustic recipe.
Make the Batter: Combine the cream of wheat and sour cream in a medium bowl. Let cream of wheat/sour cream mixture soak for about 30 minutes. In a large bowl, combine farmer's cheese, eggs, salt, sugar, and vanilla extract with a hand mixer. Gently fold sour cream into the mixture until combined.
Add Batter to Springform Pan: Grease a springform pan with butter. Pour the cake batter into the pan.
Bake and Serve: Bake at 350°F for about 40 minutes. Let the cake cool to room temperature or serve sliced warm out of the oven.
Why should I use a springform pan? Springform pans are essential when baking delicate cheesecakes. Unlike traditional cake pans, the outer edges of a springform pan can be unlatched with a clamp. This prevents you from having to flip the pan over to release the cake, a process prone to causing cracks and breaks.
Storing Farmer's Cheese Coffee Cake
Refrigerator: Store your farmer's cheese coffee cake in an airtight container in the refrigerator for up to a week. If you haven't already invested in one, get yourself an airtight cake storage pan. They keep cakes of all different kinds from soaking up the smells of the refrigerator, prevent damage, and are great for transporting.
Freezer: This cake is the perfect candidate for freezing whole. Place it on top of a cardboard cake round, cover it in plastic wrap and foil, and pop it into the freezer. It will stay fresh for up to two months. To defrost it, simply place it in the refrigerator overnight.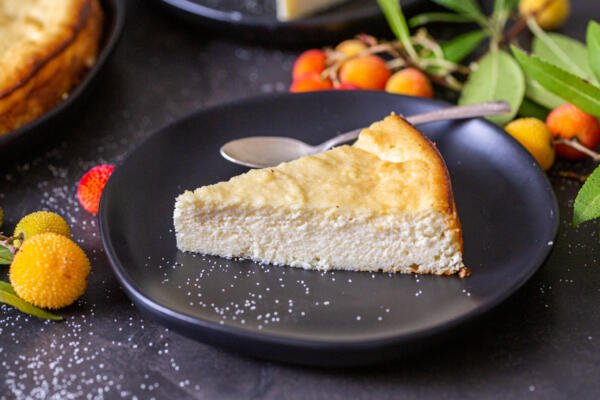 FAQ
Can you freeze farmer's cheese coffee cake?
Cheesecakes of all kinds are perfect for freezing. In fact, you'll often find them in the freezer section of the grocery store. Allow your cake to completely cool after baking. Wrap it tightly in plastic wrap. Then, wrap it in aluminum foil. Place the cake in the freezer. It will stay fresh for up to 2 months.
How do I defrost frozen farmer's cheese coffee cake?
Defrost frozen cheesecake by simply placing the cake in the refrigerator overnight. Eat a slice cold or pop it into the microwave for 45 seconds to warm it through.
Do I need a springform pan to make farmer's cheese coffee cake?
A springform pan is a must for farmer's cheese coffee cake. When baking delicate cheese-based cakes, it allows you to safely remove the cake from the pan without cracking or breaking it.
How do I know when farmer's cheese coffee cake is done?
Farmer's cheese coffee cake is done baking when the edges are slightly brown and the very center has just a slight jiggle. To test doneness, grab the sides of the springform pan with oven mitts and gently shake the cake. Only a small circle in the center should jiggle.
Serving Farmer's Cheese Coffee Cake
Farmer's cheese coffee cake is so mildly sweet that it can be eaten for breakfast or dessert. Serve it as-is or with a dollop of sour cream and a dusting of powdered sugar. You can also add some warmed jam for a touch of tartness. Raspberry, apricot, and prune plum are great options.
More Farmer's Cheese Recipes to Try
Recipe
This Farmer's Cheese Coffee Cake is a rustic rendition of a traditional American cheesecake. It's super easy to make & healthier for you!
Nutrition Facts
Farmer's Cheese Coffee Cake Recipe
Amount Per Serving
Calories 185
Calories from Fat 81
% Daily Value*
Fat 9g14%
Cholesterol 69mg23%
Sodium 348mg15%
Potassium 31mg1%
Carbohydrates 15g5%
Protein 10g20%
Vitamin A 150IU3%
Vitamin C 1mg1%
Calcium 33mg3%
Iron 1mg6%
* Percent Daily Values are based on a 2000 calorie diet.