Sweet Cheese Bourekas are a delicious Middle Eastern hand pies. They make a perfect dessert or a breakfast treat.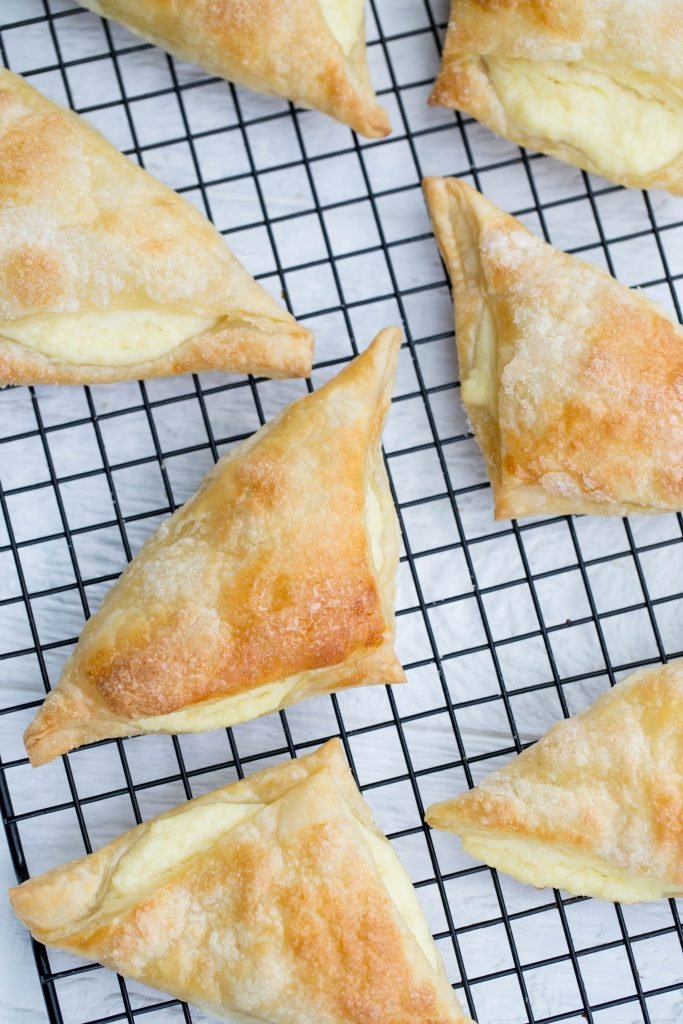 Holiday season is all about baking, but it's also a very busy time. That's why I love these easy quick recipes, they make all baking hassle free.
What are Bourekas?
Bourekas are essentially a pastry. The dough is either made from puff pastry and the more expensive bourekas are made with layers of phyllo dough.
They rooted from Israel and are traditional eaten at special occasions. There are many types of different fillings including: cheese, potatoes and mushrooms are a popular one among savory recipes and of course the sweet bourekas are filled with fruit!
Bourekas are often served with pickles, tahini sauce, hard boiled eggs and a chopped salad. Sometimes, you'll even be served with a yogurt drink!
Where to find the best puff pastry?
I tried puff pastry from a few different stores and so far my favorite is from Trader Joe's. I think they use the better quality butter that makes the dough flavorful.
You can also make your own puff pastry: Quick Puff Pastry Dough
Ingredients forSweet Cheese Bourekas
How to MakeSweet Cheese Bourekas
Follow the printable recipe below to make the dough and prepare the cheese to fill the dough. You will divide into equal portions according to how small or large you want the end result to be once cooked. Top with coarse sugar and bake as directed.
More Pastry Recipes
Recipe
These sweet cheese bourekas are stuffed with a filling of Slavic farmer's cheese, sugar, & eggs. You'll love the combo of the crispy pastry & creamy filling!
Nutrition Facts
Sweet Cheese Bourekas
Amount Per Serving
Calories 84
Calories from Fat 18
% Daily Value*
Fat 2g3%
Cholesterol 47mg16%
Sodium 95mg4%
Potassium 15mg0%
Carbohydrates 10g3%
Protein 4g8%
Vitamin A 60IU1%
Calcium 6mg1%
Iron 0.3mg2%
* Percent Daily Values are based on a 2000 calorie diet.