These sweet cheese bourekas feature a Slavic twist and are stuffed with sweet farmer's cheese. Perfect served for breakfast or eaten as a midday snack!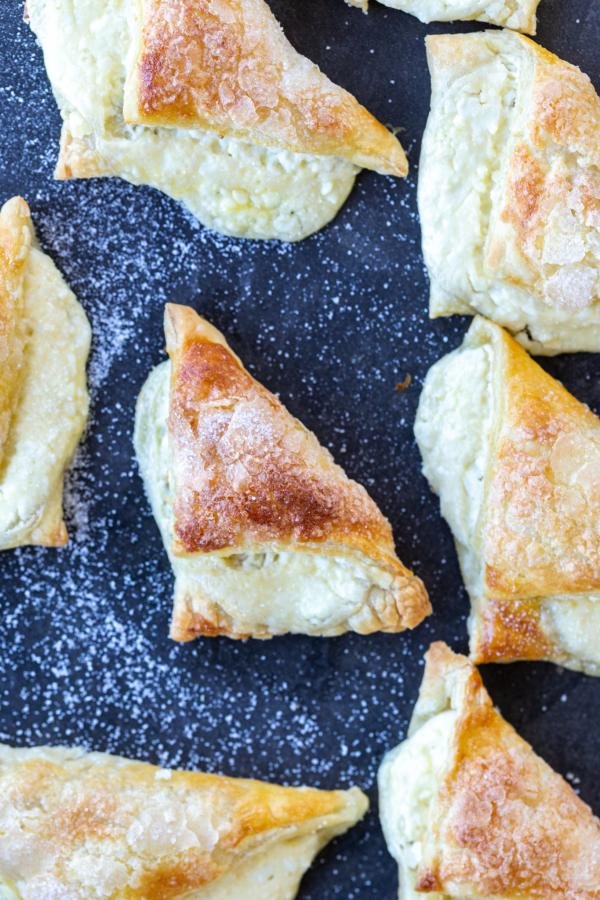 Are you a fan of sweet and salty pastries? These sweet cheese bourekas are just that. Serve them with a hot cup of coffee or tea for either breakfast or dessert and watch your worries melt away.
Note: Traditional cheese bourekas are made with a combination of feta cheese, ricotta cheese, and kashkaval cheese. In our version, we take a shortcut and use 100% farmer's cheese to simplify the process.
What are Bourekas?
Bourekas are Middle Eastern hand pies that originated in Israel and are eaten everywhere from Turkey to Tunisia. Typically, they are served for special occasions and celebrations. Depending on the season and region, they come with a myriad of different sweet and savory fillings. Here, find a breakdown of the flavor, texture, and time it takes to make our sweet cheese bourekas.
Flavor: The flavor of these bourekas is the perfect balance of salty farmer's cheese and sweet sugar.
Texture: The texture of these bourekas features a sweet, creamy cheese filling encased with flakey puff pastry dough.
Time: From prep to table, these pastries take just under 25 minutes to make. So low maintenance and easy to put together!
Preparing Our Easy Cheese Bourekas
All you need to make these bourekas is 5 simple ingredients and a quick bake in the oven.
Make the Filling: In a mixing bowl, use a fork to combine the farmer's cheese with the sugar and egg.
Divide the Dough: Using a rolling pin, flatten out the puff pastry sheets. Slice them into 8-9 even squares.
Assemble the Bourekas: Next, place a dollop of the sweet cheese mixture on one half of a puff pastry square. Fold over the opposite corner of the dough squares to form triangles.
Brush the Tops: In a small bowl, whisk the last egg and brush a light layer of the egg wash on the surface of each boureka, followed by a sprinkle of sugar.
Bake the Bourekas: Bake them at 350°F for 15 minutes or until golden brown. Enjoy!
Pro Tips for Making Cheese Bourekas
If you're making bourekas for the first time, a couple of foolproof tips will help you nail our version of the popular Middle Eastern pastry.
Work quickly with the puff pastry. The longer the puff pastry sits out at room temperature, the more the butter will melt and cause the pastry to fall flat in the oven. Keep it in the freezer just until you're ready to assemble the bourekas to ensure it stays nice and fluffy!
Don't seal the outer open edge of the triangles. Unlike an empanada or other folded pastries, you don't want to seal the edges of the bourekas too much. You want the cheese to peek out of the sides a bit!
Use a pastry brush for the egg wash. Make spreading on the egg wash that much easier by using a pastry brush! This will also ensure you don't put too much on.
Different Fillings
If you are in the mood to experiment or just make a variety of different bourekas for a party platter, find some ideas to inspire you.
Traditional Cheese Bourekas: Combine 1/2 cup feta cheese (leave the large crumbles of feta for more texture!), 1/3 cup kashkaval cheese, 1/3 cup ricotta cheese, and 2 large eggs. Season to taste with salt and a pinch of black pepper. Top the bourekas with egg wash and sesame seeds of poppy seeds.
Eggplant & Farmer's Cheese: Place a dollop of ikra (Slavic-style eggplant spread) on the puff pastry dough squares and top with parmesan cheese.
Berries & Cream: Use the same farmer's cheese filling as the recipe indicates and add on a handful of fresh berries – blueberries, strawberries, & blackberries work best.
Storing Best Practices
Have some leftover cheese bourekas or would you like to batch cook some and freeze 'em for later? Find all you need to know here.
Storing: While bourekas are best fresh out of the oven, you can store them in plastic zipper bag or sealed container on the counter for 1-2 days. If you plan to keep them any longer, stick them in the fridge for up to a week.
Freezing: There are two ways you can freeze bourekas – you can freeze them fully-cooked or you can freeze the unbaked pastries. To do so, lay them in a single layer on baking sheets lined with parchment paper. Place them in the freezer uncovered for 1-2 hours and transfer them to a plastic bag or Tupperware for up to 1 month. To thaw, place the bourekas in the fridge until softened.
Reheating Tip: If you want to rewarm the bourekas, reheat them in the air fryer or conventional oven until crispy and melty. Should be no more than 3-5 minutes at 350°F!
FAQ
Do you need to roll out the puff pastry dough for bourekas?
Rolling out the puff pastry dough for bourekas makes it so your pastries aren't way too doughy. However, this is all about preference. If you don't mind a more pastry-forward boureka, feel free to leave the sheet of puff pastry dough as-is.
Can you use filo dough for bourekas?
Yes, you can substitute filo dough for puff pastry dough for bourekas. The texture will be much lighter and flakier, but still equally delicious!
Can you use cottage cheese for cheese bourekas?
It's not a good idea to use cottage cheese for cheese bourekas. This is because cottage cheese tends to have a higher moisture content, making your pastries prone to coming out too soggy. If you have to use cottage cheese, strain out as much of the moisture as possible with a cheese cloth.
More Sweet Cheese Pastries
Recipe
These sweet cheese bourekas are stuffed with a filling of Slavic farmer's cheese, sugar, & eggs. You'll love the combo of the crispy pastry & creamy filling!
Nutrition Facts
Sweet Cheese Bourekas
Amount Per Serving
Calories 191
Calories from Fat 90
% Daily Value*
Fat 10g15%
Cholesterol 34mg11%
Sodium 140mg6%
Potassium 26mg1%
Carbohydrates 20g7%
Protein 5g10%
Vitamin A 40IU1%
Calcium 7mg1%
Iron 1mg6%
* Percent Daily Values are based on a 2000 calorie diet.