This rustic apricot farmers cheesecake is a wonderful Polish-style treat. Slightly sweet and so creamy, you can have it for either breakfast or dessert.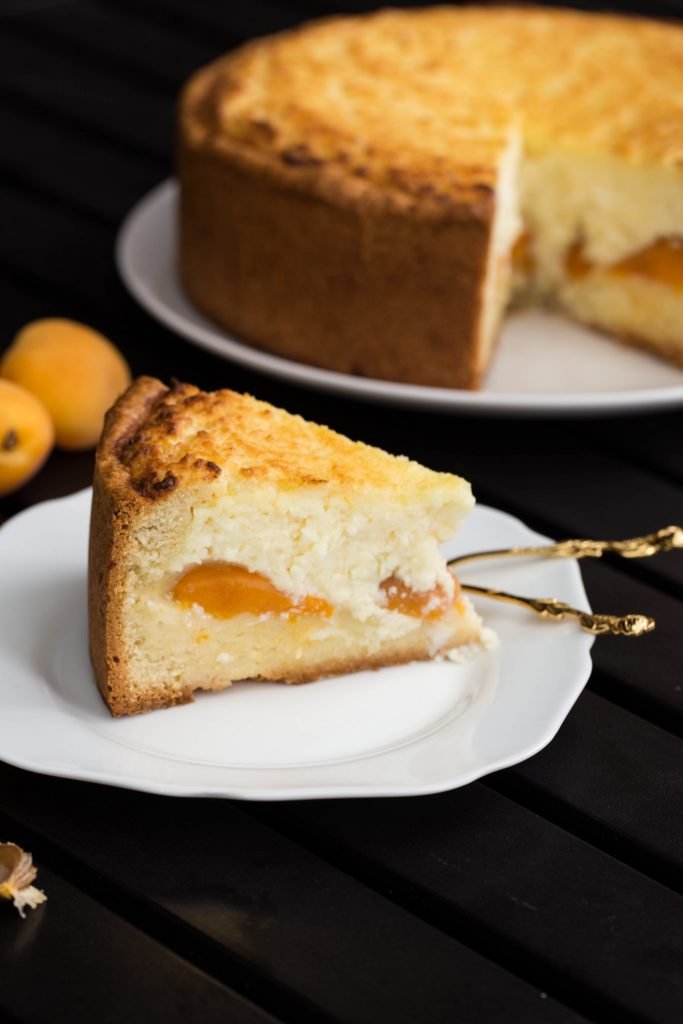 Apricot farmers cheesecake is not overly sweet, especially if you use fresh apricots. If you have an insane sweet tooth, double the sugar for both the filling and the crust. Go ahead, no one is judging here…
Farmers Cheesecake
Farmers cheesecake, or "sernik" in Polish, is a very popular dish in Eastern Europe. It's a simple and cheap dessert, lauded for its pure flavors and mild sweetness. Typically eaten around Easter and Christmas, this cake is perfect all year round. Swap in your favorite fruit or add a drizzle of chocolate.
Love farmers cheesecake? Try our zapekanka recipe which features farmers cheesecake baked with golden raisins.
What is Farmers Cheese?
Farmers cheese is an unaged, fresh cheese made with just three simple ingredients — whole milk, vinegar, and lemon juice. This mild white cheese is crumbly and perfect for baking both sweet and savory treats.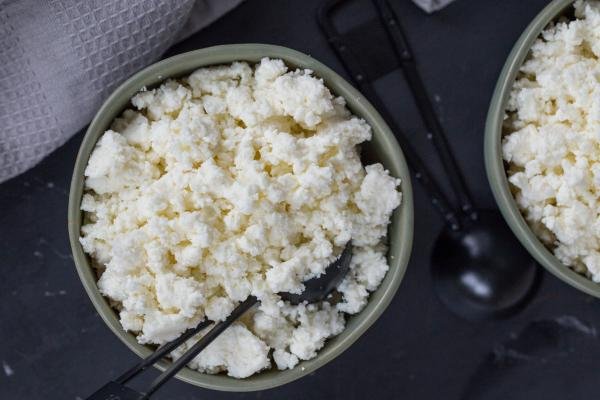 How to Make Apricot Farmers Cheesecake from Scratch
Making this simple farmers cheesecake doesn't require you to pull out the electric mixer (except for making some quick whipped cream) and can be prepared mostly by hand.
Prepare the Crust Batter: Combine the room temperature butter with 1/3 cup of sugar and three eggs in a large bowl. Add in the all-purpose flour and baking powder and stir until combined.
Form the Crust: Place the dough in the center of an 11-inch baking dish. Using your fingers, work the dough into a deep-dish crust shape.
Prepare the Apricots: Slice the apricots in half and place them flesh side down in the baking dish.
Make the Cheesecake Batter: Whisk the other 3 eggs together and add in the farmer's cheese and potato starch. Whisk until smooth and free of lumps.
Make the Whipped Cream: In a separate bowl, whisk the heavy whipping cream with 1/2 cup sugar until you get stiff peaks. Fold the whipped cream into the farmers cheese mixture. Spread the cheese mixture over the apricots.
Bake the Farmers Cheesecake: Bake at 350°F for 60-75 minutes and allow the cake to cool completely in the springform pan or on a wire rack before serving. Slice & enjoy!
Tips & Tricks for Making Farmers Cheesecake
Making farmers cheesecake is super similar to American-style cheesecake. To guide the process, follow these simple tips and tricks.
Supercharge the process with store-bought crust. If you're short on time, opt for a store-bought pie crust instead. This will cut down on prep time and let you focus solely on the cheesecake batter.
Opt for high-quality canned apricots if you can't find fresh ones. If you can't get your hands on fresh apricots, opt for the best canned stuff you can find. Apricots really elevate the flavor of the cake, so it's worth investing in top quality.
Bake the farmers cheesecake until it doesn't jiggle. If you're unsure if your cheesecake is fully-cooked through, test the center with your finger. If it's firm to the touch and free of jiggle, it's ready to be taken out of the oven.
Hot Tip: Make removing your farmers cheesecake super simple by baking it in a springform pan.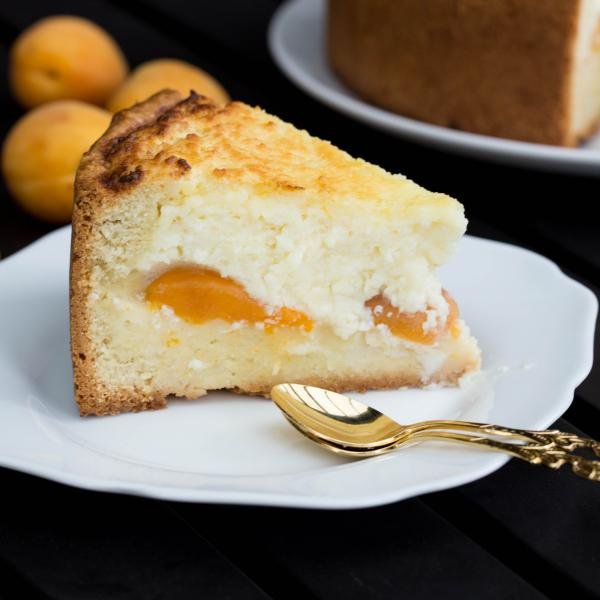 Different Fruits For Farmers Cheesecake
Any fresh or canned fruit pairs wonderfully with the creamy texture of this cake. Here are a couple of great options to swap the apricots out for…
Plums – Prune plums are the best option. They are about half the size of a traditional plum and have an egg shape. When baked, they turn into a wonderful jam-like consistency.
Peaches – Yellow peaches — canned or fresh — work lovely. Keep in mind that canned varieties will be much sweeter due to the syrup they are preserved in.
Cherries – Use tart pitted cherries and make sure they are fresh.
Berries – Blackberries, raspberries, and blueberries are our favorites. Not only do they taste delicious in this cake, but they also add a beautiful stripe of color to the cake.
How to Store Farmers Cheesecake
Apricot farmers cheesecake can be stored in the refrigerator or frozen. This means that it is a perfect make-ahead cake, as the flavors continue to develop the longer it sets. Below, find some quick storage tips to keep your cake fresher for longer.
Refrigerating: Store apricot farmers cheesecake in an airtight container in the refrigerator. It should stay fresh for up to a week. Since the cake is quite delicate, avoid stacking the slices to prevent sticking.
Freezing: Freeze apricot farmers cheesecake by placing the individual slices or whole cake on a baking sheet lined with parchment paper. Pop the baking sheet into the freezer uncovered. Once frozen, transfer the cake to a freezer-safe plastic bag for up to 3 months. To thaw, place the cake in the fridge overnight.
FAQ
What's the difference between cream cheese and farmers cheese?
Farmers cheese is a simple, small curd cheese, while cream cheese is a smooth, spreadable cheese made from milk and cream. Both are super simple to make and require no aging whatsoever.
What is another name for farmers cheese?
Lots of other cultures have their very own rendition of farmer's cheese and each has its name. A couple of other kinds include queso blanco (Mexican-style), paneer (Indian-style), and quark (German-style).
Is farmers cheese a good melting cheese?
Yes, farmers cheese is a wonderful melting cheese. That said, it's not packed with as much flavor as other good melting cheeses like cheddar or mozzarella, so it's best used within baked goods.
What does farmers cheese taste like?
The flavor of farmers cheese is mostly mild, but often carries a bit of a tang (typically from lemon juice or lemon zest) and can be used within either sweet or savory dishes. You'll find it used in a wide variety of Slavic cooking and baking.
What is farmers cheese used for?
Farmers cheese is used in so many different kinds of dishes ranging from savory pierogi to slightly sweet cakes. Much like cottage cheese or ricotta, it adds a creaminess to so many dishes without touting an overpowering flavor.
Other Farmers Cheese Recipes
Recipe
This apricot farmers cheesecake is made with traditional farmers cheese, fresh or canned apricots, & buttery pie crust. Great for breakfast or dessert!
Nutrition Facts
Apricot Farmers Cheesecake
Amount Per Serving
Calories 430
Calories from Fat 225
% Daily Value*
Fat 25g38%
Cholesterol 155mg52%
Sodium 280mg12%
Potassium 254mg7%
Carbohydrates 37g12%
Protein 14g28%
Vitamin A 1170IU23%
Vitamin C 2.6mg3%
Calcium 73mg7%
Iron 1.8mg10%
* Percent Daily Values are based on a 2000 calorie diet.