Meringue Cookies are so light and airy. Better yet, they are easy to make and have a long shelf life when stored properly.
For all you over achievers out there, you can really elevate these cookies by turning them into Meringue Cookie Sandwiches.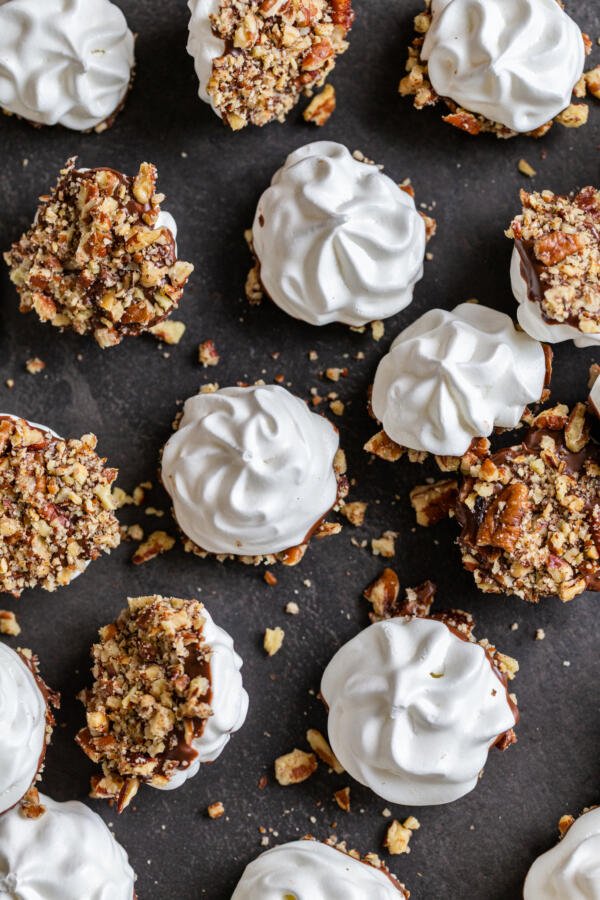 Meringue Cookies are always on my holiday cookie tray, but let's be honest, they are the perfect cookie year around. They are quite versatile and you can change them up by adding any food color that fits the season.
You could even spice them up with a little bit of mint during the holidays. If you like peppermint, try Peppermint Meringue Cookies variation.
How to Make Meringue Cookies
Making meringue is a right of passage for any home baker. Forget all the rumors about it being tough and follow these simple steps for perfect meringue each and every time:
Using a standing mixer, beat egg whites and sugar together on high until the mixture becomes foamy.
Add in salt and cream of tartar and beat until the mixture holds stiff peaks. This should take about 10 minutes.
In a pastry bag or a plastic storage bag with corner cut out, spoon in the meringue mixture into the bag.
Pipe out small to medium size meringue cookies. Bake them at 200°F for about 90 minutes. Remove them from the oven and let them cool and harden at room temperature.
Melt chocolate with coconut oil in the microwave, being sure to stir it every 20 seconds. Dip bottoms of the cookies into the chocolate and sprinkle with your favorite chopped nuts.
FAQ
Why are my meringue cookies chewy?
To keep meringue nice and fluffy, you need to make sure that you are beating your egg whites and sugar just until it reaches stiff peaks. This will take around 10 minutes. If you under-beat your egg whites, you risk runny cookies and if you overbeat them you risk a rubbery and chewy texture.
Is cream of tartar necessary for meringue?
Cream of tartar is often used to stabilize egg whites and helps you achieve those signature stiff peaks that make meringues so light and airy. If you're out of cream of tartar, lemon juice works as a great substitute.
How can you tell when meringue cookies are done?
Once baked, French meringue should be crisp and light, but not at all browned. The key here is to bake them slowly at low heat. You will know when the meringue is baked when it can easily be lifted off a piece of parchment and the bottoms are nice and dry.
How long do meringue cookies last?
Meringue should always be stored at room temperature in an airtight container. They will keep for up to two weeks when stored this way. Preventing any moisture from touching or building on your meringues will prevent them from getting soggy or falling apart.

Hot tip: You can freeze raw meringue batter for up to 10 months. Make sure it is stored in an airtight bag with all excess air removed to prevent freezer burn. Thaw it in the fridge before baking with it.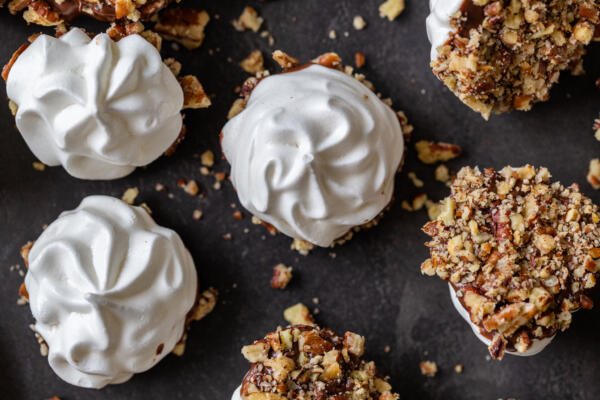 More Cookies to Make
Cookies, cookies, cookies. We just can't get enough. Here are some of our other favorite sweet treats:
Recipe
Meringue Cookies are so light and airy. Better yet, they are easy to make and have a long shelf life when stored properly.
Nutrition Facts
Meringue Cookies
Amount Per Serving
Calories 18
Calories from Fat 9
% Daily Value*
Fat 1g2%
Sodium 8mg0%
Potassium 9mg0%
Carbohydrates 4g1%
Protein 1g2%
Calcium 1mg0%
Iron 1mg6%
* Percent Daily Values are based on a 2000 calorie diet.