These meringue cookies are light and airy on the inside with a slightly crisp outer shell. Dip the cookies into melted chocolate and nuts and you've got perfection!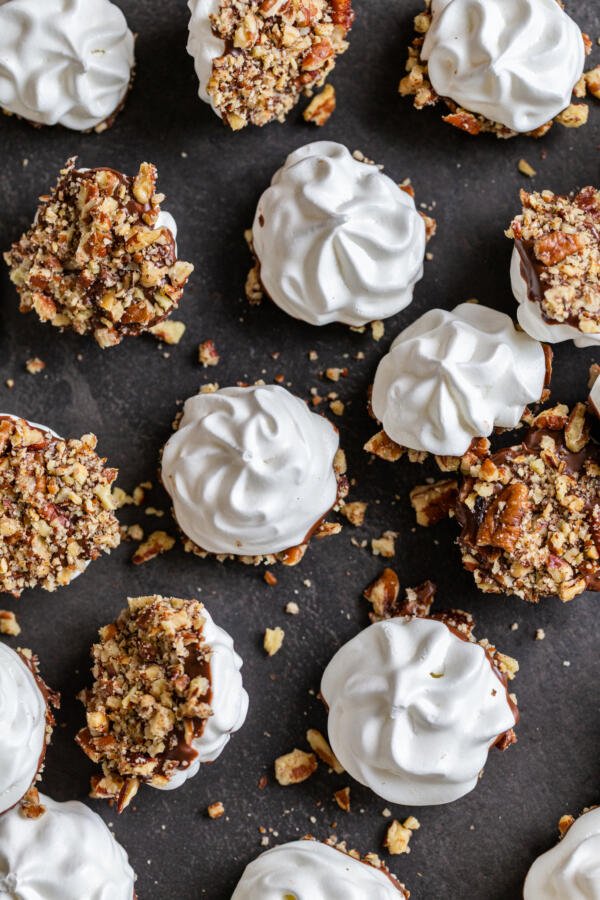 What Are Meringue Cookies?
Meringue cookies are light, airy cookies made of only four ingredients: egg whites, sugar, cream of tartar, and salt. The meringue mixture is whipped until stiff peaks form, then baked slowly at a low temperature in the oven. The result is a slightly chewy meringue with a satisfying crisp outer shell. In this special version of meringue cookies, we take an extra step and dip the cookies into melted chocolate and nuts to create a wonderful chocolatey, crunchy base.
How To Make Meringue Cookies
Making meringue is a right of passage for any home baker. Forget all the rumors about it being tough and follow these steps for perfect meringue each and every time.
Mix the egg whites and sugar: Using a stand mixer and the whisk attachment, whip the large egg whites and sugar together on high until the mixture becomes foamy.
Beat until stiff peaks form: Add in the salt and cream of tartar and beat until the mixture holds stiff peaks (about 10 minutes).
Place the mixture into a piping bag: Spoon the meringue mixture into a pastry bag/piping bag or ziploc bag with a corner cut out.
Pipe out the cookies: Slowly pipe out small-to-medium size meringue cookies onto a prepared cookie sheet lined with parchment paper. Bake them at 200°F for about 90 minutes.
Cool the cookies: Once ready, remove the cookies from the oven and let them cool and harden at room temperature.
Dip into the chocolate and nuts: Melt chocolate with coconut oil in the microwave, stirring every 20 seconds. Dip the bottoms of the cookies into the chocolate, then sprinkle with your favorite chopped nuts.
Meringue Cookie Baking Tips
Meringue cookies can be finnicky to anyone, but with these tips, there's nothing to fear! Follow these tricks to have meringue cookies with the perfect flavor and texture — each and every time.
Use room temperature eggs: Use fresh, room temperature eggs since cold egg whites make the volume of the meringue smaller.
Crack the eggs in a separate bowl: Separate the egg yolks and whites in a separate bowl so the whole batch of meringue mixture doesn't accidentally get spoiled. Once separated, add the whites to the large mixing bowl and keep the yolks for another meal (make an omelette!).
Beat until stiff peaks form: Ensure you are beating the mixture long enough that stiff peaks form, which is usually around 10 minutes. Under-beating may result in runny cookies, while over-beating results in rubbery or chewy cookies.
Pipe out the mixture: For the easiest, most uniform cookies, use a piping bag with a large star tip to shape the cookies.
Bake in the middle rack: Place the baking sheet onto the middle rack in the oven for the most uniform heat dissipation.
Add in vanilla extract (optional): For a hint of vanilla flavoring, add ¼ teaspoon vanilla extract to the mixture.
Choose your favorite nuts: Feel free to choice any kind of nut you prefer — almond, walnut, pecan, pistachio, etc.
Change up the color: Alter the the color of the meringue with any food color that best fits the season or occasion.
Hot tip: Are you an overachiever? If so, amaze your family and friends with these meringue cookie sandwiches. It's a mix of meringue cookie, sugar cookie, plus jam!
Storing the Cookies
Store your meringue cookies in one of two ways, depending on how long you want to keep them on hand. No matter which method you choose, always keep the cookies in an airtight container, which prevents moisture from making the cookies soggy.
Room temperature: To keep for up to five days, store the meringue at room temperature.
Freezer: To keep meringue cookies for up to 2-3 months, stack them gently in a freezer safe container that will not be squashed in the freezer. When ready to thaw, take the cookies out of the container and thaw at room temperature.
Hot tip: Avoid refrigerating the cookies as this may add moisture to the cookie, leading the cookies to lose their crispy, airy texture.
Making Ahead
In case you're wondering if this is a good cookie to add to your holiday cookie tray, it is! Make the meringue batter up to 10 months ahead of time to make the holiday baking go easier. Store the batter in an airtight bag with all excess air removed to prevent freezer burn. Thaw it in the fridge before baking with it.
FAQ
Is cream of tartar necessary for meringue?
Cream of tartar is necessary for meringue because it stabilizes the egg whites and helps to achieve the stiff peaks that make meringues so light and airy. If you're out of cream of tartar, lemon juice or white vinegar work as a good substitute at a 1:1 ratio.
How do you tell when meringue cookies are done?
Meringue cookies are done when they are crisp on the outside but not browned. The cookies are done baking when they are easily lifted off a piece of parchment and the bottoms of the cookies are dry.
What are the top reasons why meringue cookies fail?
The most common reasons why meringue cookies may not turn out well is if incorrect ingredient proportions were used, the meringue was exposed to water or oil, and/or the egg whites weren't beaten enough (or too much).
More Cookies
Recipe
These meringue cookies are light and airy on the inside with a slightly crisp outer shell. Dip the cookies into melted chocolate and nuts and you've got perfection!
Nutrition Facts
Meringue Cookies
Amount Per Serving
Calories 18
Calories from Fat 9
% Daily Value*
Fat 1g2%
Sodium 8mg0%
Potassium 9mg0%
Carbohydrates 4g1%
Protein 1g2%
Calcium 1mg0%
Iron 1mg6%
* Percent Daily Values are based on a 2000 calorie diet.