Pan-seared halibut is the perfect healthy protein to whip up on a busy weeknight. In less than 30 minutes, you'll transform four wholesome ingredients into a restaurant-worthy entree.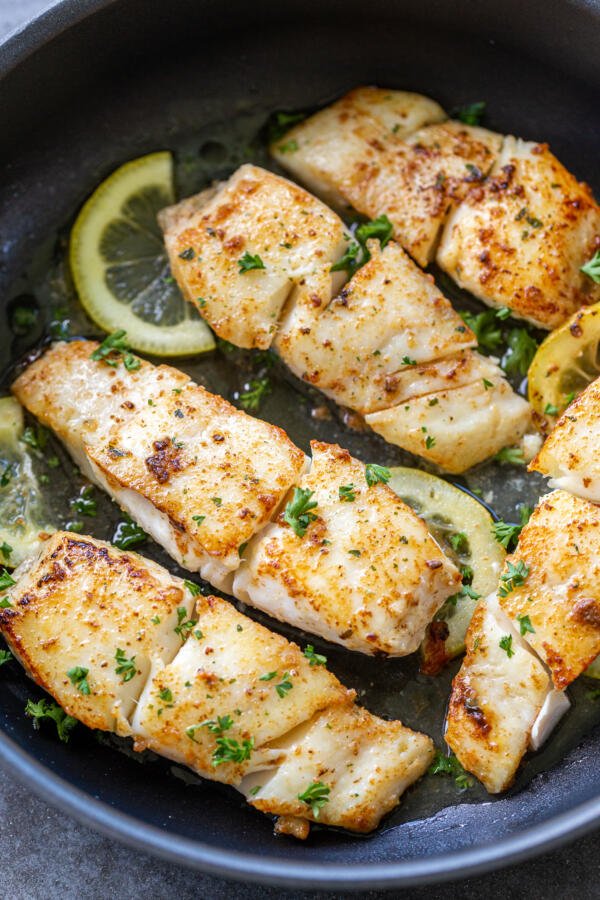 What is Pan-Seared Halibut?
Pan-seared halibut with lemon is a simple and affordable dish of white fish and butter sauce.
Flavor: Like most white fish, halibut cooks quickly and has a sweet, mild taste to it. The addition of butter, garlic parsley salt, lemon, and herbs elevate the flavor of the halibut while keeping it neutral enough to be paired with a variety of side dishes.
Texture: The texture of the halibut should be light, flakey, and moist. The lemon juice-infused butter sauce works wonders when it comes to keeping the halibut fillets nice and hydrated.
Time: Once you add the fish to the hot pan, it should only take about 3-4 minutes of cooking time on the first side and 2-3 minutes on the other side. Immediately remove the fish from the pan once it's finished cooking to prevent it from turning rubbery.
How to Make Pan-Seared Halibut
This pan-seared halibut only requires four simple ingredients and less than 15 minutes of cooking time.
Prepare Halibut Fillets: Using paper towels, pat any excess moisture off the halibut fillets. Season them generously with garlic parsley salt on both sides.
Cook Halibut Fillets: Melt some butter in a skillet over medium-high heat and gently place your fillets into the pan. Sprinkle lemon wedges around the fillets. Sear the fillets for a couple of minutes, reduce the heat to medium, and cook for a couple more minutes on the opposite side.
Serve: Serve halibut fillets immediately after giving them a squirt of lemon juice and a sprinkling of fresh herbs.
Herb Alert: There are two different kinds of parsley sold in most supermarkets. If you are going to season your halibut with it, make sure to grab flat-leaf Italian parsley. Curly parsley has little flavor and is typically only used for garnishes.
Tips for The Best Pan-Seared Halibut
Below, find tips and tricks for getting the best pan-seared halibut.
Check internal temperature. Take all the guesswork out of searing your halibut by checking the internal temperature with a meat thermometer. Cooked halibut should read at 145°.
Use equal-sized fillets. To promote even cooking, select the most equal-sized fillets you can find.
Handle halibut with care. Halibut can break apart super easily, so be extra careful when you flip it and ensure you've given it a long enough time on the heat to form a nice crust. Invest in a fish spatula to make the process that much easier.
Don't skip the lemon juice. Lemon juice helps to keep the fish tender, as well as bring out its optimal flavor. You truly can't overdo it when it comes to seasoning white fish with this citrusy fruit.
Resist the urge to fiddle with the fish. The goal is to only have to flip each fillet once. The more you mess with it, the more it will break apart.
Pat fillets down with a paper towel. Prior to cooking, pat down as much moisture off the fillets as possible. This will help the fish build a nice crust and will also prevent oil from popping out of the pan (ouch!).
Serving Pan-Seared Halibut
Pan-seared halibut can be served with a wide range of side dishes and salads. It's wonderful atop a caesar salad or alongside air fryer asparagus. Round out the meal with a side of buckwheat to keep you fuller longer.
Use leftovers for easy fish tacos. Grab some tortillas, whip up a batch of salsa, and put your pan-seared halibut leftovers to work.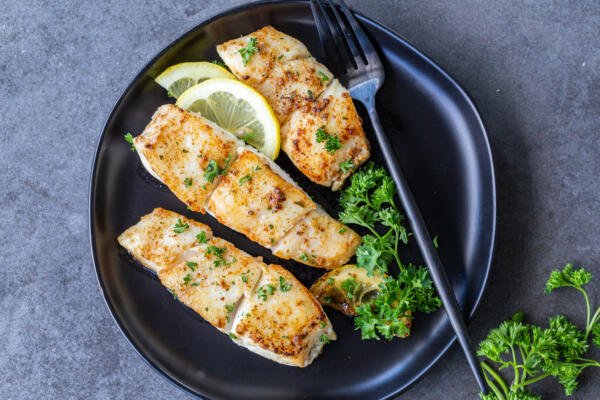 Storing Cooked Halibut
Refrigerating: Store your halibut in an airtight container in the refrigerator. It will keep fresh for 3 days.
Freezing: Freeze your pan-seared halibut fillets by placing them in a single layer on a baking sheet. Pop the entire baking sheet into the freezer. Once frozen, transfer fillets into portioned, freezer-safe plastic bags.
Reheating Pan-Seared Halibut: Whether fresh or frozen, reheating your halibut is best done with an air fryer or conventional oven. Once warmed through, immediately remove from heat to prevent overcooking.
FAQ
Do you rinse halibut before cooking?
You should gently rinse halibut under cold water before cooking. Pat any excess moisture off each fillet using a paper towel.
What internal temperature should halibut be cooked to?
The internal temperature of cooked halibut is 145°F.
How do you cook halibut without it drying out?
Prevent halibut from drying out by seasoning it with loads of lemon and butter. You can also prevent it from overcooking (and drying out!) by investing in a meat thermometer.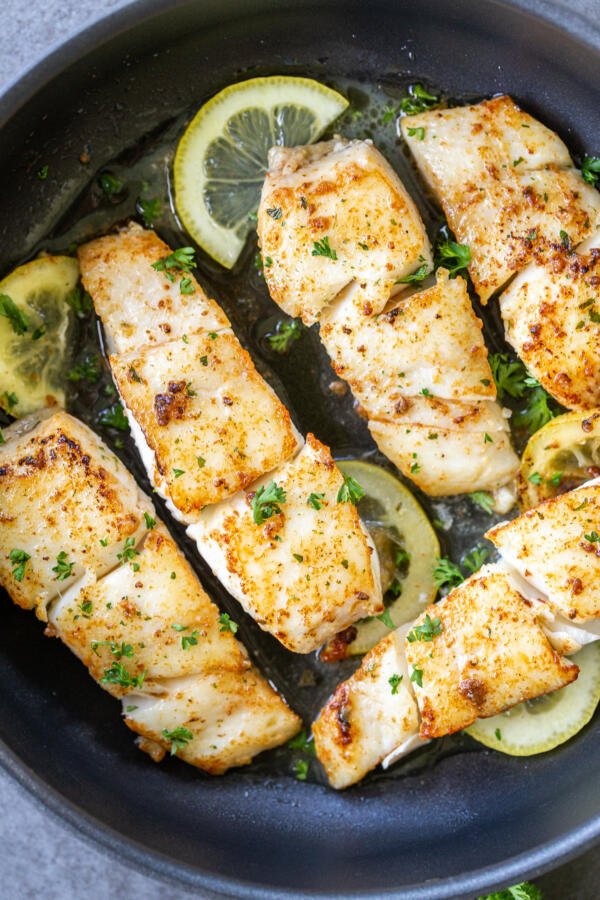 More Fish Recipes
Recipe
Pan-seared halibut is the perfect healthy protein. In less than 30 minutes, you'll transform four ingredients into a restaurant-worthy dish.
Ingredients
2

lbs

halibut fillet

1

tbsp

garlic parsley salt

adjust to taste

1/4

cup

Unsalted Butter

2

tbsp

herbs

parsley, green onions, cilantro, dill

1

lemon

sliced
Instructions
Season halibut generously on all sides with garlic parsley salt. Gently add the fillets to the skillet. Disperse slices of lemon thorughout the skillet. Cook for 3-4 minutes until a crust forms. Flip the fish over, reduce the heat to medium, and contine cooking for an additional 2-3 minutes.
Nutrition Facts
Pan-Fried Halibut (Only 4 Ingredients)
Amount Per Serving
Calories 206
Calories from Fat 90
% Daily Value*
Fat 10g15%
Cholesterol 94mg31%
Sodium 1333mg56%
Potassium 662mg19%
Carbohydrates 1g0%
Protein 28g56%
Vitamin A 373IU7%
Vitamin C 1mg1%
Calcium 15mg2%
Iron 1mg6%
* Percent Daily Values are based on a 2000 calorie diet.