This baked halibut recipe is made with a simple seasoning of lemon juice, garlic parsley salt, & butter. So simple, versatile, & always a crowd pleaser!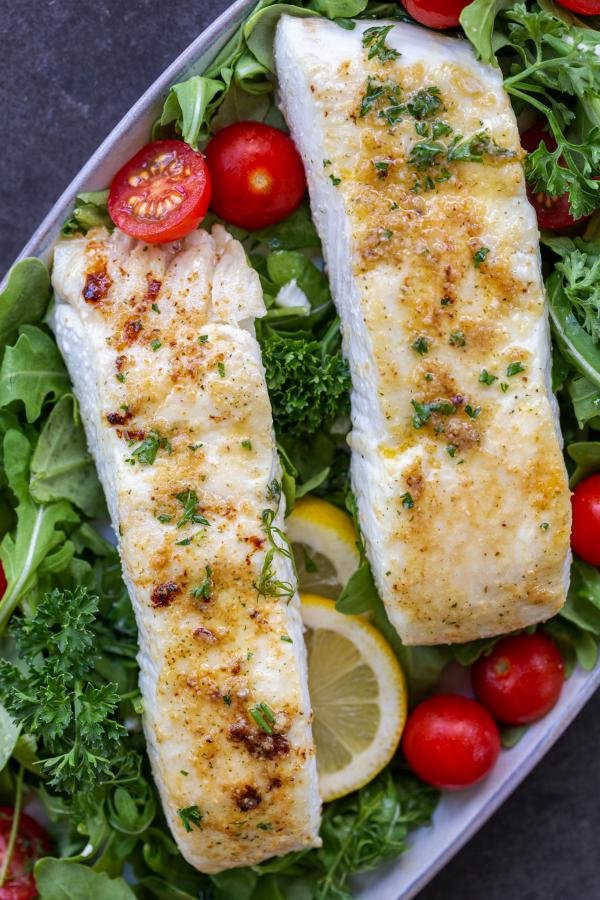 If you're looking for a quick 20 minute protein, this recipe for baked halibut has your name on it. It's super flakey, always moist, and perfect for everything from sandwiches, salads, and pastas.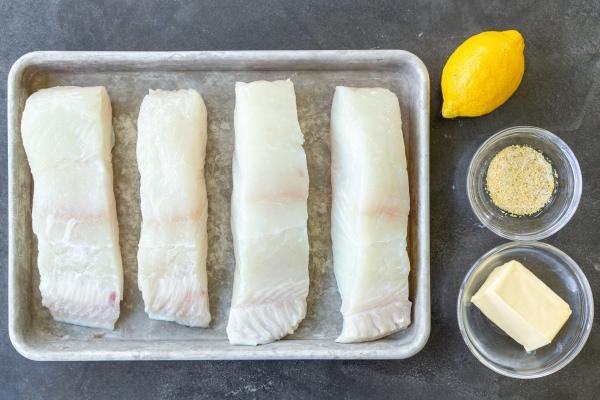 Preparing this Baked Halibut Recipe
Preparing this simple baked halibut recipe only requires 4 ingredients and a quick bake in the oven.
Prepare the Halibut: First, slice the halibut filet into equal-sized pieces and assemble it on a prepared baking sheet.
Season the Halibut: Next, drizzle the fish with lemon juice and season it with garlic parsley salt. Finish each filet with a pat of butter.
Bake the Fish: Bake the sheet pan of fish in the oven at 425°F or low broil for about 10-15 minutes.
Note: If you don't like halibut, this recipe will work well with just about any white fish. From cod, bass, turbot, flounder, and beyond, you can't go wrong.
A Couple of Tips for the Tastiest Baked Halibut
A few, foolproof tips will ensure you get the most tender, juiciest halibut possible.
Slice the halibut into similar pieces. To promote even-cooking, slice the halibut into similar sized pieces and try to use fillets that are a similar thickness.
Don't over bake the halibut. Avoid over baking the halibut, as it is prone to drying out and turning rubbery.
Check the doneness by using an instant-read meat thermometer. Unsure if your fish is finished? Remove all the guesswork by using an instant-read meat thermometer to ensure the internal temperature has reached 145°F.
Tweak the seasoning as you see fit. Halibut is super versatile, so feel free to tweak the seasoning as you see fit. Add some freshly cracked black pepper, parmesan cheese, smoked paprika, lemon zest, or whatever other seasoning you're craving. You can also top the baked filets with fresh dill or basil!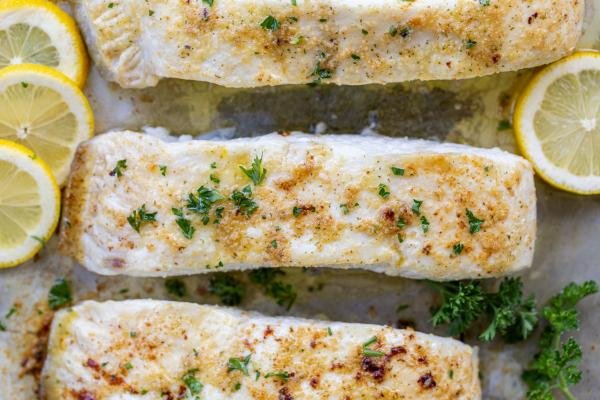 How to Properly Defrost Frozen Halibut
Only have frozen halibut on hand? No problem! Before you use it for this recipe, make sure that it's properly defrosted. Here's two different ways to get the job done:
Water Bath (Quick Method) – Pull the frozen halibut out of the freezer and place it in a water bath in the sink for 30 minutes until thawed. Make sure it's in airtight packaging so it doesn't get soggy as it thaws!
Fridge – Place the frozen halibut in the fridge for a couple of hours and up to overnight.
What to Serve Alongside this Baked Halibut Recipe
When it comes to halibut, we love to serve it alongside asparagus dishes. Some of our favorite are air fryer asparagus, asparagus casserole, and asparagus wrapped in prosciutto. If you don't like asparagus, any broccoli or cauliflower side dish will do the trick.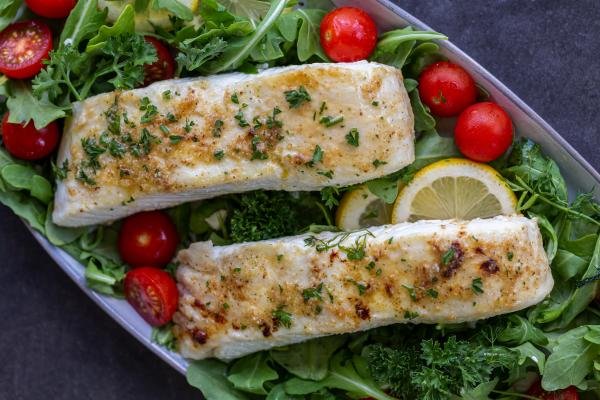 Storing & Reheating Best Practices
To keep your baked halibut fresh for 3 to 4 days, store it in an airtight container in the refrigerator. This will prevent the fish from drying out, while also making sure it doesn't give your fridge a fishy smell.
Reheating Tip: To reheat the halibut without drying it out, pop it in a baking dish and cover it with aluminum foil. Bake it at 350°F until warmed through.
FAQ
What are the health benefits of halibut?
Halibut contains a variety of nutrients including omega-3 fatty acids, niacin, selenium and magnesium. Not only is it low-calorie and low-cholesterol, but it's packed with protein and super filling.
Do you need to rinse halibut before baking it?
It's good to rinse fresh halibut before baking it to remove any grime. To do so, rinse it under cold water in the sink and pat it completely dry with a paper towel before seasoning it.
How do you know when halibut is finished cooking?
You'll know when halibut is finished cooking when the internal temperature has reached 145°F and the flesh flakes easily with a fork. Fully-cooked halibut will be also be opaque in color.
Do you need to flip halibut halfway through baking it?
No, you do not need to flip halibut halfway through baking it. So long as you don't over bake the halibut, you should be perfectly fine.
Should you bake halibut covered or uncovered?
You should bake halibut uncovered for the best results. If you bake it covered, it will create a steaming affect and prevent the top of the fish from crisping up.
More Baked Fish Recipes
Recipe
This tasty baked halibut recipe always comes out so tender and flakey. A versatile white fish, use it for tacos, sandwiches, salads, or a tasty entree!
Instructions
Slice the halibut fillet into equal-sized pieces. Assemble the fish on a baking sheet, leaving space in between each fillet.

Drizzle the fish with lemon juice and season the halibut with garlic parsley salt. Top each fillet with a slice of butter.
Nutrition Facts
Crazy Easy Baked Halibut Recipe
Amount Per Serving
Calories 365
Calories from Fat 180
% Daily Value*
Fat 20g31%
Cholesterol 156mg52%
Sodium 1901mg79%
Potassium 1029mg29%
Carbohydrates 3g1%
Protein 43g86%
Vitamin A 683IU14%
Vitamin C 14mg17%
Calcium 29mg3%
Iron 1mg6%
* Percent Daily Values are based on a 2000 calorie diet.