This oven-baked trout recipe is the perfect balance of citrus, herbs, and buttery white fish. Perfect for everything from quick dinners to hosting!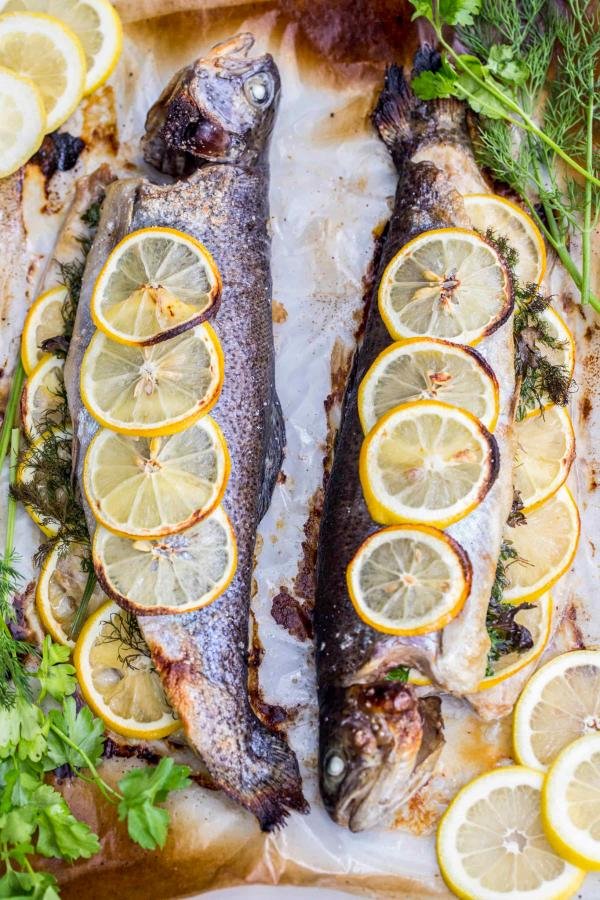 I have enjoyed this recipe for lemon-herb baked trout for as long as I can remember. As a kid, I loved picking the flesh from the little bones. As an adult, I'm obsessed with how the buttery fish is complemented by fresh herbs and loads of lemon. Some things just never get old, am I right?
If you're looking for a quick and healthy meal that's easy on the eyes, look no further. This recipe takes about 30 minutes to whip up, making it the perfect candidate for everything from busy weeknight dinners to fancy dinner parties.
Not sure where to find whole trout? If you have a Costco membership, you can often find rainbow trout fillets or steelhead trout fillets in the fish aisle. If not, most specialty Asian stores and butchers will have it on hand.
How to Debone Trout
If you're not a fan of bones, here's a step-by-step on how to debone the trout.
Using a really sharp knife, slice alongside both sides of the spine (typically a reddish-pink color).
Using kitchen scissors, slice the spine free from the neck and pull it free from the flesh.
Finally, slice underneath the stomach bones on both sides of the fish. Carefully tear them free from the flesh. Ladies and gentlemen, you have deboned trout!
How to Make This Baked Trout Recipe
Making this baked trout requires just a handful of simple ingredients and steps. Below, find a quick hitter overview of the recipe before diving in.
Slice the Lemons: Using a sharp knife, slice the lemons into thin circles.
Debone the Fish: If you don't want to deal with bones, now's the time to debone the fish. If you want to keep them in, move on to the next step.
Stuff the Fish: Assemble the trout on a baking sheet lined with parchment paper. Next, stuff the inside of the fish with sliced lemon and herbs, followed by a couple of cracks of black pepper.
Bake the Trout: Drizzle the trout with olive oil and top them with another layer of lemon slices. Next, place the fish in the oven on a baking sheet lined with parchment paper or heavy-duty aluminum foil. Bake it at 350°F for 15 minutes. Next, turn the oven to a high broil and cook the fish for an additional 2 minutes. Serve hot or chilled and enjoy!
Tips & Tricks
Below, find a couple of tips and tricks to help you nail this baked trout recipe.
Stuff the fish with fresh herbs versus dried. Nothing compares to the flavor that fresh herbs give to this baked trout. It also makes for such a prettier presentation if you're hosting.
Pat the fish dry of any moisture before baking. To yield the crispiest skin possible, make sure to pat down the fish with a paper towel and remove as much moisture as possible.
Finish the fish under a low-broil for crispy skin. If you're obsessed with crispy fish skin, don't skip putting the trout under a high-broil for a couple of minutes at the end of cooking.
Spread the inside of the fish with garlic butter. If you're a garlic fanatic, spread the inside with a smear of garlic butter.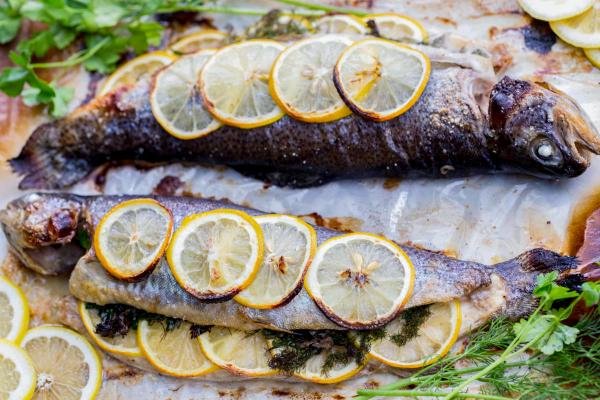 What to Serve With Trout
Oven-baked trout can be served for everything from a quick lunch to a fancy dinner party. It pairs well with creamy mashed potatoes or scalloped potatoes, and cheesy zucchini breadsticks. It's also wonderful chilled and spread across buttered sourdough bread.
Storing Leftovers
Whether you want to bake a couple of trouts to have for the next week or you want to stow some away in the freezer for a rainy day, find some top storage tips below.
Refrigerator: If you plan to eat your trout within 3-4 days, store it in an airtight container in the refrigerator. This will not only keep the trout from drying out, it will also keep a fishy smell from lingering in your fridge.
Freezer: If you want to keep baked trout on hand for a month, pop it in a freezer-safe bag. To thaw, place the fish in the fridge overnight.
Reheating Tip: Reheat trout in the oven or in an air fryer for best results. This will help it crisp up again!
FAQ
What temperature should trout be cooked at?
Trout should be cooked at 350°F to prevent it from overcooking or drying out.
How long do you cook trout?
It takes about 15 minutes to cook most standard-size trout fillets. If you're unsure if it's finished, check that the internal temperature has reached 145°F with a meat thermometer.
Do you cover the trout when baking in the oven?
No, there is no need to cover the trout while it's baking in the oven. This is especially true if you're a fan of crispy skin.
How do I get the trout skin a little crispy?
To get extra crispy trout skin, make sure to pat the fish dry of any excess moisture before baking it. In the last couple of minutes of cooking, switch over to a high-broil just until the fish skin browns.
What is the "10-minute rule" when it comes to baking fish?
The "10-minute rule" is a Canadian cooking method in which you cook the fish for 10 minutes per inch of thickness. When it comes to cooking whole fish, this helps to alleviate some of the guesswork and serves as a general rule of thumb.
Other Tasty Fish Recipes
Recipe
This oven-baked trout recipe is the perfect balance of citrus, herbs, and buttery white fish. Perfect for everything from quick dinners to hosting!
Nutrition Facts
Lemon-Herb Baked Trout Recipe
Amount Per Serving
Calories 233
Calories from Fat 81
% Daily Value*
Fat 9g14%
Cholesterol 160mg53%
Sodium 1276mg53%
Potassium 718mg21%
Carbohydrates 4g1%
Protein 33g66%
Vitamin A 194IU4%
Vitamin C 19mg23%
Calcium 46mg5%
Iron 1mg6%
* Percent Daily Values are based on a 2000 calorie diet.