This air fryer salmon recipe always yields flakey salmon that's moist & full of flavor. In just 15 minutes, it will become one of your go-to weeknight dishes!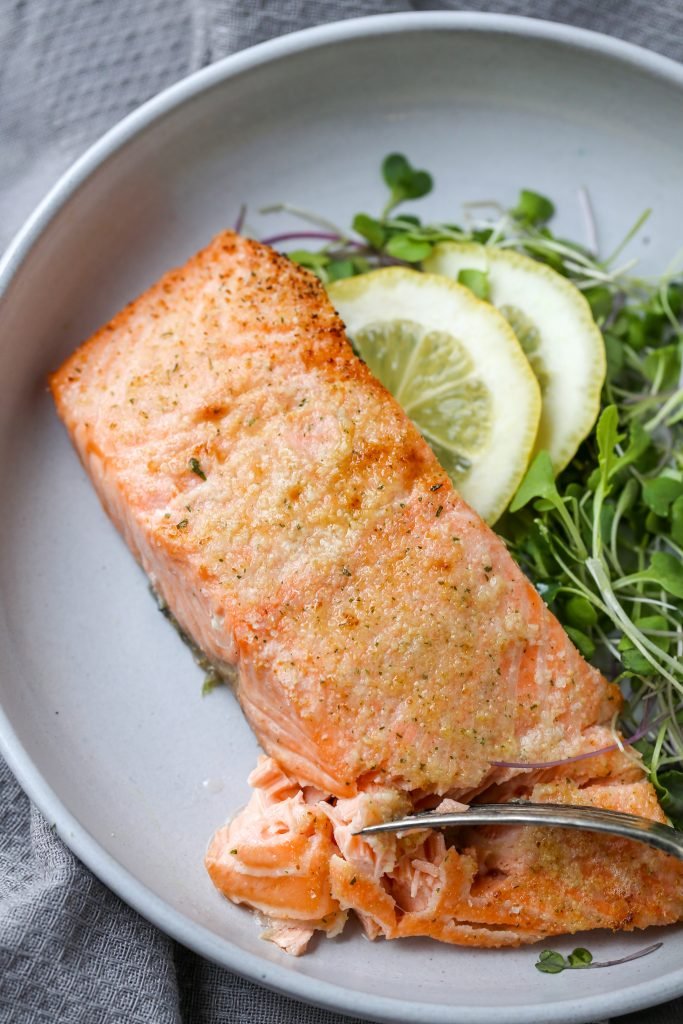 If you love salmon and have an air fryer, there's no reason why you can't have a perfect fillet several times a week. In this recipe, you'll learn how to make moist, tender and flakey salmon fillets in the trending appliance with just 4 ingredients and around 10 minutes of cooking time.
Air Fryer Recommendation: Looking for an air fryer? We love our Cosori.
Making Perfect Air Fryer Salmon
Making tasty salmon in the air fryer is a no-brainer and only requires minimal prep work for maximum taste.
Season the Salmon Fillets: First, season the salmon fillets with garlic parsley salt.
Assemble the Fillets: Next, place the fillets in a single layer in the air fryer basket with the skin-side down.
Top the Fillets: Place a bat of butter and a lemon slice on each piece of salmon.
Air Fry the Salmon: Lastly, air fry the salmon at 400°F for 10-13 minutes. Enjoy!
5 Top Tips for the Perfect Salmon in an Air Fryer
While making air fryer salmon is as easy as setting it and forgetting it, there are a couple of handy tips to help you take your fillets to the next level.
Season the fish generously. Salmon typically requires a little extra seasoning, so don't be shy. Make sure the fillet is well-coated in the garlic parsley salt and you'll be good to go.
Top the salmon with butter to add moisture. To prevent the salmon from drying out in the high heat, top each fillet with a couple of butter slices.
Use skin-on salmon if you can. Using salmon with the skin-on will help to keep all the juices inside the fish. It also protects the salmon from overcooking. If you're not a fan of the skin, you can always easily remove it after removing it from the air fryer.
Use a meat thermometer to gauge doneness. If you're unsure if your salmon is fully cooked, use a meat thermometer to check if the internal temperature has reached 145°F. For the most accurate reading, make sure to stick the thermometer into the thickest part of the salmon fillet.
Adjust the cooking time depending on the thickness of your fillet. Lower the cooking time if your fillets are thinner and increase it if they are on the thicker side.
Air Fryer Salmon Video Tutorial
Different Seasonings
This recipe is super versatile, so feel free to use any combination of seasonings you like best. If you need inspiration, find some tasty ideas here.
Cajun-Style: Season the salmon fillets generously with Cajun seasoning for a sweet and spicy flavor profile.
Honey Mustard: Whisk 1/4 cup of dijon mustard with 3 tablespoons of honey. Brush the tops of the salmon fillets with the mixture for a sweet and salty fillet.
Slavic-Style: Season the salmon fillets with smoked paprika, black pepper, & garlic powder for an Eastern European twist. Once they come out of the air fryer, top them with fresh parsley or dill.
Hot Tip: Pat the salmon fillets with a paper towel before you season them to help the dry seasonings "stick" better.
Ideas for Serving
There are a million and one different way you can use your air fryer salmon. From quick fish sandos to easy weeknight meals, the possibilities are endless.
Sandwiches: Sandwich the salmon between a brioche bun with tartar sauce, lettuce, onion, and tomato for a tasty fish sandwich. For a quick brunch, pop the salmon on a toasted bagel with cream cheese, red onions, capers, and tomato slices.
Salad Toppers: For a quick and healthy lunch or dinner, use the salmon fillets as toppers for caesar salad, arugula caprese salad, or quinoa kale and avocado salad.
Entree: Serve the salmon fillets as an entree alongside an air fryer baked potato, air fryer asparagus, or any other veggie you're craving. You can also serve it alongside creamy cauliflower rice with chicken for a low-carb meal full of protein.
Storing & Reheating Best Practices
Salmon is prone to drying out and developing a tough crust in storage. To prevent this from happening, keep it in an airtight container (this will also prevent the fish from smelling up your fridge!). When stored properly, it will keep for up to 3 days.
Reheating Tip: To reheat the salmon, place it back in the air fryer for 2-3 minutes, or until warmed through. Make sure to top it with a little more butter and lemon to add moisture.
FAQ
Can you air fry salmon from frozen?
No, you should not air fry frozen salmon fillets. For best results, allow the fish to thaw completely before popping it in the air fryer basket. This will help it cook more evenly and will also take significantly less time than trying to cook a filler from frozen.
How do you know when salmon is done?
You'll know salmon is done when it easily flakes with a fork. Additionally, you can always check that the internal temperature has reached 145°F before digging in.
Can you air fry salmon without the skin on?
Yes, you can air fryer salmon without the skin on. However, the skin protects the fillet and helps it to retain moisture. If you can, always air fry salmon with the skin on.
Do you need to preheat the air fryer for air fryer salmon?
No, you do not need to preheat the air fryer before cooking salmon. Simply stick the fillets in the air fryer basket in a single layer, turn the temperature to 400°F and cook the fillets for around 10 minutes.
Do you need to flip salmon halfway through air frying it?
No, you do not need to flip salmon over halfway through air frying it. It's perfectly fine to leave it alone and let the appliance work its magic.
Air Fryer Recipes To Try
Recipe
This recipe for air fryer salmon only requires 15 minutes time and 4 simple ingredients. Moist, flakey, and packed with protein, it always hits the spot!
Nutrition Facts
Perfect Air Fryer Salmon
Amount Per Serving
Calories 439
Calories from Fat 234
% Daily Value*
Fat 26g40%
Cholesterol 155mg52%
Sodium 202mg8%
Potassium 1185mg34%
Carbohydrates 5g2%
Protein 45g90%
Vitamin A 445IU9%
Vitamin C 28.6mg35%
Calcium 41mg4%
Iron 2.1mg12%
* Percent Daily Values are based on a 2000 calorie diet.