This 4 ingredient grilled halibut recipe is crazy easy, with simple ingredients yet full of flavor. In only 15 minutes, this healthy, grilled fish is sure to satisfy your craving for seafood.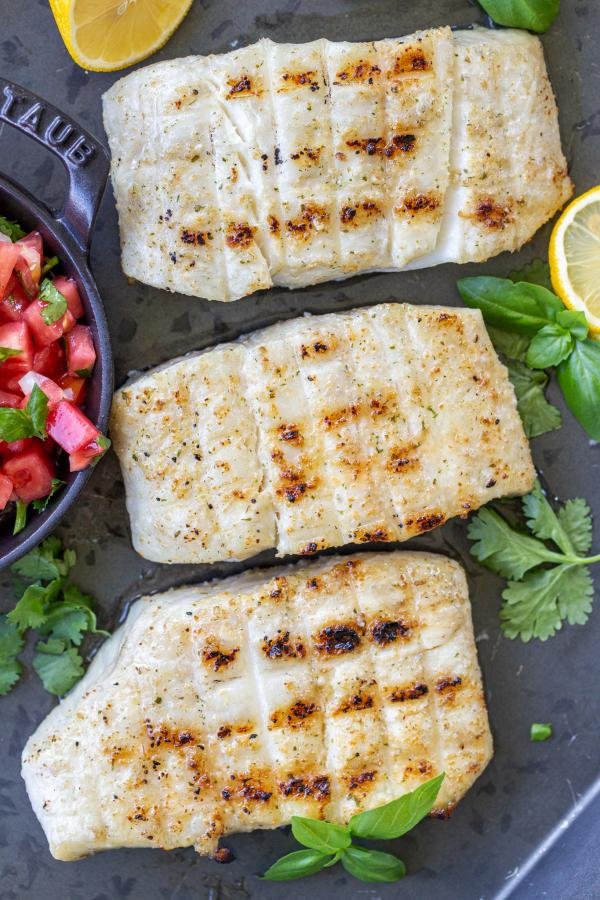 What is Halibut?
Halibut is a white saltwater fish that boasts a large amount of protein, vitamins, and nutrients in each bite. It is often a more expensive type of fish compared to many other types on the market, but the taste and ease of cooking this fish is worth every dollar.
Grilled halibut is a quick fish entree that is easily and quickly made on either a gas grill or charcoal grill. It is less delicate than many other types of fish that fall apart when grilling, which makes it a great choice for grilled seafood.
Flavor: Halibut has a sweet, mild taste, perfect for those who don't like a strong fishy taste. The neutral flavor allows for halibut to easily be paired with a variety of side dishes.
Texture: The texture of the grilled halibut should be light, flakey, and moist.
Time: Once on the grill, the fish is ready in about 10 minutes, flipping halfway.
Hot Tip: If you are looking to make grilled fish, but don't have halibut, try our Grilled Cod.
Halibut Steak vs Halibut Fillet
Halibut is most often sold either fresh or frozen as halibut steaks or halibut fillets. Knowing the general differences between the two can help make grilling easier and eating more enjoyable.
Differences in Skin and Bones
Halibut fillets often have both skin and bones removed, so individual fillets cook more evenly and are less likely to overcook and dry out. With fillets, there is no need to parse through and pick out the bones and skin of the fish – woohoo!
Halibut steaks are most often sold with skin on and contain the backbone and sometimes rib bones of the fish. Although the skin is edible, eating can be messier due to picking through the bones of the fish.
Cuts & Thickness
Halibut fillets are often cut into individual portions, ranging in size and thickness. Thinner individual fillet pieces may cook faster than thicker pieces, so keep a close eye on each individual piece when grilling to prevent overcooking.
Halibut steaks tend to be more uniform and consistent in size and thickness, so individual steak pieces may cook more evenly.
Pro tip: If choosing between halibut steak or fillet, choose the cut with the skin on. In some markets, both cuts may have the skin on. The skin helps to lock in the juices and create a crispy outer layer.
How to Make Grilled Halibut
This grilled halibut requires only four simple ingredients and ten minutes of grilling time.
Preheat grill: Preheat your grill to moderately high or high heat (375°F or higher).
Prepare halibut: Slice halibut into equal size pieces.
Season all sides: Coat all sides of halibut with olive oil or avocado oil and season with garlic parsley salt.
Grill in a grill basket: Place halibut in a fish grill basket. Grill on both sides on high heat until the internal temperature just reaches 145°F. Be careful not to overcook or the fish will be dry.
Serve: Drizzle lemon juice over grilled halibut, serve, and enjoy.
No grill? We have you covered. If you don't have access to a grill or want another way to prepare halibut, try our Pan- Seared Halibut.
Tips and Tricks
Grilled halibut is only made with four ingredients, but a few tips can help make even the simplest of recipes easier and tastier.
Use a grill basket: Using a grill basket helps keep halibut together when flipping on an open grill. This is also extremely useful for anything else you want to grill that would otherwise fall through the grill grates.
Oil the grill basket: Wipe the basket with an oil-soaked paper towel to further prevent halibut from sticking to the grates.
Keep the skin on: Keeping the skin on the halibut will help the meat stay together, juices locked in, and the crispy skin is a delicious treat!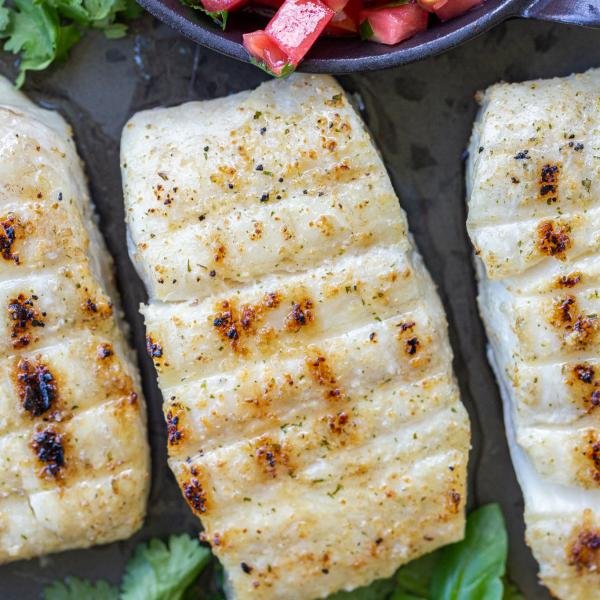 How to Tell When Halibut is Cooked
Halibut has a low oil content and cooks quickly, which puts it at risk of drying out if cooked too long. A few minutes can make the difference between a juicy, flaky fish and a dry, rubbery mess. Here's how to know when it is cooked to perfection.
Check fish color and texture. A fully cooked halibut will be opaque and just starting to flake with a fork.
Use a meat thermometer. Using a meat thermometer is the gold star for knowing when halibut is done, and it will ensure you cook the halibut to the recommended 145°F without overcooking.
Serving Grilled Halibut
Grilled halibut has a mild flavor, so it is easy to pair the dish with almost any side. However, since you're already firing up the grill, try Grilled Potatoes to round out your meal with carbohydrates, and Grilled Corn on the Cob, Grilled Zucchini and Mushrooms, or Grilled Asparagus in Foil for a side of vegetables. My favorite is pairing it with our Pico de Gallo.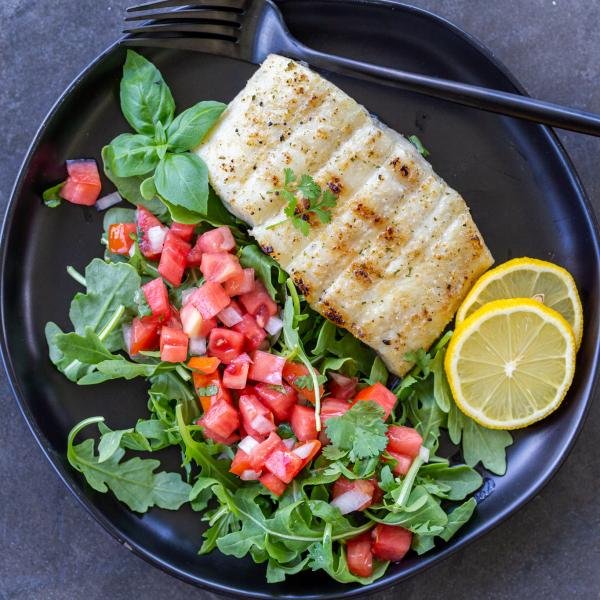 Storage
If there's any grilled halibut left over after dinner (not likely!), be sure to follow these tips to store for later:
Refrigerating: Store your halibut in an airtight container in the refrigerator. It will stay fresh for 3 days.
Freezing: Freeze by placing the halibut in a single layer on a baking sheet. Pop the entire baking sheet into the freezer. Once frozen, transfer fillets into portioned, freezer-safe plastic bags. Make sure to fully thaw fillets in the fridge before reheating.
Reheating Tip: One of our favorite ways to reheat is with an air fryer. Air frying will re-create the crispy outer layer on the fish while still sealing juices on the inside. Once warmed through, immediately remove from heat to prevent overcooking.
FAQ
How do you grill halibut without drying it out?
To grill halibut without drying it out, leave the skin on and grill only until the fish reaches 145°F, then immediately remove it from the hot grill to avoid overcooking.
Should halibut be grilled skin side down?
Start grilling with the skin side down towards the grill first, making sure to flip halfway through cooking. The heat from the grill both crisps the skin up and loosens the binding layer of fat between the meat and the skin, making it easy to peel off after grilling.
What temperature should I grill at for grilled halibut?
The best temperature to grill halibut is over moderately high to high heat, about 375°F or higher.
Is halibut healthy?
Yes, halibut fish is considered a heart-healthy, high quality source of protein, nutrients, and vitamins, which can help decrease inflammation, fight heart disease, and lower blood pressure.
More fish recipes
Recipe
This 4 ingredient grilled halibut recipe is crazy easy, with simple ingredients yet full of flavor. In only 15 minutes, this healthy, grilled fish is sure to satisfy your craving for seafood.
Nutrition Facts
4 Ingredient Grilled Halibut
Amount Per Serving
Calories 276
Calories from Fat 90
% Daily Value*
Fat 10g15%
Cholesterol 111mg37%
Sodium 1899mg79%
Potassium 1024mg29%
Carbohydrates 3g1%
Protein 42g84%
Vitamin A 158IU3%
Vitamin C 14mg17%
Calcium 24mg2%
Iron 1mg6%
* Percent Daily Values are based on a 2000 calorie diet.