This classic pico de gallo recipe will transport you to your favorite Mexican restaurant. Better yet, it's fresh, healthy, and a low-calorie way to add a ton of flavor to meats, tacos, salads, and beyond.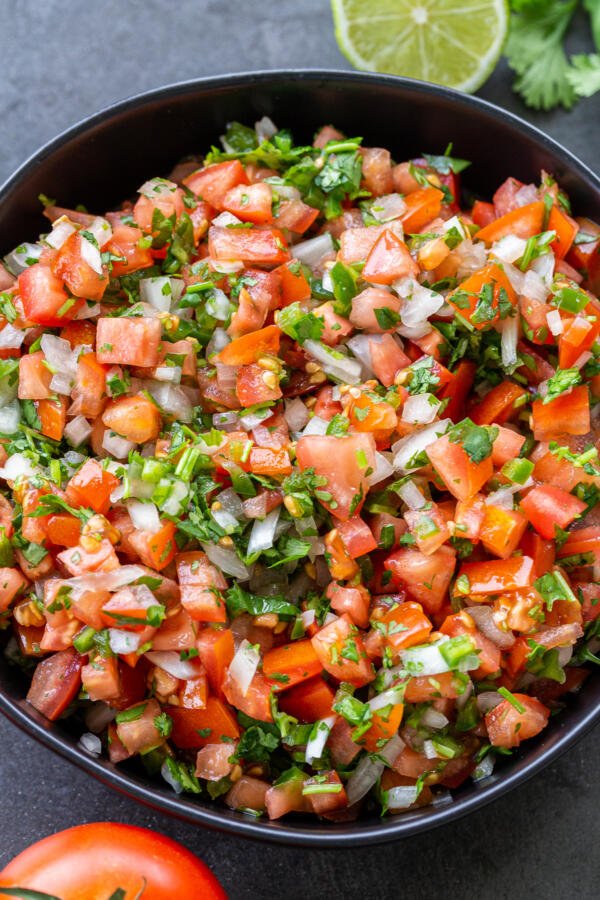 Pico de gallo is unique because you can learn how to make it simply from looking at it. All the ingredients are exploding with color right in front of your eyes! It's hard not to question how something so healthy could be so delicious?
From the moment I stepped foot in America, I was obsessed with Mexican food. The cuisine was so different than anything I had back home in Ukraine. Now I look at pico de gallo fondly, as it was one of the first Mexican recipes I ever attempted to make.
Whether you're throwing a Cinco de Mayo bash or you simply love pico and have to satiate your craving, this quick, 15-minute recipe will surely fit the bill. The best part? You won't have to flag down a server every single time you want a refill…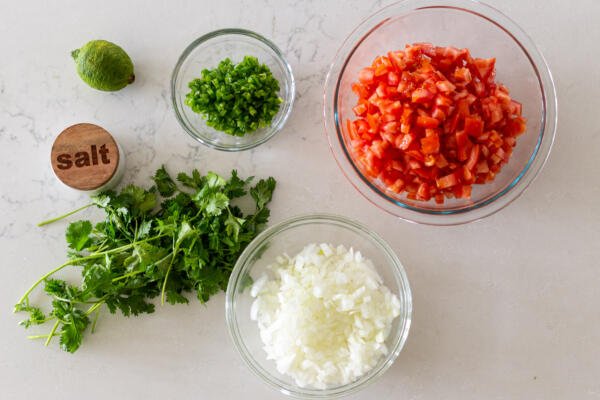 What is Pico de Gallo?
Pico de gallo is an authentic Mexican salsa consisting of roughly chopped tomato, onion, cilantro, jalapeño, lime, and salt. Unlike other smooth table salsas, it is chunky in texture and made with completely raw ingredients (that's right, no roasting necessary!). You can eat pico de gallo straight up with chips, or use it as a topping for tacos, burritos, grilled meats, salads, and beyond. Wherever you want a pop of citrusy, tangy flavor, a couple of spoonfuls of pico de gallo will do the trick.
How to Make Pico de Gallo
To make pico de gallo, all you need is a sharp knife, a mixing bowl, and a stirring spoon. Below, find a brief overview of the recipe before diving in. Rest assured, fresh salsa is on the way!
Chop the Veggies: Using a sharp knife, chop all the veggies into similar-sized pieces.
Juice the Lime: Using a citrus hand juicer, juice the lime.
Marinate the Onion and Jalapeño: In a large bowl, mix onion, jalapeño, and salt. Allow the mixture to marinate for 5 minutes.
Mix in Tomatoes and Cilantro: Stir in tomatoes and cilantro until evenly distributed. Store in the refrigerator in an airtight container, or enjoy right away!
What kind of tomatoes should I use? Roma tomatoes work best for pico due to their low moisture content and vibrant red color. However, use whatever fresh tomatoes you have at your fingertips!
Note: If you choose to use cherry tomatoes, which have tougher skins, allow the salsa to marinate for an hour in the fridge before serving.
Tips for the Best Pico de Gallo
Below, find a handful of tips to ensure you get the best pico de gallo possible. Soon enough, all your friends will expect you to bring it to parties and potlucks!
Drain excess juice from tomatoes. To prevent your salsa from turning out watery, drain any excess moisture from the tomatoes. Do this by placing chopped tomatoes in a colander.
Chop veggies very fine and in similar-sized pieces. If the veggies are cut in drastically different sizes and shapes, it will be difficult to get the perfect chip dip. The finer you chop them and the more consistent you stay, the better the flavors will come together in the end.
Allow your salsa to rest at least 15 minutes before serving. Pop your salsa into the refrigerator in an airtight container for at least 15 minutes before serving. By giving the salsa time to marinate, you allow the flavors to develop more deeply.
Use a slotted spoon or fork for serving. Since the tomatoes will release more juice as the salsa marinates in itself, use a slotted spoon or fork for serving. There's nothing worse than soggy tacos, burritos, or nachos!
What kind of onions should I use? This recipe calls for white onions, but feel free to use red onions if you prefer!
Serving Pico de Gallo
Pico de gallo can be served in so many different ways. The classic pairing is with salty tortilla chips (try our air fryer tortilla chips if you want to go light). You can also use it to spice up Mexican-inspired dishes. A few of our favorites include Mexican stuffed bell peppers, carne asada, or ground beef tacos.
All in all, pico is a great, low-calorie way to freshen up grilled meats. Spoon it on top of grilled tilapia for a healthy meal, or serve it alongside grilled chicken thighs. The kicker? You'll get an extra serving of veggies anytime you use it.
Storing Pico de Gallo
Store pico de gallo in an airtight container in the refrigerator. It should keep for up the three days. The key to ultra-flavorful pico is allowing it to marinate before serving. While this only takes about 15 minutes, you can expect leftover pico to get more flavorful as it sits in the fridge. This makes for wonderful leftovers!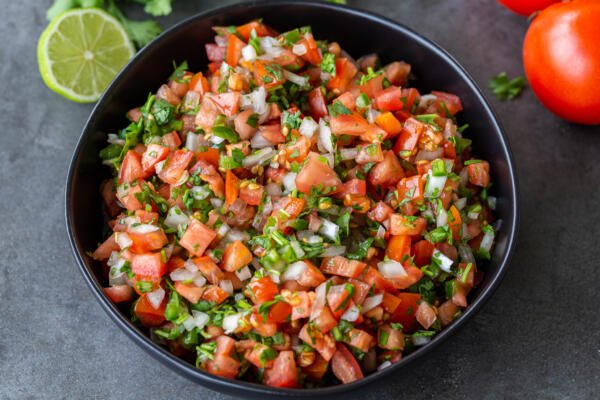 FAQ
What is the difference between salsa and pico de gallo?
The difference between salsa and pico de gallo is the texture. Typically, table salsa is much more finely blended and smooth. On the other hand, pico de gallo is much more chunky in texture.
How do you keep pico de gallo from getting watery?
Keep pico de gallo from getting watery by draining tomatoes after you cut them. Do this by placing them in a colander to let out excess moisture. Keep in mind, pico de gallo will get more watery as it marinates in the fridge. To prevent your food from turning soggy, always use a slotted spoon to serve it.
What else can you add to pico de gallo?
You can add a 1/2 cup of corn, avocado chunks, or black beans to pico de gallo to liven it up. Just make sure you thoroughly rinse and drain the beans or corn of their canning juices and adjust the lime and salt to taste as necessary.
Can I freeze pico de gallo?
You should not freeze pico de gallo. When thawed, the tomatoes will turn to mush and ruin the chunky texture.
More Mexican Recipes
Recipe
This classic pico de gallo recipe will transport you to your favorite Mexican restaurant. It's fresh, healthy, and low-calorie.
Ingredients
1

small white onion

2

small jalapeños

1

small lime

juiced

6

medium tomatoes

1

bunch

cilantro

1

tsp

salt

adjust to taste
Nutrition Facts
Classic Pico de Gallo Recipe
Amount Per Serving
Calories 47
Calories from Fat 9
% Daily Value*
Fat 1g2%
Sodium 785mg33%
Potassium 407mg12%
Carbohydrates 11g4%
Protein 2g4%
Vitamin A 1325IU27%
Vitamin C 38mg46%
Calcium 32mg3%
Iron 1mg6%
* Percent Daily Values are based on a 2000 calorie diet.