This rice noodle soup is made with a rich, marrow broth and filled with melt-in-your-mouth beef and tender veggies. Inspired by Vietnamese pho!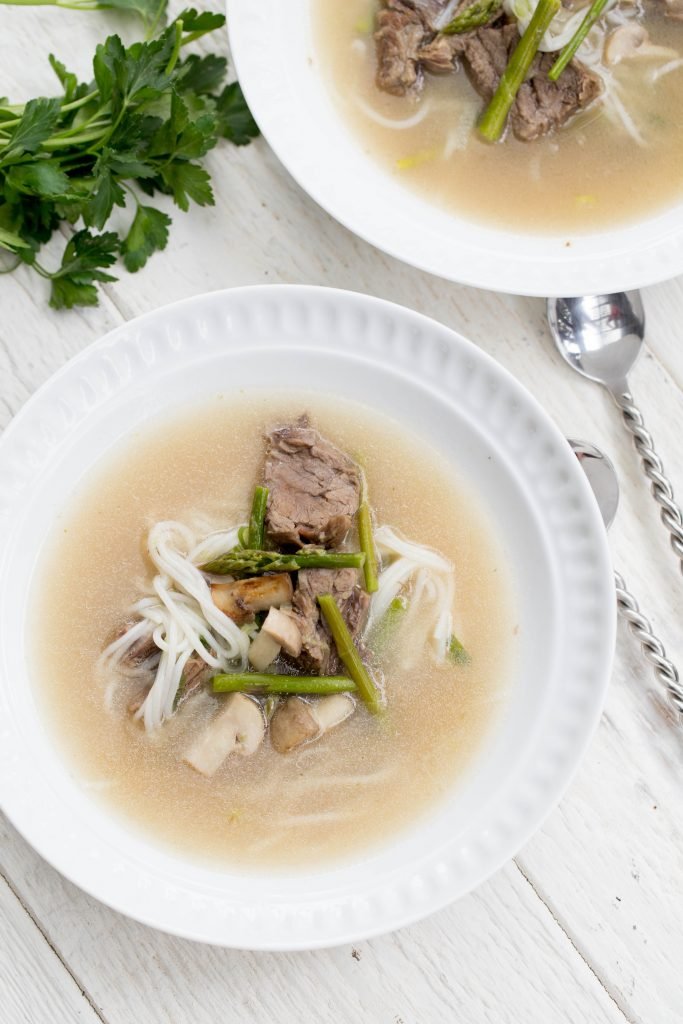 There's nothing like going out to your favorite Vietnamese restaurant and ordering a huge, steaming bowl of beef pho. It's ridiculously comforting and full of so many different layers of flavor. My family loves this soup just as much as the next guy, so I decided to make a simplified beef noodles soup that's inspired by pho. I know you're going to just love it!
What is Beef Pho?
Beef pho is a rice noodle soup that is considered the national dish of Vietnam. Throughout the country you'll find it served in homes and as street food. Traditionally eaten for breakfast or lunch, it's a light and hydrating soup that's made with bone-in beef, herbs, rice noodles, and a beef broth. Below, find a rundown of the flavor, texture, and time it takes to make this simplified beef noodle soup that's inspired by the real deal.
Flavor: The flavor of this soup is ultra savory. With each spoonful, you'll get an overload of beef flavor that's contrasted by fresh herbs and veggies.
Texture: The texture of this soup features ridiculously tender beef, slurp-worthy noodles, and succulent vegetables.
Time: From start to finish, this soup takes just over 2 hours and 30 minutes to make.
Did you know? Traditional pho broth takes anywhere from 6-10 hours of simmering to make. In this version, we cut that down to 90 minutes so you can enjoy this rice noodle soup on a whim.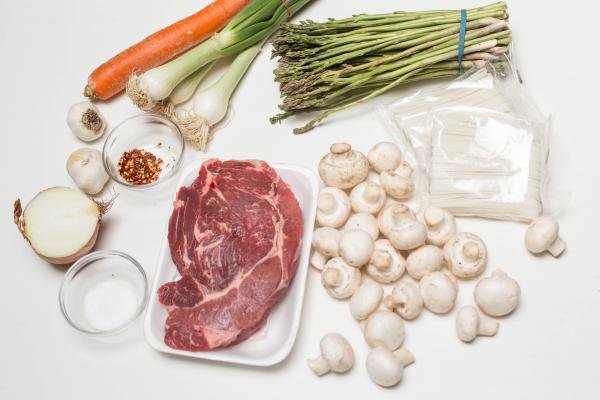 What Kind of Rice Noodles to Use
This soup is best made with thin, flat rice noodles. You can find them at Vietnamese specialty food stores or in the Asian food aisle of most grocery stores. If you can't find them in-store, there are several great varieties you can order on Amazon (like this one).
Preparing Rice Noodle Soup
Preparing this soup only requires 10 wholesome ingredients and some simple prep. Below, find a quick overview of the recipe before you dive in.
Make the Broth: Fill a large pot with water. Next, add in the bone-in beef, onion, carrot, and garlic heads. Allow the broth to simmer for 90 minutes.
Strain the Broth: Using a cheesecloth, strain the solid ingredients out of the broth. Then, slice the beef into bite-sized pieces and set it aside.
Add the Beef & Veggies: Pop the strained broth back into the soup pot. Next, dice the asparagus and green onions and add them to the pot. Add the sliced beef back in.
Sauté the Mushrooms: Dice the mushrooms up and sauté them in a skillet until golden brown. Add the mushrooms into the pot and bring the soup to a boil.
Add the Rice Noodles: Pop the rice noodles into the soup pot and immediately remove the soup from heat. Give the noodles a couple of minutes to soften. Serve and enjoy!
Tips for the Best Rice Noodle Soup
Here you'll find a collection of pro tips to help you make the best rice noodle soup on the planet.
Use a bone-in cut of beef. Bone-in beef gives so much flavor to the broth. As it slow cooks, the marrow seeps out and adds an unparalleled depth to the broth. Oxtail, bone-in brisket, or bone-in chuck are all suitable options for this recipe.
Leave the skins on the garlic heads. The garlic skins add so much additional flavor to the soup, it's a shame to take them off. Give them a good rinse under cool water if they have any dirt or grime on the outside and pop them directly into the water.
Add the noodles at the end of cooking. If you've never cooked with rice noodles before, you should know that they cook very quickly. In a matter of just a couple of minutes, they will soften and become edible. Adding them at the very end of the cooking process ensures that they don't overcook and fall apart.
How to Serve Rice Noodle Soup
While this rice noodles soup can be eaten as-is, there are a handful of ingredients you can add to elevate the flavor. Below, find all the additional odds and ends that are served with beef noodles soup.
Herbs – At pho restaurants, it's customary to be served a heaping plate of fresh herbs alongside your soup. Typically, these include cilantro, green onions, and mint. Add in as little or as much as you want – you can't go wrong here!
Bean Sprouts – Raw bean sprouts add a nice crunch to the noodle soup and also pack in an extra serving of veggies.
Lime Wedges – Lime juice helps to cut the fattiness of the broth. You'll be amazed at how much this brings the best flavors of the broth out!
Fresh Jalapeños – Slice up a few fresh jalapeños with the sees in tact to add extra heat to the soup.
Sauces – Fish sauce, hoisin, and chili garlic sauce are all amazing complements.
Storage Best Practices
Whether you have a couple of extra servings to stow away in the fridge or would like to freeze the broth to enjoy at a later date, find all the best storage tips for this rice noodle soup here.
Refrigerator: To keep the soup on hand for 2-3 days, store it in an airtight container in the fridge. If you're able, keep the noodles and the broth separate to prevent the noodles from turning soggy.
Freezer: The best way to freeze the soup is by freezing just the broth and beef and assembling the rest of the soup day-of. To do so, cook the broth according to recipe instructions and allow it to cool completely. Transfer the broth into plastic, freezer-safe containers and place the cooked beef into a freezer-safe bag. Both can be stored for up to 3 months. To thaw, place the broth and meat in the fridge overnight.
Reheating Tip: The best way to reheat beef noodle soup is in a saucepan over medium heat or in the microwave for a few minutes.
FAQ
Can you add rice noodles directly to beef noodle soup?
Yes, you should add the rice noodles directly to the soup if you plan to eat it within 2-3 days. The hot broth will cook the noodles within minutes.
Should you add the rice noodles if you don't plan to eat the soup right away?
If you don't plan to eat the soup right away, prepare the noodles according to package instructions and store them in a separate airtight container to prevent them from turning soggy.
Can you use any other meat besides bone-in beef?
If you're not a fan of beef, you can make the soup using bone-in chicken instead. Once the broth has slow-cooked, remove the bones and use the shredded chicken as your protein instead.
What can you use to strain the broth if you don't have cheesecloth?
If you don't have cheesecloth on hand, use a fine mesh sieve or a clean bandana or handkerchief instead.
Other Noodle Soup Recipes
Recipe
This rice noodle soup with beef is inspired by traditional Vietnamese pho. Made in a fraction of the time and super comforting!
Ingredients
2

lb

bone-in beef

1/2

large onion

2

garlic heads

1

large carrot

salt

to taste

2

large green onions

1

lb

asparagus

2

lb

mushrooms

1

lb

fresh rice noodles

spicy peppers

to taste
Nutrition Facts
Rice Noodle Soup with Beef
Amount Per Serving
Calories 263
Calories from Fat 54
% Daily Value*
Fat 6g9%
Cholesterol 33mg11%
Sodium 113mg5%
Potassium 556mg16%
Carbohydrates 37g12%
Protein 15g30%
Vitamin A 1155IU23%
Vitamin C 5mg6%
Calcium 28mg3%
Iron 3mg17%
* Percent Daily Values are based on a 2000 calorie diet.