This recipe for Greek pita pockets features juicy beef, tender onions and mushrooms, and feta all stuffed into a soft, whole wheat pita bread. Yum!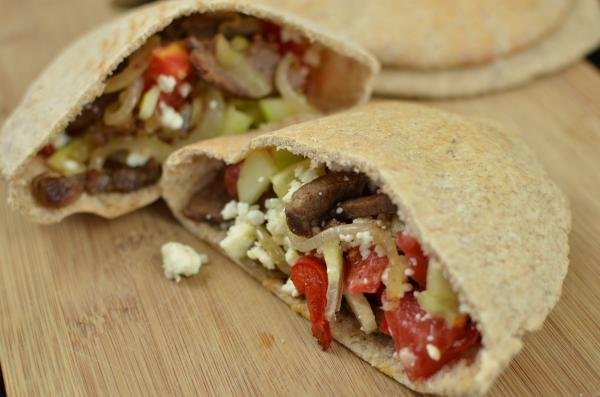 Are you a fan of all-things-Greek? From savory chicken gyros to crisp greek salad to all the creamy dips, it's one of the freshest, most flavorful cuisines out there. These pita pockets are of no exception! Filling, healthy, and satisfying, they're just what the doctor ordered.
Step-by-Step on Making a Greek Pita
This recipe only requires one pan to make and a little light assembly.
Prepare the Beef: Slice the beef and onions and sauté them in a very hot skillet with olive oil until golden brown. Season with salt and pepper, remove from the pan, and set aside.
Sauté the Bell Peppers: Next, add in the sliced bell peppers and cook them in the beef and onion drippings.
Slice the Tomatoes & Cucumbers: Dice the tomatoes and cucumbers up.
Assemble the Pita Pockets: To assemble the pita pockets, fill them with the beef and onions, bell peppers, tomatoes, and cucumbers. Top with feta cheese and chow down!
A Couple Handy Tips for the Perfect Greek Pita
Nail this pita pocket recipe using just a couple simple tips from our kitchen to yours.
Slice the beef into evenly sliced pieces. The more even the slices of beef are, the more evenly they'll cook and the better the texture will be.
Don't waste the drippings! Make sure to cook the red bell pepper in the beef and onion drippings. They will add so much flavor that simply can't be replaced by butter or oil.
Warm the pita pocket slightly. If your pita is a bit stale or on the tougher side, warm it in the microwave for 10 seconds to make it easier to handle.
The Tastiest Greek Feast
Pita pockets are definitely filling enough to be eaten as a meal all on their own or sliced up for appetizers. If you're hosting a Greek feast, pair them with the following sides.
Creamy Tzatziki Sauce: This creamy homemade tzatziki sauce is made with plain greek yogurt, cucumbers, lemon juice, fresh dill, and garlic cloves. Spread it on the inside of your pita for an extra pop of flavor or serve it with fresh veggies for dipping.
15-Minute Avocado Hummus: A fresh take on your typical hummus with ripe avocado and fresh parsley. This is also a great spread for your pita!
Easy Leg of Lamb: This beautiful leg of lamb will transport you straight to Greece with it's Mediterranean flavors.
Meal-Prep & Storage Best Practices
This Greek pita recipe is great for meal-prep and leftovers. Below, find all the tips you need to keep your pita fresh. For best results, keep the meat and veggies stored in their own separate containers for up to a week. If you're packing pita pockets for lunch, you can make them a day in advance and keep them in a plastic storage bag.
FAQ
What's the proper way to open up a pita?
If you've purchased whole pita, slice them down the middle and gently pull the two sides of bread apart. Stuff them as you wish and enjoy!
Where can you find whole wheat pitas?
You can find whole wheat pitas at most grocery stores, but Trader Joe's has our favorite version in the bread aisle.
What cut of beef should you use?
Boneless top sirloin steak works best for this recipe. You could also use ribeye if you're feeling extra fancy.
Can you use a different kind of meat?
Yes! Feel free to use diced Greek chicken thighs, pork souvlaki, or chicken souvlaki.
What other toppings can you add to your pita pocket?
Kalamata olives, pickled red onions, and banana peppers are all great additions. You can also add a drizzle of red wine vinegar. Basically, anything with a vinegary taste will up level the flavor!
More Tasty Sandwich Recipes
Recipe
These delicious Greek-style pita pockets are full of tender beef, sauteed veggies, and tangy feta. The perfect handheld treat!
Instructions
Slice the beef into very thin strips. Next, slice the onions into rings. Sauté the beef and onions in a very hot skillet with oil until golden brown. Season with salt and pepper, remove from the pan, and set aside.

Sauté the bell peppers in the pan with the beef and onion drippings.
Nutrition Facts
Greek Pita Pockets Recipe
Amount Per Serving
Calories 516
Calories from Fat 261
% Daily Value*
Fat 29g45%
Cholesterol 88mg29%
Sodium 572mg24%
Potassium 574mg16%
Carbohydrates 36g12%
Protein 27g54%
Vitamin A 579IU12%
Vitamin C 17mg21%
Calcium 124mg12%
Iron 3mg17%
* Percent Daily Values are based on a 2000 calorie diet.